Preschoolers and toddlers will love playing with this Popsicle stick fine motor color match game.
Matching colors is a fun activity for toddlers and preschoolers to play with and makes a great busy bag activity.
Boost fine motor skills and color recognition skills with this color match game!
We have more fine motor activities such as making button towers and counting with rainbows.
You can also make some cute popsicle stick crafts like this monster bookmark, back to school pencil, a Home is Where the Heart Is magnet, or a Dad Rocks box made out of craft sticks.
This post contains affiliate links. As an Amazon Associate and a participant in other affiliate programs, we earn a commission on qualifying purchases.
Popsicle Stick Color Match Game
Using just clothespins and Popsicle sticks, kids can learn all about color matching and boost their fine motor skills at the same time.
This activity for kids will keep them entertained at school, home, at restaurants, and even in the car!
Materials for DIY Popsicle Color Match Game:
How to Make Homemade Popsicle Color Matching Game: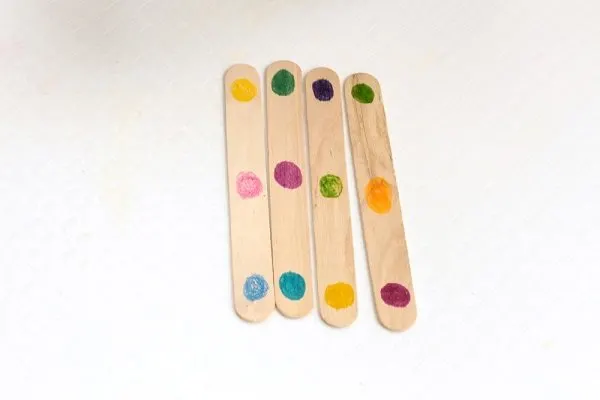 Before bringing little ones over to play the game, draw colored circles in three positions on each Popsicle stick.
I put mine on either end and in the center of the craft stick. Use the same colors of marker as you have of colored clothespins.
Alternatively, you can use brown clothespins and color a marker dot on each tip.
We liked the bright colors of the completely colored clothespins, so that is what we used. Either method will work, though!
Show the kids how you can pinch the clothespin to open it, then attach it to the matching color on the Popsicle stick.
I gave my kids a bunch of sticks and clothespins to see if they could sort through a bunch of items to find the right color matches.
The kids had a blast identifying the right color of clothespin to use for each dot.
Not all of the colors were exact matches, so they had to think a little bit to determine if a color was close enough to the clothespin color to count as a color match.
For some of the colors, like an orange-yellow, there was a some discussion over whether it should be called orange or yellow.
This activity is helpful for developing color recognition, identifying color names, and determining what color family a certain color belongs in.
The squeezing of the clothespins also means that little ones are working on their fine motor skills while finishing this activity.
More kids activities: