This printable list of pumpkin picture books is a fun way to plan reading aloud with your kids.
Use this list to help you plan which books to get and mark them off when you're done! You can also use this printable calendar as a fun reading countdown.
Don't miss our fall suncatchers crafts, list of fall picture books, and these Christmas picture books.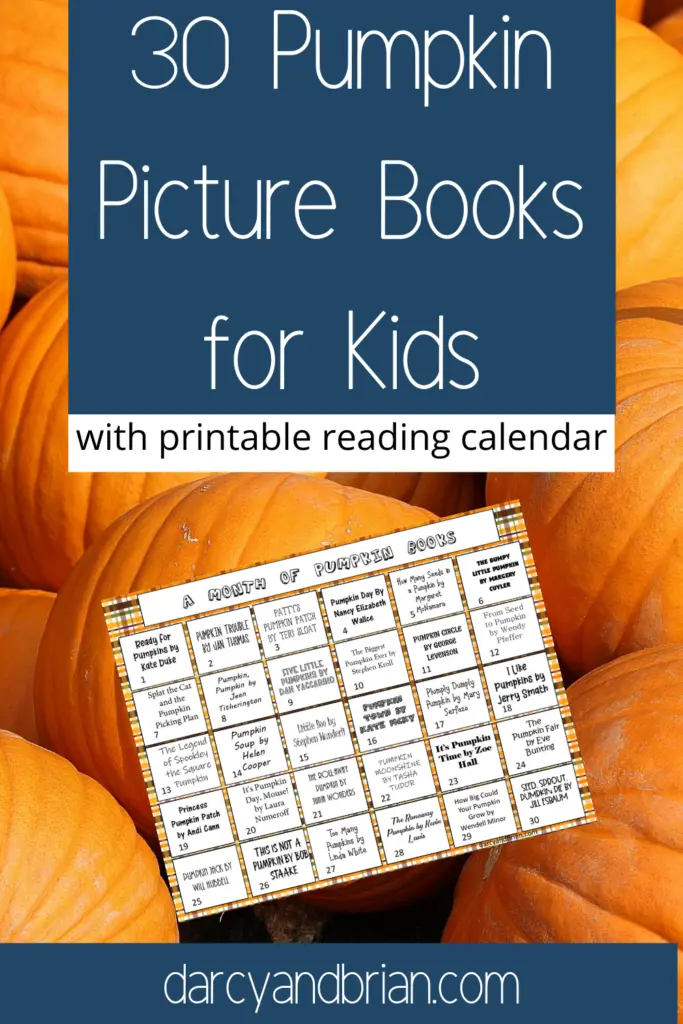 This post contains affiliate links. As an Amazon Associate and a participant in other affiliate programs, we earn a commission on qualifying purchases.
Picture Books About Pumpkins
Pumpkins are seen everywhere throughout fall, from decorations to pies! It's a great time to read and learn about them, especially with preschool and kindergarten children.
Picture books are good for children ages 4 to 8 years old because they use a lot of illustrations to help tell the story.
Younger kids will begin to "read" books by looking at the pictures before they begin to recognize words.
You can plan a lot of fun activities to go along with reading pumpkin themed books, such as picking pumpkins, carving them, getting creative with making pumpkin decorations.
Don't forget the yummy foods you can taste test. Plan an afternoon to spend baking pumpkin muffins and pies, or making pumpkin fudge and pumpkin mousse.
A Month of Pumpkins Book List
Here is the full list of fall books we've included on the printable reading list at the bottom of this post. You can look for these titles at your local library or shop the links to build your home library.
Get literacy tips and kids' book recommendations in our private Facebook group.
After you download and save the printable list of pumpkin books, you may print it out at home or at a local print shop.
This printable book list is for personal or classroom use only. Share this post with someone you know who would love it!
More Pumpkin Activities for Kids: