Looking for engaging Halloween activities for kids? Then you'll love playing Halloween Pictionary – a family-friendly game that can be enjoyed in the classroom or at a Halloween party.
With spooky word prompts, this game not only provides entertainment but also allows children to unleash their creativity.
It'll be a lot of fun watching them bring each word to life and guessing their eerie masterpieces.
The printable Halloween-themed word cards are available for free at the bottom of this post. Get ready for a thrilling and fun-filled activity for the whole family this Halloween!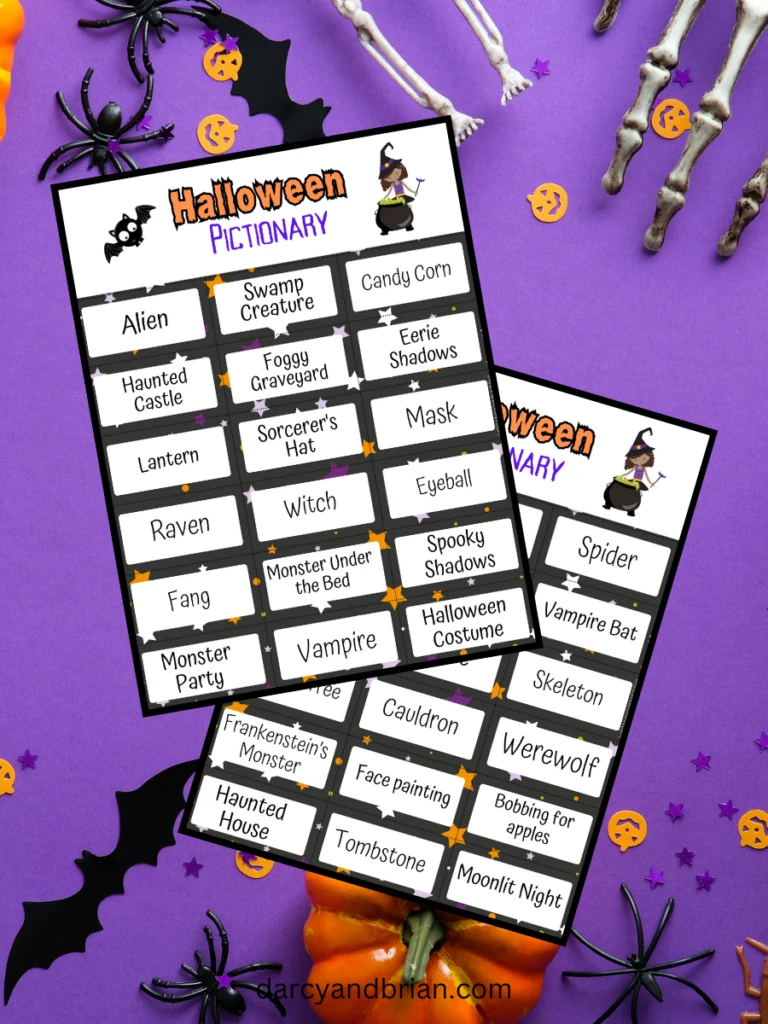 Incorporating the spirit of Halloween into learning activities adds an exciting twist to education for children.
The spooky season brings a new set of themes and vocabulary to keep the learning environment exciting.
Children can explore and learn new skills in a fun, relaxed setting, enhancing their retention and understanding.
This game isn't just limited to the classroom; it can be enjoyed at home with family or during a playdate with friends. Get ready for a ghoulishly good time!
Printable Games for Children
Let's appreciate the unique blend of fun and learning printable games for kids provide. Not only do these games offer an enjoyable way to pass the time, but they also promote educational values such as creativity, problem-solving, and vocabulary development.
With a variety of games to choose from, children can explore different themes and scenarios, all while honing their skills and having a blast.
What Are the Benefits of Playing Drawing Games?
Playing drawing games offers a wide range of benefits for kids. It nurtures creative problem-solving skills as children need to think quickly and find innovative ways to depict various subjects.
This not only enhances their imagination but also develops their ability to think on their feet. The fast-paced nature of the game encourages children to make instant decisions and strategize their Pictionary drawing ideas, refining their cognitive agility.
Also, by visually representing different words and phrases, it helps kids practice and learn new vocabulary.
The combination of fun and learning in games like our Halloween Pictionary makes it an ideal choice for both educational and recreational settings.
This post contains affiliate links. As an Amazon Associate and a participant in other affiliate programs, we earn a commission on qualifying purchases.
TWOPOINTOH GAMES Artsy Fartsy – Fun Family Games for Kids and Adults. Winner of USA Today's Best Gift for Families National Award
Mythical Creatures Drawing Game for Kids Mashup Animal Art Ideas. 150 Prompt Cards. Creative Gift for Tweens, Teens + Family Fun Night for All Imaginations!
Telestrations Original 8-Player | Family Board Game | A Fun Family Game for Kids and Adults | Family Game Night Just Got Better | The Telephone Game Sketched Out | Ages 12+
The Imagineering Company WatchamaDrawit Fast Action Drawing Game with Wildly Creative Challenges – A Family Board Game for Kids and Adults
Vango The UpsideDownChallenge Game for Family & Kids – Complete Fun Challenges with Upside Down Goggles – Hilarious Fun Game for Game Night & Parties – 2-6 Players, Ages 8+
​Pictionary Air Kids Vs. Grown-Ups Family Game for Game Night with Light Pen and Clue Cards, Connect to Smart Devices
Is Drawing a Good Fine Motor Skills Activity?
Yes, drawing games are an excellent way to improve fine motor skills in children. The act of holding a pencil or marker and creating precise lines and shapes helps develop small muscle control in their fingers, hands, and wrists.
This is crucial for activities such as writing, cutting with scissors, and tying shoelaces. Drawing games also promote hand-eye coordination as children need to use their eyes to guide their hand movements and produce accurate drawings.
With repeated practice, these skills can significantly improve, benefiting children in various aspects of their daily lives.
What's Included in the Halloween Pictionary Printable Game?
This printable game includes 54 drawing prompts as well as a set of blank cards to create your own.
Each card holds a unique prompt related to the Halloween theme, inviting children into a realm of imagination and creativity.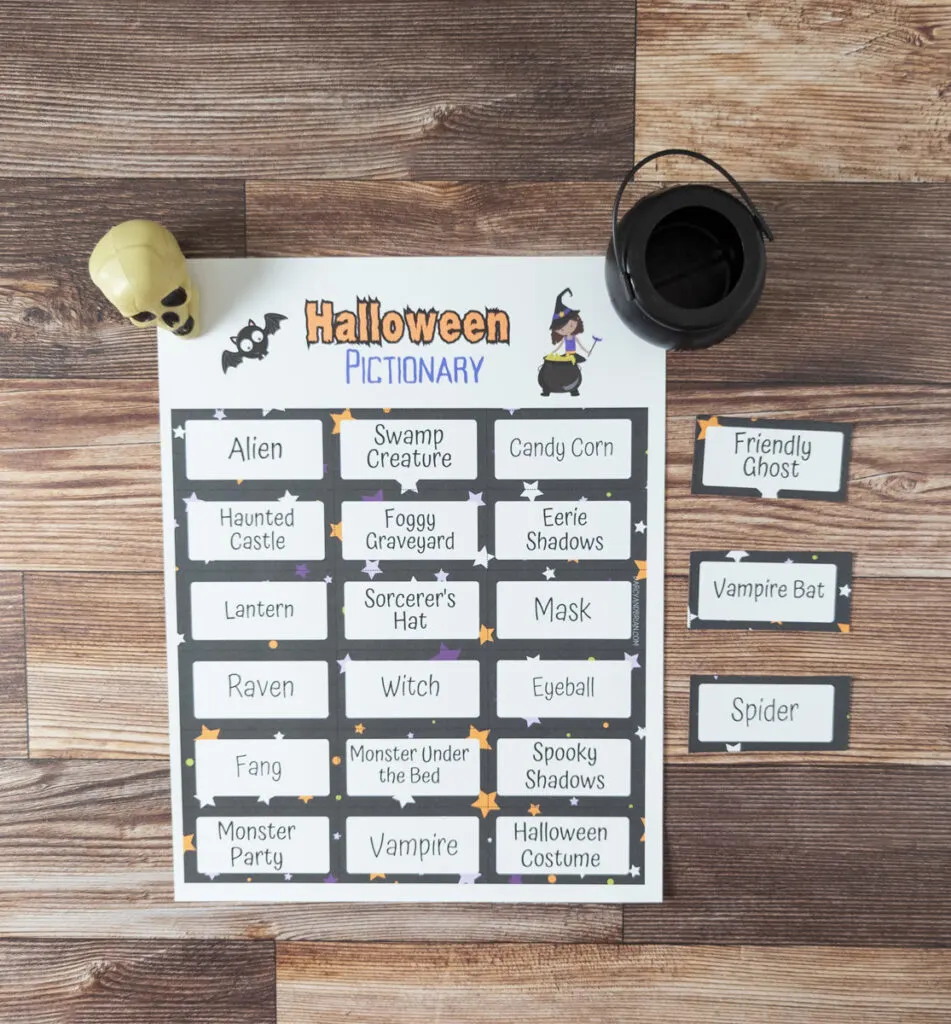 Perfect for classroom use, family gatherings, or Halloween parties, these word cards are designed to spark joy and laughter.
Get your pencils ready, it's time to start drawing and guessing with our Halloween Pictionary word cards!
Recommended Items for Pictionary
To play Halloween Pictionary, you'll need just a few items, making it a perfect low-prep activity. Here are the essentials:
Paper and pencils for drawing spooky prompts.
Our printable Halloween-themed words to make it even more fun.
For longer-lasting prompt cards, consider printing them on cardstock paper or laminating them.
Small dry erase boards can be a reusable and eco-friendly alternative to drawing paper.
Use a timer, either digital or a sand timer, to keep the game moving.
Store the cards in a task card box, a small bag, or attach them together on a book ring for easy access.
Epson EcoTank ET-3830 Wireless Color All-in-One Cartridge-Free Supertank Printer with Scan, Copy, Auto 2-Sided Printing and Ethernet – The Perfect Printer Productive Families,White
Astrobrights/Neenah Bright White Cardstock, 8.5
Firbon A4 Paper Cutter 12 Inch Titanium Paper Trimmer Scrapbooking Tool with Automatic Security Safeguard and Side Ruler for Craft Paper, Coupon, Label and Cardstock (Black)
Classroom Timers for Teachers Kids Large Magnetic Digital Timer 2 Pack
TIHOOD 24PCS Sand Timer Assortment Plastic Sand Clock Timer 30s / 1min / 2mins / 3mins / 5mins / 10mins for Adult Kids in Classroom Kitchen Games Office
Charles Leonard Dry Erase Lapboard Class Pack, Includes 12 each of Whiteboards, 2 Inch Felt Erasers and Black Dry Erase Markers (35036)
How to Play Pictionary
Halloween Pictionary is a fun and exciting game that can be enjoyed during classroom activities or family game nights.
To start, divide the group into two teams. Each team takes turns selecting a card and attempting to draw a Halloween-themed word or phrase while others guess within a given time frame.
In a classroom setting, this game offers an engaging way to introduce new Halloween vocabulary or phrases, fostering teamwork among students. Encourage creativity and provide positive reinforcement!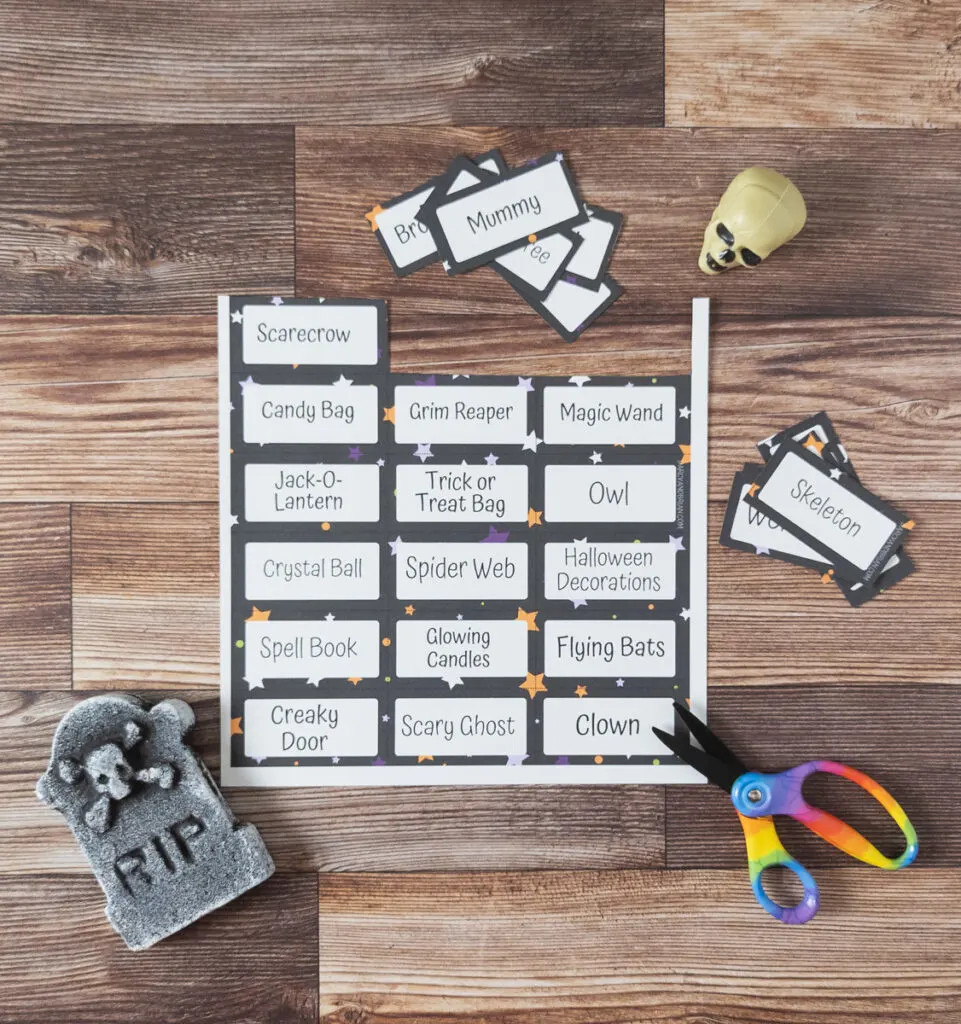 For family game nights, make it even more enjoyable by turning it into a friendly Halloween competition with small rewards for the winning team.
No matter how you play, Halloween Pictionary is guaranteed to bring laughter, learning, and a spooky Halloween spirit to any gathering.
Fun Ways to Use Halloween Pictionary Word Cards
There are countless exciting and unique ways to incorporate the Halloween Pictionary words into your festivities.
They can serve as spooky drawing prompts in a sketchbook, igniting creativity and imagination while enhancing artistic skills.
Or, draw cards to create a craft project. For example, make a simple spider craft by pulling the spider word card. Create mashups by drawing multiple cards!
For writing enthusiasts, they can act as thrilling story starters or as a fun way to practice spelling eerie words.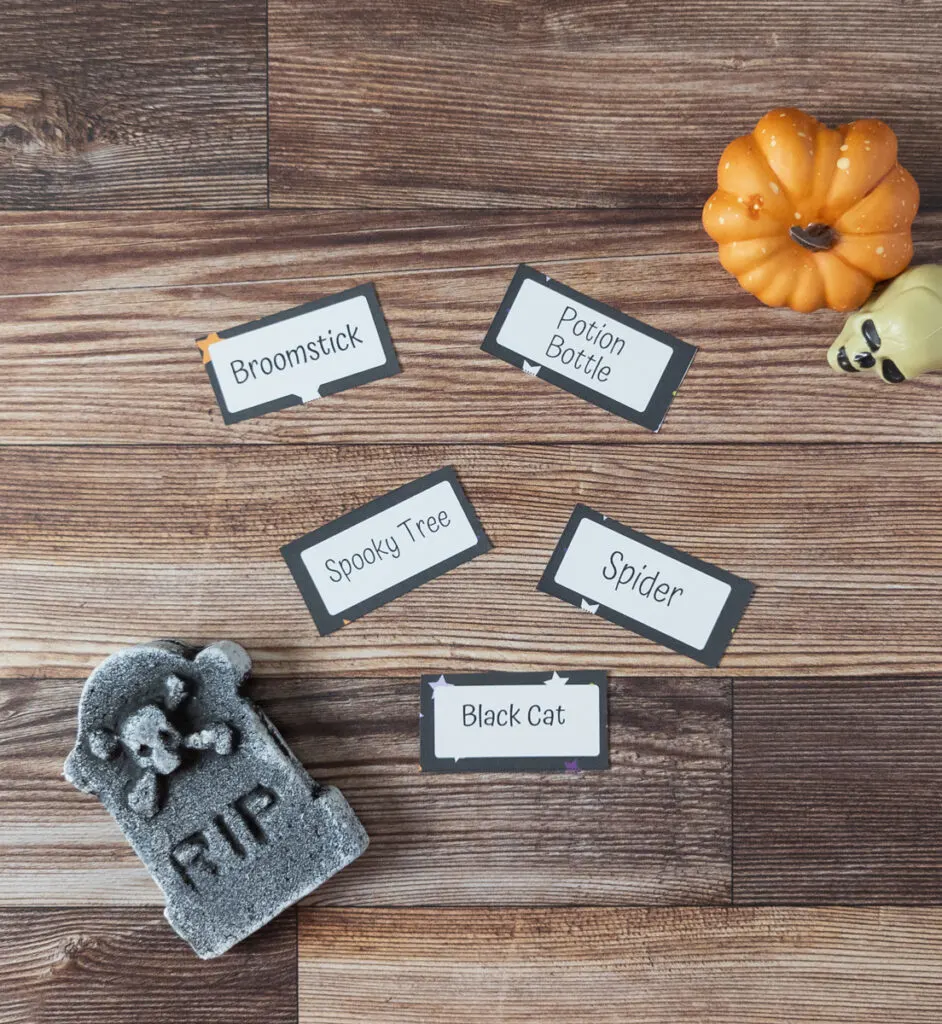 These words can seamlessly integrate into a Halloween-themed learning unit, bringing a touch of seasonal joy into the classroom.
Hosting a Halloween party? Why not incorporate these words into a lively and interactive game that guests of all ages will delight in.
Moreover, a family game night can be taken to the next level with these prompts, creating an enjoyable and educational experience that bridges generations.
Additional Halloween Learning Activities
Ready for some more spooky fun? These Halloween activities offer a unique blend of fun and education, supporting learning objectives while incorporating Halloween themes.
Ideal for classrooms, family gatherings, or children's Halloween parties, these activities are sure to create unforgettable memories while instilling valuable skills.
Pumpkin Math: Incorporate pumpkins into math activities. Kids can practice counting seeds, measuring pumpkin circumferences, or grouping pumpkins by size or color.
Halloween Word Find: Using a Halloween word search printable is a fun way for kids to practice spelling and recognition of key Halloween vocabulary.
Spooky Story Writing: Provide Halloween Pictionary word cards as story prompts. Encourage children to write a spooky Halloween story, helping them to enhance their creative writing skills.
Monster Craft: Have a monster craft session. Provide a variety of materials and encourage kids to create their own Halloween coffee filter monsters. This activity enhances creativity while also developing fine motor skills.
Shadow Puppet Show: Create a shadow puppet theater with Halloween-themed characters. This is a fun way for kids to engage with storytelling and enhance their communication skills, while tying in a spooky Halloween theme.
Best Halloween Books for Kids
Continuing with the Halloween-themed learning journey, let's explore the magical world of literature with some highly rated and enchanting Halloween books for kids.
These books, filled with charmingly spooky tales and delightful illustrations, are perfect for a cozy story time that will both entertain and educate.
Room on the Broom
The Little Old Lady Who Was Not Afraid of Anything
The Berenstain Bears Go on a Ghost Walk
Creepy Carrots! (Creepy Tales!)
It's the Great Pumpkin, Charlie Brown
Room on the Broom by Julia Donaldson: A delightful story about a witch and her cat who encounter a string of mishaps during their flight. It's a fun and heartwarming book emphasizing the importance of friendship and cooperation.
The Little Old Lady Who Was Not Afraid of Anything by Linda Williams: This is a captivating tale of bravery and surprise that will keep kids entertained and inspire them to face their fears.
The Berenstain Bears Go on a Ghost Walk by Stan & Jan Berenstain: Part of the beloved Berenstain Bears series, this book takes readers on a fun-filled ghost walk adventure, incorporating amusing mishaps and light-hearted scares.
Creepy Carrots! by Aaron Reynolds: A Caldecott Honor book that perfectly blends humor and eerie suspense. Jasper Rabbit loves carrots until they start following him…
It's the Great Pumpkin, Charlie Brown by Charles M. Schulz: A timeless classic featuring the beloved Peanuts characters. This book brings the quintessential Halloween TV special to the page, sparking nostalgia for parents and introducing a new generation to Charlie Brown's Halloween adventures.
Halloween Crafts for Kids
After a captivating reading session, it's time to let the kids' creativity shine with some Halloween-inspired crafts!
Not only are these crafts a fun and engaging way to celebrate the Halloween season, but they also foster fine motor skills, creativity, and imagination in children.
From silly monsters to adorable ghosts, these crafts put a delightful spin on traditional Halloween themes.
In summary, Halloween Pictionary provides a perfect opportunity to foster creativity and create lasting memories. Through the creation of spooky artistic masterpieces, this game brings joy and excitement to all participants.
So gather your friends and family, let your imaginations soar, and get ready to showcase your artistic talents and make this Halloween an experience to remember!