Looking for fall themed sorting activities? This adorable pumpkin size sorting printable is an easy hands on learning activity for preschool and kindergarten.
This is a great option for a no prep fall math center activity. Simple sorting games help kids develop important skills while engaging them in play.
Find out the benefits of sorting and the types of skills it helps kids work on then grab the free printable at the bottom of this post. See all of our printable games for kids here and find more activities for the kids to do.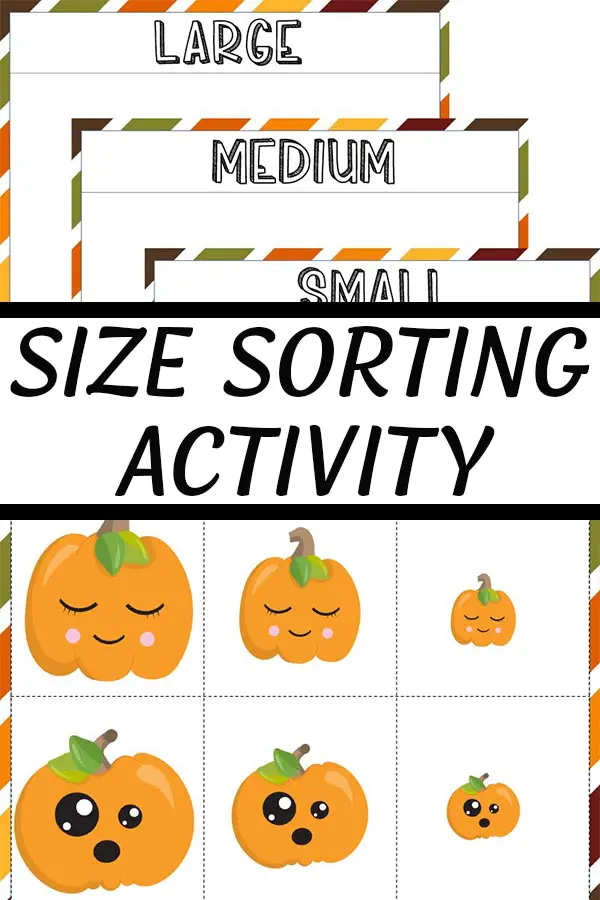 Repetition plays a crucial role in learning and mastering new skills, especially for young learners.
By repeating activities, children reinforce what they have learned, gradually improving their understanding and proficiency.
The beauty of this pumpkin sorting game is that it can be played over and over again, making learning an engaging and fun-filled process.
Altering themes according to seasons or holidays keeps this repetitive practice fresh and exciting.
It adds a festive touch to the lessons and makes the activity more appealing to children.
More Math Activities for Kids
Looking for more simple math activities for preschool and kindergarten students? Here are a few ideas you may like:
Free printable available at the end of this post.
This post contains affiliate links. As an Amazon Associate and a participant in other affiliate programs, we earn a commission on qualifying purchases.
Why is Sorting Important for Preschoolers and Kindergartners to Do?
By sorting the pumpkins and grouping them into different size categories (big, medium, small) they are using and strengthening their observation, logic, and reasoning skills.
They need to look at the different pumpkin tokens, compare them, and categorize them as large, medium, or small.
Legato Counting/Sorting Bears
Learning Resources Veggie Farm Sorting Set
Learning Resources Super Sorting Pie
WOOD CITY Toddler Fine Motor Skills Toys, Bee to Hive Matching Game
Is Sorting a Math Skill?
Sorting is an early math skill that is important for preschool and kindergarten children to work on.
Hands on sorting activities allow them to learn how to recognize similar objects and practice grouping them together.
This is important for building on math skills, such as grouping number sets, when they are older.
Developing a child's sorting skill will help them recognize patterns and easily make matches. This becomes important for solving more complex math equations later.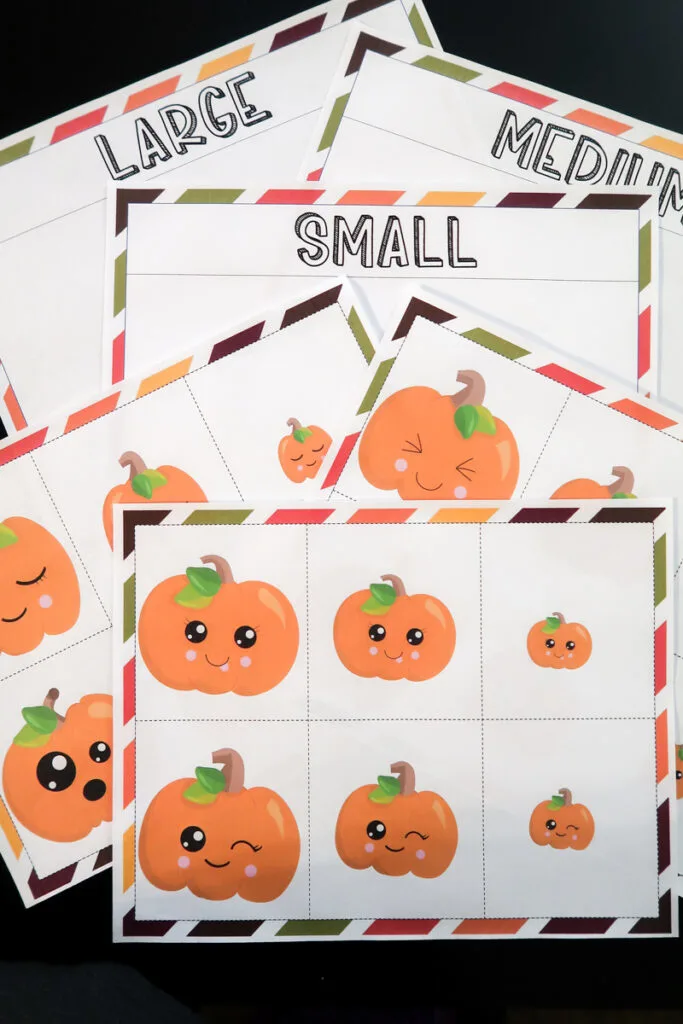 Can Toddlers Use the Pumpkin Size Sorting Activity?
Yes, toddlers can participate in the pumpkin size sorting activity.
They can work on sorting the pumpkins by size and also practice grouping the matching faces.
Since sorting is a skill that toddlers learn, this hands-on activity not only promotes fine motor skills and strategic thinking but also provides a valuable learning experience for them.
Related Post – 21 Fall Activities for Toddlers
What's Included In the Printable Pumpkin Size Sorting Activity?
The printable activity includes three size mats and eighteen pumpkin cards. There are six pumpkins in each of the three sizes: large, medium, and small.
It is important to note that each pumpkin face has a large, medium, and small version. So children must look closely at all the pumpkins before sorting them into their correct category.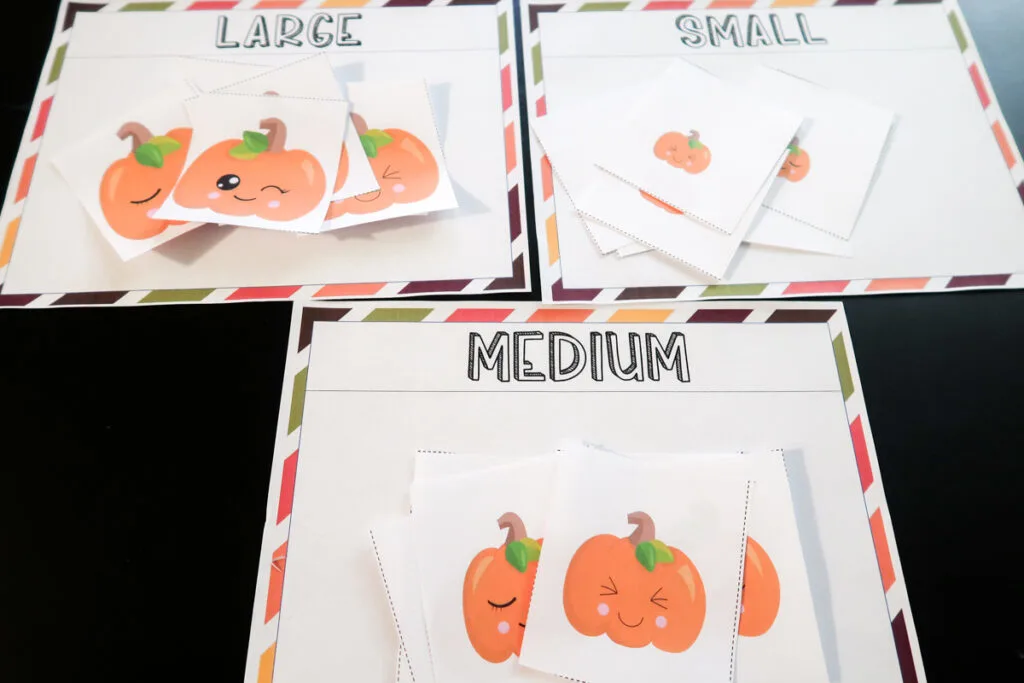 What do I Need to Do the Pumpkin Size Sorting Activity?
If you're looking for a low prep activity for your fall math center, I highly recommend using a laminator machine to laminate the mats and tokens before playing.
This not only adds durability to the materials but also allows for repeated use.
To get started, you'll need a printer to print out the free printable set, which you can receive by filling out the form at the end of this post.
If you're homeschooling and using a lot of printable activities and worksheets, we recommend the Epson EcoTank printer for its efficiency and cost-effectiveness.
How to Play the Pumpkin Size Sorting Game
Our printable pumpkin sorting game is the perfect way to incorporate fall into big and small sorting activities.
There are three mats and each one is labeled with a size: Large, Medium, Small.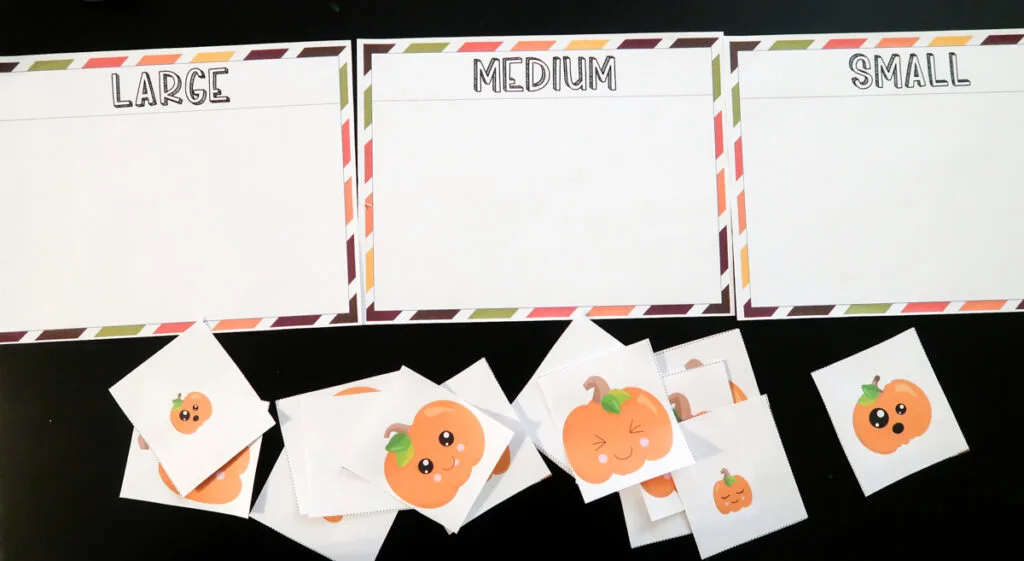 There are six sets of cute pumpkins with faces (not jack-o-lanterns). Each set includes a big, medium, and small pumpkin token. Cut these out ahead of time for a very low prep activity
Mix up the pumpkin tokens and ask your child to sort them by size onto the correct mat.
You can adjust the difficulty of this activity for toddlers and younger kids as needed. For example, you can lay out just the Large and Small mats and tokens to start with and then add in Medium later.
Additional Ways to Use the Pumpkin Size Sorting Printables
Beyond the classic sorting game, these charming pumpkin printables can be utilized in several innovative ways to make learning fun and engaging.
For instance, you could introduce an element of pattern matching to enhance the game's complexity.
Each pumpkin face has a unique character, so invite the children to sort not just by size, but also by matching the pumpkin faces.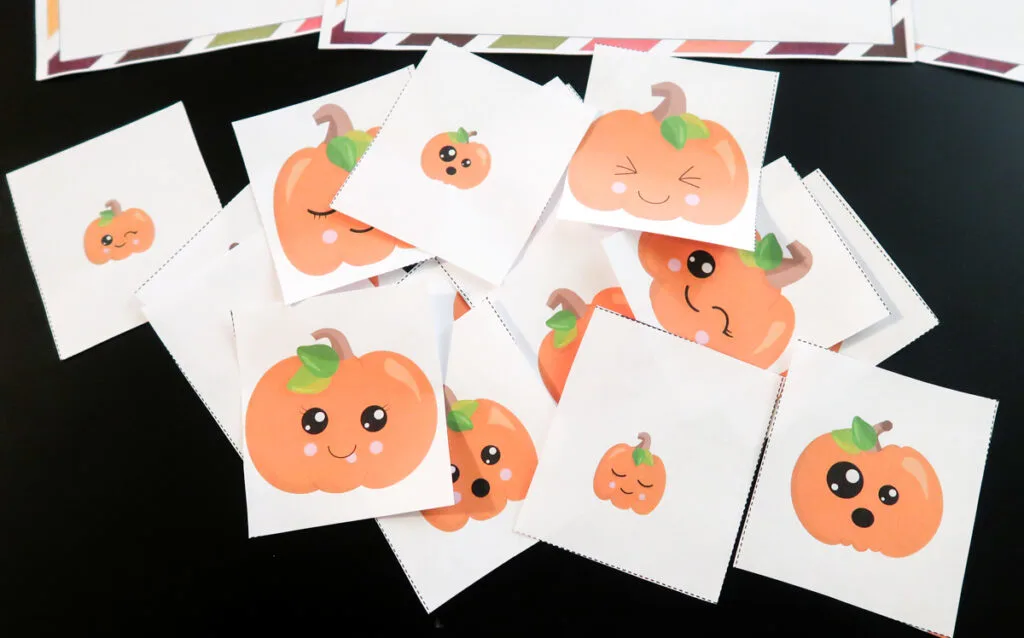 This adds an extra layer of visual discernment and cognitive challenge to the activity.
Moreover, to further develop fine motor skills, consider turning the activity into a cut-and-paste worksheet. Children can cut out the pumpkins and paste them onto their respective size mats.
This hands-on approach can make the learning process more tactile and interactive, thereby reinforcing the size sorting concept.
Books About Pumpkins
Incorporating pumpkin picture books with this activity can further enrich the learning experience. Children can discover fun facts about pumpkins and their growth process, thereby forging a deeper connection with the activity while fostering a love for reading.
Pumpkin Day! (Step into Reading)
You're My Little Pumpkin Pie
Seed, Sprout, Pumpkin, Pie (Picture the Seasons)
Big Pumpkin
How Big Could Your Pumpkin Grow?
Biscuit Visits the Pumpkin Patch: A Fall and Halloween Book for Kids
More Fall Learning Activities for Kids
Incorporating the Pumpkin Size Sorting activity into a fall-themed unit study or a pumpkin unit provides a learning-rich experience for kids.
Continue to strengthen their hands with these pumpkin fine motor mats. Preschoolers can trace a pumpkin, build one out of playdough, and use dot markers too.
These engaging activities can be wonderfully paired with other fall educational activities like making leaf rubbings, which can help children understand the changing seasons while nurturing their artistic abilities.
Plan an exciting preschool chemistry lesson with this bubbling pumpkin experiment. Kids will enjoy watching the vinegar and baking soda react!
An additional idea to consider is our Roll and Color Fall printable dice game. This game is not only fun but it also encourages number recognition skills.
Children roll the dice, identify the number shown, and then color in the corresponding number on fall-themed images, such as leaves and pumpkins.
This activity is a valuable addition to any fall-themed curriculum, making learning number recognition a delightful experience.
Easy Pumpkin Crafts for Preschoolers
Crafting also holds significant educational benefits for children, acting as an excellent extension activity that reinforces learning through creativity and hands-on exploration.
Create a 3D coffee filter pumpkin craft for an easy fall decoration. Kids will love watching the color blend in the coffee filter paper.
Work on fine motor and letter recognition with a simple pumpkin name craft.
Another easy project for kids of all ages is a tissue paper pumpkin suncatcher. Get the printable craft template in our set of fall tissue paper suncatcher crafts.
These craft activities not only boost fine motor skills and foster creativity, but also enhance the child's understanding of the fall season and its associated elements.
These craft activities can be an engaging and insightful addition to any fall-themed curriculum.
So, whether it's understanding sizes, recognizing patterns, practicing number recognition, or crafting, this fall season can be a time of exciting education and exploration for every child.
From the homeschool setting to the classroom, these activities offer a plethora of ways to make learning enjoyable and relevant to the season.