Can your kids name more dinosaurs than you? My kids LOVE dinosaurs.
These giant creatures have captured the imagination of kids ever since the first fossil was discovered.
Channel this love of dinosaurs with kids when you make this super fun dinosaur counting activity for preschool or kindergarten.
Kids will love the bright colors and dinosaur theme and they won't even realize they are learning!
RELATED: Homemade Number Rocks and Counting Activities
These cute little dinosaurs would be right at home in a kindergarten or preschool math center or can be added to a file folder for fun independent math play and learning.
Dinosaur Counting Game for Preschool and Kindergarten
This post contains affiliate links and we may earn a commission if you make a purchase.
Preschoolers and kindergartners will love this super-fun dinosaur counting game an you'll love how easy it is to make!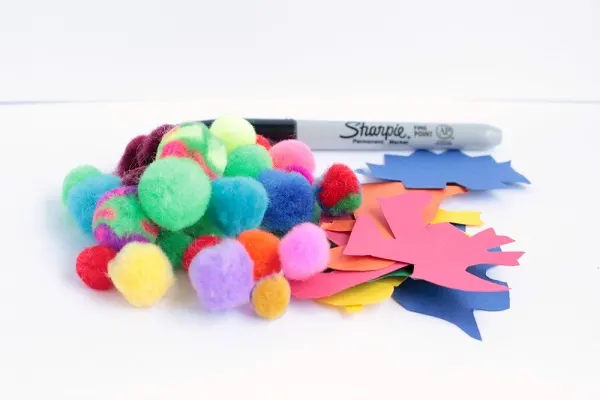 Materials:
Scissors
Permanent marker
Pom poms in assorted colors
Directions:
Start by drawing the outline of dinosaurs onto cardstock paper. You can draw them freehand, trace the outline of dinosaur toys, trace pictures from a book, or use dinosaur stencils.
Make each dinosaur about the same size as a quarter of a piece of paper. You can make them slightly smaller, but the higher numbers you use, the bigger you'll want the dinosaurs to be.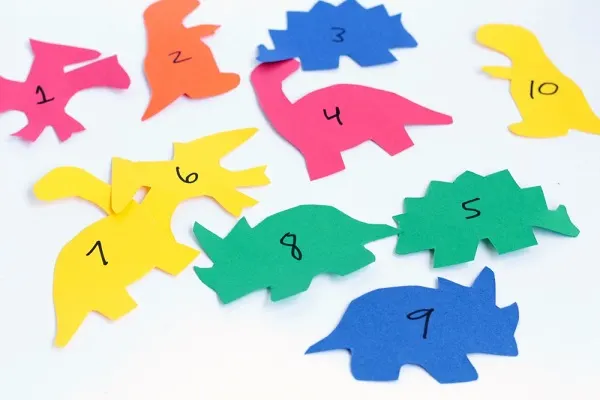 Make as many dinosaur outlines as you want to make numbers. So if you're working on counting up to 10, then make 10. If you're working on counting to 20, make 20, and so on.
Cut out your dinosaurs with scissors. I found it easiest to cut out about 4 dinosaurs at once from one outline.
If you want to reuse the dinosaurs multiple times, you can laminate them before cutting them out. We love how easy this portable laminator is to use.
Draw a number on each dinosaur.
Show your kids how to read the number, then add that many pom poms to the dinosaur.
This is a great way to teach number recognition and just to have fun counting with kids!
My preschooler had a blast with the dinosaurs and loved counting them over and over.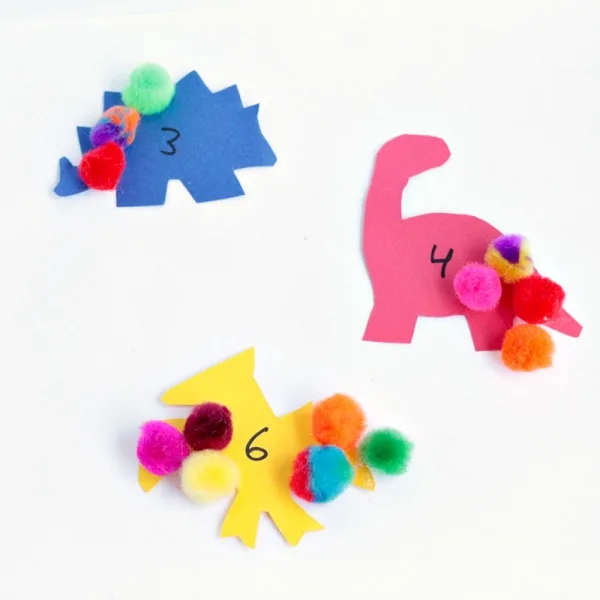 If your child is a bit older, try doing an experiment to see if they can identify which dinosaur has more and which has less. You can also count how many more pom poms one dinosaur has over another.
Dinosaur learning activity variations:
Let kids use plastic tweezers to pick up the pom poms. This also helps them work on their fine motor skills.
Add in color recognition and sorting. Match same color pom poms with the dinosaur's color. You can flip the dinosaurs over so the numbers are not visible or combine color sorting with counting to change things up.
This simple dinosaur counting game is quick and easy to set up. It doesn't involve a lot of supplies and is a great learning activity for preschool and kindergarten age children.

More preschool and kindergarten learning activities: