Grab these printable math picture puzzles featuring a princess and a castle to practice addition and subtraction facts.
Make practicing simple single digit addition and subtraction fun for kids in kindergarten and first grade by using different math activities.
Our printable math puzzles are perfect for supplemental learning at home or to use in a math center.
See also: Cowboy and Cactus Math Picture Puzzle Printables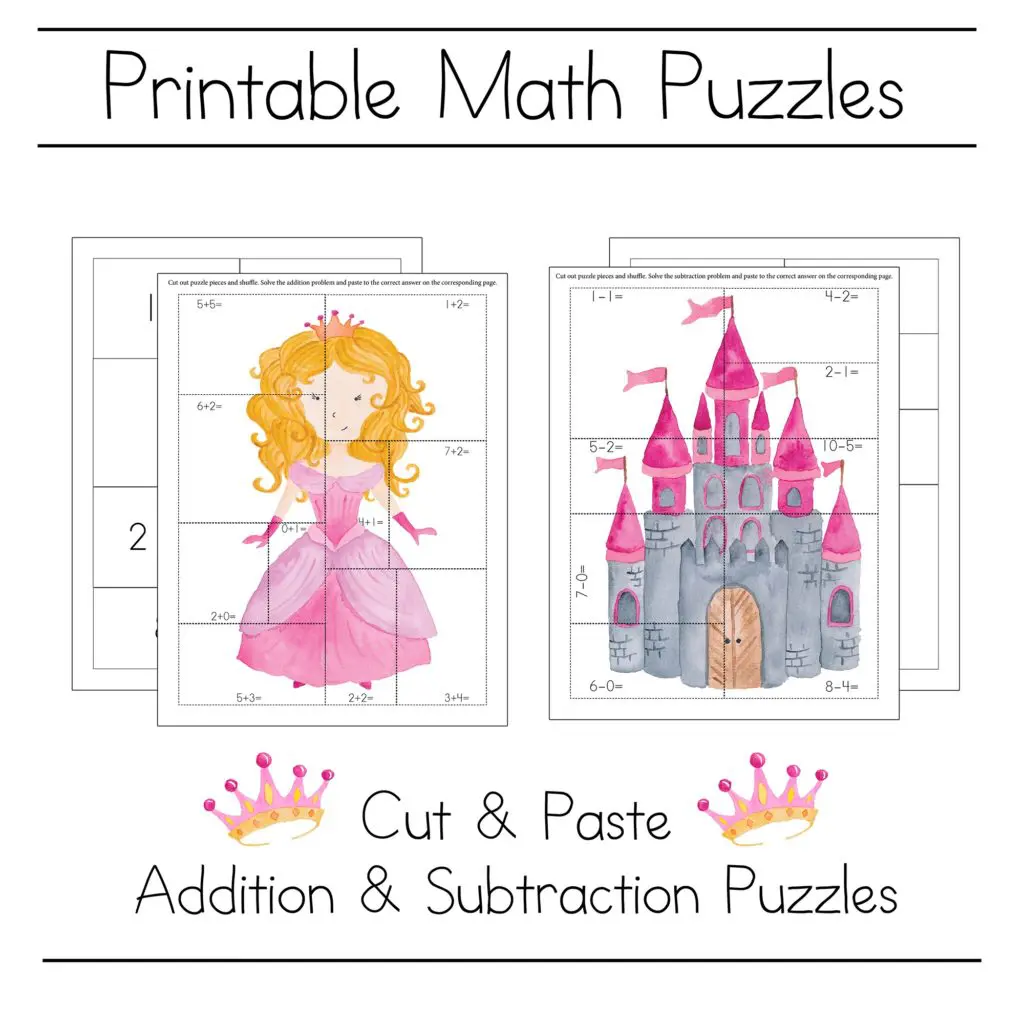 How to Use Math Picture Puzzle Printables
This post contains affiliate links. As an Amazon Associate and a participant in other affiliate programs, we earn a commission on qualifying purchases.
I love having no set-up learning activities on hand for my kids. And even though my kids are two years apart, this is a math activity they both can enjoy.
Please Note: These printables are for your personal use only at home or in your classroom. Share this blog post with other parents and teachers so they may download their own set. Thank you!
Supplies needed:
After you download and save your princess math puzzle set, use your home printer to print them out. (You may also have them printed at a local print shop.)
The princess is for addition practice and the castle is for subtraction practice. Then decide if you want to use these for cut and paste math practice or create a reusable math game.
Cut and Paste Math Center Activity
Let the kids practice scissor skills by cutting along the dotted lines until all of the picture puzzle pieces are cut out.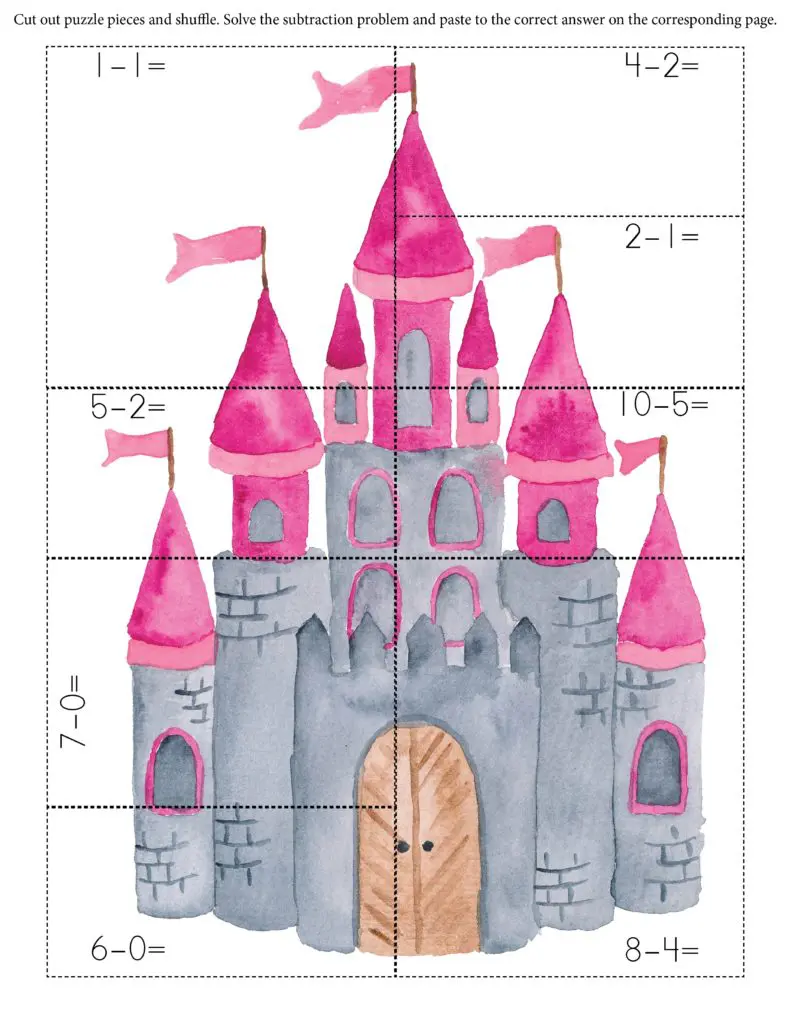 If you want to skip this step, you can cut them out ahead of time.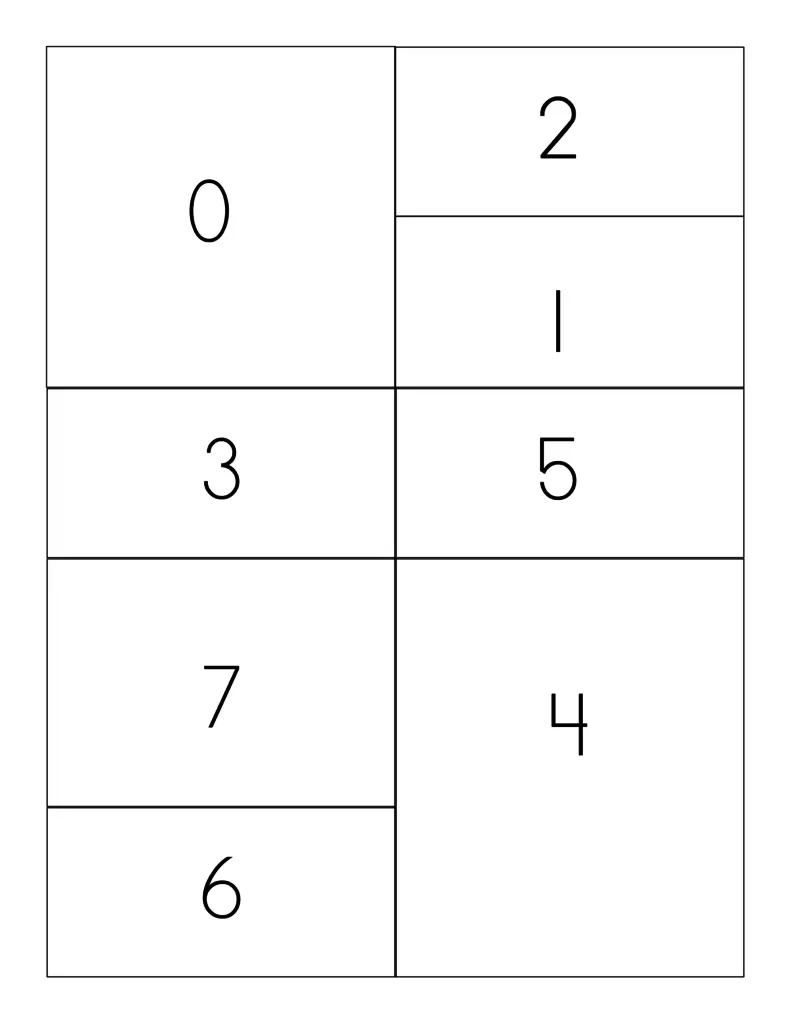 Show the kids how to look at the math equation on the puzzle piece, solve it, and glue it on top of the number on the answer sheet.
They are adding the numbers together for the princess and subtracting numbers for the castle.
Putting the picture together helps them see if they have the correct answer.
Make a Reusable Math Puzzle Game
If you want to use these to create a reusable game, then laminate each sheet before cutting the math picture puzzle pieces.
Then shuffle all the puzzle pieces so they are mixed up.
Have the kids solve the addition and subtraction equations and set the picture piece on top of the answer on the number sheet.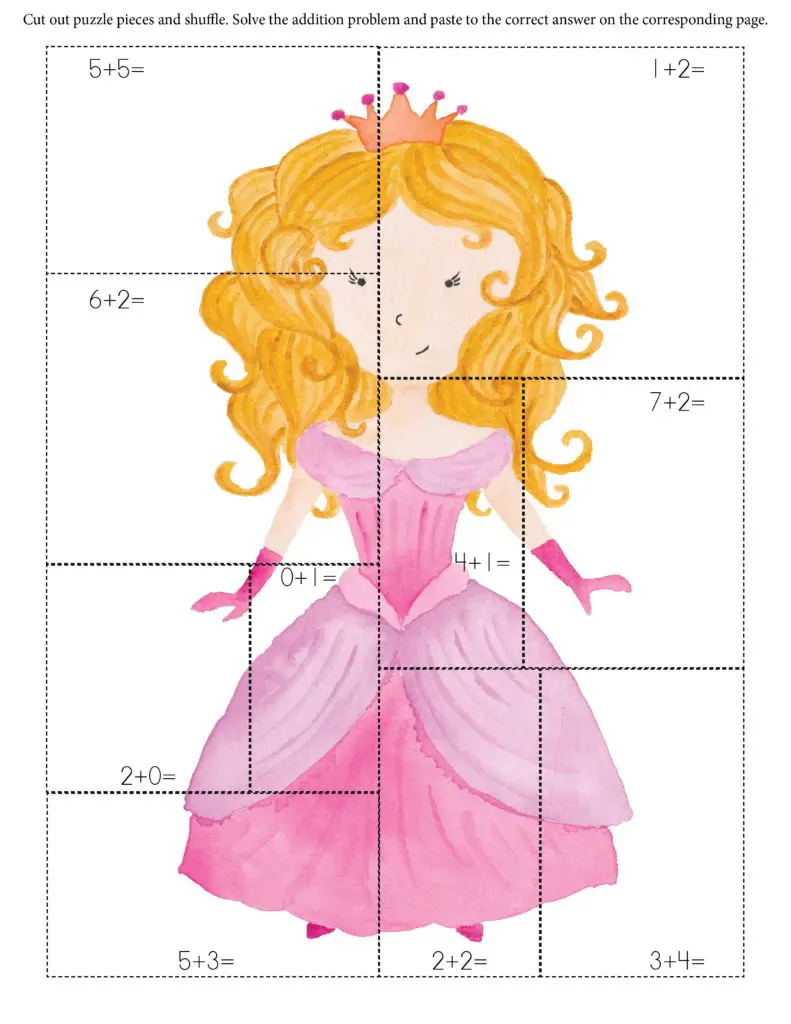 The picture puzzle makes this a self-correcting activity. Students can look at the picture puzzle and see if they got all the answers right. If the picture isn't put together correctly, they can look at the ones they got wrong and try again.
This is an easy no-set up math activity that is great for math centers. We hope you enjoy using these printable princess and castle math puzzles for kindergartners and first graders working on addition and subtraction facts.
More math activities for kids: