Despite my struggles with the holidays over the years, I do like Thanksgiving (and delicious stuffing recipes).
Not so much the history of Thanksgiving, but for us it always meant spending time with family and sharing delicious food.
I have memories of family gatherings – most of them fond. When I was about four years old, my dad bought our first video camera. It was a really big deal back in 1985!
Need more Thanksgiving side dish ideas? Try our Instant Pot Cranberry Sauce and Cheesy Mashed Potato Bombs. For a cute and easy dessert, make these Turkey Cupcakes.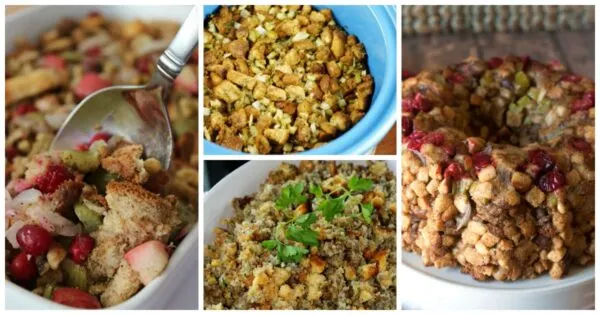 That year, my maternal grandfather died shortly after Thanksgiving. That day – that Thanksgiving – is the only video footage we have of him.
As I grew up, we almost always had Thanksgiving with my mom's family. Everyone would gather at my grandma's house and there would be so much food.
Turkey, ham, mashed potatoes, sweet potatoes, corn, biscuits, stuffing, and pies. I think it was a rule to have no less than three pies each year.
I spent several years at the kid table before being allowed to join the after dinner card games.
Food. Cards. Football.
Now, I can't quite remember when I started eating stuffing (willingly), but I didn't always like it. Sometimes it was too dry, other times too mushy. Bland or overpowered with seasoning. Somewhere in there I ate stuffing I liked and I became hooked.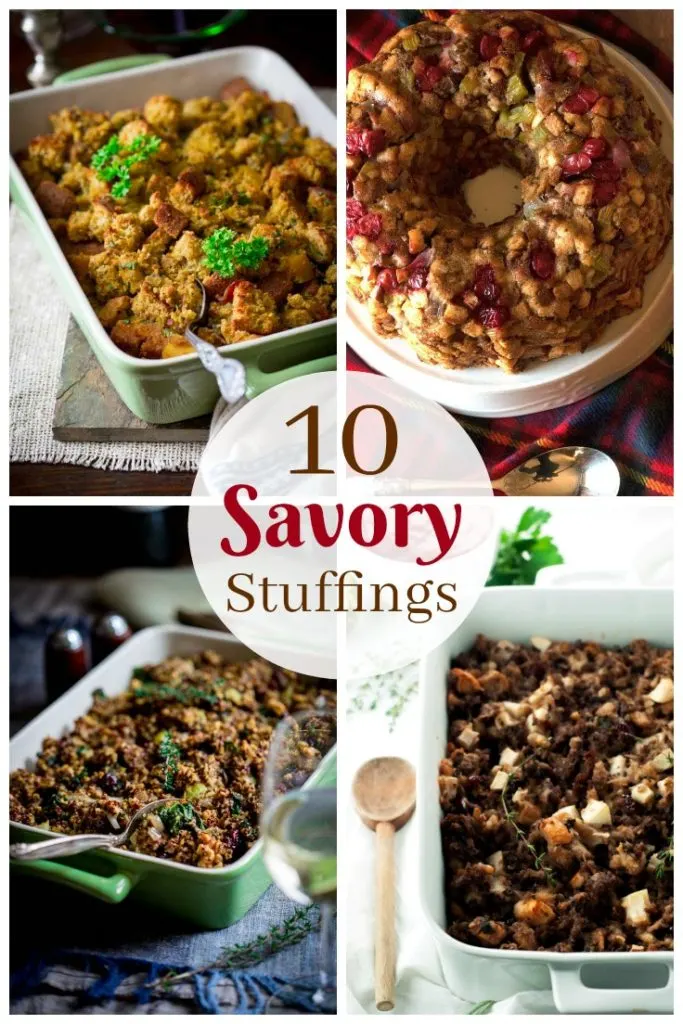 10 Savory Stuffing Recipes
In the past I would make stuffing from a box (have to start somewhere, right?), but now I prefer making my own. To gain inspiration (and satisfy my stuffing cravings) I rounded up several delicious savory stuffing recipes.
I love love love stuffing, but for some reason I rarely eat it outside of Thanksgiving. I've made it at other times of the year and it is not the same. I don't know what it is.. probably all in my head.
Still, stuffing was a Thanksgiving must-have. I looked forward to it every year. Then I went to my first Thanksgiving with my husband's family.
"Where's the stuffing?" I whispered, leaning against his shoulder.
"We don't have any stuffing."
*GASP!*
Turns out his family never really made it so it wasn't a must-have on their holiday menu. I get Thanksgiving stuffing amnesia and forget each year that they don't make it. I'm feeling stuffing deprived.
The only real solution is to make it myself, either just for home or to it take along. Maybe it'll become part of their family tradition someday too.
Do you have a favorite stuffing recipe?

More Thanksgiving ideas: