Ah, Thanksgiving dinner. When I was growing up, Thanksgiving was one of my favorite holidays because it meant big family gatherings and delicious food. Tables and tables of food.
I can smell the turkey roasting, the timer almost ready to pop. The thought makes visions of turkey drumsticks, heaping bowls of stuffing, homemade cranberry sauce, and slices of pumpkin pie dance in my head.
All of the traditional holiday foods you love waiting to be eaten are enough to make your mouth water.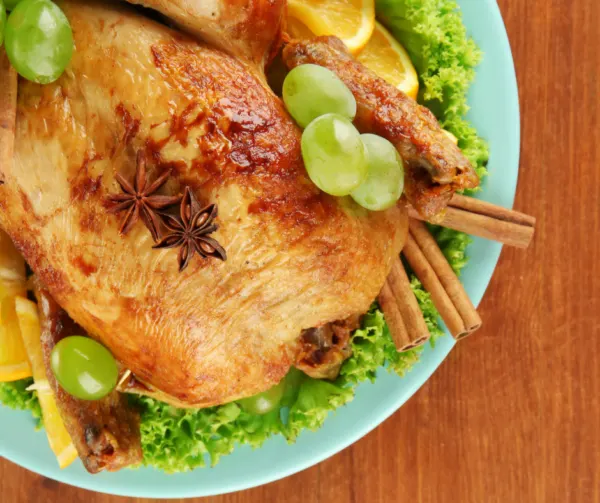 Thanksgiving Dinner Menus Your Guests Will Love
Do you ever feel stuck in a Thanksgiving dinner menu rut? As much as I love traditional Thanksgiving foods, it becomes predictable.
Who says you have to serve the same foods you've always served for Thanksgiving dinner?
Try something new this year if you're tired of always having the same meal. Experiment with a twist on a classic recipe or pick a fun food theme.
With a little bit of thought, you can come up with main courses and desserts you'd like to serve or you can try some of these tasty suggestions.
Alternatives to Turkey on Thanksgiving
For meat, instead of turkey, how about filet mignon? This delicious meat, which was a hit among the French before it arrived on America's plates, is easy to cook.
If you wrap a piece of bacon around it (like these bacon wrapped steak skewers), there won't be any leftovers!
If you'd prefer something different than beef, try a savory lamb roast cooked with tender vegetables like asparagus on the side. Instead of roasting a turkey, roast a chicken or duck.
Can't decide which type of meat to serve? Have more than one!
Make Thanksgiving kabobs with juicy morsels of beef, chicken, and pork. Flavored with red pepper, cherry tomatoes, and pineapples, this is sure to please any crowd.

Thanksgiving Side Dish Ideas
Side dishes don't have to be the same old stuffing recipes or green bean casserole. (Though I do love stuffing…)
Squash that's baked with cinnamon sprinkled apples or with juicy chunks of pineapple will disappear as fast you serve it.
If you prefer savory side dishes over slightly sweet recipes, make a cranberry stuffed squash instead. If you're not a fan of squash, try tomatoes stuffed with cheese and salmon spread.
You can also make mashed garlic cauliflower as an alternative to traditional mashed potatoes. I promise, mashed cauliflower is not that scary of a swap!
Prepare it just like you would mashed potatoes-cook until you can run a fork through it. You can also mix cauliflower with cheese such as Parmesan.
Thanksgiving Dessert Ideas
Some people say the best part of Thanksgiving menus are the desserts guaranteed to delight guests of all ages. You don't have to have fruitcake or pumpkin or apple pies year in and year out though.
(Seriously, skip the fruitcake.)
Try something different! Delight the kids with treats Like these yummy pecan pie cupcakes, adorable pilgrim hat cookies, turkey leg rice crispy treats, or acorn donut holes.
Or, how about an Easy Cheesecake Pie? This dessert is quick and easy to make and may become a new favorite. The ingredients are a regular sized bar of cream cheese, an eight ounce tub of whipped cream, one third cup sugar and a teaspoon and a half of vanilla extract.
Mix all of the ingredients together and spread it in a graham cracker pie crust. Then top with strawberry pie filling, apple pie filling, or blueberry pie filling. Refrigerate for five hours or until set.
Helpful hint: if you're using a store bought pie crust, invert the plastic pie covering, gently wash it and use it to cover the pie once it's made.
We hope these Thanksgiving dinner menu suggestions whet your appetite and inspired your taste buds.
As much as we love the traditional recipes, it can be fun and exciting to try something new.
Make it a family tradition to always include at least one new dish each year. You'll keep your guests interested in finding out what you'll serve next!
Now that you know what you are serving, don't forget about adding special touches with cute fall decorations, such as they DIY Clay Pot Turkeys or playing this Thanksgiving Gratitude Game.
More Thanksgiving recipe ideas: