Do you need Harry Potter gift ideas for the Potterhead on your list? (Potterhead is a another name for Harry Potter fans.) Then you've come to the right place!
Or maybe yer a wizard and looking to drop hints to friends and family shopping for your Christmas or birthday present. And if you are looking to treat yourself, your secret is safe with me.
Have friends and family members part of other fandoms too? Then you may want to check out our Doctor Who gift ideas, Firefly gift ideas, and Star Wars gift ideas too.
I'm excited to share these fun items with you! Thank you to the companies that sent most of these products for us to check out.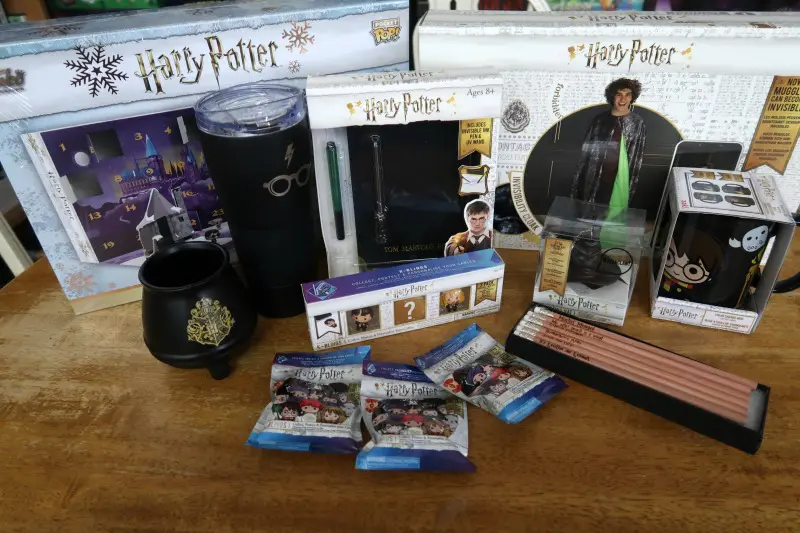 This post contains affiliate links. As an Amazon Associate and a participant in other affiliate programs, we earn a commission on qualifying purchases.
Harry Potter Gift Guide
This list has ideas that work for a variety of ages, from kids to adults, who love the Harry Potter books and movies. You don't even need to know their House to pick one of these out for a present.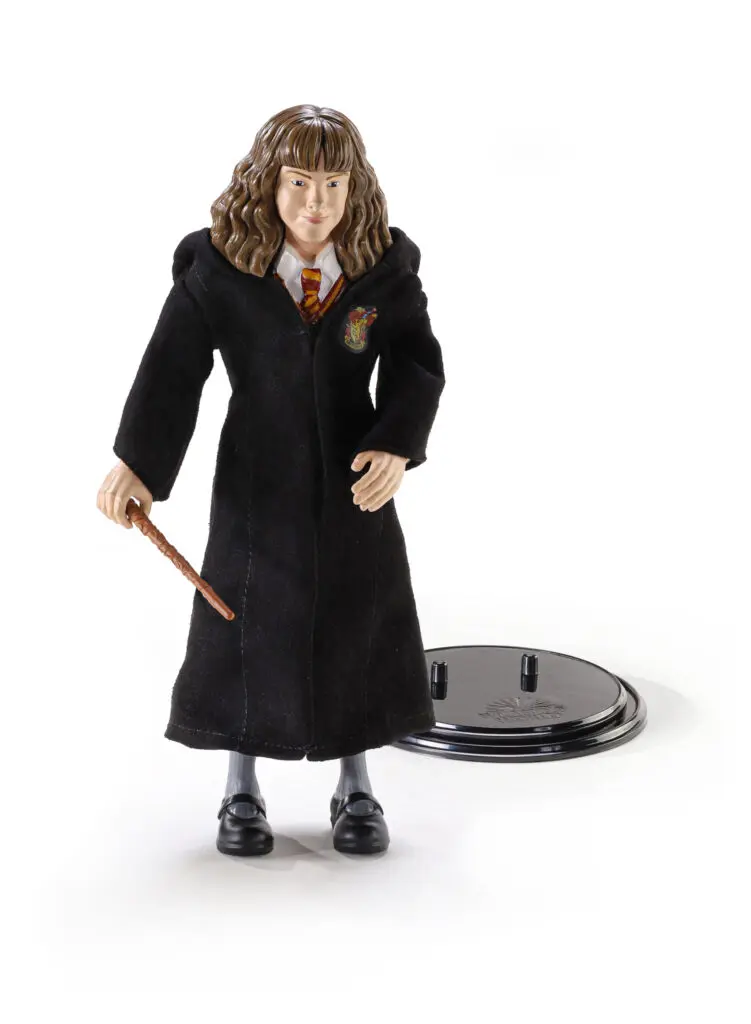 Harry Potter BendyFigs
BendyFigs are highly detailed 7″ figures that have bendy arms and legs making them easy to pose. They great for play and display making them a fun family collectible toy!
Collect the Harry Potter BendyFigs and also your favorite characters from other fandoms, such as Lord of the Rings, Star Trek, and Universal Monsters, such as the Bride of Frankenstein.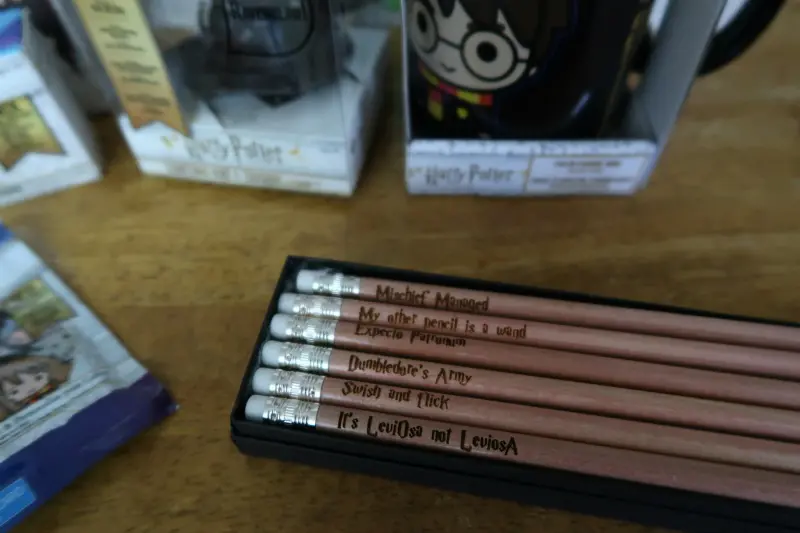 Harry Potter Phrase Pencils
This set of Harry Potter themed phrase pencils (use code LWDBSHIP for free shipping) is perfect for both kids and adults.
Kids can use the pencils at school and adults can add them to the supplies on their desk. They are a fun, yet subtle way of displaying your fandom.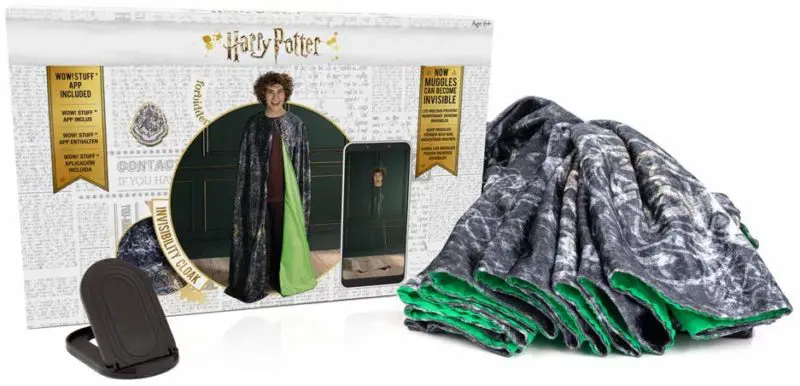 Invisibility Cloak
Ever wish you could randomly hide or quickly disappear? Now you can (fool your friends) with an invisibility cloak just like Harry's.
I think it's fun to play around with and make quick videos of you disappearing thanks to the app cloak's and green screen lining.
For the times you can't wear it, you might want this Invisibility Cloak Isn't Working T-Shirt instead.
Wizard Wand
They say the wand chooses you, but sometimes you just want to give someone a really cool present.
You have a few choices here. You could make your own unique wizard wand or a Wizard Training Wand that lights up and makes sounds.
Hedwig
Who wouldn't want their own messenger owl? Hedwig was so much more than just a way to deliver mail though, he was also a loyal companion.
That's why I'd love to add this Hedwig Funko Pop to my Pop! collection. This interactive Hedwig could be fun too!
Harry Potter Advent Calendars
Whether you actually stick to opening only one per day or open all of them immediately, themed advent calendars are a great way to add to your collection.
We love Pops! and LEGO so naturally I suggest a Harry Potter Funko Pocket Pop Advent Calendar or a LEGO Harry Potter Advent Calendar

Harry Potter K-Blings Set
Decorate and protect your charging cable with a set of Harry Potter K-Blings. Put your favorite character on your phone or tablet charger and everyone will know it's yours. There are even K-Bling blind bags which make a great stocking stuffer.
Drinkware
Hold your beverage of choice in one of these new cups! Love this black Harry Potter tumbler for taking water or coffee on-the-go.
Enjoy a cup of coffee in this cute color changing Harry Potter and the Sorcerer's Stone mug. Or perhaps you'd prefer to drink your brew from a Harry Potter cauldron mug instead.
Sorting Hat
Not sure which House they belong to? Get them a Sorting Hat keychain or Sorting Hat ornament for their Christmas tree.
The keychain is a fun accessory they can take anywhere and will help sort people into their houses with a press of the button.
Tom Riddle's Diary With Invisible Ink Pen
The Slytherin in your life may appreciate receiving Tom Riddle's Diary. It comes with an invisible ink pen and a little wand with a UV light for reading invisible ink.
Wizarding Recipes and Crafts
Yes, you can combine their love of cooking or crafting with their love for Harry Potter. There are 30 fun projects in the Unofficial Guide to Crafting the World of Harry Potter.
If they love pixel art and fuse bead creations, this Harry Potter perler bead kit is perfect.
From dinner to dessert and everything in between, conjure up over 150 magical recipes from the Unofficial Harry Potter Cookbook.
Harry Potter Board Games
If they love playing board games, here are a few ideas they may enjoy. Harry Potter Hogwarts Battle is a cooperative deck-building game. Play as your favorite character and work together to defend Hogwarts from evil forces.
There is also a head-to-head two player card game called Harry Potter Hogwarts Defence Against the Dark Arts.
Card games not their favorite? Then check out Death Eaters Rising, which is a cooperative dice rolling game. We haven't played this one yet, but we own Thanos Rising and enjoy playing it.
I hope these Harry Potter gift ideas help you shop for the fans in your life. Or, that you found something to add to your own geeky collection. We have even more board game suggestions for family game night too!
More Gift Ideas: