This printable paper fortune teller template is one of our many printable games for kids that makes a fun back to school activity.
Whether children are new to a school or just in a classroom with new kids, the first day of school can be rough!
If you need a back to school ice-breaker activity for these awkward first day of school moments, look no further. These fun paper fortune tellers will have kids chatting with each other and making new friends in no time!
Do you remember doing the fortune teller game with your friends when you were a kid? I do!
Meeting new people is hard, even as an adult – but for children, who haven't yet developed all the social skills they may need in life, it seems impossible to come up with anything to say.
Want more back to school craft ideas? Check out this cute craft stick pencil craft project.
What Is A Paper Fortune Teller?
A fortune teller is a type of origami. These cute, foldable crafts have been popular with children and used for all manner of different kinds of games and activities since the 1950s!
Depending on where you are regionally, you may have heard a fortune teller chatterbox called by other names, like chatterbox, joke teller, cootie catcher, story teller, or a whirlybird.
No matter what you call yours, there are plenty of fun ways to use them.
How to Make a Fortune Teller
Our printable template makes it easy to fold and includes a page on how to make a paper fortune teller step by step.
Folding a chatterbox always begins with a square piece of paper. So, the first step will be to print it out and then cut out the template.
Continue to fold it according to the instructions and using the printed lines as a guide.
It may take a little while the first time your child folds one. I highly suggest printing out two so you and your child can follow the directions and fold your own fortune teller at the same time.
When you have your finished paper craft all folded properly, it's time to play!
How to Play the Fortune Teller Game
Now that my daughter knows how to make fortune tellers, we can fold them quickly. But, sometimes we don't know what to write in a paper fortune teller.
With our owl cootie catcher printable, you don't have to worry about writing anything!
Place the folded fortune teller over your thumbs and index fingers.
Have a friend choose one of the owls on the outside of the chatterbox.
When an owl has been chosen, open and close it as you spell the color of the owl.
Then hold it still while your friend picks a number from the inner part of the cootie catcher.
Slide the fortune teller off of your fingers and lift the number flap up to reveal a question.
Printable Paper Fortune Teller Template
This owl chatterbox printable is for personal or classroom use only. It makes a great back to school activity and we hope you enjoy using it!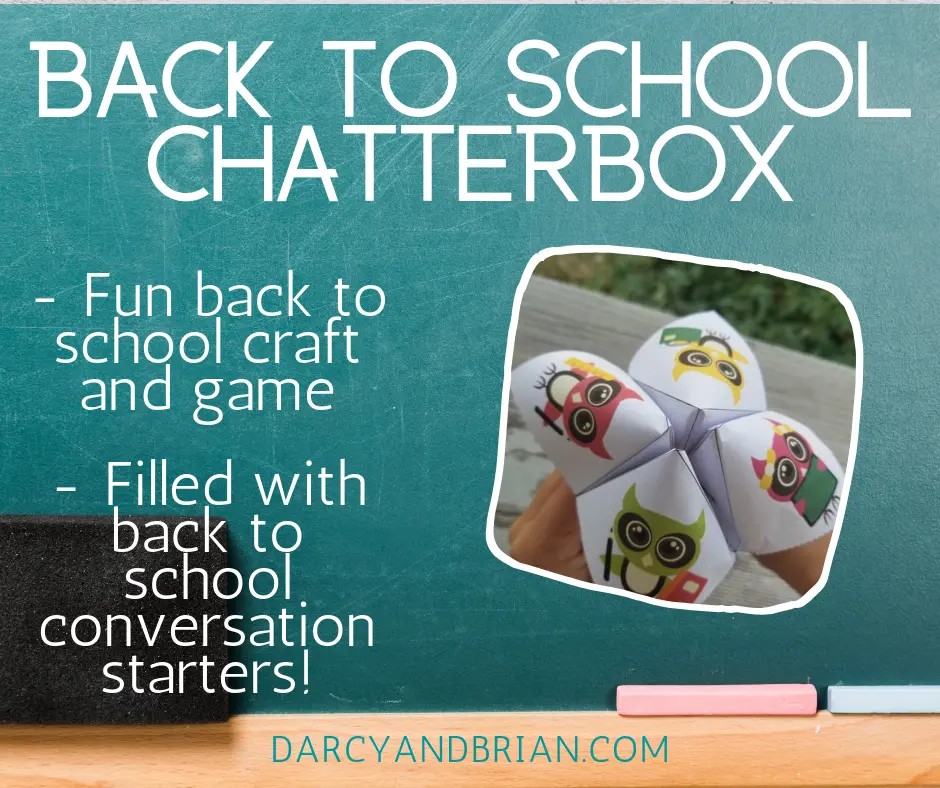 Click to download the Back to School Owl Fortune Teller Printable Template
I thought of a few paper fortune teller ideas and loved the idea of using questions to get to know new classmates and learning what friends did over summer break.
In no time, kids will be making friends and finding out what they have in common with their classmates.
With questions like "What is your favorite superhero and why?" or "Tell about your summer", there is no doubt that your problem will be keeping the chatter down on the first day of school!
More Back To School Tips: