Are you a morning person? I'm not, but you can make mornings more pleasant with these Pumpkin Chocolate Chip Pancake Bites.
Seriously!
I'm the complete opposite of a morning person. I will squeeze out every last bit of shut eye possible. Alarm clocks hate me because I smack snooze until they refuse to alert me anymore. (Granted I don't use alarms as often now that I have kids and a dog.)
At least everyone in this house loves pancakes for breakfast!
Mornings, especially busy mornings, are a struggle for me. As much as I want to be a bright and chipper morning person, it's just not ME.
I have full intentions to wake up early, enjoy alone time in a quiet house, and cook a full breakfast before my family crawls out of bed.
Summer mornings are lazier, but not school mornings. Oh no. Not only do I need to get myself ready before work, I have to make sure both kids are clothed, brushed, and dressed so I can drop my oldest off at school. Working from home means non-school mornings are more lenient.
But we have to BE somewhere almost every morning during the school year.
This is why I LOVE quick and easy breakfast ideas. I need breakfast recipes that I can easily make in the morning, or even the night before.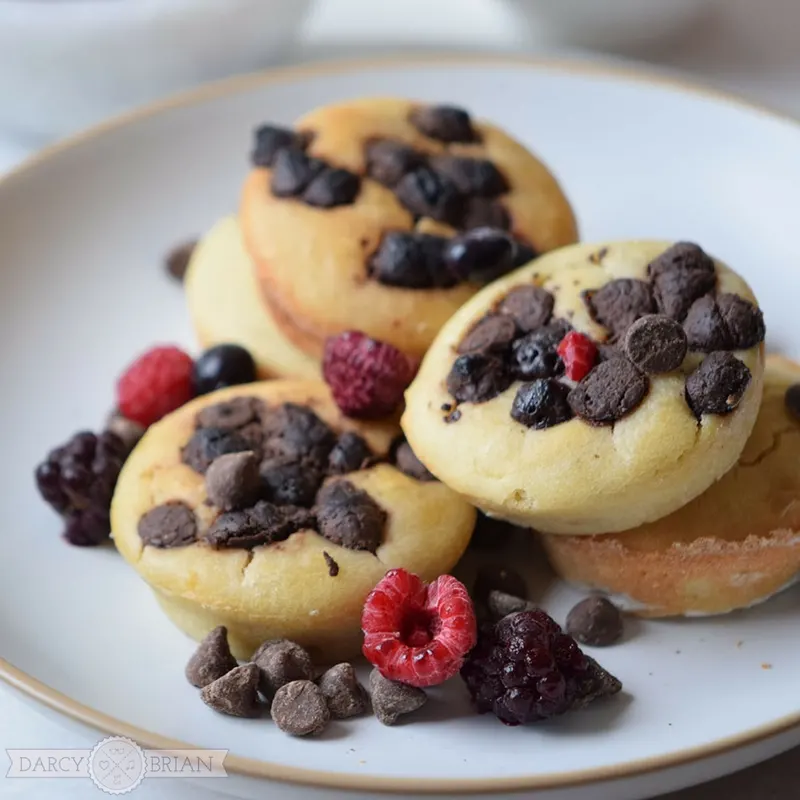 This post contains affiliate links. As an Amazon Associate and a participant in other affiliate programs, we earn a commission on qualifying purchases.
Pumpkin Chocolate Chip Pancake Bites
Yes, you can make these ahead of time and keep them in the fridge or freezer. Then simply heat and eat in the morning!
The best part?
These pancake bites are portable. So, if the kids have to eat them as we walk to school, they totally can.
I prefer feeding them before we leave, but it works in a pinch. If your kids can eat on the bus, this might help them if they are running late or don't feel hungry before heading to the bus stop.
Pumpkin Chocolate Chip Pancake Muffin Ingredients:
How to Make Pumpkin Chocolate Chip Pancake Bites
Preheat your oven to 350 degrees Fahrenheit.
Grease a muffin pan or use muffin liners.
Add all of the ingredients in a bowl (seriously, how easy is that?) and mix until no lumps are left. I recommend using an electric mixer. You can mix by hand, but your arm may get tired.
Pour the batter into your muffin pan.
Bake in the oven for 25 minutes or until done.
Serve and enjoy!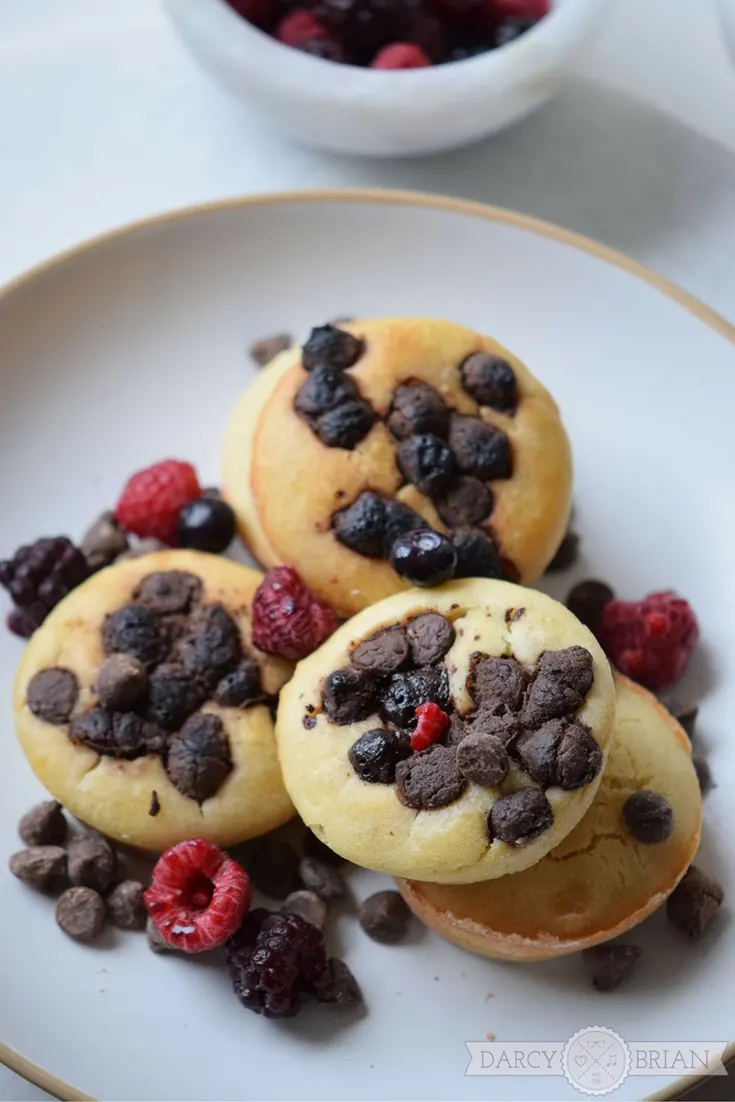 You can also serve these pumpkin pancake bites with a generous amount of berries (raspberries and blueberries go great with this!).
Want to add a layer of indulgence on a special day (or just because)? Whipped cream makes a fun topping.
Three cheers for fast and easy breakfast recipes like these pancake bites! We hope you enjoy them and they help make busy mornings go smoother for you and the kids.
Here are more breakfast recipes you may enjoy:
Pumpkin Chocolate Chip Pancake Bites
Whip up a batch of these pancake bites for a quick and easy breakfast.
Ingredients
½ Cup flour
1 Egg
½ Cup milk
½ Tbsp sugar
⅛ Cup pumpkin puree
⅛ Cup chocolate chips
Instructions
Preheat the oven to 350 degrees
Place all the ingredients in a bowl and mix with the help of an electric mixer until no lumps are left.
Pour the batter into a previously greased muffin pan
Bake in the oven for 25 minutes or until done
Nutrition Information:
Yield:

12
Serving Size:

1
Amount Per Serving:
Calories:

41
Total Fat:

1g
Saturated Fat:

1g
Trans Fat:

0g
Unsaturated Fat:

1g
Cholesterol:

16mg
Sodium:

12mg
Carbohydrates:

6g
Fiber:

0g
Sugar:

2g
Protein:

2g
Nutrition information isn't always accurate and may vary based on ingredients and measurements used.