This list of Milwaukee area Halloween activities has been updated for 2019.
We love fall in Wisconsin! Every year my kids get excited about apple picking and going to the pumpkin farm.
Thankfully there are a variety of family friendly Halloween activities throughout the Milwaukee area.
For even more family fun, don't forget to check out our list of Milwaukee area indoor playgrounds, these things to do in Janesville with your kids, planning a day trip to Kenosha, and Wisconsin museums to visit with your family.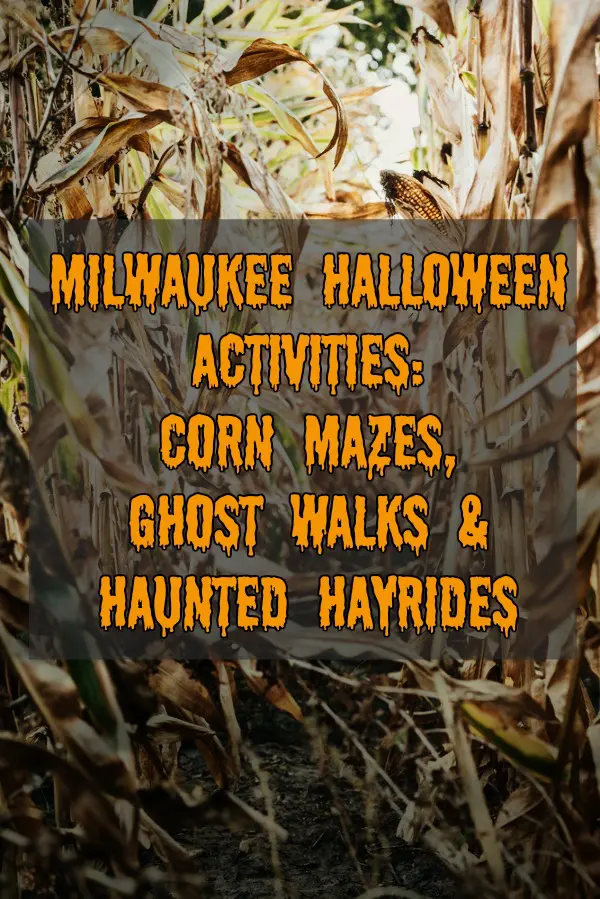 Milwaukee Area Halloween Activities
Some activities, such as haunted corn mazes, are geared towards older children, but there are plenty of less scary activities for the entire family to enjoy.
For the most creepy events, you could plan a frightful date night!
This list has been updated for 2019 to the best of our ability. We do not take responsibility for price changes or event cancellations. Most of these activities occur weather permitting.
If you find a fall activity you are interested in, please double check details or call to confirm before attending.
Fear District – Milwaukee
Head down to the Fiserv Forum Plaza for a day (or night) of Halloween fun!
Haunted houses, scary movies in The Beer Garden, interactive games and more will arrive this fall when Deer District transforms into Fear District from Thursday, Sept. 26 to Sunday, Nov. 3.
Explore the frights of the farm at Scare Acres, be forced to walk the plank with Buccaneers of Fear at Dead Man's Wharf and escape the bite of the vampire as you wander through the tombs of Vampire Village.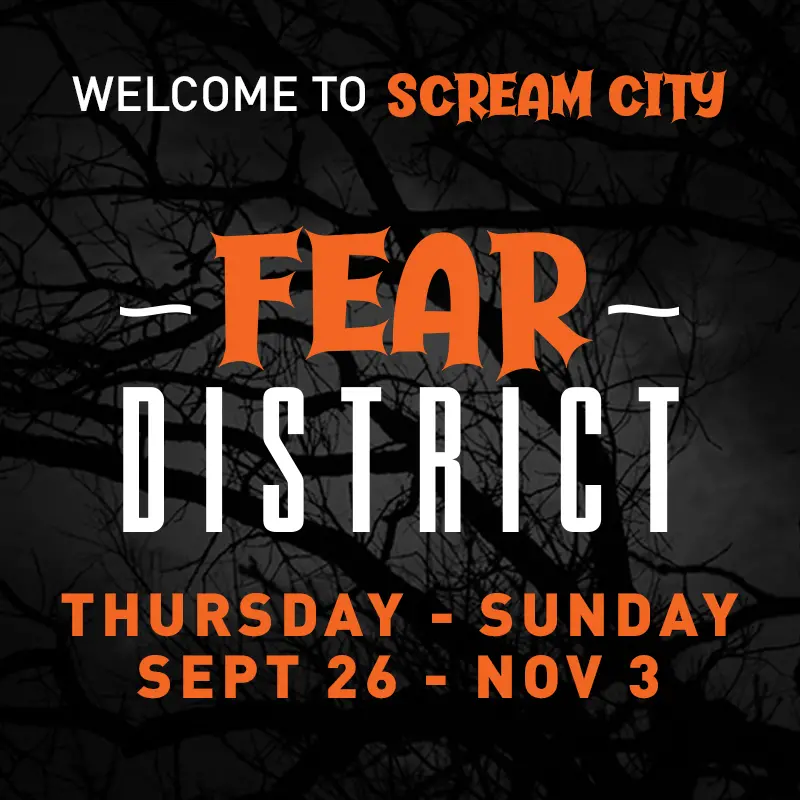 Fear District will be family-friendly before 6 pm on weekends, featuring the haunted houses, face-painting, Halloween-themed games and themed food and beverage options.
Once night falls, things will become much spookier and spine-tingling scares, themed bars and ghoulish entertainment will arise…
Cost: Entry into Fear District is free. Tickets for the haunted houses are $20/adult and $15/children under 12. Tickets available for purchase at https://feardistrictmke.com/
Dates: Thurs-Sun starting September 26 through November 3
Times:

Thurs 6PM-10PM
Fri 6PM-11PM
Sat 11AM-11PM
Sun 2PM-8PM
Haunted Hayrides
Dan Patch Stables at Grand Geneva Resort & Spa – Lake Geneva
The first haunted hayrides of the evening (before 7PM) are a little less scary and more family friendly. Plan to arrive by 6PM to guarantee a spot for a kid-friendly hayride.
The actors are still in costume, but do not jump out during the kid friendly time. Rides are about 20-25 minutes long
Cost: $15/person; $8 for kids 4-10 years old; Under 3 are free *cash only
Dates: Fridays & Saturdays October 4 – November 2; plus Sun Oct 13 and Thurs Oct 31
Hours: Fridays & Saturdays 6PM-Midnight
Website: Dan Patch Stables
Haunted Houses
The Haunt – Cedarburg
The Haunt is a scary fun haunted house ran by volunteers as a fundraiser for Ozaukee County 4-H. It is indoors at Ozaukee County Fairgrounds. Recommended for ages 11+
Cost: $15/person
Dates: October 11-26
Hours: Fridays & Saturdays 6PM-10PM
Get details and tickets online here.
Warriors Haunted Asylum – Dotyville
This haunted house has three floors of frights and thrills. Once you escape out of the basement there's an outdoor maze where the scares continue. They do offer a daytime walkthrough without actors for families.
Cost: $10/person for evenings; $5/person for daytime kid-friendly walkthrough
Dates: Sept 28; Oct 4-5; Oct 11-12; Oct 18-19; Oct 24-26, Oct 31, Nov 1-2
Hours: 7PM-10PM for the full terrifying experience (kid-friendly walkthroughs are 10AM-1PM)
Get details on their Facebook page and tickets online.
Corn Mazes and Haunted Corn Mazes
Creekside Valley Farm – Mequon
Try navigating their 5 acre corn maze and use your trivia knowledge to help you get out quicker. Find plenty of family friendly fun while visiting such as pumpkin bowling and seeing the farm animals.
Cost: $5/person for corn maze and $2/person for hay rides; ages 3 and under are free
Dates: Opening weekend September 21
Hours: Sunday-Thursday 10AM-Dusk and Friday-Saturday 9AM-Dusk
Website: Creekside Valley Farm
Cedarburg Creek Farm – Cedarburg
Plenty of family friendly activities, including a one-of-a-kind corn maze. Also check out the free hayrides and petting zoo.
Cost: Free admission; purchase pumpkins and concessions
Dates: September 21 – October 31
Hours: Daily 10AM-6PM
Website: Cedarburg Creek Farm
Basse's Taste of Country Farm – Colgate
Head out to Basse's for Pumpkin Fest for their fun corn mazes, plus LOTS of other fall activities for families. Seriously, there is a ton to do while there.
This year the large maze theme is trivia and the small maze theme is a farm murder mystery.game.
Cost of Admission:

$10.99 (weekdays)
$13.99 (weekends) *Ages 0-23 months are free
Unlimited season pass $45.99
U-Pick Pumpkins, Apple Blasters, and Pony Rides have additional costs

Dates: September 21 through October 31
Hours: Sat & Sun 10AM-5:30PM; weekdays 1:30PM-5:30PM
Visit their website for further details on dates and activities.
Please note they have gone cashless for 2019. You can order tickets online or pay onsite using credit, debit, or mobile pay only.
Homestead Animal Farm – Hartland
Bring the family to visit the animals, go on a hayride, and navigate the corn maze. The 2019 corn maze is a farm trivia puzzle maze. It includes three challenges within it, one being a QR code game.
Cost per person, under 2 years old is free *cash or check only :

Corn Maze Only $6
Animals only $2
Hayride only $2
Play area only $2
Activity package – Purchase an $11 package which includes the corn maze, animals, hayride, and play area

Dates: October 5-6; 12-13; 19-20
Hours: Saturdays & Sundays 10AM-6PM weather permitting
Website: Homestead Animal Farm
Jim's Pumpkin Farm – Germantown
Check out the 4.5 acre corn maze!
Cost: FREE – No general admission fee *Only cash accepted for purchases
Dates: September 28 through October 31
Hours: Daily 9am-6pm (hayrides to pumpkin patch on Saturdays & Sundays)
Website: Jim's Pumpkin Farm
Meadowbrook Pumpkin Farm and Market – West Bend
The Meadowbrook Pumpkin Farm offers a few choices for spooky fun. Their nighttime haunted cornfield includes live actors, animatronics, frightful scenes, fog, and aims to scare the daylights out of you.
They also offer a few nights of the haunted cornfield without actors and also have the daytime creepy cornfield for family fun.
Daytime Creepy Cornfield (Family Friendly with No Actors)
The Daytime Creepy Cornfield takes about 40 minutes to go through all of the Halloween exhibits. It is not considered to be very gory, gross, or startling.
Children under 12 must be accompanied by an adult.
Cost: $14.95 for kids 8+; $11.50 for kids 7 and under
Dates: Daily
Hours:

Mon, Tues, Wed 10AM-8PM
Thurs 10AM-10PM
Friday-Saturday 10AM-Midnight
Sun 10AM-10PM
Nighttime Creepy Cornfield with No Actors (Family Friendly)
This is the same as the nighttime haunted cornfield except there are no actors. There are lights, sounds, air action props, and mini haunted houses. It takes about 45 minutes to go through it.
Cost: $16.95 for all ages
Dates: Throughout October
Hours:

Thursday & Sunday 6PM-10PM
Tues and Wed 6PM-8PM
Nighttime Haunted Cornfield (with live actors)
This is designed to be scary fun with live actors, multiple scenes, props, fog, and more to startle and frighten you as you walk through tall, dense cornstalks.
*Not recommended for children under 12 years of age.
Cost: Regular Pass $25 or VIP Quick Pass $35
Dates: Every Friday & Saturday in October
Hours: 6PM until midnight (ticket sales are 1PM to 11:30PM)
Schuett Farms – Mukwonago
This 10 acre corn maze is not haunted and has over 3 miles of path. It can take about 90 minutes to get through it and there are interactive checkpoints and clues along the way.
Day Time Corn Maze
Cost: $6/person; under 2 years old is free
Dates: Daily, starting September 28 throughout October
Hours: 10AM-6PM Daily
Night Time Corn Maze
Cost: $8/person
Dates: October 11-12; 18-19; 25-26
Hours: 6PM-10PM (last entry at 9PM)
Must bring your own flashlight!
Check the Schuett Farms website for updates.
Ghost Walks & Ghost Tours in Southeast Wisconsin
Gothic History Tours by Cedarburg Cultural Center
The theme for 2019 is Death: A Grave Undertaking
This tour is not recommended for children under 12 years of age. It is a 90 minute walking tour in Cedarburg's National Historic District and Zur Ruhe Cemetery.
Cost: $18/person when purchased in advance; $25 day of tour. May tours sell out, so purchase tickets in advance.
Dates: Friday October 18, Sat October 19, and Fri October 25, 2018
Hours: 6:30PM-8:15PM (10 groups of 20 leave every 15 mins)
Visit Cedarburg Cultural Center website for additional information and online ticket sales.
Milwaukee Ghost Walk down in the 'Bloody' Third Ward
This ghost walk includes local folklore, legends, historical accounts, and reported paranormal activity in the Historic Third Ward in Milwaukee, Wisconsin.
This area was once a rough and mysterious 19th Century ghetto known as the Bloody Third.
The walk is about 1.5 miles long and takes about 1.5 to 2 hours.
Waukesha Ghost Walks
Haunted history, urban legends, and real-life ghost stories in a walking tour of downtown Waukesha.
Have you attended any of these Milwaukee area Halloween activities? Do you know of one we should add to the list? Let us know in the comments!