This list has been updated for 2018 to the best of our ability.
We love fall in Wisconsin! Every year my kids get excited about apple picking and going to the pumpkin farm.
Thankfully there are a variety of family friendly Halloween activities throughout the Milwaukee area.
Some activities, such as haunted corn mazes, are geared towards older children, but there are plenty of less scary activities for the entire family to enjoy. For the most creepy events, you could plan a frightful date night!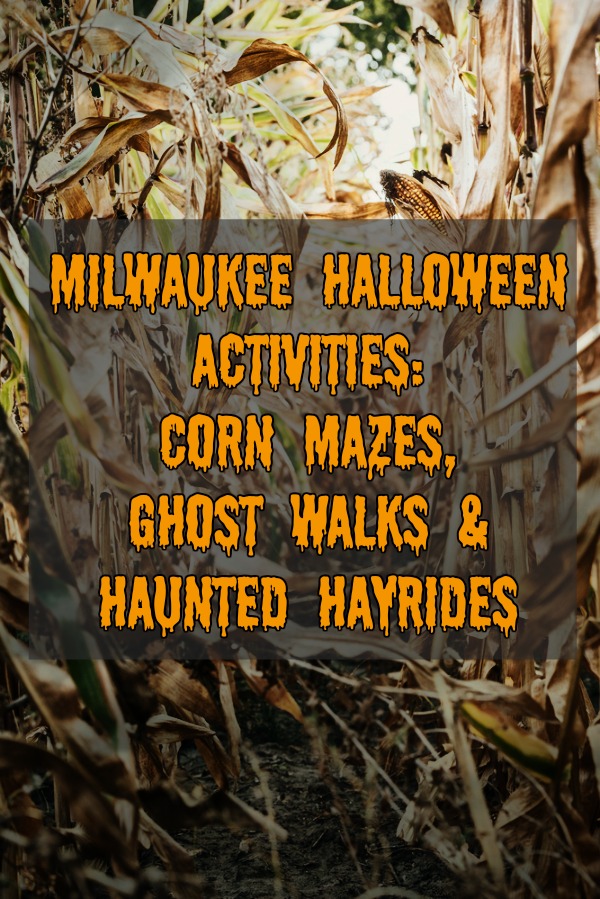 Milwaukee Area Halloween Activities
This list has been updated for 2018 to the best of our ability. We do not take responsibility for price changes or event cancellations. Most of these activities occur weather permitting.
If you find a fall activity you are interested in, please click the name of the place to go to their website. There you may double check details or call to confirm before attending.
Haunted Hayrides
Dan Patch Stables at Grand Geneva Resort & Spa – Lake Geneva
The first haunted hayrides of the evening (before 7PM) are a little less scary and more family friendly. Rides are about 20-25 minutes long
Cost: $15/person; $8 for kids 4-10 years old; Under 3 are free *cash only
Dates: September 28 through October 28
Hours: Fridays & Saturdays 6PM-Midnight
Cedarburg Creek Farm – Cedarburg
"The Haunted Swamp" Haunted Hayride & Trail CLOSED FOR 2018
Haunted Houses
A scary fun haunted house ran by volunteers as a fundraiser for Ozaukee County 4-H. Recommended for ages 11+
Cost: $15/person
Dates: October 12-27
Hours: Fridays & Saturdays 6PM-10PM
Warriors Haunted Asylum – Dotyville
Times: 7PM-10PM Fridays & Saturdays in October
Corn Mazes and Haunted Corn Mazes 
Creekside Valley Farm – Mequon
Try navigating their 5 acre corn maze and use your trivia knowledge to help you get out quicker. Find plenty of family friendly fun while visiting.
Cost: $5/person; ages 4 and under are free
Dates/Hours: Sunday-Thursday 10AM-6PM and Friday-Saturday 9AM-6PM
Cedarburg Creek Farm – Cedarburg
Plenty of family friendly activities, including a one-of-a-kind corn maze. Also check out the free hayrides and petting zoo.
Dates: Through November 1
Hours: Daily 10AM-6PM
Basse's Taste of Country Farm – Colgate
Head out to Basse's for Pumpkin Fest for their fun Incornibles corn maze, plus lots of other fall activities. They have a large maze as well as a small maze.
Cost: $9.99 (weekdays) / $12.99 (weekends) *Ages 0-23 months are free
Dates: September 22 through October 31
Hours: Sat & Sun 10AM-5:30PM; weekdays 1:30PM-5:30PM
Homestead Animal Farm – Hartland
Bring the family to visit the animals, go on a hayride, and navigate the corn maze.
Cost: $6 (corn maze only)/person. Purchase an $11 package which includes the corn maze, animals, hayride, and play area; under 2 years old is free *cash or check only
Dates: Weekends only throughout October
Hours: Saturdays & Sundays 10AM-6PM
Jim's Pumpkin Farm – Germantown
Check out the 4.5 acre corn maze!
Cost: No general admission fee *Only cash accepted for purchases
Dates: October 1-31
Hours: Daily 9am-6pm (hayrides to pumpkin patch on Saturdays & Sundays)
Meadowbrook Pumpkin Farm and Market – West Bend
The Meadowbrook Pumpkin Farm offers a few choices for spooky fun. Their nighttime haunted cornfield includes live actors, animatronics, frightful scenes, fog, and aims to scare the daylights out of you.
They offer a few nights of the haunted cornfield without actors and also have the daytime creepy cornfield for family fun.
Nighttime Haunted Cornfield (with live actors)
*Not recommended for children under 12 years of age.
Cost: $25 (VIP quick pass available)
Dates: Every Friday & Saturday in October
Hours: 6PM until midnight (ticket sales are 1PM to 11:30PM)
Nighttime Creepy Cornfield with No Actors (Family Friendly)
This is the same as the nighttime haunted cornfield except there are no actors or fog used.
Cost: $16.95
Dates/Hours: Every Thursday & Sunday in October 6PM-10PM
6PM-8PM on Mon, Tues, Wed
Daytime Creepy Cornfield (Family Friendly with No Actors)
Cost: $14.95
Dates: Daily
Hours: 11AM-8PM
This corn maze is not haunted. It can take about 90 minutes to get through it and there are interactive checkpoints and clues along the way.
Cost: $6/person; under 2 years old is free
Dates: Daily throughout October
Hours: 10AM-6PM
There will also be select weekends with night time hours to go through the maze with a flashlight. Check the website for updates.
Ghost Walks & Ghost Tours in Southeast Wisconsin
Gothic History Tours by Cedarburg Cultural Center
Dates: October 19, October 20, October 26, 2018
Cost: $18/person when purchased in advance; $25 day of tour. May tours sell out, so purchase tickets in advance.
This tour is not recommended for children under 12 years of age. It is a 90 minute walking tour in Cedarburg's National Historic District and Zur Ruhe Cemetery.
Milwaukee Ghosts walk down in the 'Bloody' Third Ward
Cost: $20/person
Available on select dates (primarily weekends). This walk includes local folklore, legends, historical accounts, and reported paranormal activity.
Haunted history, urban legends, and real-life ghost stories in a walking tour of downtown Waukesha.
Cost: $20/person
Available on select dates (primarily weekends).
Have you attended any of these Milwaukee area Halloween activities? Do you know of one we should add to the list? Let us know in the comments!
Subscribe
Get weekly sanity saving parenting tips, recipes, and kids activities.