These bat life cycle printable activities help children visualize the different life stages of bats.
Preschool, kindergarten, and first grade children can work on fine motor skills, writing, and reading while learning about bats. They will be coloring, tracing words, using scissor skills to cut and paste, and reading.
Looking for more bat themed learning activities? Try making these coffee filter bats for art. Also check out our butterfly life cycle activity.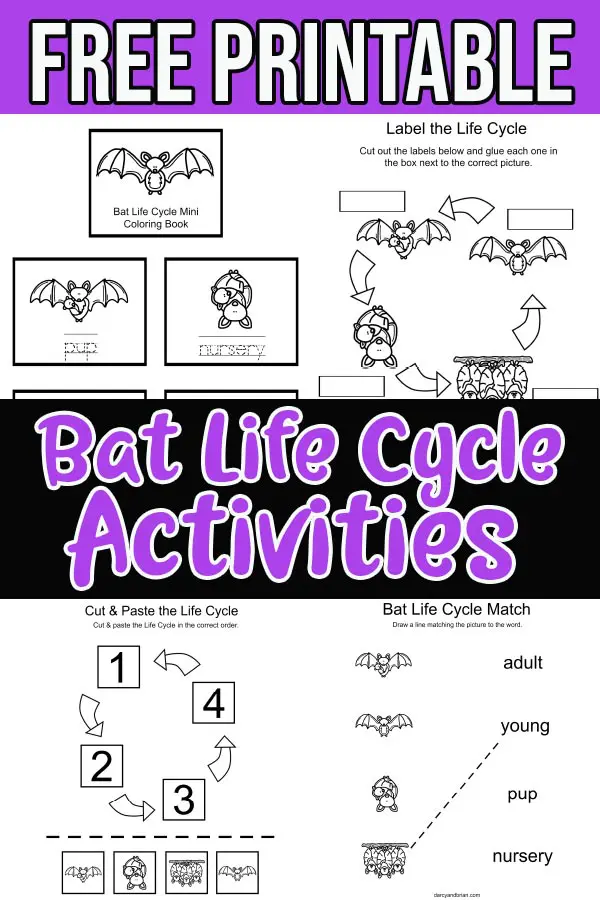 This post contains affiliate links. As an Amazon Associate and a participant in other affiliate programs, we earn a commission on qualifying purchases.
Life Cycle of a Bat
Did you know there are over 1000 species of bats? They are interesting mammals to learn about. There are four stages in a bat's life cycle:
Pup
Nursery
Young bat
Adult bat
Bat's hibernate for most of the winter. When they come out of hibernation, adult bats mate.
Female bats then hang right side up to give birth to one bat pup (occasionally they may have twins). For a period of time, the pup stays attached to the mom and nurses.
Then during the nursery stage, the pups attach to their moms to sleep. They also will hang upside down together while the mothers go out to hunt.
Young bats begin flying and hunting for their own food. They reach adulthood around one year after being born.
For further learning and reading, here are a few books about bats: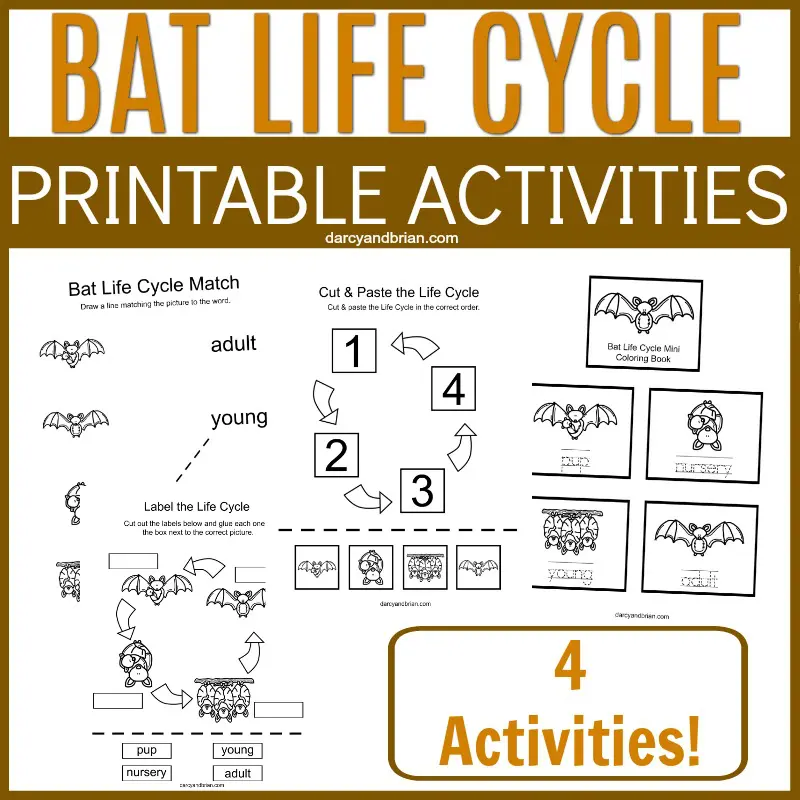 Free Printable Bat Life Cycle Activities
These free bat life cycle printables come with four different activities. Children can work on them all at once or use them throughout a bat unit to reinforce the order of life stages as well as different skills.
They will work on fine motor skills while coloring, cutting pieces out with scissors, and gluing them in place. They will also be working on reading and writing by tracing words and matching words with pictures.
Use these printable pages as part of a bat unit study, during Halloween, or for quiet time morning work at home or at school. A fun STEM idea is this flying bat activity. Kids will love experimenting with how to get their bats to fly across the room. You can even set them up to race!
Mini Bat Life Cycle Coloring Book
Print out the bat life cycle mini coloring book and have kids color the pictures and trace the words to practice writing. Then cut out the pages and staple them together to create a little book. You can assemble the books ahead of time before the kids work on coloring and tracing.
Bat Life Cycle Picture Order
For this worksheet, kids cut out the bat pictures of each life stage and paste them in order on the numbers. The order should be pup, nursery, young, and adult.
Label Stages of Bat Life Cycle
This label activity works great for a reading center activity. Have students cut out the word labels and paste them next to the correct life cycle picture. They can also color the bat pictures.
Bat Life Cycle Match
This bat life cycle match worksheet is a simple activity for kids. Have them draw a line to match the picture with the word for each stage of the life cycle.
Download Bat Life Cycle Activity Sheets
Fill out the form below to download and save this set of free printable bat life cycle activities.
This printable is for your personal use at home or for your personal classroom only. You can print it out at home or at school on regular printer paper as many times as you need.
More learning activities for kids:
Share this post with teachers and parents who would love this activity for their kids too!