Get ready for some festive fun with our Christmas Pictionary Game, a wonderful addition to your Christmas activities for kids. This printable game, perfect for children of all ages, brings laughter and joy to your home and classroom.
It's simple – draw and guess using our special Christmas-themed word cards. This interactive game encourages creativity and teamwork, sparking a holiday spirit in everyone involved.
With lots of unique word prompts, it promises endless entertainment at your family gatherings, game nights, and even during school festivities. So, get those pencils ready and let the holiday games begin!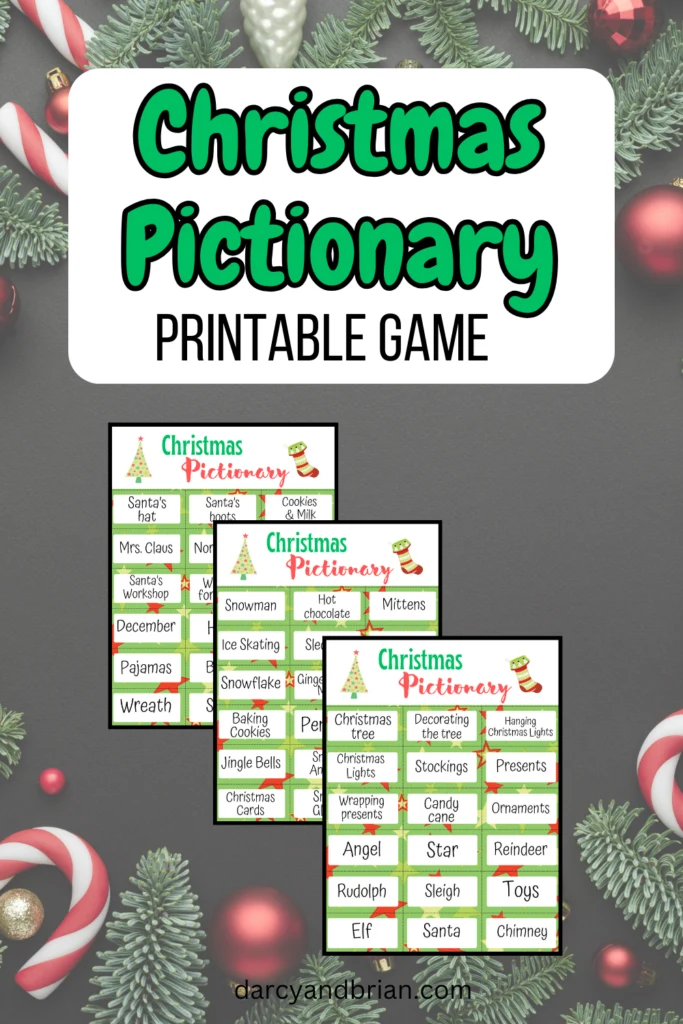 Christmas Pictionary is a great way to get kids of all ages excited about the holiday season. This free printable game is perfect for family gatherings, game night with friends, or even in the classroom.
With over 50 word cards featuring Christmas-themed prompts, kids can have fun drawing and guessing while learning new vocabulary related to the holiday season.
More Christmas Games for Kids
As the winter break draws near, children have the opportunity to engage in printable games for kids. These games provide both entertainment and a way to keep the little ones occupied during the holiday season.
From creative activities inspired by Christmas themes to interactive group games that promote laughter and camaraderie, there's a wide range of choices available.
Whether your kids are enjoying a cozy day indoors or spending time with friends and family, these games offer warmth and joy during the holiday season.
They encourage creativity, foster social skills, and even have educational value. So, let the spirit of the season guide you in exploring these fun game ideas for kids and create lasting memories this holiday season.
This post contains affiliate links. As an Amazon Associate and a participant in other affiliate programs, we earn a commission on qualifying purchases.
Dolphin Hat Games Santa Cookie Elf Candy Snowman
12 Games of Christmas – 12 Hilarious Holiday Games [Family Party Games Pack for Kids, Teens & Adults] – by Beat That! Game
Fun Express Christmas Tree Cone Ring Toss Game
Outset Media Christmas Scavenger Hunt Game (Amazon Exclusive) – Contains 220 Cards – Christmas Themed Party Game for 2 or More Players Ages 6 and up
Benefits of Playing Christmas Pictionary
Playing Christmas Pictionary not only adds a whole lot of fun to your festive celebrations but also offers numerous benefits for kids.
This game fosters social interaction as players work together in teams, promoting a sense of camaraderie and collaboration.
It exercises their communication skills as they strive to articulate their ideas through quick sketches.
The guessing aspect of the game encourages kids to think critically as they decipher the drawings, which can lead to hilarious interpretations and hearty laughs.
Furthermore, with the Christmas-themed word prompts, children can expand their holiday vocabulary, learning new words related to the season.
So, while they're busy having fun, they're also developing vital skills that will aid them in their social and educational journey.
More Fun Drawing Games for Kids
Spark creativity, encourage artistic expression, and foster a love for learning with these fun drawing games.
They provide children with a fun-filled platform to let their imagination run wild, all while enhancing their fine motor skills and boosting cognitive development.
Drawing can be a powerful tool for learning, as it promotes visual thinking, improves concentration, and supports the process of problem-solving.
It also allows children to communicate their thoughts and ideas in a non-verbal manner, which can be particularly beneficial for those who are still developing their language skills.
By incorporating play into the learning process, children are more likely to engage actively, retain information more effectively, and develop a positive attitude towards learning.
TWOPOINTOH GAMES Artsy Fartsy – Fun Family Games for Kids and Adults. Winner of USA Today's Best Gift for Families National Award
Mythical Creatures Drawing Game for Kids Mashup Animal Art Ideas. 150 Prompt Cards. Creative Gift for Tweens, Teens + Family Fun Night for All Imaginations!
Telestrations Original 8-Player | Family Board Game | A Fun Family Game for Kids and Adults | Family Game Night Just Got Better | The Telephone Game Sketched Out | Ages 12+
The Imagineering Company WatchamaDrawit Fast Action Drawing Game with Wildly Creative Challenges – A Family Board Game for Kids and Adults
Vango The UpsideDownChallenge Game for Family & Kids – Complete Fun Challenges with Upside Down Goggles – Hilarious Fun Game for Game Night & Parties – 2-6 Players, Ages 8+
​Pictionary Air Kids Vs. Grown-Ups Family Game for Game Night with Light Pen and Clue Cards, Connect to Smart Devices
What's Included in the Printable Christmas Pictionary Game
Included in this Printable Christmas Pictionary Game, you'll find a set of 62 Christmas-themed word cards, designed to spur the imagination and fuel the fun of the game.
These cards cover a wide range of Christmas-related words and themes, ensuring the game stays lively and interesting.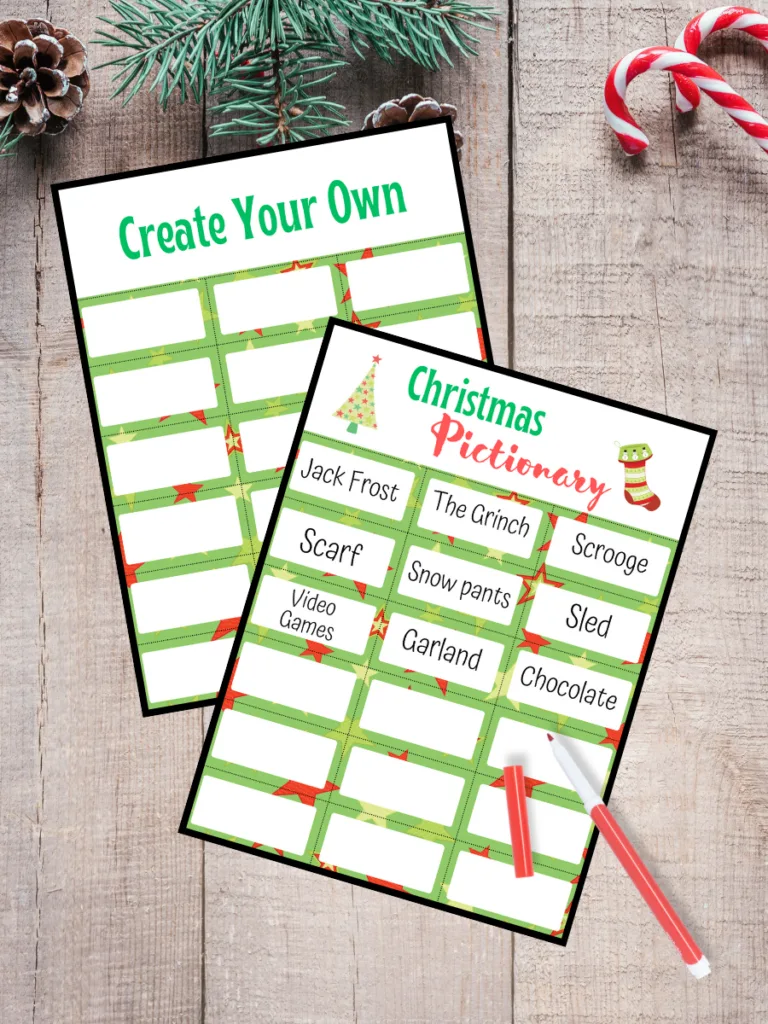 Along with these pre-made cards, we've also included a page of blank cards. These are for you to get creative and add your own holiday-themed words or phrases, making the game even more personalized and exciting. Let your imaginations run wild and enjoy the holiday fun!
Items Needed for Christmas Pictionary
To play Christmas Pictionary, you'll only need a few items, making it a hassle-free activity. Here are the essentials:
Christmas-themed Pictionary cards – our printable set is available for free by filling out the form at the end of this post.
Paper and pencils for drawing festive prompts.
To make cards that last, consider printing them on cardstock paper or laminating them.
Consider using small dry erase boards as a reusable and eco-friendly alternative to drawing paper.
Use a timer, whether it's digital or a sand timer, to keep the game moving.
Keep the cards organized in a task card box, a small bag, or attach them together on a book ring for easy access.
Epson EcoTank ET-3830 Wireless Color All-in-One Cartridge-Free Supertank Printer with Scan, Copy, Auto 2-Sided Printing and Ethernet – The Perfect Printer Productive Families,White
Astrobrights/Neenah Bright White Cardstock, 8.5
Firbon A4 Paper Cutter 12 Inch Titanium Paper Trimmer Scrapbooking Tool with Automatic Security Safeguard and Side Ruler for Craft Paper, Coupon, Label and Cardstock (Black)
Classroom Timers for Teachers Kids Large Magnetic Digital Timer 2 Pack
TIHOOD 24PCS Sand Timer Assortment Plastic Sand Clock Timer 30s / 1min / 2mins / 3mins / 5mins / 10mins for Adult Kids in Classroom Kitchen Games Office
Charles Leonard Dry Erase Lapboard Class Pack, Includes 12 each of Whiteboards, 2 Inch Felt Erasers and Black Dry Erase Markers (35036)
How to Play the Christmas Pictionary Game
Christmas Pictionary is a delightful and thrilling game that can be enjoyed during classroom activities or family game nights.
To begin, divide the group into two teams. Each team takes turns selecting a card and trying to draw a Christmas-themed word or phrase while others guess within the time limit.
In a classroom setting, this game provides an engaging way to introduce new Christmas vocabulary or phrases, promoting creativity and teamwork among students.
For family game nights, make it even more enjoyable by transforming it into a friendly Christmas competition with small rewards for the winning team.
No matter how you play, our Christmas Pictionary printable game is sure to bring laughter and learning to any gathering.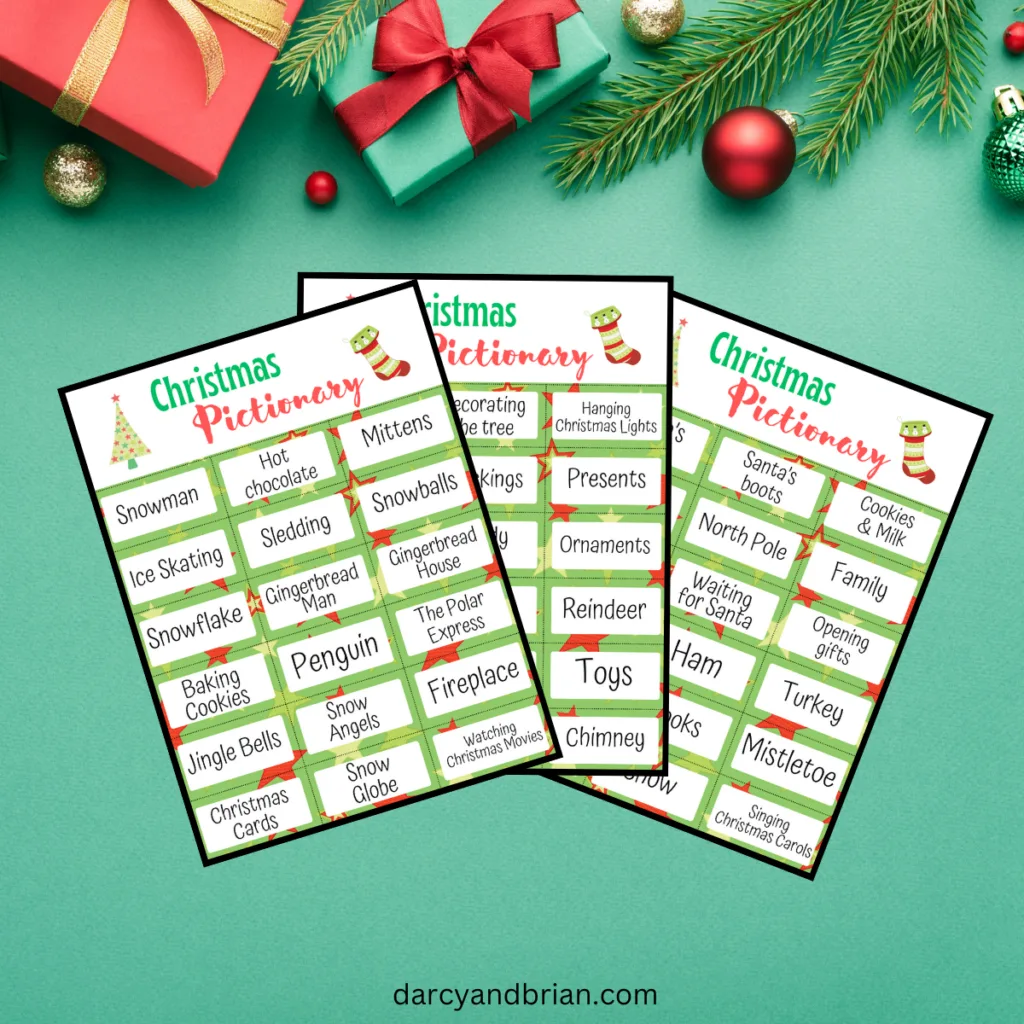 Other Ways to Use Pictionary Word Cards
Our Christmas Pictionary word cards are incredibly versatile and can be used in numerous creative ways outside of the traditional game format.
For budding artists, these cards can serve as fun drawing prompts in a sketchbook or journal, offering a festive challenge of capturing the spirit of the season.
In a more narrative context, drawing 2 to 3 cards and incorporating them into a written or spoken story can be an effective and joyous method to stimulate creative thinking and storytelling abilities.
Additionally, these cards can add a holiday twist to other popular games. For instance, they can be incorporated into the 'Forehead Game' where players guess the card on their forehead based on the clues given by other participants.
You could also easily adapt them for a round of Christmas-themed charades to keep the holiday cheer going. All these alternatives provide both educational value and a dose of holiday fun!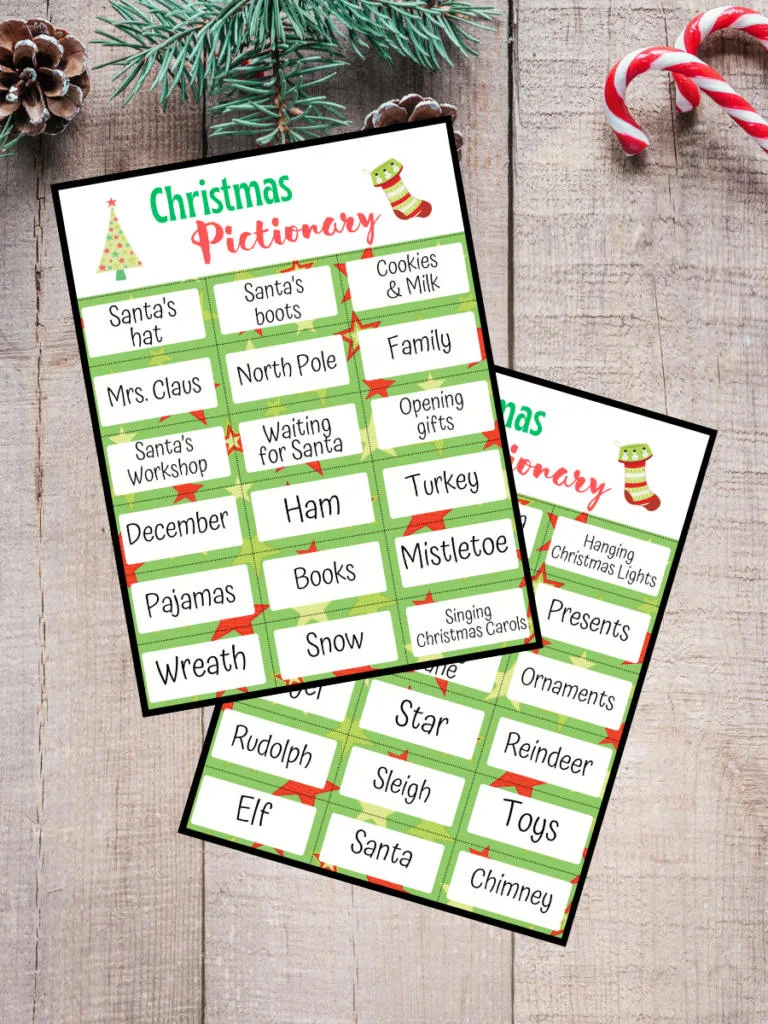 More Christmas Activities for Kids
Adding some holiday cheer to your classroom or home learning can keep kids excited and engaged. Whether it's math, science, languages, or arts, there are many fun ways to incorporate Christmas into lessons.
The key is to make these activities interactive, enjoyable, and educational. So, by bringing Christmas themes into everyday lessons, we can create a magical learning environment that captures kids' attention while reinforcing important concepts.
Roll and Color Christmas is a fun printable dice game that brings holiday cheer! Roll the dice and color the corresponding Christmas-themed image to work on subitizing and number recognition.
Plan some festive STEM lessons with this simple Christmas engineering activity for kids. They'll have lots of fun building with different materials.
Our Christmas Tree Size Sorting printable game is a fun and engaging activity for young learners to practice early math skills. By sorting and comparing different sizes of Christmas trees, children can develop their understanding of size concepts and improve their cognitive abilities.
Our Christmas Lights Scavenger Hunt is a delightful way to explore and admire neighborhood holiday displays. Go around and check off the items you spot, creating a memorable and festive experience.
Christmas Books for Kids
Reading Christmas books together is a cherished tradition that creates memorable moments and fosters togetherness. It's magical when children huddle around a storybook, eyes wide with anticipation, journeying through enchanting Christmas tales.
This tradition strengthens bonds and enhances language skills, encouraging a lifelong love for reading. It's a cozy, educational, and heartwarming way to celebrate the holidays!
The Polar Express by Chris Van Allsburg: A classic Christmas tale that has captured the hearts of millions. This enchanting story about a child's Christmas Eve journey to the North Pole emphasizes the power of belief and the magic of Christmas.
How the Grinch Stole Christmas by Dr. Seuss: This beloved Dr. Seuss book tells the story of the Grinch, who learns the true spirit of Christmas. It's a heartwarming tale that reinforces the idea that Christmas is about more than just gifts and decorations.
Snowmen at Christmas by Caralyn Buehner: This charming tale explores the secret lives of snowmen and their Christmas celebrations. Coupled with delightful illustrations, it's a wonderful book to read together during the holiday season.
Polar Express 30th Anniversary Edition: A Christmas Holiday Book for Kids
How the Grinch Stole Christmas!: Full Color Jacketed Edition (Classic Seuss)
Snowmen at Christmas
Rudolph the Red-Nosed Reindeer (Rudolph the Red-Nosed Reindeer) (Little Golden Book)
Pete the Cat: Snow Daze: A Winter and Holiday Book for Kids (My First I Can Read)
How to Catch a Reindeer
Christmas Crafts for Kids
Engaging kids in Christmas crafts is another fantastic way to celebrate the season while fostering creativity and fine motor skills.
Crafting allows youngsters to express their individuality and imagination, providing endless opportunities for learning through play.
From making festive ornaments to creating custom Christmas cards, these fun-filled projects not only keep little hands busy but also result in beautiful homemade decorations.
This charming activity offers the added benefit of creating wonderful keepsakes that can be cherished year after year.
So, why not add a sprinkle of Christmas cheer to your child's learning and playtime with our Christmas Pictionary game? This printable game is brimming with festive prompts that will inspire creativity, encourage teamwork, and generate heartwarming laughter.
It's perfect for family gatherings, game nights, and classroom parties and provides a memorable holiday experience that combines learning, playing, and the joy of Christmas in one delightful package. Make this season even more magical – just print, play, and let the holiday fun begin!