Superheroes have a special place in the hearts of kids and adults alike. If you're hunting for the perfect superhero gift ideas for a child who idolizes these iconic characters, our list is sure to help.
These easy gift ideas are primarily for kids of all ages, from toddlers to teenagers, who are fans of Marvel and DC.
However, don't be surprised if some items catch the eye of the adult superhero enthusiasts in your family! Let's explore the world of capes and powers and find the perfect superhero-themed presents.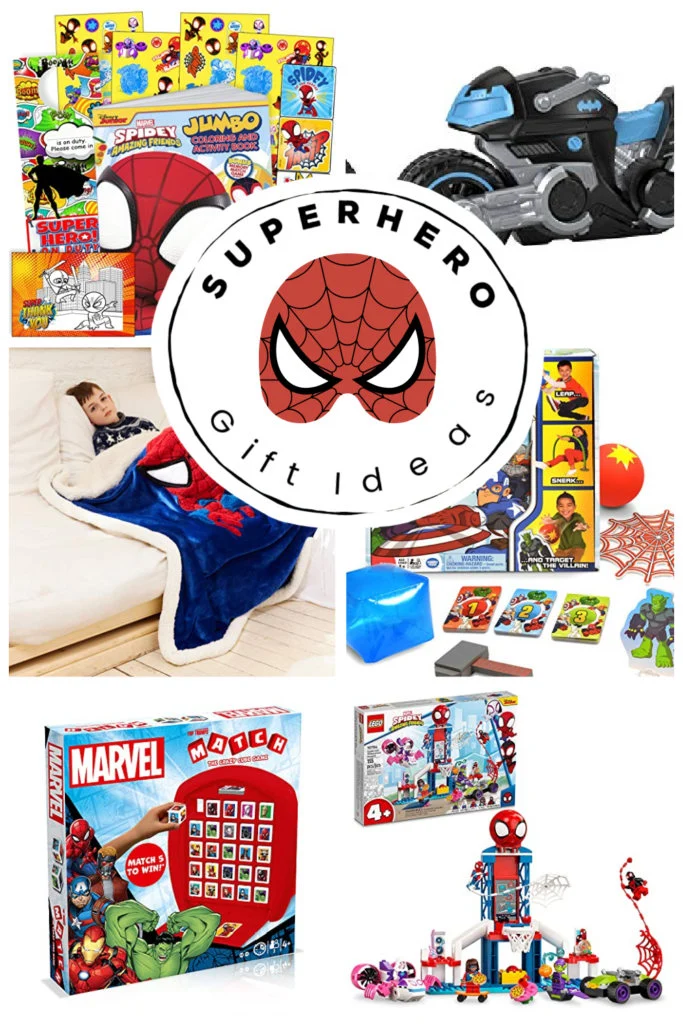 Why Do Kids Love Superheroes?
Kids are drawn to superheroes because they embody the power of imagination and the thrill of possibility. These characters allow children to venture into a world of make-believe, where they can transform into invincible beings with superhuman abilities.
More than just captivating their imagination, superheroes also exemplify positive traits such as bravery, loyalty, and an unwavering commitment to justice.
They are always there to lend a helping hand to those in need, standing up for what's right even when it's hard, and demonstrating the value of loyal friendships.
This potent combination of extraordinary powers and admirable virtues makes superheroes the perfect role models for kids, inspiring them to be courageous, kind, and always ready to help others.
Which Superhero is The Most Popular?
When it comes to the most popular superhero among kids, it's a tight competition between several iconic characters. However, Spider-Man often takes the top spot. With his combination of youthful relatability, quick wit, and spectacular powers, Spider-Man has captivated the hearts of millions.
But he's closely followed by others like Batman, Superman, and Wonder Woman from DC, and Iron Man, Captain America, and the Incredible Hulk from Marvel. Each superhero has their own unique appeal and fan base, making the world of superheroes diverse and exciting for kids.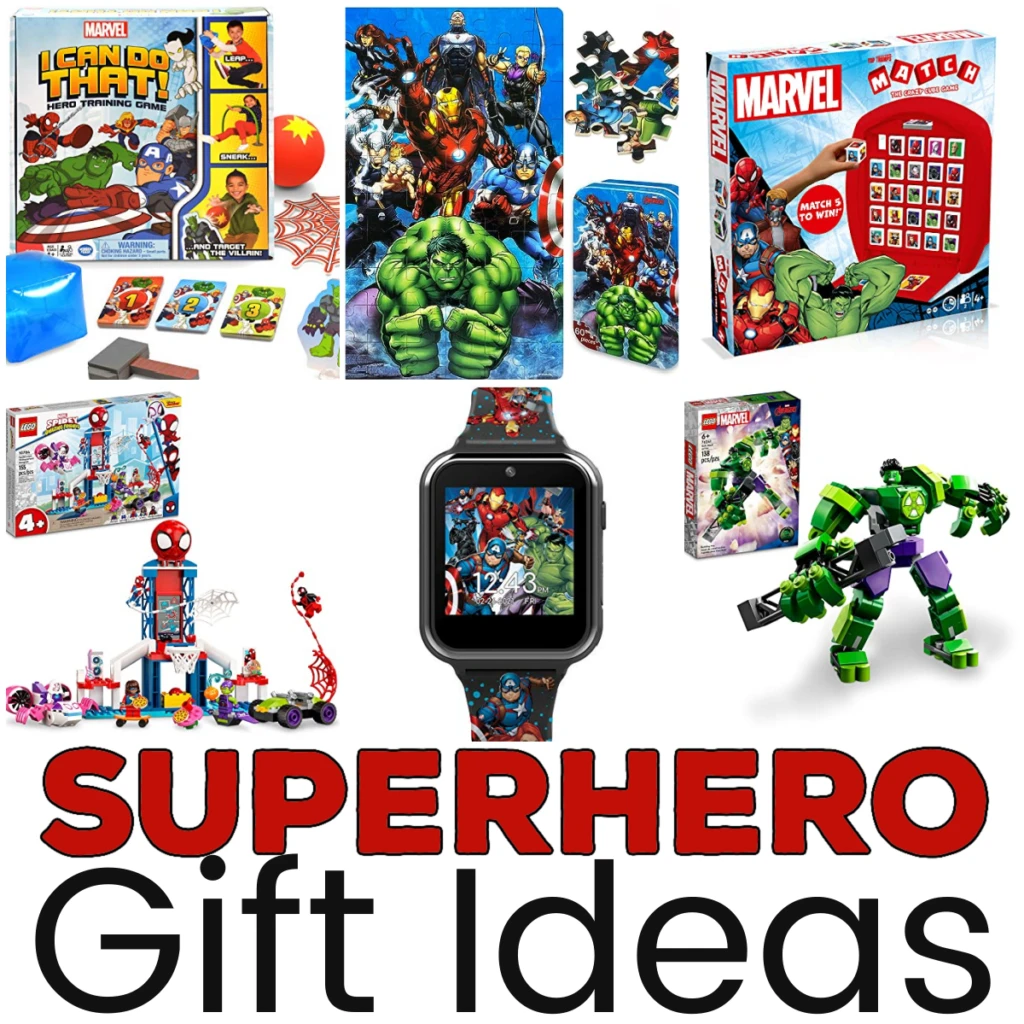 What Superhero Items Make Good Gifts?
With the popularity of superheroes, it's no surprise that themed gifts are a hit with kids of all ages. Whether for a birthday, Christmas or any other special gift-giving occasion, there are endless options to choose from. Here are some general superhero gift ideas that will surely bring joy to any young fan:
Action figures: Perfect for imaginative play and creating epic battles.
Comic books: A great way to introduce kids to the world of superheroes and encourage reading.
Costumes: Let kids become their favorite superhero with a costume they can wear for playtime or Halloween.
Board games: Combine fun and learning with superhero-themed board games that promote problem-solving and strategy skills.
Plush toys: Soft, cuddly versions of popular superheroes make for great companions.
Lego sets: Build and play with iconic scenes and characters from superhero universes.
Knowing the gift recipient's favorite superhero or preferred comic universe can certainly make the gift selection more personalized and meaningful.
If you're unsure, don't fret, as the superhero-themed gifts mentioned below cater to a broad range of superheroes across the Marvel and DC universes. Regardless of their superhero allegiance, the joy of unboxing a new superhero gift is universal and should bring a smile to any young fan's face.
Recommended Superhero Books for Kids
Books are not just gifts, they are gateways into worlds of adventure, creativity, and learning. Superhero books, in particular, can ignite the imagination of your young ones, introducing them to epic tales of valor, adventure, and moral lessons.
These books make an excellent gift for our little superheroes, providing them not only with hours of entertainment but also fostering a love for reading. From vibrant picture books for the younger fans to chapter books for the older readers, superhero books cater to all age groups.
Whether the kids are fans of the charismatic Iron Man, the mighty Thor, the virtuous Wonder Woman, or the ever-resilient Batman, there's a book out there for everyone. So, let's explore some recommended superhero books that would make a perfect gift for any occasion.
This post contains affiliate links. As an Amazon Associate and a participant in other affiliate programs, we earn a commission on qualifying purchases.
The Amazing Spider-Man: This is Spider-Man (Level 1 Reader) (Marvel Reader (ebook))
Big Heroes! (DC Super Friends) (Little Golden Book)
Batman: An Origin Story (DC Super Heroes Origins)
World of Reading: Super Hero Adventures: Tricky Trouble!: Level Pre-1
Superman: An Origin Story (DC Super Heroes Origins)
5-Minute Avengers Stories (5-Minute Stories)
What Occasions Are Superhero Gift Ideas Good For?
Superhero gifts are ideal for a multitude of occasions, but they truly shine for birthdays and holidays. A birthday is a personal celebration, and a gift reflecting the recipient's favorite superhero can make them feel special and recognized.
Superhero-themed gifts also add an extra sparkle to festive holidays like Christmas. Imagine the thrill of a child unwrapping a gift to reveal an action figure of their favorite Avenger, or the delight in finding a Wonder Woman costume under the tree.
Such gifts not only bring immediate joy but also create lasting memories associated with these special occasions. So, whether it's a birthday or a special holiday, superhero gifts are sure to bring a surge of excitement, making the day extra memorable for the little ones.
Fun Superhero Activities for Kids
Superhero activities can be an exciting journey teeming with fun, creativity, and learning. These playful pursuits allow kids to act out their favorite superhero stories, fostering their imagination and encouraging them to dive into a world where anything is possible.
From role-playing epic battles to solving challenging puzzles, these superhero activities for kids offer a wide range of experiences, each one designed to captive young minds and cultivate skills.
While there are numerous superhero activities to delve into, the essence of each activity remains the same – to provide boundless enjoyment while subtly teaching valuable lessons about courage, resilience, and teamwork.
Top Superhero Gift Ideas
As we delve into the realm of superhero fandom, we've curated a list of fantastic superhero gift ideas that are sure to delight your kids.
Whether you're looking for toys that bring their favorite heroes to life, dress-up items that empower them to embody their beloved characters, engaging games that transport them to thrilling superhero realms, or apparel that keeps them close to their heroes at all times, there's something here for everyone.
These gifts are not just for the Marvel and DC fans, but for all kids who find inspiration and joy in the world of superheroes.
So let's explore these superhero gift ideas, perfect for birthdays, Christmas, or just to surprise your little hero on any day of the year.
As an Amazon Associate and member of other affiliate programs, I earn from qualifying purchases.
Shopping for superhero gifts presents a delightful opportunity to support your child's creativity and imagination. Each item, be it a toy, a game, or apparel, carries the potential to inspire, educate, and entertain.
As you choose from the plethora of superhero-themed gifts, remember that each selection deepens your child's engagement with their favorite heroes and their world, while also reinforcing valuable lessons of bravery, tenacity, and teamwork.
There's no day like today to empower your little superhero with a gift that lights up their world.