We absolutely love using printable games for kids to make learning fun! This fun and engaging Food Pictionary Game is a fantastic way for your kids to learn about different types of food, from fruits and vegetables to snacks, desserts, and even kitchen utensils.
It's not just about fun, it's about promoting quick thinking, creative expression, and visual recognition. It's a screen-free group activity that's sure to bring laughter and learning to your household.
Download the Food Pictionary Game printable word cards using the form at the bottom of the post and let the guessing games begin!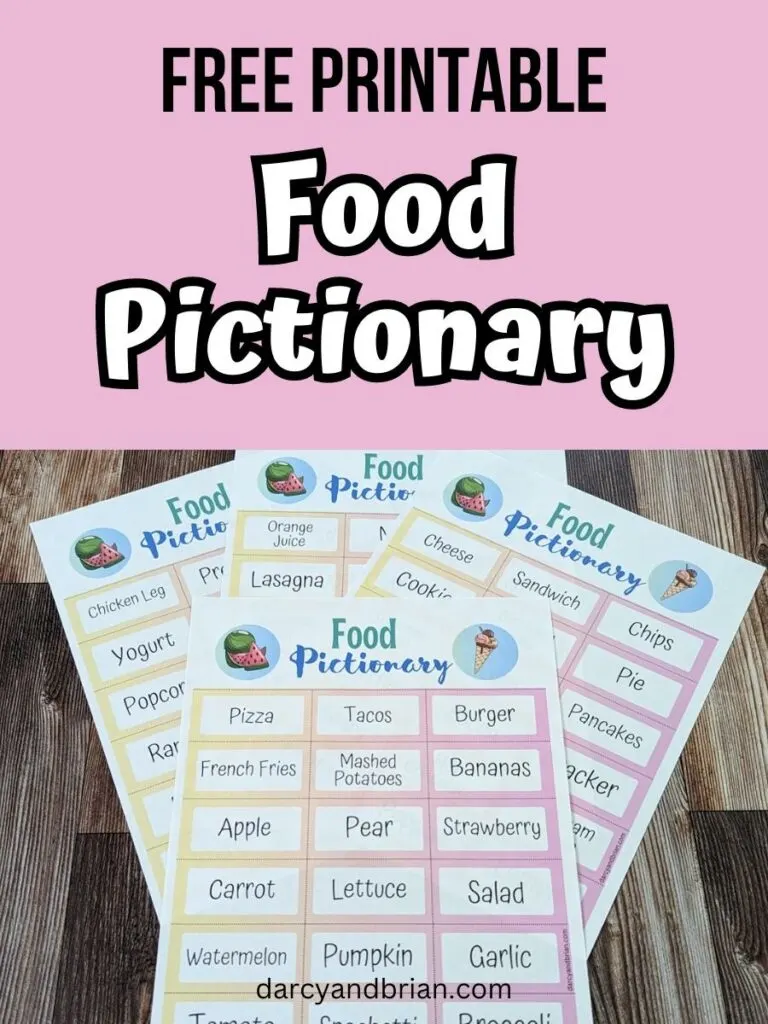 Games are an excellent tool for learning, whether in a classroom setting, during homeschooling, or even as a part of a fun family game night.
They offer a unique blend of educational and recreational values, making complex concepts or subjects more engaging and digestible.
Particularly in food education, a game like our Food Pictionary not only expands a child's vocabulary but also provides a platform for understanding and recognizing a variety of food types and kitchen tools.
Remember, learning doesn't have to be confined to textbooks – with games like Food Pictionary, you can make education an enjoyable journey!
More Indoor Activities for Kids
If you're looking for more engaging ways to keep your kids entertained indoors, you're in the right place! Below, we've compiled a list of indoor activities that are not only fun but also stimulate creativity and learning.
Educational Benefits of Playing Food Pictionary Game
Playing the Food Pictionary game can significantly contribute to a child's learning process.
It first and foremost encourages children to expand their vocabulary, exposing them to a broad range of food items, including fruits, vegetables, desserts, snacks, and even kitchen utensils.
This exposure can foster curiosity about different foods and where they come from. Additionally, the game reinforces visual recognition and interpretation skills as children must quickly identify drawn images.
It also enhances quick thinking and decision-making abilities, as children must swiftly guess and respond to the pictures.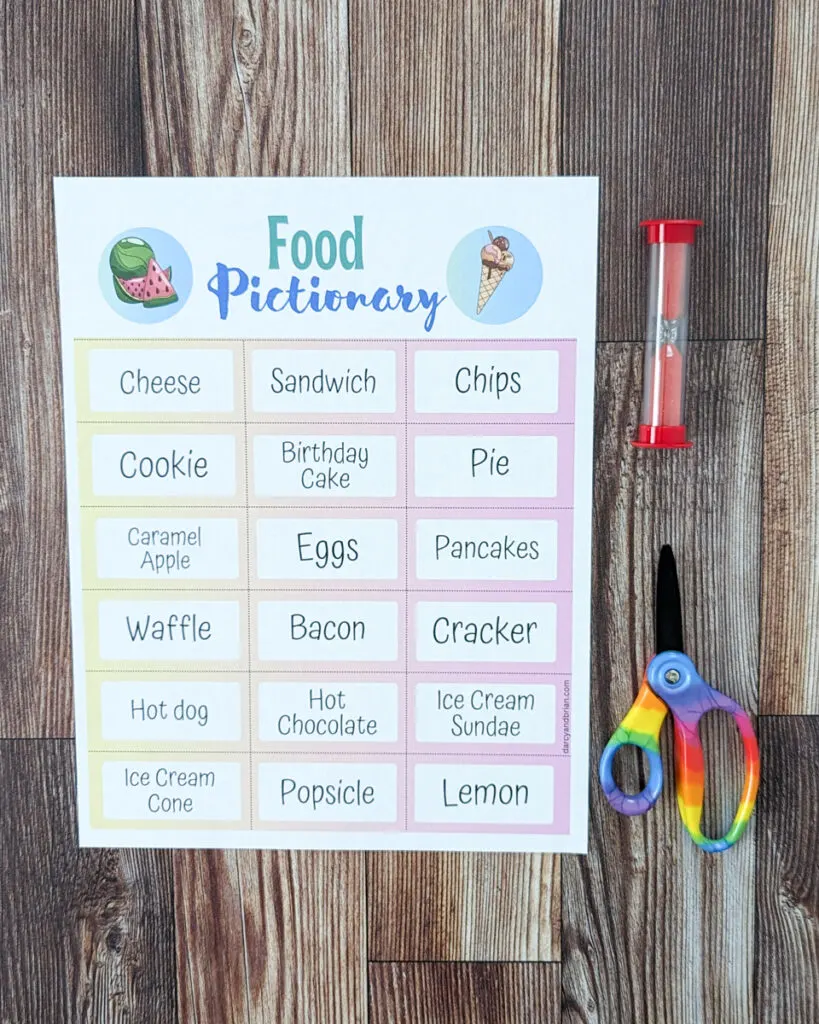 Furthermore, the interactive group environment it creates can help children develop their social and communication skills, promoting team building and cooperation.
So, while it may seem like just a fun activity, the Food Pictionary game is indeed a tool for learning, combining education and entertainment in a unique and effective way.
What Age Can Play Food Pictionary?
Food Pictionary is a versatile game that can be tailored to fit a wide age range. While it is ideally suited for independent readers who can quickly read and interpret the words, it is by no means restricted to this group.
Younger children, even those just learning to read, can also join in on the fun with a little assistance.
With help from adults or older children, these young players can participate by guessing the pictures drawn.
This allows them to improve their visual recognition skills and familiarize themselves with different food items. Someone could also quietly read the word card to them in order for them to attempt drawing for others to guess.
So, whether your child is just starting to read or already reading fluently, Food Pictionary can provide an engaging and educative experience for all.
What's Included in the Food Pictionary Game Printables?
Our Food Pictionary Game Printable set comes brimming with resources to stimulate and enthrall your kids.
It includes 72 word cards featuring a variety of food items, from fruits and vegetables like apples and watermelons, to popular snacks and desserts such as popcorn and ice cream sundaes.
We've even thrown in a few dishes and utensils, like bowls and chopsticks, to keep things interesting.
Every card is designed with easy-to-read fonts, making them suitable for children of various reading levels. The set also comes with a page of blank word cards in order to create your own to add into gameplay.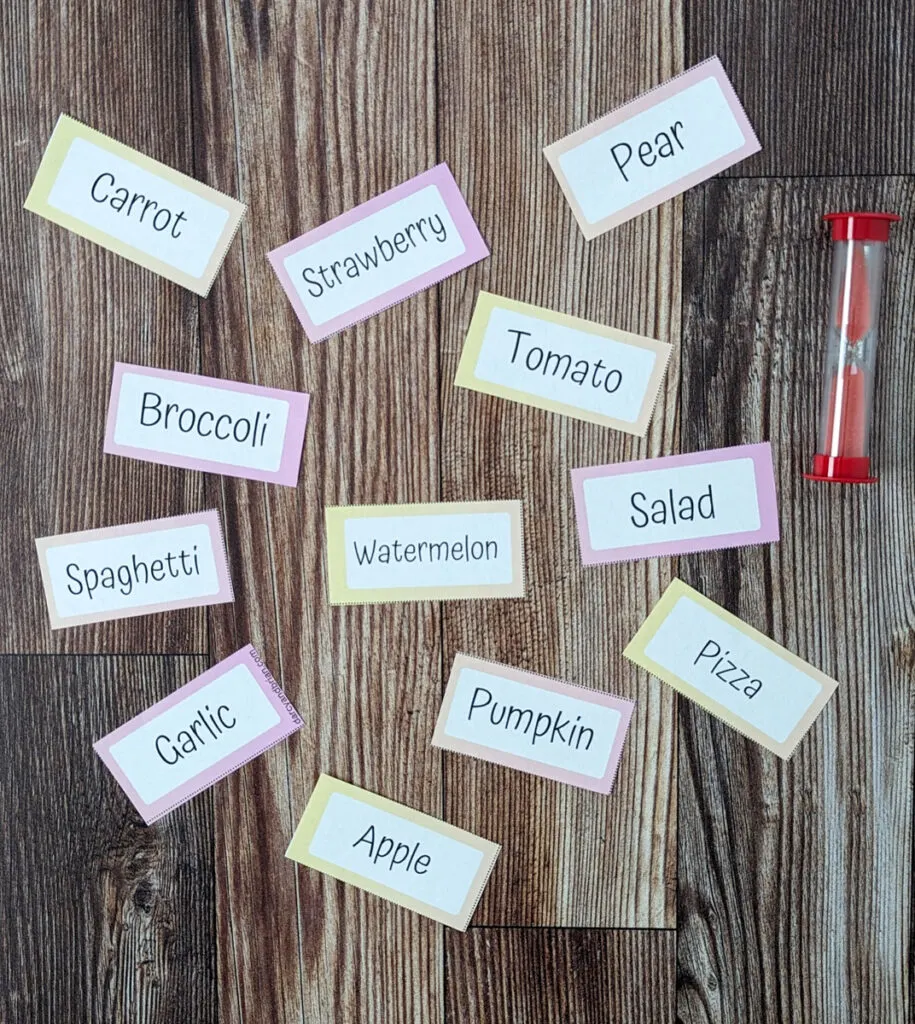 To get your free printable Food Pictionary Game set, simply fill out the form at the end of this post. It's a quick and easy process and the game will be sent directly to your email.
This is a wonderful opportunity to introduce a fun, screen-free group activity that enhances creative thinking and visual recognition skills among kids, so don't miss out!
How to Play the Food Pictionary Game
Playing the Food Pictionary Game is pretty straightforward and lots of fun!
First, divide the players into two teams. Each team takes turns in the game with one member designated as the drawer.
The drawer randomly picks one word card from the deck and then has a set amount of time, usually 60 seconds, to draw the food item on the card.
No words, numbers, or symbols can be used in the drawing – only pictures!
Next, the drawer's team needs to guess the food item based on the drawing within the time limit. If the team guesses correctly, they score a point.
If they can't decipher the drawing in time, the other team has a chance to steal and guess the answer.
Remember, it's not about being the best artist; it's about being creative and communicating visually with your team. The team with the most points at the end of the game wins!
This game fosters quick thinking, visual recognition, and communication skills among kids, making it not just an interesting activity but also a great learning experience.
Recommended Items for Playing
Playing the Food Pictionary Game couldn't be easier, all you need is some basic equipment and your game set is ready!
This post contains affiliate links. As an Amazon Associate and a participant in other affiliate programs, we earn a commission on qualifying purchases.
First and foremost, you'll need a printer to print out your Food Pictionary Game set. Our top pick is an Epson EcoTank printer, which is renowned for its superb print quality and economical ink usage.
We recommend printing the word sheets on cardstock. This will ensure they are sturdy and can withstand multiple rounds of play.
Otherwise, consider using a laminating machine to make the cards extra durable so the kids can play again and again.
For the actual process of drawing, you can use either paper and pencils or small dry erase boards. Dry erase boards have the added advantage of being reusable.
Lastly, you'll need a game timer to keep track of the drawing and guessing time. This could be a simple sand timer or even a stopwatch app on a mobile device. You can set it to the desired interval (we suggest 60 seconds) for a fair and fun challenge.
Being well prepared with these recommended items will make playing the Food Pictionary Game a breeze. It's an easy game to print and start playing, bringing hours of laughter, learning, and creativity to any group of kids!
Additional Drawing Games for Kids
If your kids enjoyed the Food Pictionary Game and are hungry for more fun drawing activities, there's no shortage of other creative games out there.
Here are a few additional drawing games that can keep the fun going and stimulate their imagination:
TWOPOINTOH GAMES Artsy Fartsy – Fun Family Games for Kids and Adults. Winner of USA Today's Best Gift for Families National Award
Mythical Creatures Drawing Game for Kids Mashup Animal Art Ideas. 150 Prompt Cards. Creative Gift for Tweens, Teens + Family Fun Night for All Imaginations!
Telestrations Original 8-Player | Family Board Game | A Fun Family Game for Kids and Adults | Family Game Night Just Got Better | The Telephone Game Sketched Out | Ages 12+
The Imagineering Company WatchamaDrawit Fast Action Drawing Game with Wildly Creative Challenges – A Family Board Game for Kids and Adults
Vango The UpsideDownChallenge Game for Family & Kids – Complete Fun Challenges with Upside Down Goggles – Hilarious Fun Game for Game Night & Parties – 2-6 Players, Ages 8+
​Pictionary Air Kids Vs. Grown-Ups Family Game for Game Night with Light Pen and Clue Cards, Connect to Smart Devices
Ways to Use Food Pictionary
This game is not only entertaining but also packed with educational value. Here are some ideas on how you can seamlessly incorporate it into your homeschool or classroom lessons:
Spice Up Your Cooking and Life Skills Unit
Cooking is an essential life skill that every child should learn. But how about making it more engaging? Here's where the Food Pictionary game steps in.
It can be a brilliant way to introduce different types of food, their ingredients, and how they're prepared.
For instance, if the word drawn is 'pizza', you could discuss the process of making pizza and the ingredients used.
Make Science Deliciously Fun
Learning about food chains can sometimes feel abstract for young learners.
But what if we told them they're part of a food chain every time they're eating their favorite snack?
That's right! You can use the Food Pictionary game to explain the concept of food chains along with these printable food chain worksheets from Living Life and Learning.
For example, if a student draws and guesses 'apple', you can explain how the apple came from a tree that needed sunlight and nutrients from the soil to grow, hence illustrating a simple food chain.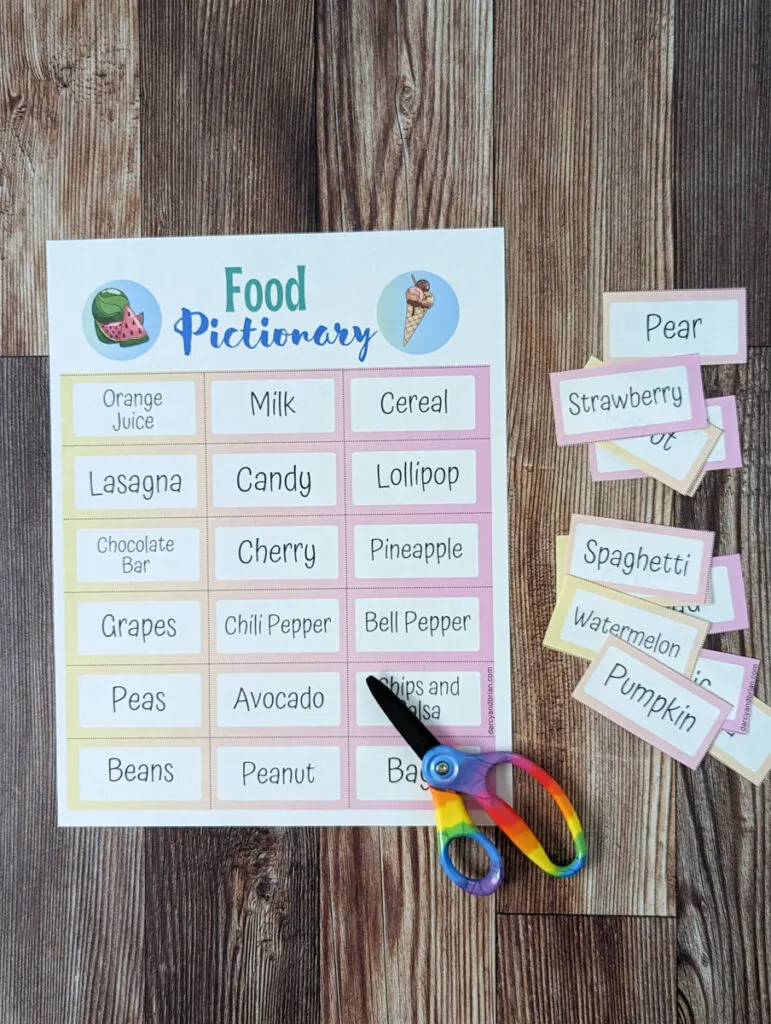 Enhance Language Skills
The Food Pictionary game is also a great tool to improve vocabulary and language skills.
As children draw and guess different foods, they'll naturally expand their food-related vocabulary.
Plus, this game provides a perfect opportunity for kids to practice using descriptive language, which is crucial for their overall language development.
Boost Cultural Awareness
Food is a universal language that transcends geographical boundaries. You can use the Food Pictionary game to teach children about different cultures' cuisines.
By using the blank set of "create your own" cards, you can easily include specific ingredients and dishes tailored to the culture being studied.
This not only broadens their culinary horizons but also fosters respect and appreciation for diverse cultures.
More Food Learning Activities
There are several other food-themed activities that can make learning fun and engaging for kids. Here are some additional activities you may want to consider incorporating into your learning plan:
Books About Food for Kids
There are numerous children's books that cleverly integrate food themes into their storylines. Here is a list of engaging, food-themed books that will stimulate kids' curiosity and knowledge about different foods:
Edible Crafts Kids' Cookbook Ages 4-8: 25 Fun Projects to Make and Eat!
Every Night Is Pizza Night
Monsters Don't Eat Broccoli
The Dinosaur Who Discovered Hamburgers (The Animal Who…)
Eating the Alphabet: Fruits & Vegetables from A to Z
Food Network Magazine The Big, Fun Kids Cookbook: 150+ Recipes for Young Chefs (Food Network Magazine's Kids Cookbooks)
Food Crafts
Adding a craft element to this activity can further enhance children's learning and creativity. For instance, kids can create colorful food collages or recreate their favorite food items using paper and other materials. This helps foster their imagination while extending their understanding of different foods.
In conclusion, food-themed activities like our Food Pictionary game are an excellent way to make learning fun, engaging, and informative for kids.
From boosting their descriptive language skills to enhancing their cultural awareness, these activities cater to various aspects of a child's development.
By combining this with other food learning activities, food-themed books, and creative crafts, you can provide a rich, immersive learning experience that will surely leave a lasting impression.