Bring some holiday spirit into your reading routine with these Halloween bookmarks! These are not just bookmarks, but also a fun part of Halloween activities for kids.
Each bookmark features a unique design, from friendly cats to silly zombies, perfect for your little ghouls and goblins.
Best part? They come in both full color and black and white versions, so your kids can personalize them through coloring.
It's a fantastic way to encourage both reading and creativity! Our printable Halloween themed bookmarks are available for free by filling out the form at the end of the post.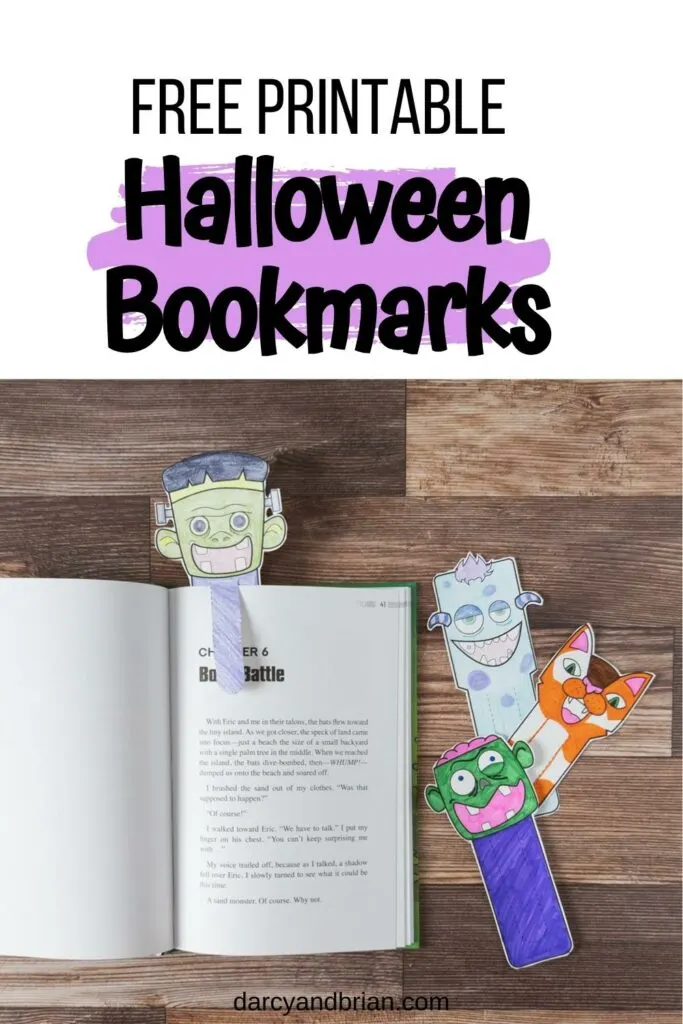 These Halloween bookmarks are a perfect fit for kids of all ages. The youngest ones, such as preschoolers and kindergartners, can have a blast coloring in the fun designs.
Which is not only a fun activity, but also helps them develop their fine motor skills. Plus, cutting out the bookmarks can be a great way to practice scissor skills!
For older children who are reading independently, these bookmarks make an exciting accessory.
They're a fantastic way to inspire a love of reading while incorporating the festive spirit of Halloween!
Scroll down for the free printable
More Halloween Crafts for Kids
Incorporating crafts into Halloween-themed lessons or as a Halloween party activity is a surefire way to elevate the fun!
It sparks creativity and allows children to engage with the holiday in a hands-on way. Plus, they could create something they can proudly display.
This post contains affiliate links. As an Amazon Associate and a participant in other affiliate programs, we earn a commission on qualifying purchases.
JOYIN 2 Pack Halloween Foam Haunted House 3D Craft Kit for Kids
Creativity for Kids Hide and Seek Halloween Rock Painting Kit
ShyLizard 3Pack Halloween Lantern Craft Kit
Weewooday 12 Pieces Foam Ghost Magnet Craft Kit
Fennoral 12 Pack Bat Crafts for Kids Bat Crafts Kits
JOYIN 60 Pcs Halloween Wooden DIY Arts & Crafts Kit
Encouraging Kids to Read
Offering a variety of reading activities is a powerful tool to make learning to read a fun and engaging experience for children.
One such strategy is to use interactive and interesting bookmarks, like our colorful Halloween themed ones.
Not only do they add a playful element to reading, but they also serve a functional purpose by marking reading progress.
By using bookmarks that kids have colored and cut out themselves, we add a personal touch to their reading experience.
This evokes excitement and encourages children to read more often, creating a positive association with reading. It's all about making reading less of a task and more of an adventure!
What's Included in These Halloween Bookmarks?
Our Halloween Bookmarks come in a set of 24, with 12 full-color designs that can be printed and cut out, as well as 12 black and white versions to color in.
The designs include a cat, zombie, monsters, Frankenstein, mummy, vampire, bat, skeleton, scarecrow, clown and jack-o-lantern.
Items Needed to Use Printable Halloween Bookmarks
To use these spooktacular Halloween bookmarks, get the free set of printables available at the bottom of this post. Once you have the files, print them out.
If you need a printer, I highly recommend the Epson EcoTank printer. We've saved so much on ink, even with all the stuff we print out for homeschooling!
To ensure longevity and durability, opt for white cardstock paper, and consider laminating the bookmarks. This simple step can make them last longer, especially in the hands of eager little readers!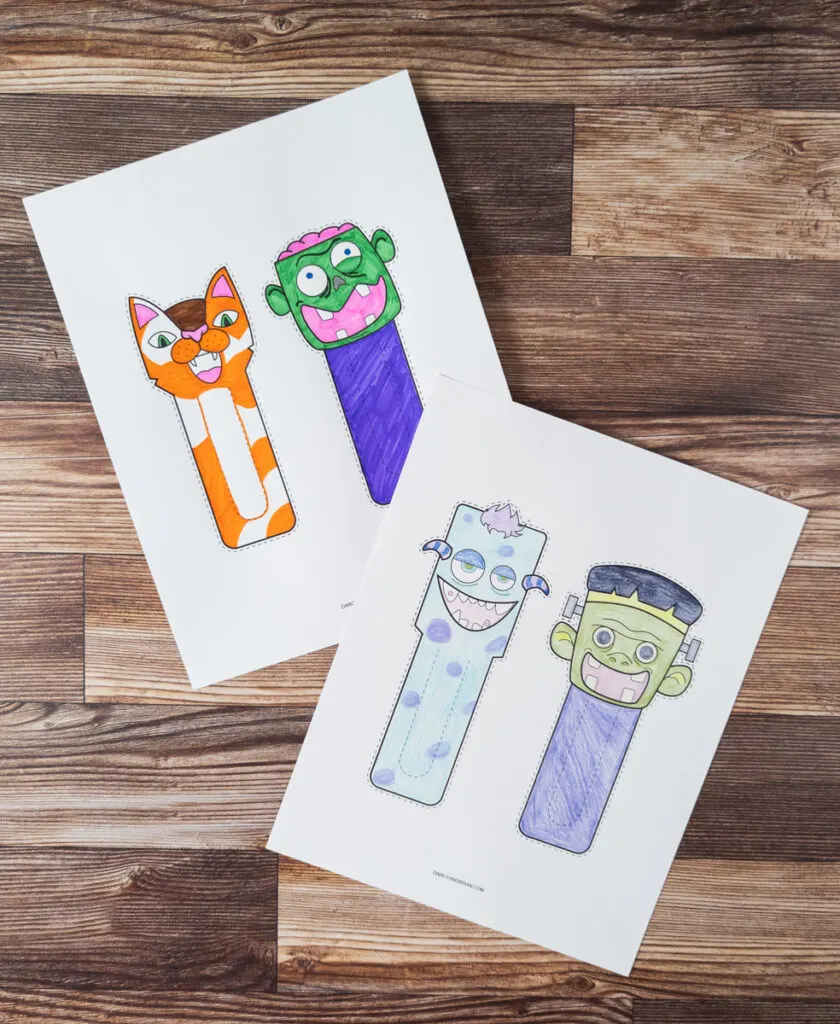 Finally, gather your coloring supplies. Kids can bring the black and white versions to life with their favorite crayons, colored pencils, or markers.
This not only enhances their artistic skills but also makes each bookmark uniquely theirs!
Arteza Kids Colored Pencils, Set of 48 Vibrant Colors, Triangular, Pre-Sharpened
Crayola Classic Color Crayons in Flip-Top Pack with Sharpener, 96 Colors
Epson EcoTank ET-3710 Wireless Color Inkjet All-in-One Supertank Printer, White
Crayola Erasable Colored Pencils 24 count
Halloween Books
To further enrich the Halloween experience, consider pairing these exciting bookmarks with a selection of entertaining Halloween-themed books!
These books, filled with tales of friendly ghosts, quirky witches, and lovable monsters, can captivate the imagination of young readers.
Big Pumpkin
Arthur's Halloween (Arthur Adventure)
If You Give a Mouse a Pumpkin
Spooktacular Jokes and Riddles for Kids 8-12: Halloween Laughs for Everyone
The Kind-hearted Witch and Other Enchanted Tales: Halloween Gifts for Kids: Uplifting and Inspiring Stories Halloween Books for Kids
Ghost Stories for Kids Age 9 – 12: Short Spooky and Scary Horror Stories to Tell at a Campfire, Halloween, or Whenever It Gets Dark
Not only do they provide a fitting backdrop for the holiday, but they also make fantastic companions for their new bookmarks.
Creating a thematic reading experience can make the activity more engaging and enjoyable for children.
Ways to Use the Halloween Bookmarks
These printable Halloween bookmarks can add a unique twist to a variety of activities.
For instance, teachers can incorporate them into a classroom activity, where students color and personalize their bookmarks, or even host a bookmark design contest, sparking creativity and a friendly competition.
These bookmarks can also be given out as rewards for academic achievements, such as turning in reading logs, or as a game prize.
Alternatively, if you're hosting a Halloween party, these bookmarks can serve as party favors, providing a fun and creative activity for the guests.
And let's not forget about trick-or-treaters! Instead of the usual candy, why not hand out the laminated, full color versions of these bookmarks as an alternative?
They can also be incorporated with our printable Halloween scavenger hunt clues, serving as unique prizes that encourage reading long after the holiday has passed.
By introducing these printable bookmarks in such engaging contexts, we not only encourage creativity and reading but also create lasting Halloween memories.
What Are The Benefits of Reading Aloud to Children?
Bookmarks serve a multitude of purposes beyond simply marking a place in a book for independent reading. They can also play a vital role in family read-aloud sessions.
Utilizing a bookmark helps children visually track the narration, guiding them across the page and enhancing their understanding of the text.
Reading aloud to children has been shown to improve vocabulary, foster a love for literature, and build a strong emotional bond between the reader and the child.
So, by pairing the act of reading aloud with the use of these charming Halloween bookmarks, you'd be giving your child a truly immersive and beneficial reading experience.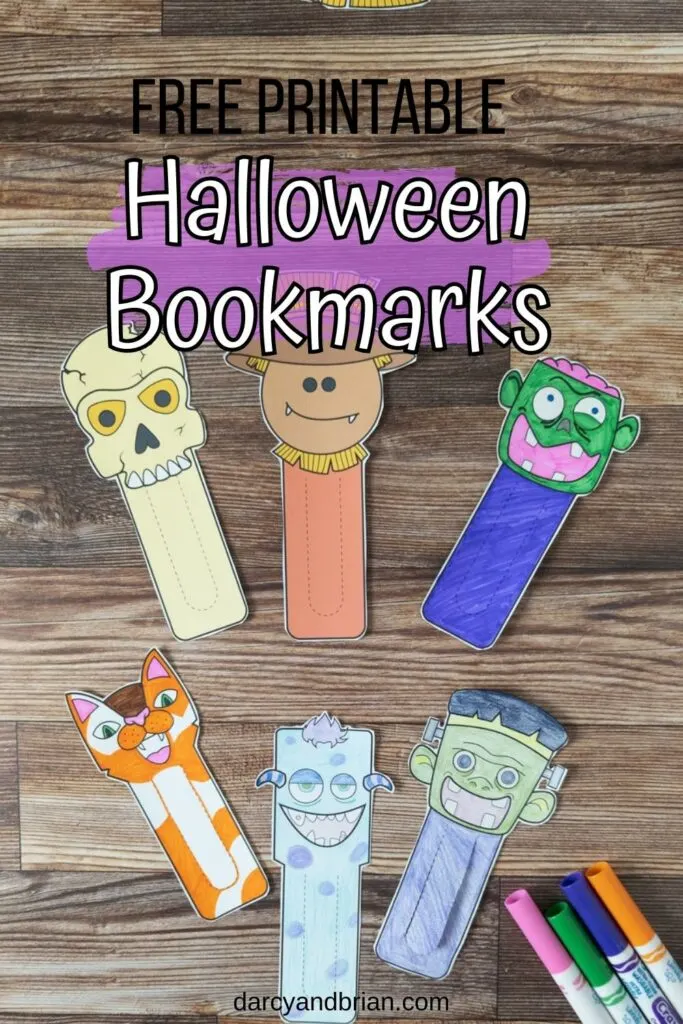 Additional Halloween Learning Activities
If you are working on creating a Halloween-themed unit for homeschooling or for your classroom, here are some creative activity ideas spanning various subjects.
Looking for a fun Halloween sorting activity? Get this printable game for numbers 0-10 that will keep kids engaged and entertained while practicing number recognition skills.
Need more Halloween-themed math worksheets? Check out these Halloween Greater Than Less Than worksheets that are perfect for some spooky math fun!
How about a fun way to improve fine motor skills? These cute printable Halloween lacing cards are perfect for little ones to practice their hand-eye coordination.
Don't miss these printable Halloween writing prompts designed to help elementary kids enhance their language arts skills in a fun and engaging way.
The Fizzy Pumpkin science experiment is a fun and engaging activity that involves combining ingredients to create a bubbly reaction, showcasing the principles of chemical reactions in a Halloween-themed twist.
Fun Halloween Party Ideas for Kids
Planning a kid-friendly Halloween party can be a fun, imaginative process. From spooky decorations to creative games and themed treats, there are countless ways to make the event enjoyable and memorable.
Here are some fantastic suggestions to help you throw an unforgettable Halloween bash!
Halloween is not only a time for costumes and candy but also an excellent opportunity for children to learn and have fun.
Our printable Halloween bookmarks are an easy way to encourage kids in their love for reading.
They can be used in class, given as prizes, or even handed out as party favors or to trick-or-treaters.
Whether you're a teacher, a parent, or just someone looking for a fun Halloween project, these bookmarks bring color, creativity, and a dash of spooky charm to the season.