These coffee filter bats are one of our favorite easy Halloween crafts for kids of all ages to make. We'll show you how to transform a few simple craft supplies into adorable bats.
They are simple to create and use stuff you probably already have in your craft supplies at home or school. Kids love making these and they are excellent as decorations. Make a night of it with Halloween movies and crafts!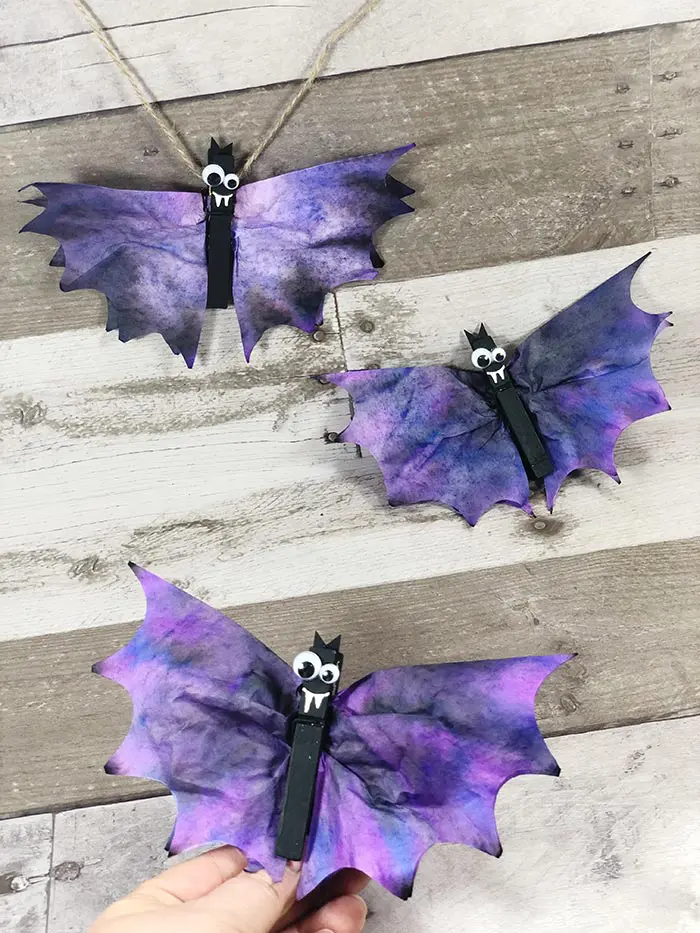 Looking for more coffee filter craft ideas? These coffee filter turkeys are also perfect for fall.
More Bat Crafts for Kids
Whether your child wants to learn more about bats or just loves Halloween arts and crafts, enjoy creating even more bats with these ideas.
What Age Can Make Halloween Coffee Filter Bats?
Easy kid crafts are my favorite kind and I'm telling you these bats look great when they are finished! The color of the wings and their goofy little faces keep these bats cute and not scary.
One reason we love coffee filter crafts for kids is because they are inexpensive to use and don't use a lot of complicated materials.
These bats are great for preschool and kindergarten children to work on because they get kids interested in learning about bats, spark creativity, and work on fine motor skills. Coloring, painting, gluing and even spraying the water bottle help with fine motor.
Get 15 easy coffee filter craft tutorials conveniently all in one place for you with our Cute Coffee Filter Crafts digital craft book! Access it on your phone, tablet, or computer any time.
The tie dye for the bat wings is created using coffee filters and markers, which is a magical process that the kids (and adults) will become addicted to doing! Even toddlers can help with the tie dyeing process.
Older kids will also enjoy making these bats. They can assist with decorating the clothespins and assembling the bats too.
When you are done, you can display the coffee filter bats as decorations. Make several and use twine to create a bat banner and hang them on the wall in a classroom or even above a party table.
Books About Bats for Kids
Young kids love making crafts that go along with stories they've read. Grab a few of these books about bats and plan a fun day of reading and crafting!
This post contains affiliate links. As an Amazon Associate and a participant in other affiliate programs, we earn a commission on qualifying purchases.
Bo the Bat (Learn and Love Series)
The Nocturnals: The Mysterious Abductions (1)
Bats at the Beach (A Bat Book)
Bats: An Illustrated Guide to All Species
Fiona the Fruit Bat
National Geographic Readers: Bats
Coffee Filter Bat Craft Supplies
If you don't have these materials on hand, you can find them on my Amazon craft shelf or wherever you prefer to shop.
Recommended Tools: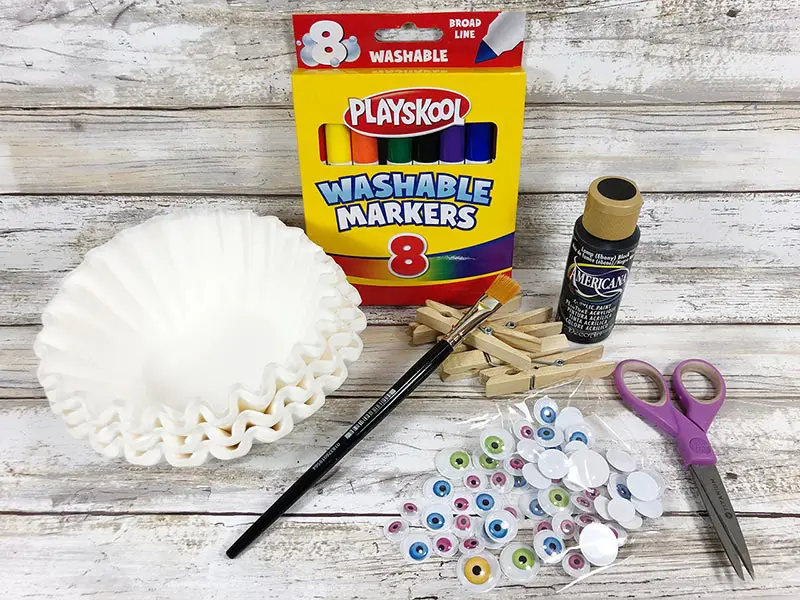 Can I Use Permanent Markers?
The ink used in permanent markers (like Sharpies) will keep it from bleeding and blending when wet, which creates the tie dye effect on the coffee filters. You will need to use washable markers for this step. However, if you want to draw on details afterwards, you could use permanent markers.
How Long Does It Take Coffee Filters To Dry?
The amount of time it takes for the coffee filters to dry will depend on how much water is used. Lightly misting to blend colors will dry faster than spraying with a lot of water. Drying time could take as little as a half an hour to as long as overnight.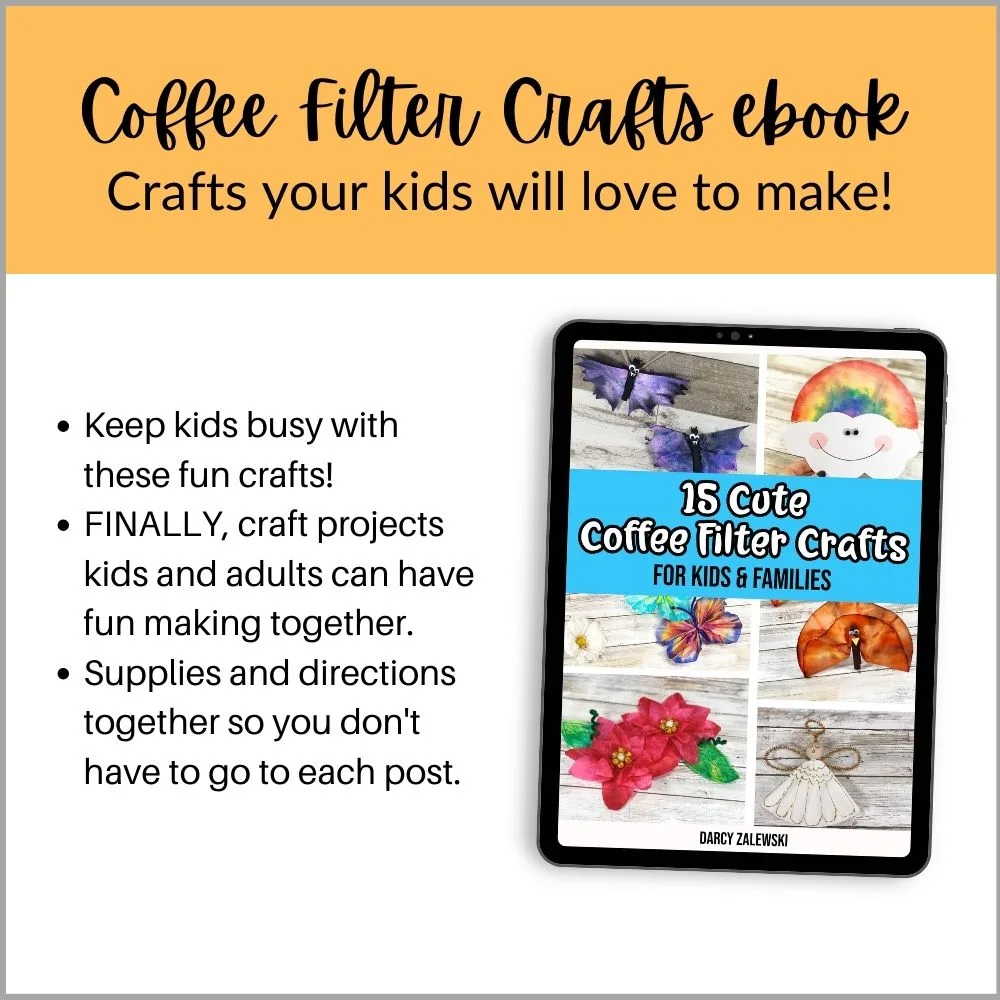 How to Make Coffee Filter Bats
Start by flattening the coffee filters. Then draw different patterns on them with several colors of washable markers. We think the blue, black, and purple markers are great for making cool looking dark bat wings.
After coloring the coffee filter, place it on a craft mat and spritz with water. If you don't have a craft mat you can lay it on top of a large zip top bag or a paper plate.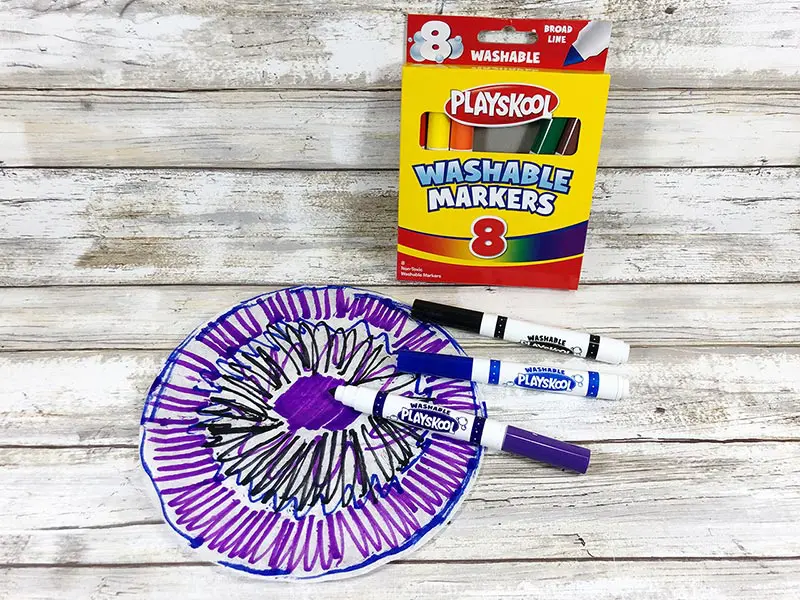 Kids will enjoy watching the magic as the colors spread! Set aside to dry.
To make it easier to pain, clip the clothespins onto a scrap of cardboard first. This way you can hold and turn the cardboard without getting paint all over your hands.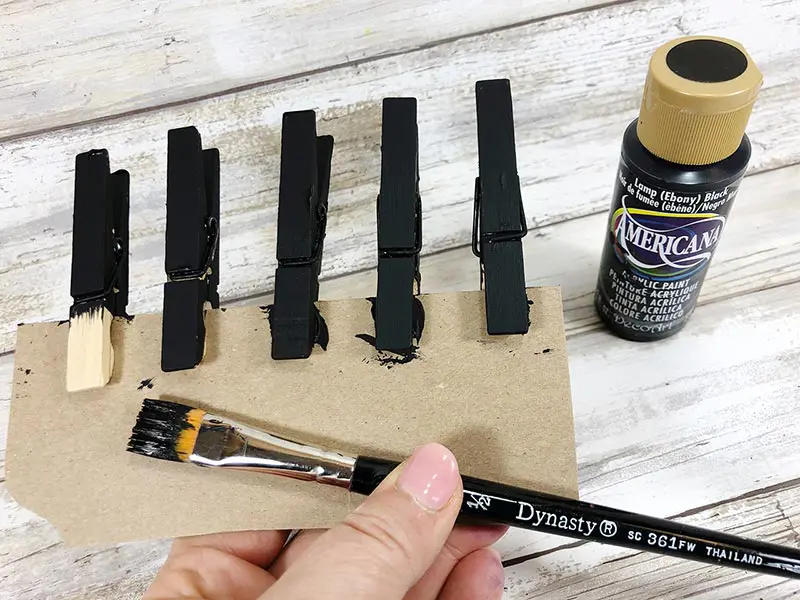 Paint all sides of the clothespin with black craft paint and a paintbrush. Set aside to dry.
After the paint is dry, glue on two googly wiggly eyes per clothespin. I love the way it looks using two different size eyes, but you can use two of the same size.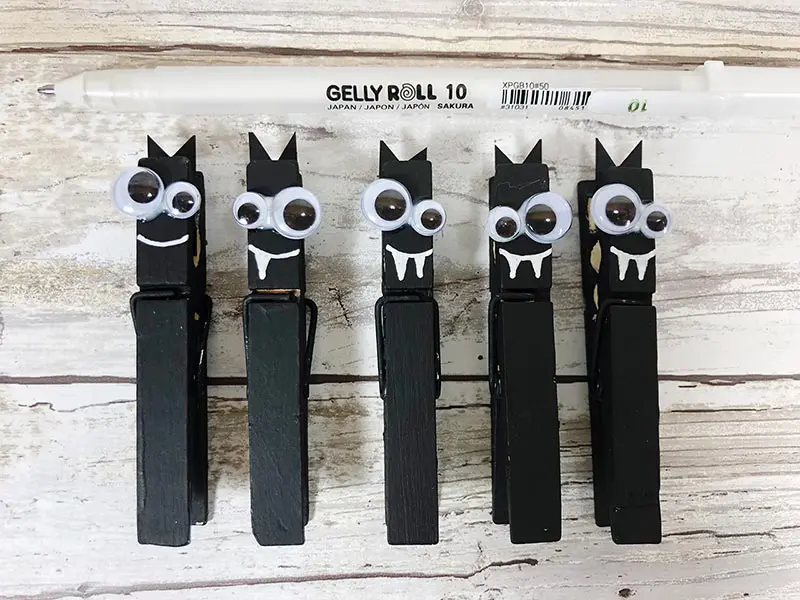 Using the white gel pen, draw a mouth and fangs on each clothespin. Set aside to dry.
Now fold the dry coffee filter in fourths and cut a scallop edge with scissors.
Then unfold the filter to half and cut a 3" slit up from the scalloped edge. Next open the clothespin and insert the wings.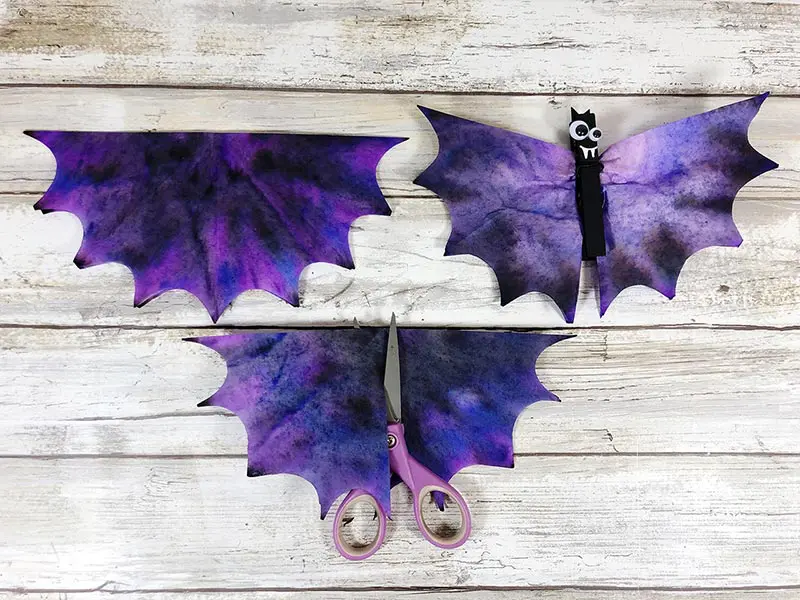 Finally, cut out ears using a rectangular strip of black cardstock and cutting out a small triangle on one end. Attach the paper to the top of the clothespin with liquid glue.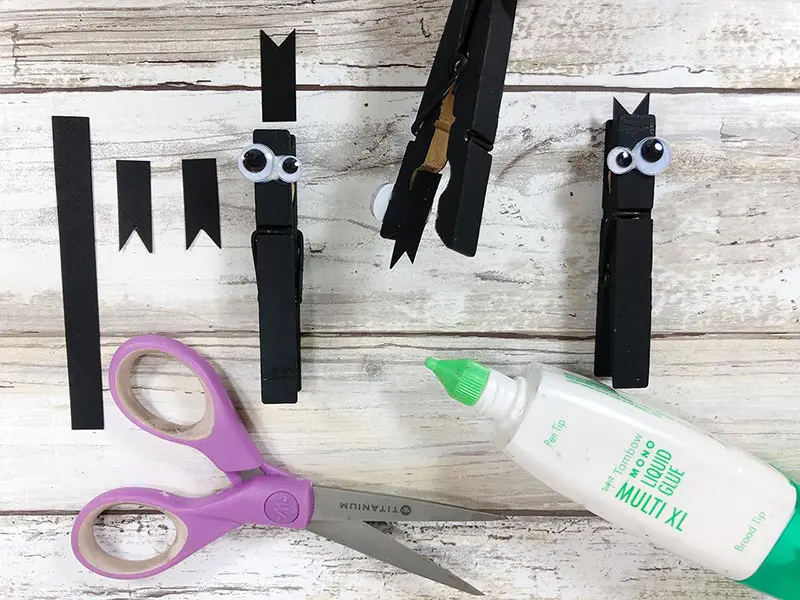 Once they are completely dry, display your completed coffee filter bats!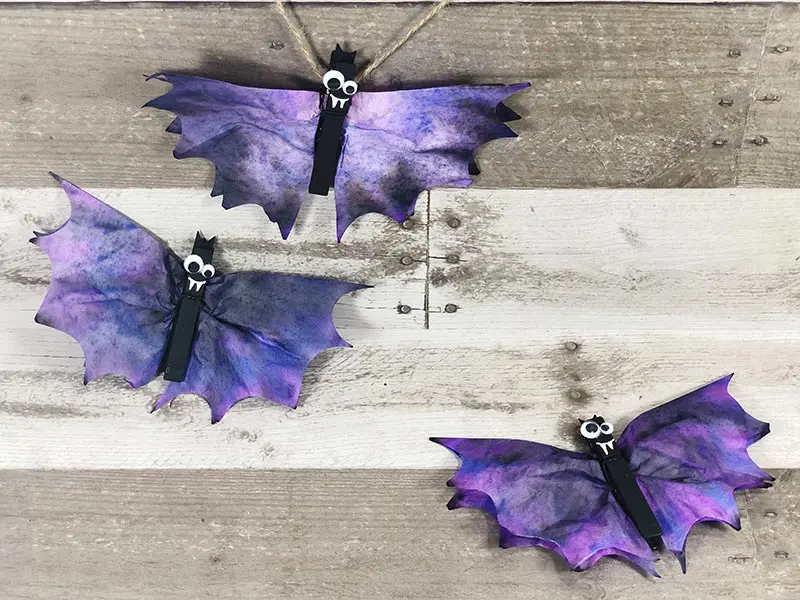 More Halloween Activities for Kids
There are so many fun ways to extend this craft project to keep kids engaged in learning about bats and other Halloween related topics, such as games, crafts, and printables.
Free Halloween Printables
You can use these Halloween printables to create unit studies, practice skills, or just for fun.
More Halloween Crafts for Kids
Keep the crafty fun going with these ideas and plan an amazing Halloween art center and make some spooky decorations!
We hope you have fun creating a colony of bats with this cute Halloween craft for kids!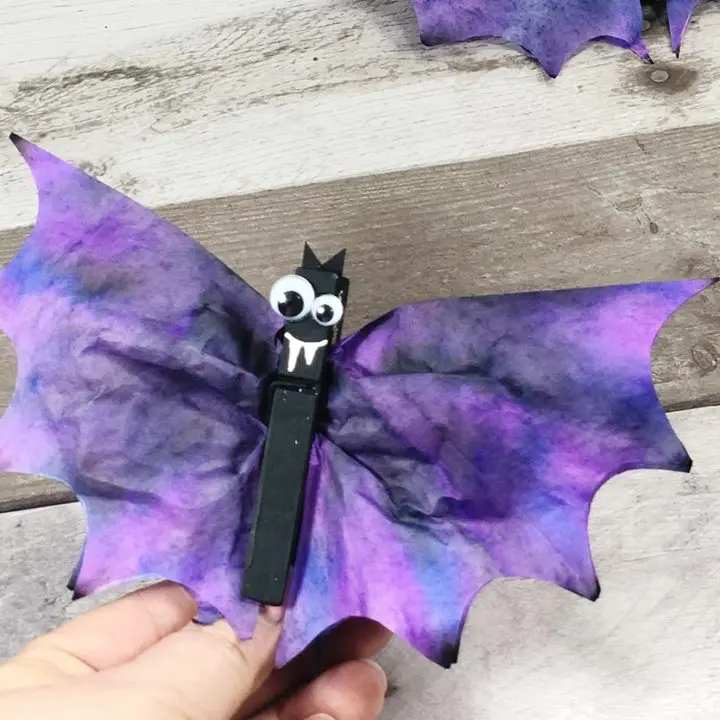 Coffee Filter Bat Craft
Estimated Cost:
$10 or less
These coffee filter bats are a cute and easy Halloween craft project for kids.
Materials
Wooden Spring Clothespins
Round White Coffee Filters
Assorted Googly Eyes
Washable Markers – Black, Blue and Purple
Tacky Craft Glue
Black Acrylic Craft Paint
Black Cardstock
White Gel Pen
Tools
Water Spray Bottle
Paintbrush
Scissors
Pencil
Craft Mat
Instructions
Flatten coffee filters and color with blue, black, and purple washable markers.
Place the colored coffee filter on a craft mat and spritz with water.
Paint all sides of clothespins black. Set aside to dry.
Glue eyes to clothespin. Let dry.
Draw mouth and teeth with white gel pen. Let dry.
Fold coffee filter in fourths (in half and in half again) and cut a scallop edge.
Unfold filter once so it is folded in half. Cut a 3 inch slit up from scallop edge.
Open clothespin and insert the coffee filter wings.
Cut little triangle ears from black cardstock and glue to clothespin.
Notes
Easily make just one or several at a time. Drying times may vary and impact total time from start to finish of this project.
Recommended Products
We may earn a small commission for purchases made through these affiliate links.