If your kids love rainbows, then they will jump at the chance to try this fun rainbow fine motor counting activity! Counting with rainbow beads is a fun way to practice counting skills and boost fine motor skills at the same time. Use small rainbow beads like in our activity for practice of pincer grasping, pre-writing skills, and other fine motor skills. Your kids will have a lot more fun counting when the activity is rainbow-themed!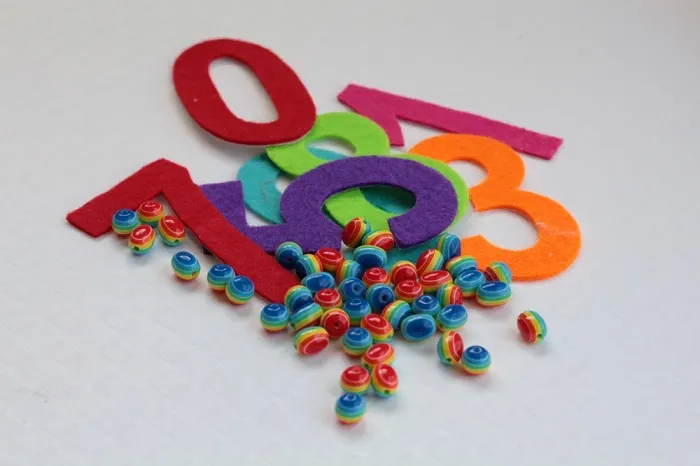 Counting with Rainbows
This post contains affiliate links.
This rainbow bead counting activity is so easy, but little kids love it! You might be surprised at just how long your little ones are content to sit and sort, count, and sift through beads when they are rainbow beads. Something about the cheerful, bright colors appeals to young kids. Make sure to use larger beads if your kids are likely to pop the beads in their mouth. You don't want to entice kids to try and eat the beads like candy. As bright as the beads are, remind the kids that they are not for eating.
Materials:
Directions:
Spread out the beads and numbers onto a play tray. Instruct the kids on how to sort through the beads to find the correct number for each felt or foam number.
Ask the kids to help sort the piles. Which pile has more? Which has less? Is this pile more or less than that other pile?
Older kids can conduct further investigations with the beads, by asking questions like, how many more beads do we need to have the same number as this pile? How many beads will we have if we take away X beads from this pile?
If your kids are interested, after working with the beads, try to see if they remember which numbers are bigger using just the felt numbers and no beads. This will help make abstract math easier in kindergarten and first grade.
Learning activities like this are quick and simple to set up. It's fun like a game while providing plenty of opportunity for learning. My kids enjoy hands-on activities without realizing they are practicing math concepts and developing fine motor skills. We hope your children love this counting with rainbows fine motor counting activity!
More kids activities: