Looking for spring themed sorting activities for kindergarten? This adorable Saint Patrick's Day size sorting printable is an easy hands on learning activity for preschool and kindergarten.
This is a great option for a no prep March math center activity. It's also easy to do at home. Kindergarten sorting games are an engaging way to help kids develop important skills.
Find out the benefits of sorting and the types of skills it helps kids work on then grab the printable at the bottom of this post. You may also like our Christmas tree size sorting activity and our pumpkin size sorting game.
We have even more fun St. Patrick's Day ideas for you such as our popsicle stick leprechaun top hat, coffee filter rainbow, lots of leprechaun crafts, and even more Saint Patrick's Day games.
You can find all of our activities for kids here and even more free printable games for kids.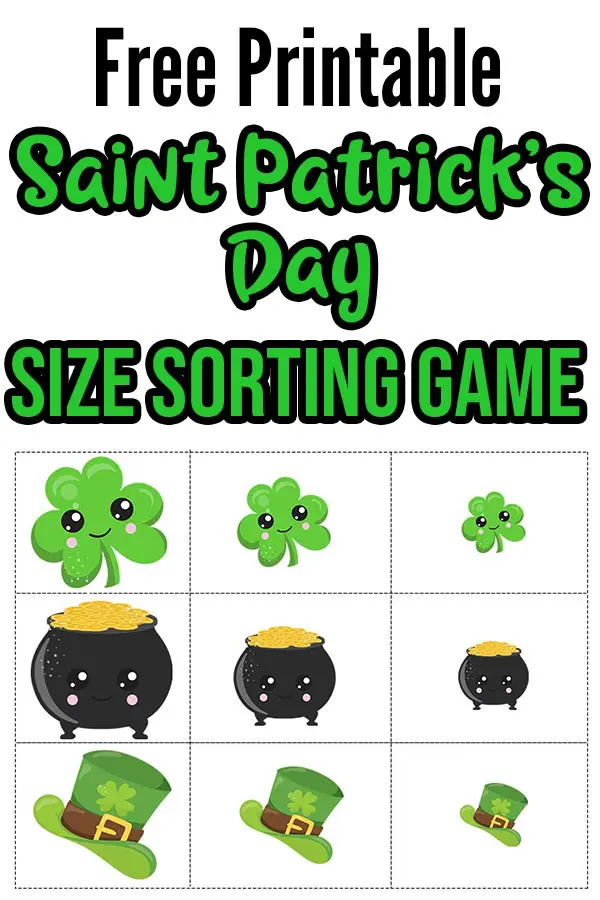 This post contains affiliate links. As an Amazon Associate and a participant in other affiliate programs, we earn a commission on qualifying purchases.
WHY Are SORTING Activities IMPORTANT FOR PRESCHOOLERS AND KINDERGARTNERS TO DO?
By sorting the shamrocks, pots of gold, and leprechaun hats and grouping them into different size categories (big, medium, small) kids are strengthening their observation, logic, and reasoning skills.
They need to look at the different St. Patrick's Day themed tokens, compare them, and categorize them as large, medium, or small.
IS SORTING A MATH SKILL?
Sorting is an early math skill that is important for preschool and kindergarten children to work on.
Hands on sorting activities allow them to learn how to recognize similar objects and practice grouping them together.
This is important for building on math skills, such as grouping number sets, when they are older.
Developing a child's sorting skill will help them recognize patterns and easily make matches. This becomes important for solving more complex math equations later.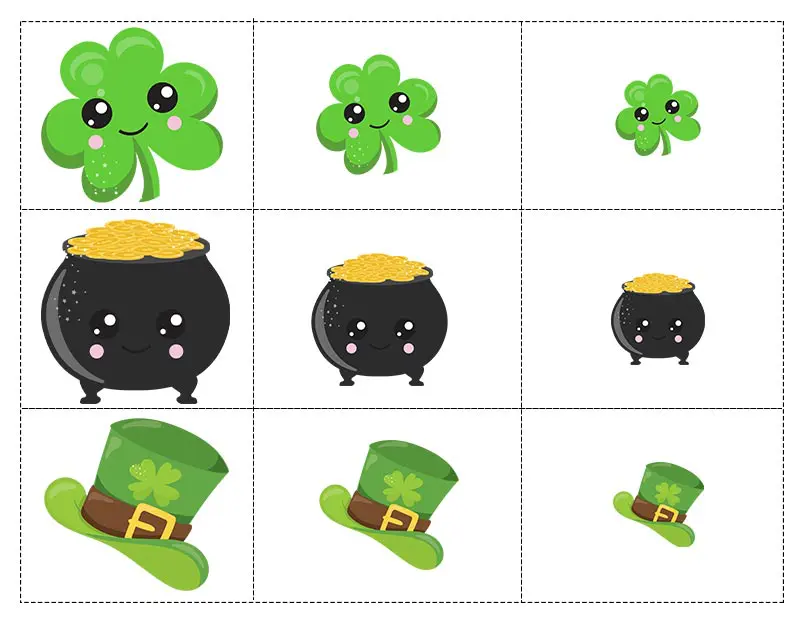 St. Patrick's Day Shamrock SIZE SORTING GAME
Our printable Saint Patrick's Day sorting game is the perfect way to incorporate the March holiday into big and small sorting activities.
If using in a classroom setting, I recommend using a laminator machine and laminating the mats and tokens before cutting them out.
There are three mats and each one is labeled with a size: Large, Medium, Small.
There are three sets of sorting pieces: cute shamrocks with faces, pot of gold with a kawaii face, and leprechaun hats. Each set includes a big, medium, and small tokens. Cut these out ahead of time for a very low prep activity
Mix up the pieces and ask your child to sort them by size onto the correct mat.
You can adjust the difficulty of this activity for toddlers and younger kids as needed. For example, you can lay out just the Large and Small mats and tokens to start with and then add in Medium later.
MORE MATH ACTIVITIES FOR KIDS
Looking for more simple math activities for preschool and kindergarten students?
These learning games help kids work on a variety of skills such as colors, grouping and classifying, fine motor, sorting, addition and subtraction.
PRINTABLE Shamrock SIZE SORTING ACTIVITY
Download and save this Saint Patrick's Day size sorting printable game by clicking the button below. You can print it out and use at home or in your classroom.
Share this post with other parents and teachers so they can download their own copy!