Looking for fun printable games for kids to get your little ones engaged in math? Our roll and color dice game could be just what you need!
This engaging game, perfect for preschoolers and kindergartners, allows kids to practice early math skills such as number recognition, counting, and addition in a playful and interactive way.
You can easily use this game in the classroom or at home to make learning enjoyable.
Did you know we also offer a variety of other activities to keep learning fun and entertaining? Be sure to check them out to make math exciting with our interactive resources!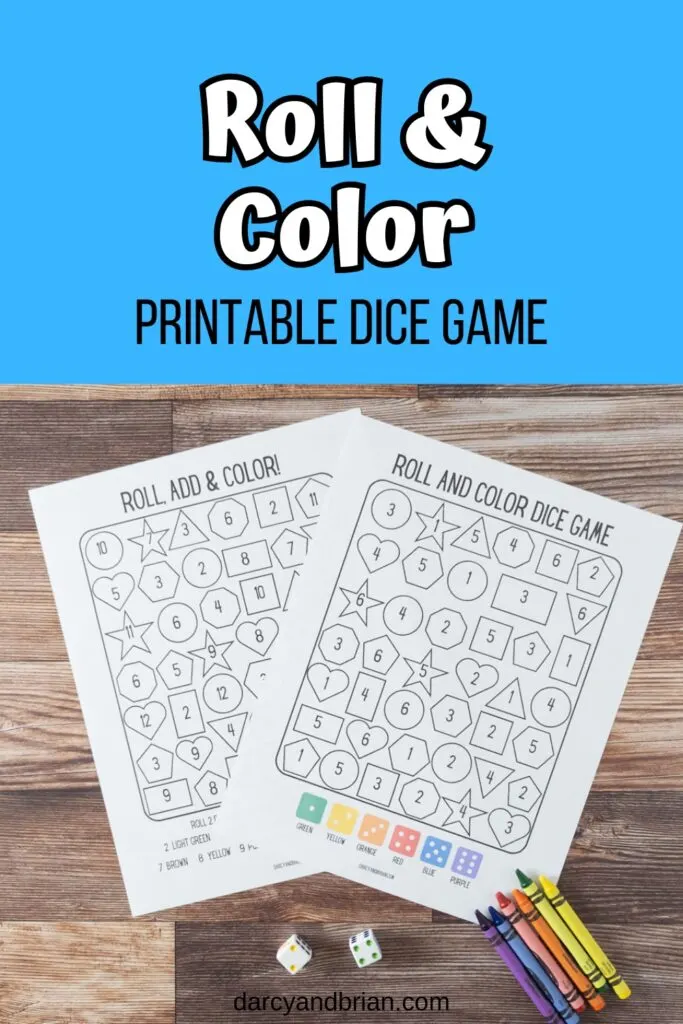 Playing games is an excellent platform for children to practice math skills without realizing they're studying.
The magic of games lies in their ability to transform the learning experience into something fun, which helps children retain what they learn effectively.
Our roll and color dice game is one such educational tool that is easy to incorporate into any learning environment.
Whether you're homeschooling, teaching in a classroom, or looking for supplemental learning resources at home, this printable activity offers a fun way for kids to engage with math.
Scroll down for the free printable
More Math Activities for Kids
Offering a variety of math activities is an effective strategy to help children grasp important concepts and reinforce their skills.
By presenting information through different mediums – puzzles, worksheets, games, or real-life problem-solving scenarios – we are able to cater to diverse learning styles, making math more accessible and enjoyable.
This approach not only enhances their understanding but also fosters a positive attitude toward learning mathematics.
This post contains affiliate links. As an Amazon Associate and a participant in other affiliate programs, we earn a commission on qualifying purchases.
Melon Rind Jump 1 Game – Adding and Subtracting by 1, Math Game for Kids (Ages 5 and up)
Gamewright Qwixx – A Fast Family Dice Game Multi-colored, 5
Sleeping Queens Card Game, 79 Cards
Adsumudi Math Game – The Monstrously Fun, Smart Game for Kids to Practice Multiplication, Division, Addition and Subtraction – Great for Kids Ages 8-12
Proof! Math Game – The Fast Paced Game of Mental Math Magic – Teachers' Choice Award Winning Educational Game, Ages 9+
Math for Love Prime Climb
Benefits of Playing the Roll and Color Dice Game
The Roll and Color Dice game is a treasure trove of educational benefits.
With each roll of the dice, children are given an opportunity to practice counting and number recognition, enhancing their fundamental math skills.
The game promotes subitizing – the ability to instantly recognize the number of objects without counting, a crucial skill in developing number sense.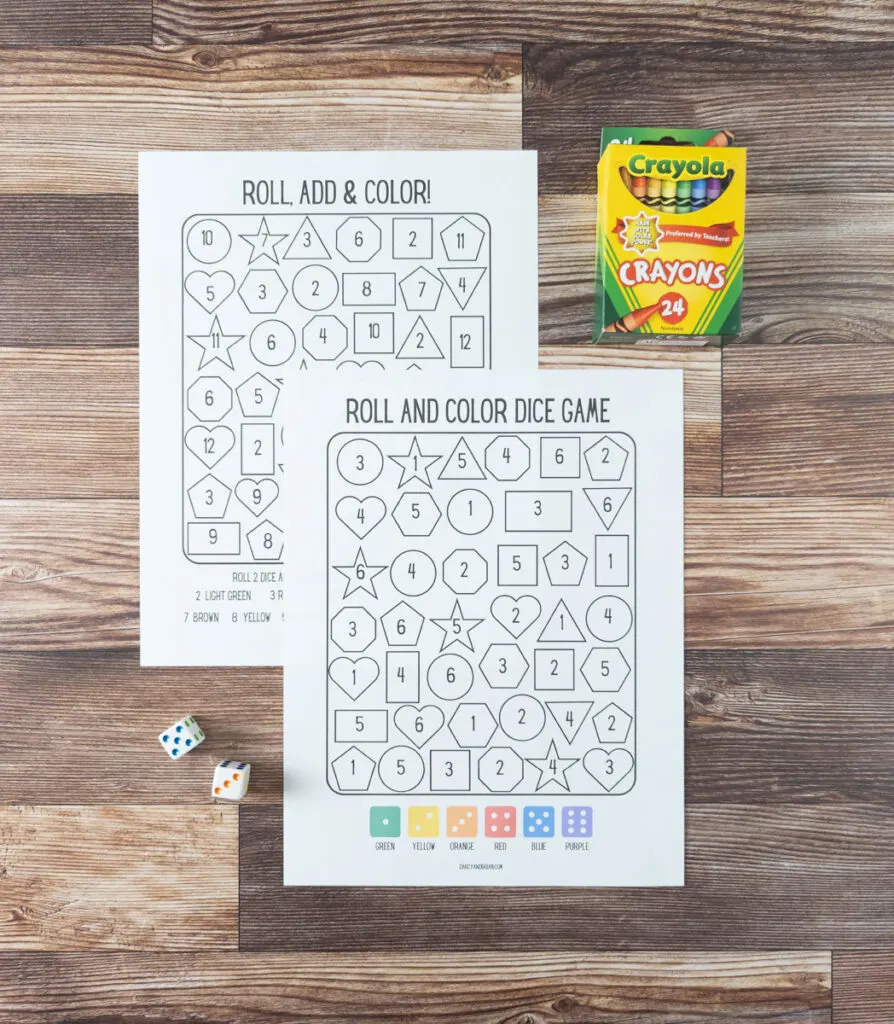 The requirement to color different shapes strengthens their understanding of basic geometry. It also adds an artistic element to the game, reinforcing color recognition.
Additionally, with the option to roll a pair of dice and add the numbers together, children are introduced to simple addition in a playful, non-intimidating way.
This multifaceted game not only makes learning fun but also contributes significantly towards early mathematical development.
Do Preschoolers Need to Learn Subitizing?
Subitizing has been found to be an important part of early mathematical development.
Subitizing gives children the ability to make quick mental calculations and estimations, which are vital for problem-solving.
This skill also helps them develop number sense – the ability to think about numbers flexibly and relate them to one another.
The Roll and Color Dice game provides a simple yet effective way to teach subitizing, as children can quickly recognize the number on the dice and identify the corresponding shape on their sheet.
This game helps to lay strong foundations for future mathematics learning, making it an invaluable resource for preschoolers and kindergartners.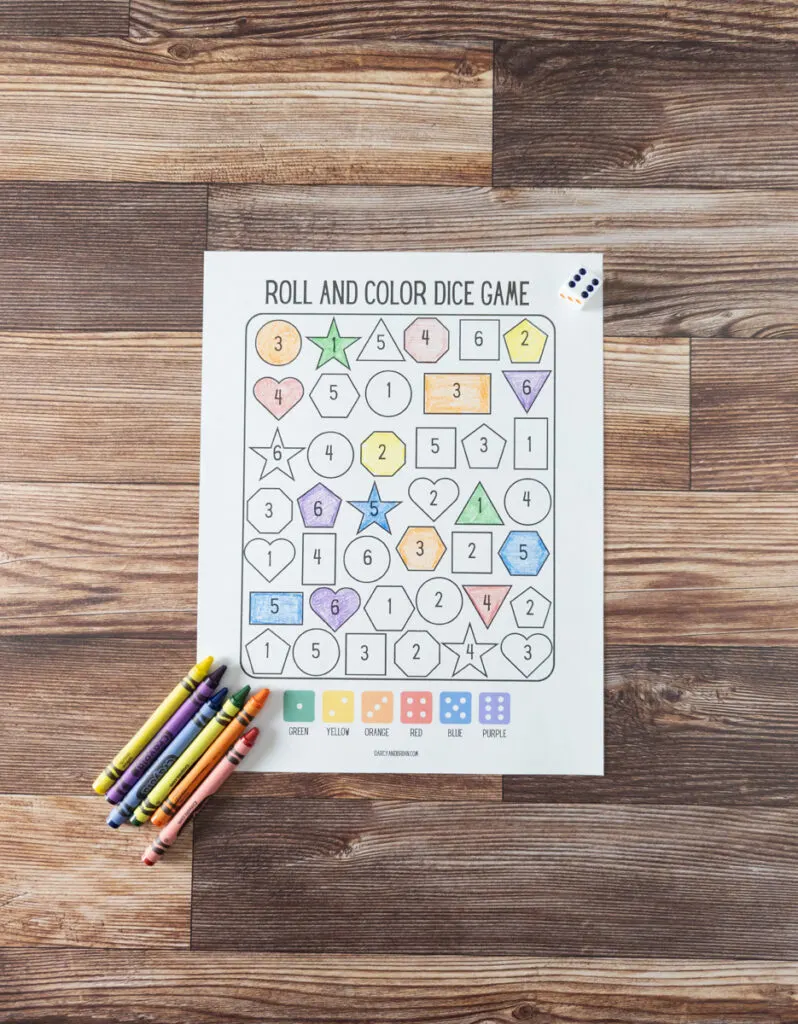 Is Shape Recognition a Math Skill?
Shape recognition is a fundamental math skill that children start to develop in early childhood.
Learning to recognize different shapes helps them identify and organize information such as symbols and patterns.
This not only proves to be useful for math but also for reading and writing.
While the roll and color dice game may not directly focus on shape identification, it serves as a valuable tool in introducing children to various shapes and familiarizing them with their characteristics.
What's Included in This Roll and Color Dice Game
The game consists of two pages: one page where children roll a single die and find numbers 1-6 and one page where they roll two dice and add together to find numbers 2-12.
This activity is an excellent way to practice number recognition and addition while also working on colors and shapes.
The different shapes featured in this game include heart, circle, square, rectangle, triangle, star, pentagon, hexagon, and octagon.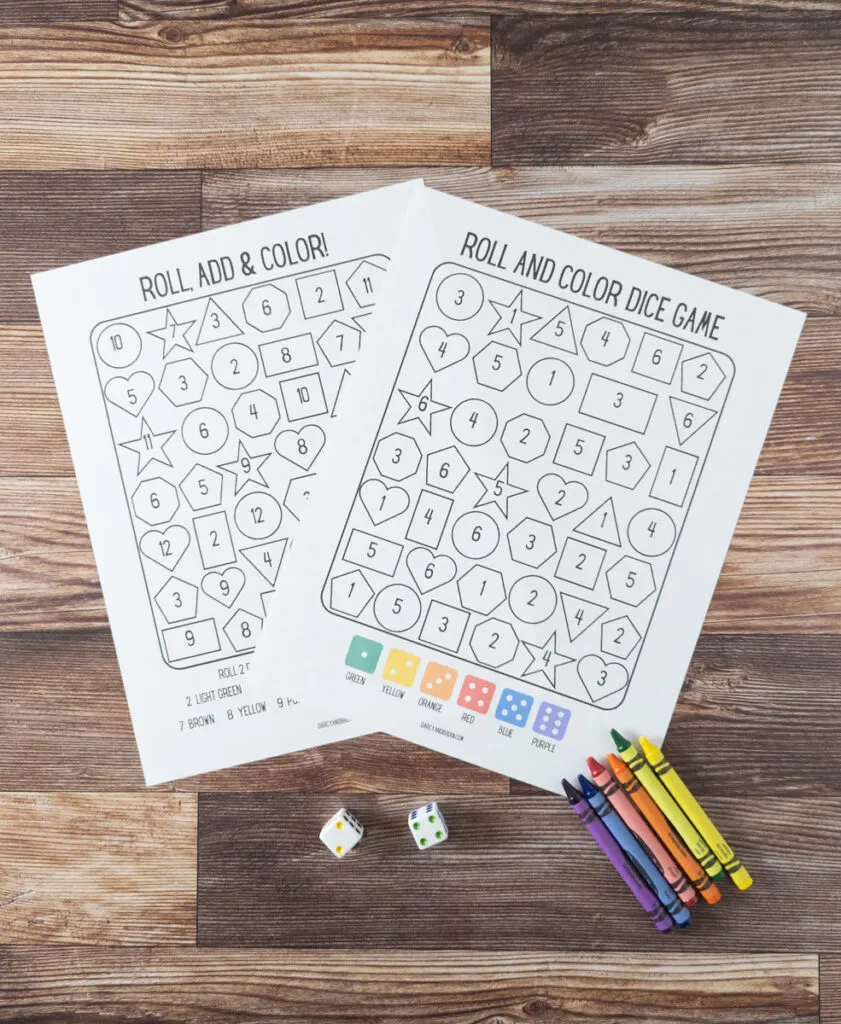 Recommended Items for the Roll and Color Dice Game
This roll and color dice game requires very little preparation – simply print the sheets, grab some coloring supplies, and you're ready to go.
To fully enjoy this game, you'll need a set of six-sided dice, which will be used to determine the number and shape your child will color.
Additionally, have a variety of coloring materials on hand like crayons, colored pencils, or markers.
These tools not only add a splash of color to the activity but also help in enhancing your child's fine motor skills.
64 Crayons Per Box, Classic Colors, Built In Sharpener, Crayons For Kids, School Crayons, Assorted Colors – 64 Crayons Per Box – 1 Box
Crayola Colored Pencils (36ct), Kids Pencil Set, Back to School Supplies, Assorted Colors, Great for Classrooms, Nontoxic, Ages 3+
50 Pieces Colored Dice, 6 Sided Dice for Board Games, 14mm Bulk Dice for Math Learning, Dice for Classroom
CiaraQ Polyhedral Dice Set (35 Pieces) with Black Pouches, 5 Complete Double-Colors Dice Sets of D4 D6 D8 D10 D% D12 D20 Compatible with Dungeons and Dragons DND RPG MTG Table Games
How to Play the Roll and Color Dice Game
The game is simple and easy to understand. Start by rolling one die for the first page and two dice for the second page.
Next, look at the number on top of the rolled die and determine which shape has that corresponding number.
Finally, color in the shape according to the given color key.
For the second page, children will add the sum of two dice or count the total number of pips showing on both dice.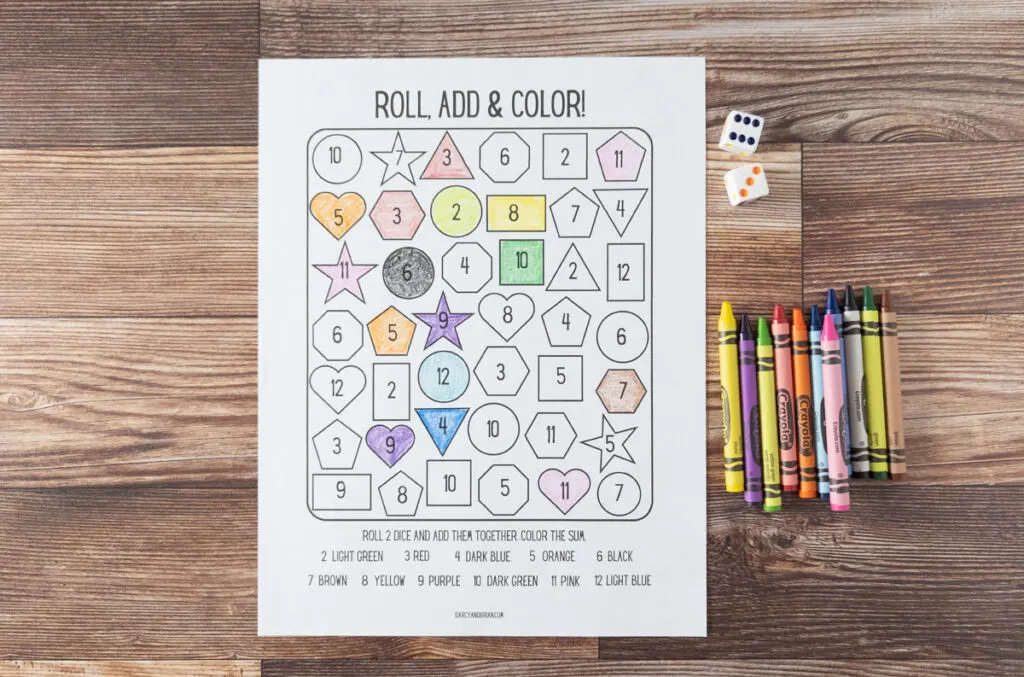 This Roll and Color Dice Game is not only a wonderful solo activity that fosters independence in learning, it can also be adapted into a cooperative game.
If you have two children who are eager to participate, they can work on the same worksheet by taking turns rolling the dice.
This interactive approach promotes teamwork, sharing and patience – all while they continue to practice number recognition, addition, and fine motor skills.
Such versatility makes this activity a great addition to both solo and group learning sessions.
Is Coloring a Good Preschool Activity?
Absolutely! Coloring is an excellent activity for preschoolers. It offers a relaxing and enjoyable way for youngsters to express their creativity while simultaneously working to improve fine motor skills.
The act of holding and maneuvering coloring tools aids in the development of hand-eye coordination and dexterity.
Also, it provides an opportunity for children to practice focus and concentration. Coloring is not only a fun pastime, but also a beneficial learning tool in early education.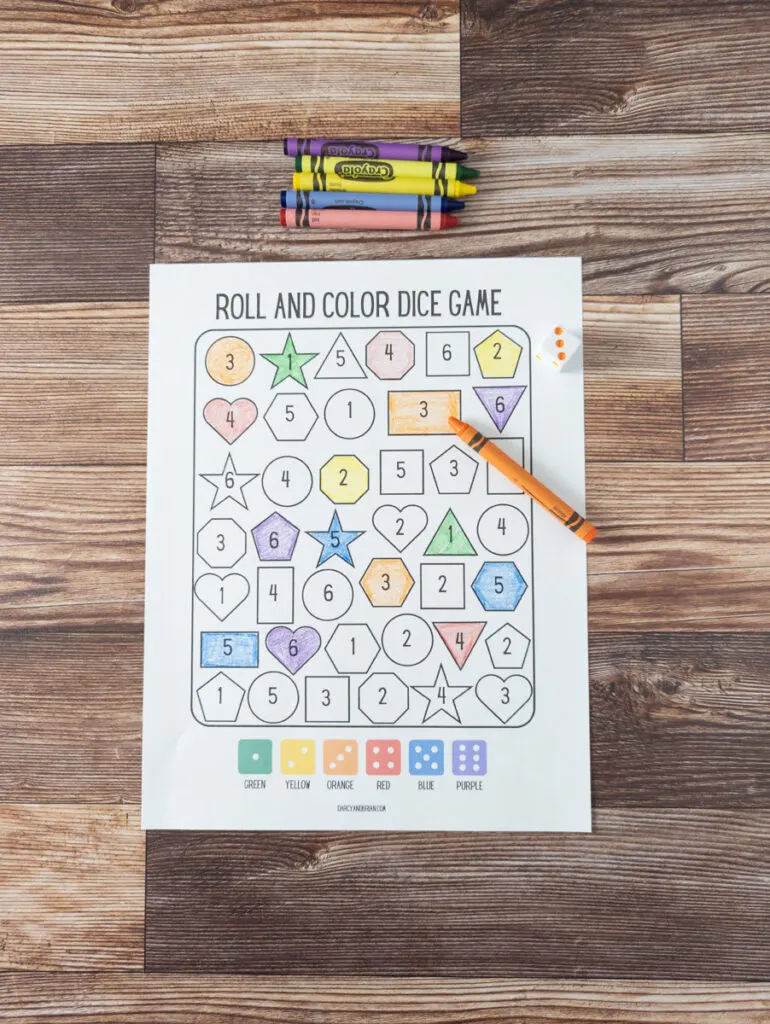 Books About Math for Kids
Reading with children is a powerful tool in fostering their cognitive development and imagination.
It's an engaging method for introducing new concepts, including mathematics, in a fun and relatable context.
Believe it or not, there's a whole world of entertaining children's books that creatively incorporate math concepts.
A Trapezoid Is Not a Dinosaur!
On the Launch Pad: A Counting Book About Rockets (Know Your Numbers)
Tangled: A Story About Shapes
If You Were a Plus Sign (Math Fun)
Just Enough Carrots (MathStart 1)
The Girl With a Mind For Math: The Story of Raye Montague (Amazing Scientists)
These stories make learning an exciting adventure, helping kids grasp and enjoy math in a whole new light!
Engaging Math Center Ideas
Creating engaging Math centers that combine learning with play is a fantastic way to make math fun for preschoolers and kindergarteners.
One such idea is our Number 3 Craft, where children can color, cut, and paste a template to transform the number three into a seahorse, thus associating the number with a tangible and memorable image. This activity not only teaches number recognition, but also promotes creativity and fine motor skills.
Similarly, shape crafts allow children to explore geometry in a hands-on manner. For instance, this butterfly shape craft uses circles, ovals, and rectangles to make a beautiful butterfly. These types of crafts help children to grasp the concept of shapes and their properties while fostering their imagination and spatial awareness.
Working on a space unit? Include these Space Count and Color Worksheets, perfect for young learners to explore the numbers 1-10 in an engaging and entertaining way.
Our Princess Math Puzzle Printables and Cowboy Math Picture Puzzle offers a delightful way to practice addition and subtraction. As students solve addition and subtraction problems, they gradually unveil a cute and charming princess or cowboy picture.
Fun Printable Dice Games
We have a variety of entertaining printable dice games for kids with various themes to choose from, including seasonal and holiday motifs. These games provide a fun and interactive way to celebrate events like Halloween and Christmas while reinforcing math concepts.
With these brilliant and engaging ideas, math becomes a captivating adventure for preschoolers and kindergarteners. These activities not only make learning fun but also lay a strong foundation for their mathematical abilities.