This list of fun and easy Valentine crafts are perfect for toddlers to make at home or at school. Little heart crafts made by little hands are enough to melt my heart.
From simple cutting and pasting tasks to the classic wax paper and crayon stained glass, these Valentine Day craft ideas make sweet gifts for little kids to give loved ones.
This list is ideal for toddlers, but can be fun for older kids and adults to make too. Also, check out our list of craft ideas for kids of all ages.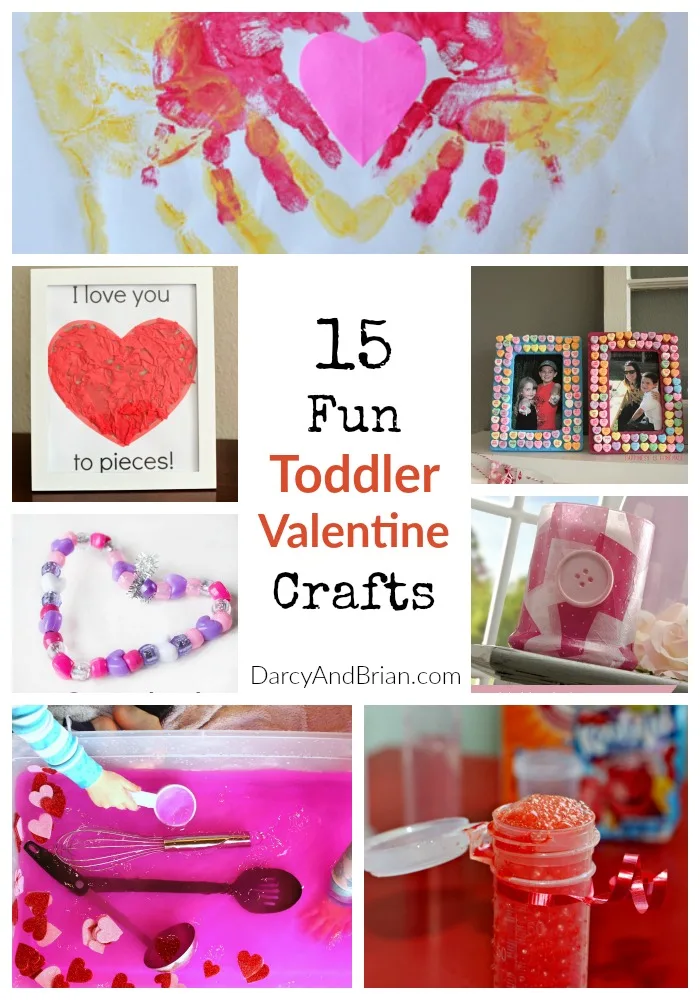 Looking for more toddler crafts? Check out this handprint sun and Truffula trees fork painting art project.
This post contains affiliate links. As an Amazon Associate and a participant in other affiliate programs, we earn a commission on qualifying purchases.
15 Fun Toddler Crafts for Valentine's Day
Lots of these Valentine crafts are ones your toddler can do with little to no hands-on help, but some will require assistance.
Most of these crafts include things like construction paper, beads, crayons, glue, and scissors.
The cutting, drawing, and gluing is a fun way for toddlers and preschoolers to work on their fine motor skills. Creating these cute and fun Valentine crafts is a great way to include the holiday in daycare and classroom activities.
There are many ways to personalize these Valentine's Day craft ideas to create items that will be kept as a treasured memory.
Other ideas, like the Candy Kebobs, are great for snack time or at a kids' Valentine's Day party.
Gather supplies together and have fun creating some fun Valentine crafts with your kids. Each of these projects make a great gift for someone you love, and can easily be customized.
For those that prefer less of a gift and more of a fun craft, there are plenty to choose from on this list. Your kids will have fun, you will give them a unique experience and you might just enjoy a fun extra gift item in the mix.
More Crafts for Kids: