Are you looking to make math more enjoyable for your preschooler or kindergartner? It's time to give math a rainbow-colored makeover. Our printable Rainbow Roll and Cover dice game is designed to bring learning into playtime! Kids can enjoy a fun numbers game while improving their number recognition skills.
Each roll of the dice they cover the corresponding numbers from 1–6 or 1–10. With this printable game for kids, they learn numbers without realizing it — helping them build foundational understanding of mathematics while also having lots of fun along the way!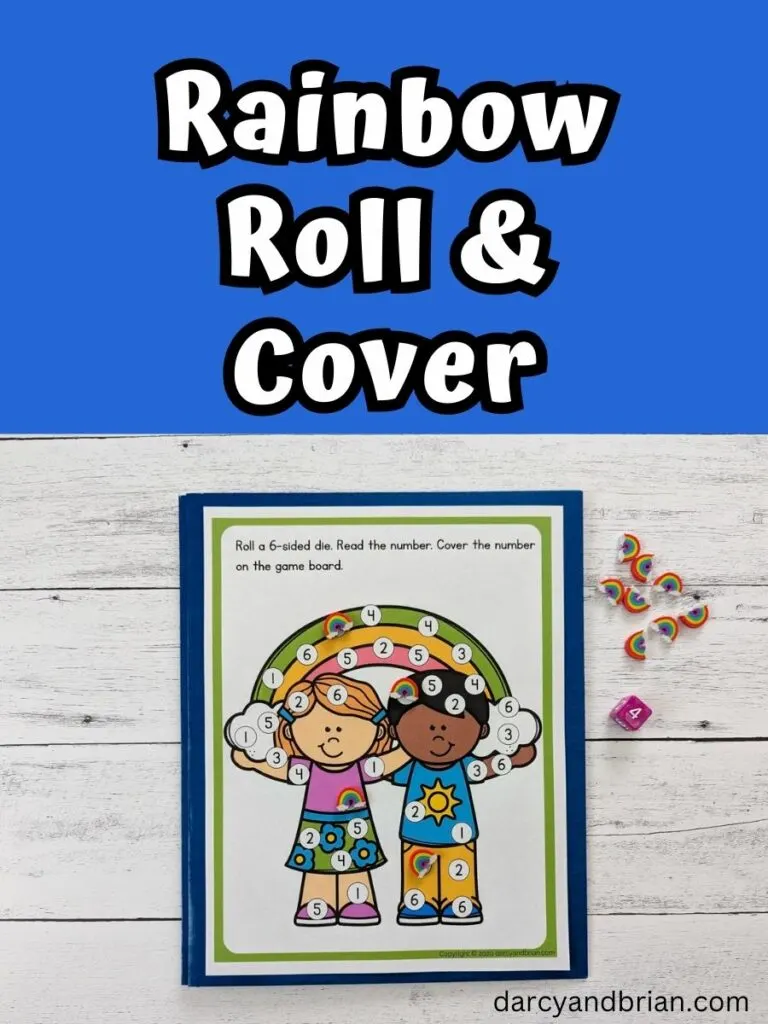 Engage young children in the joy of learning numbers with simple interactive math games like our free Rainbow Roll and Cover game.
By incorporating repetition to reinforce concepts and introducing varied approaches and themes, we can captivate their interest. This game is specifically designed to enhance number recognition skills for preschool and kindergarten children.
More Number Recognition Activities for Preschool
Here are some additional engaging resources and activities that will captivate the attention of your preschoolers and assist them in mastering number recognition skills. With these suggestions, you can create a fun and effective learning environment.
Free printable available at the end of this post.
What is a Roll and Cover Game?
A Roll and Cover game is a simple, yet powerful educational tool designed to make learning numbers a fun experience for your child.
Here's how it works: Each player rolls a die or two dice (depending on the version of the game chosen), and then covers the corresponding number on their game sheet.
The game not only helps with number recognition but also encourages subitizing if you have a 6-sided die with pips instead of numbers. This is the ability to 'see' a small amount of items and know how many there are without counting — in this case, without counting the dots on the dice.
Pips are faster and easier to recognize, so this might be a helpful option for your little ones until they become comfortable with the number names.
The Importance of Number Recognition
Number recognition plays a pivotal role in early education, laying the foundation for more complex mathematical skills. It's one of the first steps in a child's mathematical journey, providing them with the ability to identify and differentiate between numbers.
Recognizing numbers allows children to engage with the world around them in a more meaningful way. They can decipher numerical symbols on a clock, count objects, and start understanding the concept of quantities.
As their number recognition skills strengthen, children can progress to more complex skills like addition, subtraction, and eventually, multiplication and division.
Moreover, number recognition plays a significant role in fostering logical thinking and problem-solving skills. By understanding numbers and their relationships, children can analyze patterns, make predictions, and understand the order of operations.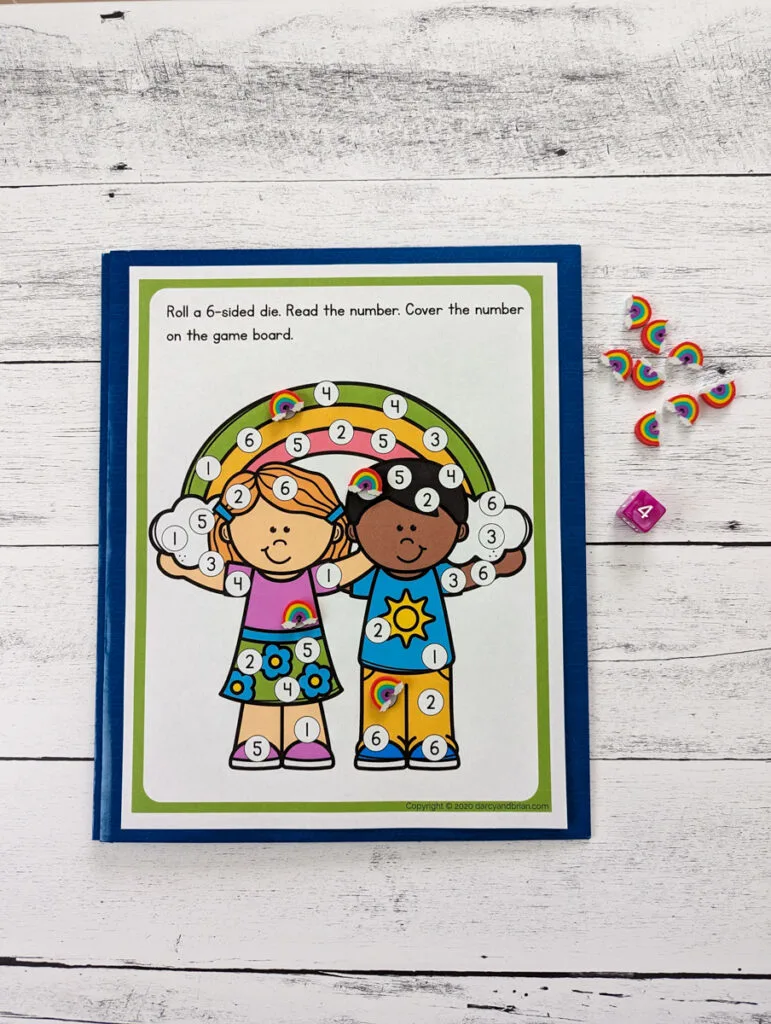 In essence, number recognition is more than just identifying numbers – it's the first step towards developing a mathematical mind.
This post contains affiliate links. As an Amazon Associate and a participant in other affiliate programs, we earn a commission on qualifying purchases.
What You Need to Play Rainbow Roll and Cover
To start playing, you'll need a few simple items:
Our free Rainbow Roll and Cover printables (available by filling out the form at the end of the post). There are two pages, 1-6 and 1-10 worksheets.
A 6 or 10 sided die, depending on which game board you use. (Also known as a D6 and a D10. These are both included in most polyhedral dice sets for tabletop games.)
A way to cover the numbers. You can use mini erasers, Bingo chips, pom poms, candy, or even color the circles in.
If you want to reuse the game sheets without printing them out again, I recommend laminating them or sliding them into dry erase pockets before playing.
JUNWRROW 500 Pieces 3/4 inch Transparent 6 Color Bingo Counting Chips with Bag
Iooleem Multi-Color Pom Poms, 1200pcs Assorted Size & Color, Pom Poms for Arts and Crafts, Pom Pom Balls with Wiggle Eyes in jar, Glitter Pom Poms, Craft Supplies.
TecUnite 25 Pieces Polyhedral Dice Set with Black Pouch Compatible with DND RPG MTG and Other Table Games with Random Multi Colored Assortment (Color Set 2, D10)
CiaraQ Polyhedral Dice Set (35 Pieces) with Black Pouches, 5 Complete Double-Colors Dice Sets of D4 D6 D8 D10 D% D12 D20 Compatible with Dungeons and Dragons DND RPG MTG Table Games
Amazon Basics 9-Inch Thermal Laminator Machine
Avery 73601 Self-Adhesive Laminating Sheets, 9 x 12 Inch, Permanent Adhesive, 50 Clear Laminating Sheets
Scribbledo Dry Erase Pockets, 6 Pack Reusable Dry Erase Sleeves with Marker Holder, Colorful Dry Erase Pocket Sleeves for School or Work, Assorted Colors Sheet Protectors and Ticket Holders
How to Play Rainbow Roll and Cover Math Game
Once you have everything set up, playing Rainbow Roll and Cover is easy. Simply roll the die, match the number shown to its corresponding spot on your game board, and cover it with a math manipulative or color it in.
For example, if a child rolls a '4', they'll cover the number '4' on their sheet. This game can be played alone or with friends, and the colorful rainbow theme adds an extra layer of excitement, keeping children engaged and motivated to learn.
The first person who covers all their numbers wins – but even if you don't, you'll still be building your kid's number recognition skills. Another option is to have have kids play in pairs or small groups, promoting cooperation and negotiation through teamwork.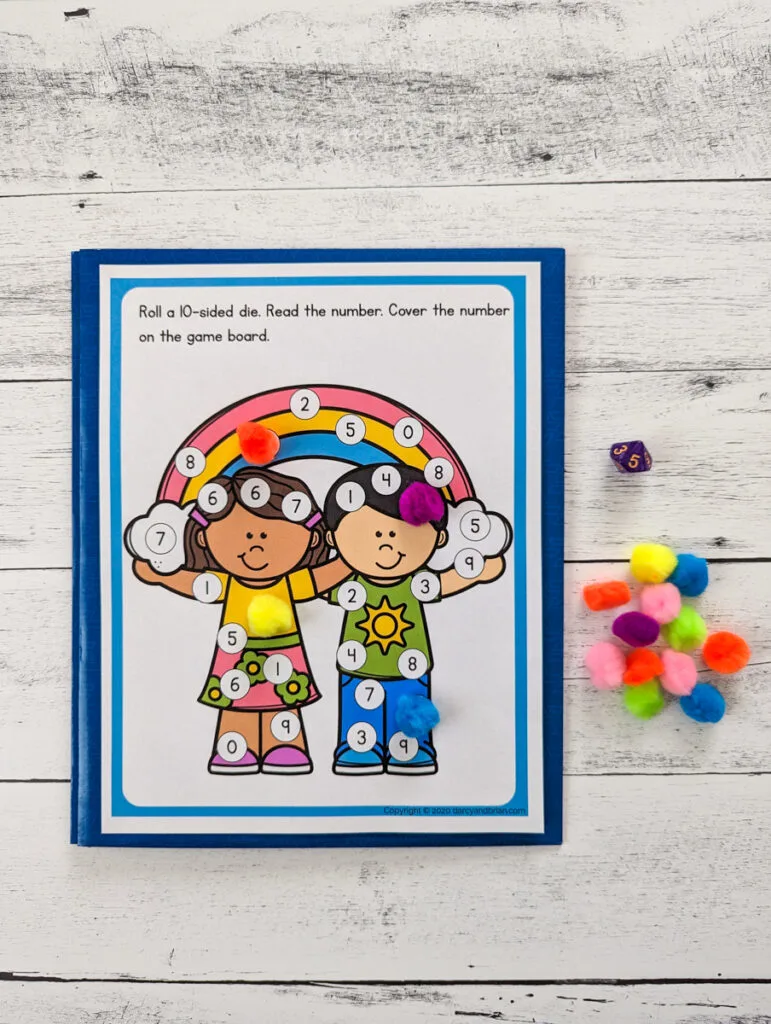 Be sure to switch up the game by using different dice too. If you used a 6-sided die with numbers, try using one with pips instead, or vice versa.
Rainbow Roll and Cover is a simple, fun way to help your kid build important math skills – why not give it a try today? You'll be surprised at how quickly your child's number recognition abilities will soar!
Ways to Incorporate the Game into Your Homeschool or Classroom
Math Lesson: Use the game to reinforce counting skills based on the number rolled on the dice. You could also introduce probability by discussing which numbers are most likely to be rolled.
Science Lesson: Discuss the concept of light and color. Talk about how rainbows are formed and why the colors always appear in a particular order.
Art Lesson: Have students create their own rainbow game board using different mediums like paint, colored pencils, or pastels. Discuss color mixing and the color wheel.
Remember, not every child learns the same way, so feel free to modify these suggestions to best fit your child's needs. The most important thing is that they're learning and having fun at the same time!
Additional Rainbow Learning Activities
Continuing with the game's theme, let's take a look at some engaging and educational activities that revolve around the vibrant theme of rainbows, perfect for adding a touch of color to your child's learning process!
In conclusion, this Rainbow Roll and Cover game is a wonderful educational tool to help your young learners master number recognition. It's not only a math practice but also a colorful way to introduce art and science lessons.
With the free printable game mats for both 6-sided and 10-sided dice, you can tailor the difficulty to suit your child's skills. So why wait? Roll the dice, dive into a world of colors, and watch how this simple game can make a big rainbow of a difference in your child's learning journey. Remember, the best education is the one that feels like play!