Make math fun with these cute ocean animal color by subtraction worksheets! Kids are more motivated to work on math if they are enjoying themselves.
Lots of kids think the ocean and all the sea creatures that live in it are fascinating. Combining an ocean theme, math work, and coloring creates an engaging way for children to practice subtraction.
For more ocean related educational printables, encourage kids to dig further with our shark research worksheets.
Young learners love coloring, making these free ocean color by subtraction worksheets a great way to practice their math.
When you can find something they are interested in, such as ocean animals, and incorporate that into other subject areas it helps to keep kids engaged. It can spark their curiosity and encourage them to learn more.
Free printable download available at the end of this post.
What Age Are These Math Coloring Sheets For?
Kids develop their math skills at different rates, so these math coloring pages aren't for just one age group or grade level. Most kindergarten age children can subtract up to 10. Early elementary school aged students (in 1st and 2nd grade) generally can subtract double digit numbers.
These ocean animal color by subtraction worksheets include a mix of subtraction up to 10 and subtraction up to 20. There are a few problems that include numbers in the upper 20s being subtracted by single digit numbers.
The nice part about working on these pictures is that kids can reasonably guess some of the answers if they don't know all of them based on the rest of the picture.
The more they see subtraction equations and their answers, the more familiar they get with how the numbers relate to each other too.
More Math Printables for Kids
There are lots of ways to practice early math skills, from puzzles to dice games. These can be used while introducing new concepts as well as for review. Building a solid math foundation is important in order to gain mastery and move on to more complex mathematical concepts.
What's Included in These Ocean Color By Subtraction Worksheets
There are a total of 11 pages in this set. Ten are color by subtraction coloring pages, each featuring a different ocean creature. I've also included an answer key page which shows a small colored version of each one to give an idea of how it looks once completed.
You will get to color in the following:
Fish
Starfish
Jellyfish
Sea Turtle
Crab
Squid
Whale
Shark
Seahorse
Stingray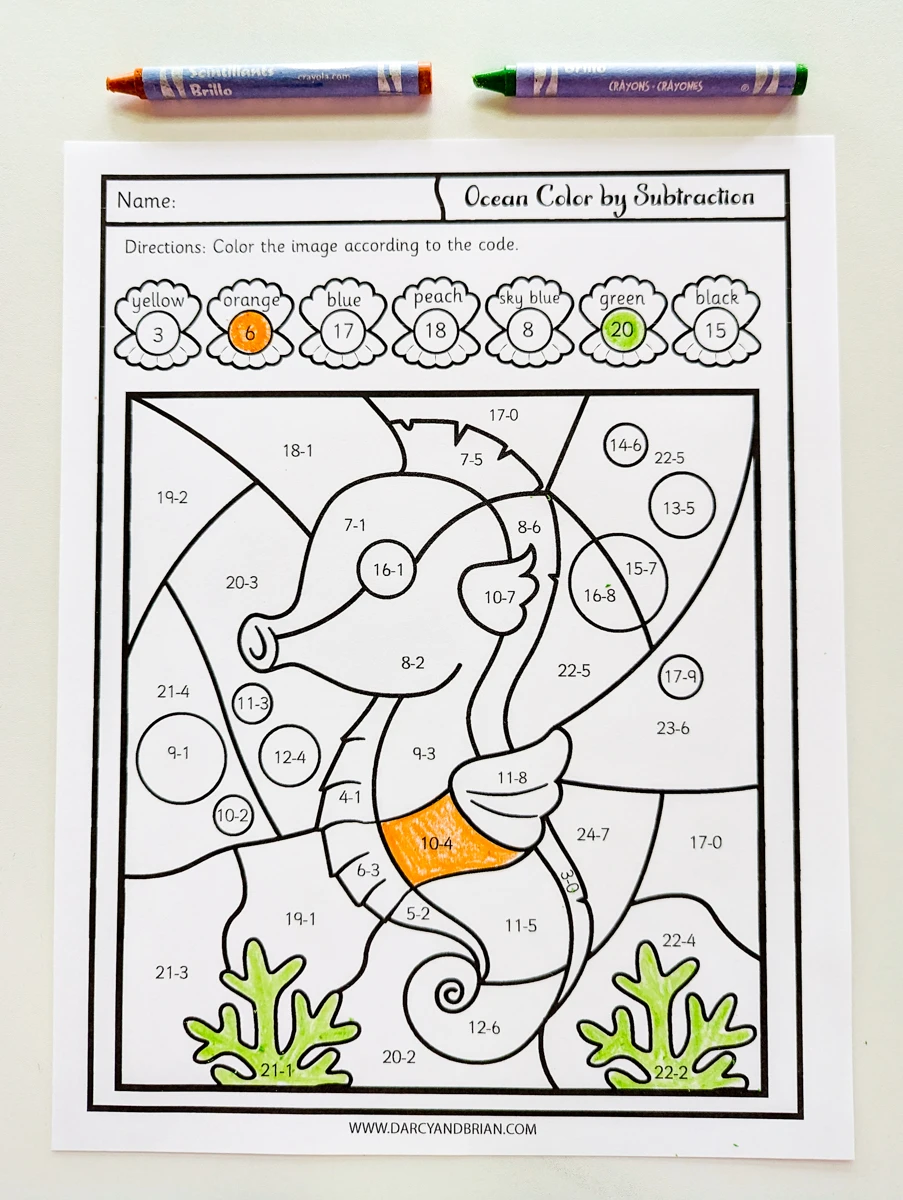 This post contains affiliate links. As an Amazon Associate and a participant in other affiliate programs, we earn a commission on qualifying purchases.
If you print out a ton of learning materials like us, then you need a reliable printer. We absolutely love our Epson EcoTank, so if you need a new printer, I recommend getting one (any model).
Also make sure to provide plenty of crayons and colored pencils for your child to work on coloring these in. To add a bit of sparkle to your picture, try using these glitter crayons.
Benefit of Using Color By Subtraction Pages
There are several positive benefits to using these free printable ocean animal color by subtraction worksheets. They help kids practice their subtraction skills as well as developing fine motor and problem solving skills.
Each part of the picture has an equation. In order to know which color to use, they need to subtract the numbers. As they grip their crayons or colored pencils and try to color within the lines, they are using fine motor skills.
The worksheets are also a great jumping off point for other activities. For example, your learners could also work on researching the ocean and its inhabitants, they could write stories about the animals they colored in, or they could work on a craft.
Epson EcoTank ET-3830 Wireless Color All-in-One Cartridge-Free Supertank Printer with Scan, Copy, Auto 2-Sided Printing and Ethernet – The Perfect Printer Productive Families
Amazon Basics Multipurpose Copy Printer Paper, 20 Pound, White, 96 Brightness, 8.5 x 11 Inch, 1 Ream |500 Sheets Total
Learning Resources MathLink Cubes – Set of 100 Cubes, Ages 5+,Math Manipulatives
Arteza Kids Colored Pencils, Set of 48 Vibrant Colors, Triangular Pencil Crayons, Pre-Sharpened, Art Supplies for School, Art Class, and Doodling
Crayola Colored Pencil 24 count each (Pack of 2)
Crayola Crayon, 24
Fun Ways to Use These Printables
There are a few different ways you can incorporate these into your homeschool or school classroom. Since color by subtraction is largely an independent activity, these can be given out for students to work on at their own pace or for morning work.
You can use these in a math center along with other math games and manipulatives. School teachers could also send these sheets home with students as homework or extra subtracting practice at home.
My favorite thing to do is to pair them with other related activities, such as reading books and watching educational videos about ocean animals. An ocean unit study is a fantastic opportunity for kids to learn more about the ocean as well as cover multiple school subjects.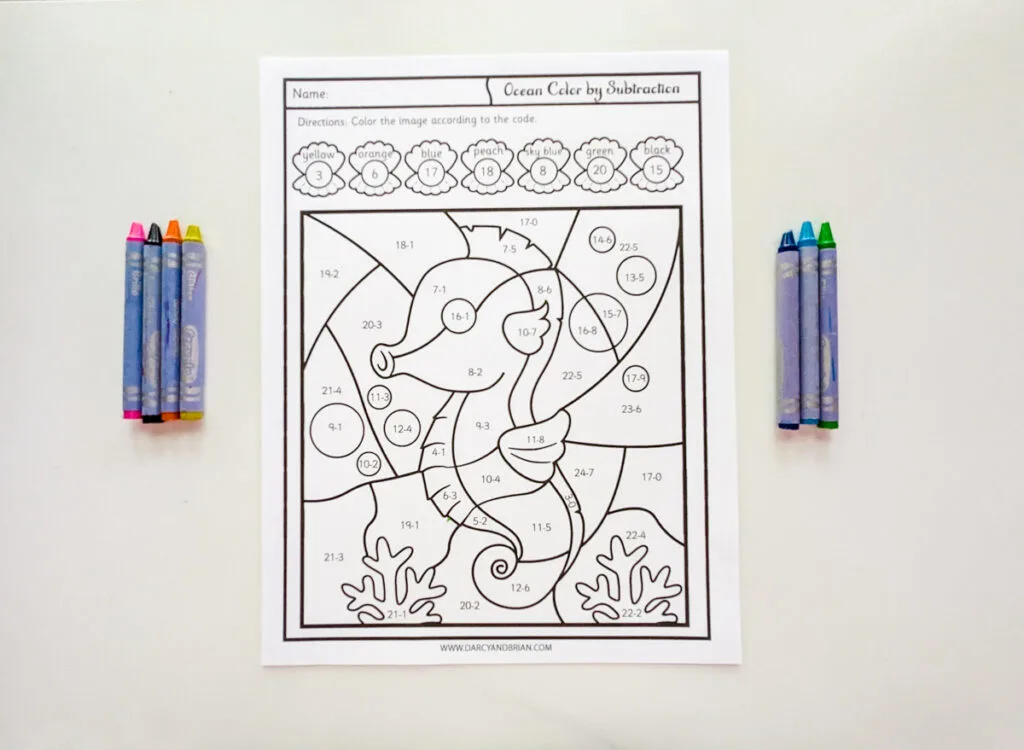 Ocean Animal Crafts
Whether you are planning ocean themed math and art centers or having summer camp at home, kids love making these ocean animal craft projects! They use simple craft supplies and are a good way to encourage creativity.
More Ocean Learning Activities
Create an Ocean Zone Density Jar. It's a fantastic way to discuss and demonstrate the different layers of the ocean while also learning that liquids have different densities.
Set out some ocean playdough for kids to strengthen their fine motor skills while engaging in creative play.
Practice number sequence and addition (single and double digit) with Ocean Raiders, an ocean themed math board game by Logic Roots.
This Ocean and Sand Sensory Bin Kit comes with sand, water beads, ocean animal toys, and sensory tools inside its own storage bin. It's everything you need to get started with for an ocean themed sensory bin.