While watching shark-related shows and documentaries is fun, nothing beats hands-on, engaging activities like craft ideas for kids. This Build a Shark Printable craft can help stimulate their little minds.
It's a fun, easy, and educational project that is perfect for preschoolers and kindergartners. This low-prep activity offers an opportunity for your kids to practice cutting, gluing, and coloring, all while learning and having fun!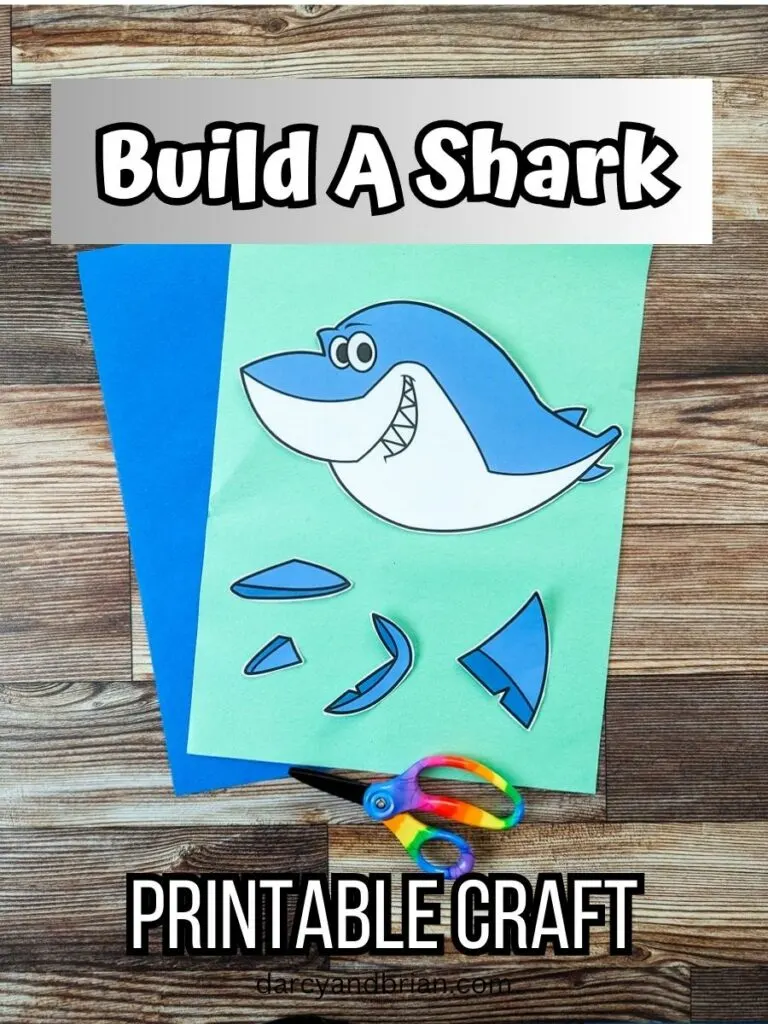 Pair this activity with our Shark Research Worksheets during Shark Week. It's an incredible opportunity to educate our kids about these fascinating aquatic creatures.
Fun Fine Motor Activities
Looking for ways to keep your little ones entertained while improving their fine motor skills? Check out my curated collection of fun activities.
From building towers to creating art, these simple materials can turn learning into a joyful experience. Discover endless possibilities at home or in the classroom!
Free printable download available at the end of this post.
What age group is this craft for?
This craft is perfect for preschoolers and kindergartners. It's low prep and encourages creativity through cutting, gluing, and coloring!
Help your kids develop their fine motor skills while learning about sharks—and have a blast doing it.
What's Included in the Build a Shark Printable Craft?
The Build a Shark printable includes four different sharks: Great White, Whale Shark, Hammerhead, and Blue Shark. Both black and white and full color versions are included.
It features cute detailed drawings of each shark that your kids can cut out to create their own unique masterpiece!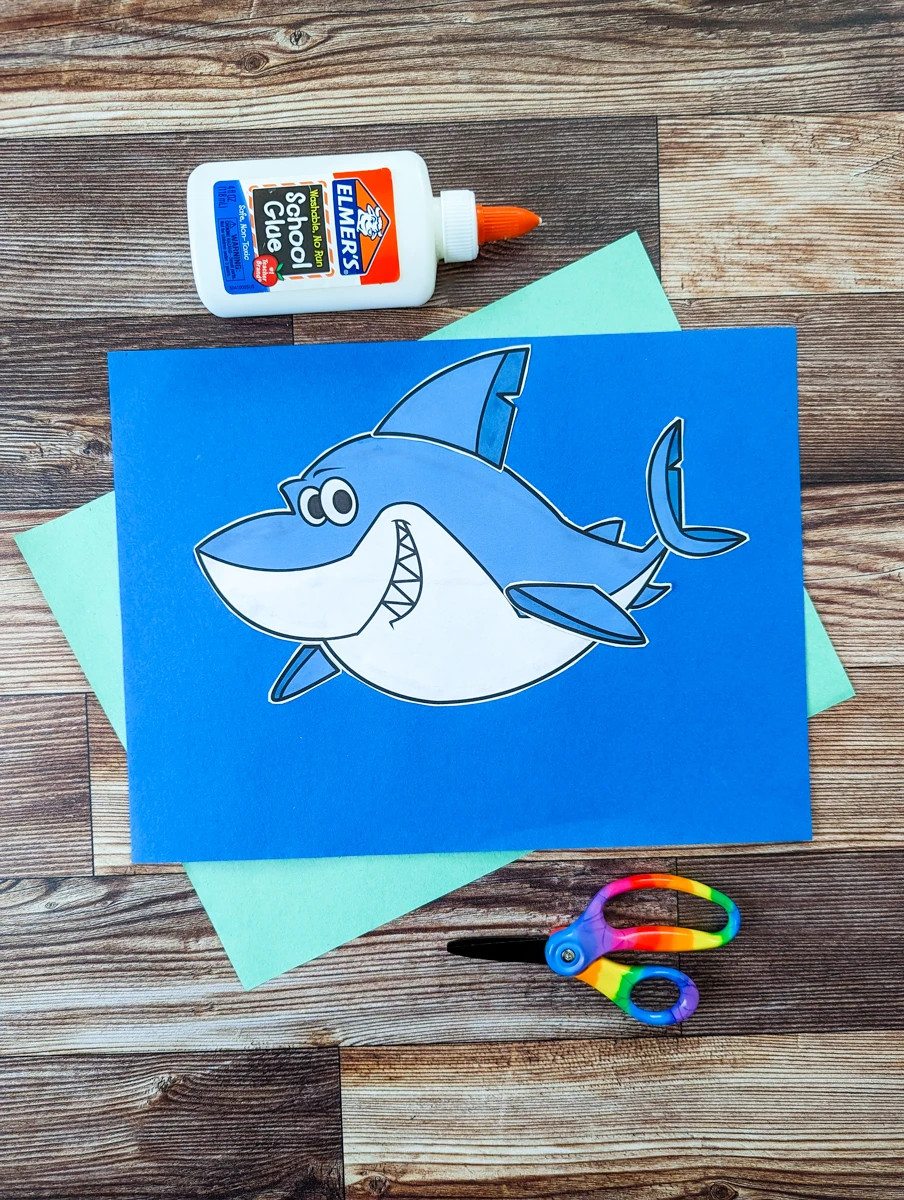 This post contains affiliate links. As an Amazon Associate and a participant in other affiliate programs, we earn a commission on qualifying purchases.
Supplies Needed
For best results, it's important to use quality craft materials that will stand up to the creative process. Here are a few tips for success:
Finally, take the time to enjoy the process. Crafting with your kids is a great opportunity to bond and have fun together!
Epson EcoTank ET-3830 Wireless Color All-in-One Cartridge-Free Supertank Printer with Scan, Copy, Auto 2-Sided Printing and Ethernet – The Perfect Printer Productive Families
Arteza Kids Colored Pencils, Set of 48 Vibrant Colors, Triangular Pencil Crayons, Pre-Sharpened, Art Supplies for School, Art Class, and Doodling
Crayola Ultra Clean Fine Line Washable Markers (40 Count), Colored Markers for Kids, Markers For School, Back to School Supplies for Kids, 3+
Crayola Ultimate Crayon Box Collection (152ct), Bulk Kids Crayon Caddy, Classic & Glitter Crayons, Gifts, Ages 3+
Crayola Construction Paper, 240 Count, Bulk School Supplies For Kids, 2-Pack School Paper
Kids Scissors 5-inch Blunt Scissors Safety Scissors 4 Pack Kid Scissors Right and Left Handed Scissors Assorted Colors Scissors For School Kids Blunt Tip Scissors
How to Use These Build a Shark Printables
Getting started is simple! Just download the Build a Shark printable and gather your materials.
Have the kids color in the sharks (or go straight to building the full color versions!). Then, help your kids cut out each piece of the sharks.
Once they have all their pieces, encourage them to get building. They can refer to photos of sharks or use their imagination and creativity to arrange the parts to create unique designs.
When they're finished, glue down each piece onto construction paper. They can decorate it to create an ocean scene and label it with the shark species as well.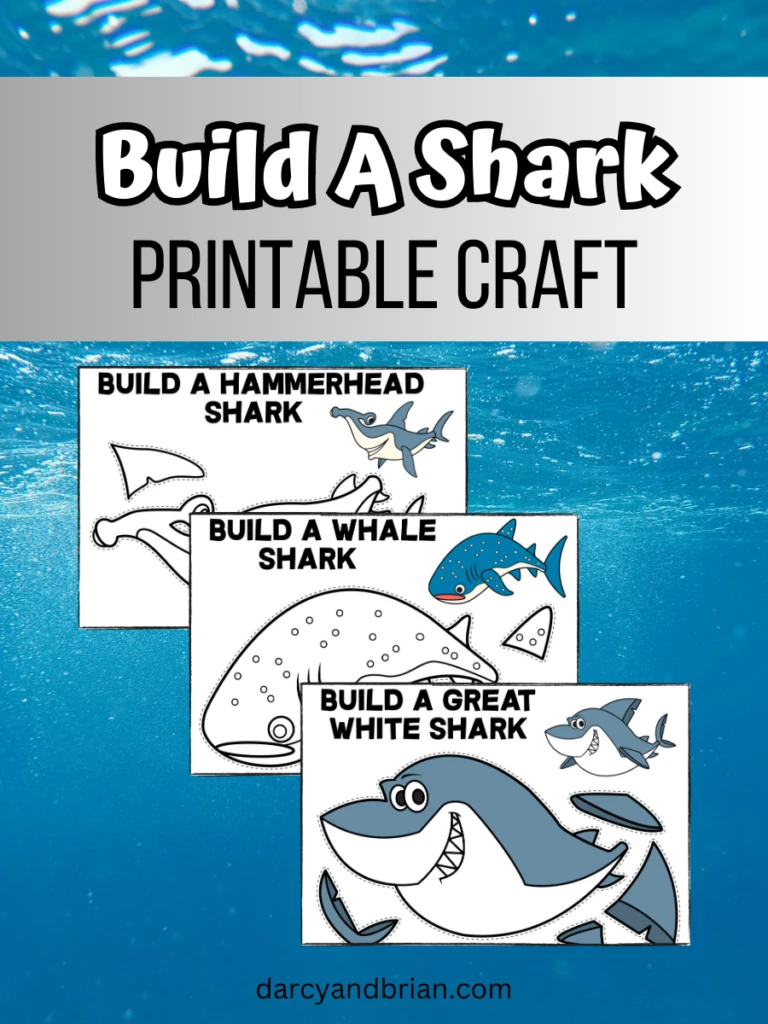 Another option is to use the build a shark pieces as a craft template.
Children can cut out all of the pieces them trace them onto construction paper or even craft foam and use those materials to assemble their sharks.
You can also use this craft as an educational activity to learn about the different types of sharks.
Make sure to discuss the characteristics of each shark and talk about why they are important to our oceans. Making learning fun is key!
Benefits of Building a Shark Crafts
This Build a Shark craft is not only fun and educational, but it's also a fantastic way for your little ones to develop their fine motor skills.
By using scissors, they engage their hand and finger muscles, fostering precision and coordination—essential skills for writing later on.
The act of gluing requires precision as well, urging kids to carefully place each shark piece where they want it, improving their hand-eye coordination. And let's not forget coloring!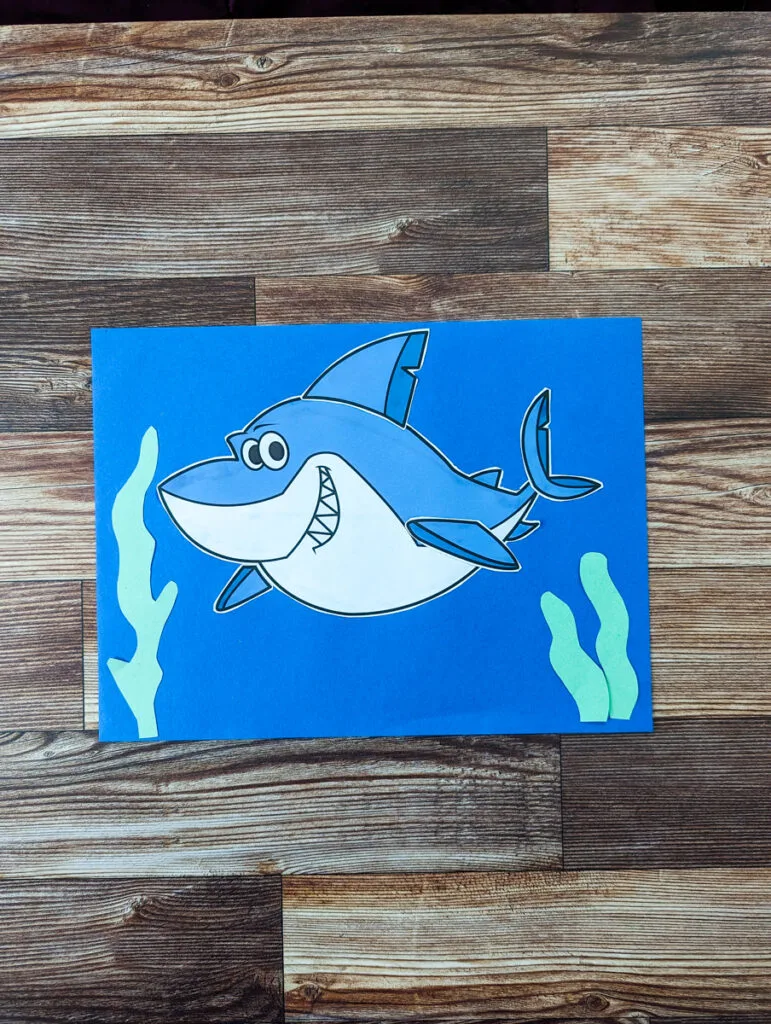 The small, detailed sections of the sharks provide an excellent opportunity for children to practice their grip and control over markers, crayons, or colored pencils. Each step of this craft helps kids gradually enhance their fine motor dexterity in an enjoyable, easy, and creative manner.
More Ocean Activities for Kids
Keep the learning going with an ocean unit study or just have fun planning a week of ocean themed activities for kids to do. Exploring the deep blue sea can be both educational and fun for kids, thanks to a variety of engaging ocean activities available.
For instance, an ocean zone density jar can introduce children to the different ocean zones and where certain animals live. For those who love coloring, ocean animals color by subtraction worksheets and shark color by number will have kids practicing their math skills.
With these educational and engaging activities, kids can dive into the world of ocean animals and flex their creativity at the same time.
Ocean Crafts
In addition to the Build a Shark Craft, there are also many other exciting and educational ocean-themed crafts that kids can explore. From creating colorful seashell art to crafting their own pufferfish, the possibilities for ocean-inspired creativity are endless.
These hands-on activities not only foster a love for marine life but also encourage imaginative play and learning about the wonders of the ocean ecosystem. So dive in and let your child's creativity and curiosity flourish with these engaging and interactive ocean crafts!
Ocean Books
For those days when you need a break from crafting, snuggle up for story time and explore the depths of the sea with ocean-inspired books. These stories are sure to spark your child's imagination and get them excited about all creatures that live in the water.
From classic tales like The Rainbow Fish by Marcus Pfister to warm-hearted stories such as Octopus Alone by Divya Srinivasan, there are plenty of ocean-themed books to choose from.
The Rainbow Fish
Inky the Octopus: The Official Story of One Brave Octopus' Daring Escape (Includes Marine Biology Facts for Fun Early Learning!)
Octopus Alone
Ocean: Facts at Your Fingertips (Pocket Eyewitness)
Reading with your child is a great way to engage their minds and grow their love for stories, so get reading today!
Ocean Toys & Games
Bring the adventures of the sea to life with ocean-themed toys and games, such as our Ocean Charades printable game.
Little ones can learn about different species of fish and explore the depths of the ocean without ever having to leave home.
Genius Games Ecosystem: Coral Reef – A Mensa Recommended Family Card Game About Aquatic Animals, Their Habitats & Food Chain | A Light Educational Marine Biology Board Game for Kids and Families
Ocean Fish Dig Science Kit, Sea Life Toy Science Kits for Kids Age 6-8-12, Excavate 12 Sea Fish Toys, Education Science Activities STEM Ocean Life Explore Toys Gift for Boys & Girls 6+
Reef Board Game (Second Edition) | Strategy Board Game | Family Board Game for Adults and Kids | Ages 8 and up | 2 to 4 Players | Average Playtime 30 – 45 Minutes | Made by Next Move Games
Just Play National Geographic Kids Tub of Realistic Sea Animal Toy Figures for Kids, QR Code to Shark, Turtle, Jellyfish Facts, Recycled Material Packaging, Storage Container, Amazon Exclusive
Creativity for Kids Sensory Bin: Ocean and Sand – Fine Motor and Sensory Toys for Kids
The Rainbow Fish Puzzle Box
In conclusion, fostering a love for learning in your children doesn't have to be a chore. With fun and educational crafts like the Build a Shark Printable, you can turn any day into an exciting exploration of the underwater world.
Not only will your young ones have a blast crafting their very own sharks, but they'll also develop crucial fine motor skills in a hands-on way.
Whether it's Shark Week or any other day, seize the opportunity to spark their imagination and thirst for knowledge.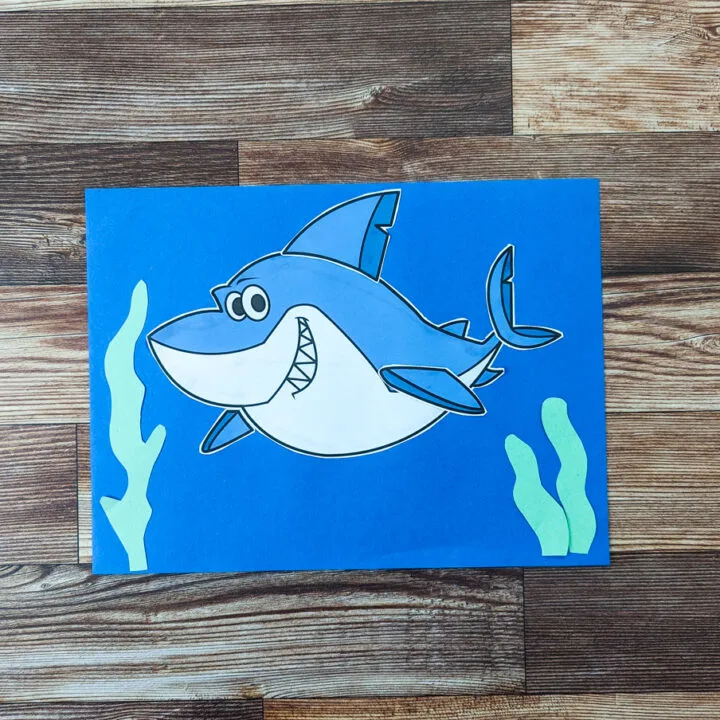 Build A Shark Printable Craft
Estimated Cost:
$5 or less
Build fine motor skills with this printable shark craft.
Materials
Build A Shark Printable Set
Crayons, Colored Pencils, or Markers
Glue
Construction Paper
Instructions
Print out build a shark printable pages (fill out form at bottom of post to download).
Color in the black and white pages of the sharks.
Cut out shark pieces.
Glue together on construction paper.
Decorate the rest of the paper how you want to look like the shark is swimming in the ocean.
Recommended Products
As an Amazon Associate and member of other affiliate programs, I earn from qualifying purchases.