This summer themed charades for kids printable game is a fun family activity that is easy to play inside or outside.
Charades is such a classic game and I love how easy it is to adapt for different ages and themes. I have fond memories playing this game as a child!
Add these ideas for charades to your next family game night or for another rainy day activity.
Keep the fun going with Summer Themed Pictionary, Disney Themed Charades, Harry Potter Themed Charades, and LEGO Animal Charades.
HOW TO PLAY Summer CHARADES GAME
Charades for kids let's them use their creativity and is a simple party game that can be played almost anywhere: inside, outside, or even on video chat.
It's easy to take the clue cards on-the-go so you could even play it at the park.
RULES FOR PLAYING CHARADES
The main rule of charades is no talking.
One person selects a card or slip of paper, secretly reading their clue. Then they must act it out using gestures. Sometimes people use hand motion symbols to give additional clues such as the category or how many words in a phrase.
Typically players split up into two teams. One member of the team acts out the clue while the rest of the team tries to guess the answer.
You can adapt the game for fewer players. For example, everyone can take turns acting out the prompt while the rest of the family makes guesses. This works well for smaller families or when the kids want to play together on their own.
You can choose whether or not to keep score. When playing with teams, the team scores a point when guessing correctly. If not using teams, the individual person who guessed right earns the point.
There is usually a time limit of 2-3 minutes, but again you may adjust that as needed.
You and your family can decide what answers will be accepted, especially since some may have more than one correct answer, or how specific you must be to give right answer.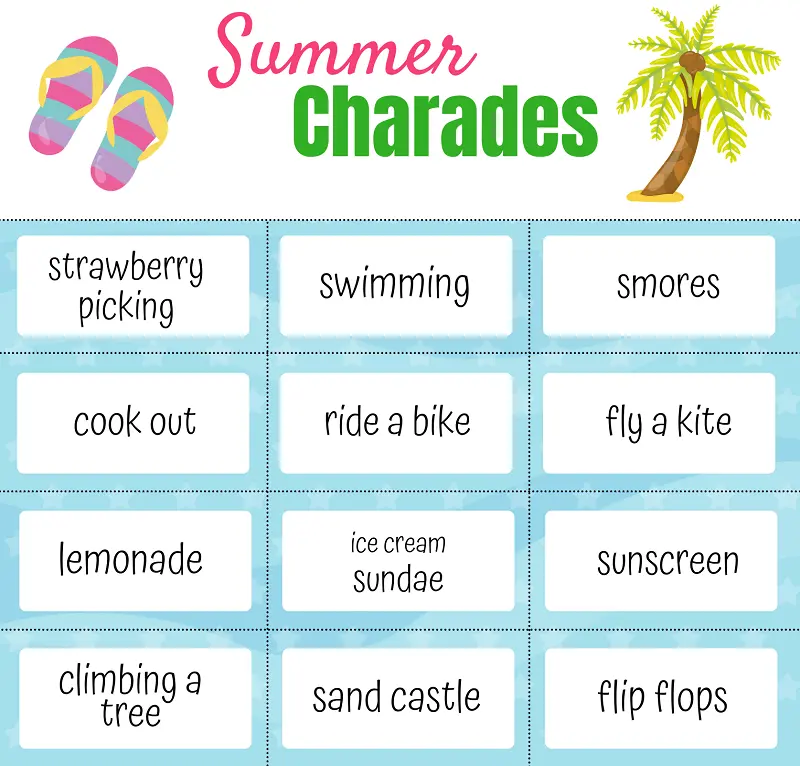 WHAT YOU NEED TO PLAY CHARADES
The main item you need (besides players) are clues!
You can easily make your own prompts by writing them on slips of paper.
To save you some time, we have a printable charades word list with over 30 clues with a summer theme that you can print out at home available at the bottom of this post.
Other helpful items:
Summer THEMED CHARADES FOR KIDS PRINTABLE
Click to download and save this printable summer theme charades game for kids.
Print it out at home, cut out the clues you want to use, and have fun!
This printable charades game is for your personal use or your classroom use only.
Share this post with a friend or teacher who'd love to play this game and download their own copy.
Want more printable games? Check out our Disney Themed Pictionary Word List, Disney Would You Rather? question cards, Disney Themed Christmas Gift Exchange Game, Gratitude Game, and Human Body Bingo Cards.

MORE KIDS ACTIVITIES YOU MAY ENJOY:
Did you enjoy doing this activity with your kids or students?