As summer arrives, it's the perfect opportunity to bask in the joy of sunny days! Delight and captivate the kids with our Summer Charades printable game, thoughtfully crafted by our team. It features an exciting collection of summer-themed prompts to keep them entertained and engaged in endless fun.
This game will not only tap into their creativity but also make their summer vacations more memorable. So, get ready to dive into a world of laughter, excitement, and joyful learning with our summer charades printable game.
For even more fun ideas like this, check out this list all of our printable games for kids.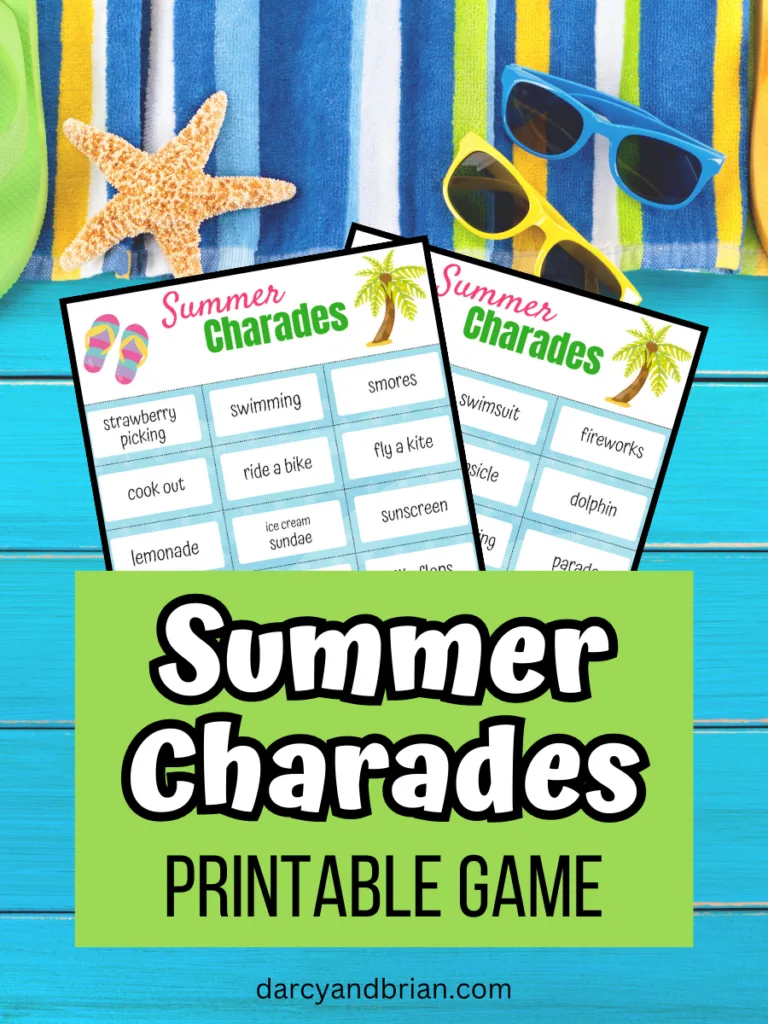 Fun Games for Kids
Engage your kids with exciting and interactive activities that don't involve screens. Explore a variety of board games and printable games to keep them entertained for hours. With options suitable for all ages, there's something here for everyone to enjoy!
What is the Game Charades?
Charades is a timeless party game that's loved by people all ages. The basic concept involves one person mimicking or 'acting out' a word or phrase, without speaking or making any noise, while the others guess what it might be.
With our Summer Charades Printable Game, we've added a seasonal twist, incorporating themes and prompts related to summer, for an even more fun and educational experience for kids.
Free printable available at the end of this post.
How Do You Play Charades?
The main rule of charades is no talking.
One person selects a card or slip of paper, secretly reading their clue. Then they must act it out using gestures. Sometimes people use hand motion symbols to give additional clues such as the category or how many words in a phrase.
Typically players split up into two teams. One member of the team acts out the clue while the rest of the team tries to guess the answer.
You can choose whether or not to keep score. When playing with teams, the team scores a point when guessing correctly. If not using teams, the individual person who guessed right earns the point.
What are the age recommendations for the Summer Charades game?
I love how easy it is to adapt charades for different ages and themes. Our Summer Charades printable game is best suited for kids 6-12 years old, although younger and older players can join in on the fun.
Younger children may need help reading the charades word cards and/or ideas on how to act them out.
How many players can participate in the game?
While there is no maximum number of players that can participate in a game of charades, we recommend having at least two participants. Charades is also great for larger groups and can be easily adapted to different teams or individual play.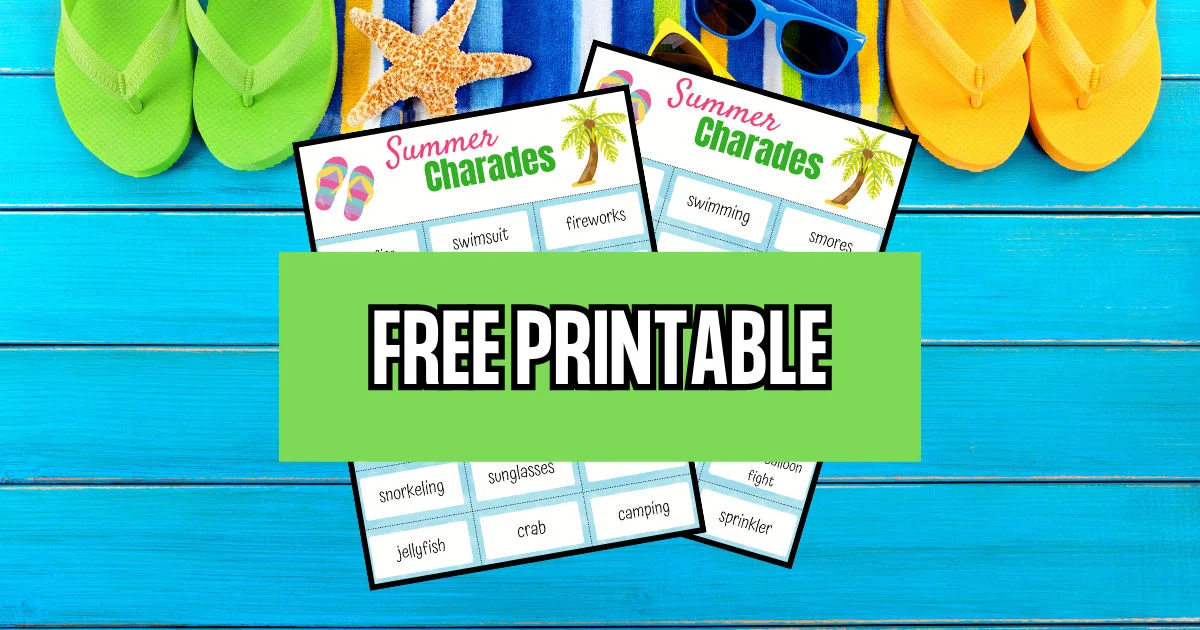 The more the merrier! Invite friends, family members and neighbors to join the fun. It's a great way to socialize and get some exercise too.
What You Need to Play Summer Charades
The main item you need (besides players) are clues! You can easily make your own prompts by writing them on slips of paper.
To save you some time, we have a printable charades word list with over 30 clues with a summer theme that you can print out at home available at the bottom of this post.
There are a range of easy clues designed to spark creative thinking and team-building. The theme includes summer items like flip flops, a water balloon fight, beach balls, catching fireflies and more.
This post contains affiliate links. As an Amazon Associate and a participant in other affiliate programs, we earn a commission on qualifying purchases.
Other helpful items:
Where Can You Play This Summer Charades Game?
Charades for kids allows them to unleash their creativity and enjoy a fun party game that can be played anywhere: indoors, outdoors, or even on video chat. The clue cards are portable, making it easy to play even at the park.
How can this game contribute to a child's development?
Playing charades offers a multitude of benefits for kids. Not only does it provide a platform for imaginative play, but it also helps children develop key skills.
For example, it enhances their communication skills, as they must articulate their thoughts without using words. It promotes emotional intelligence, as they need to understand and convey a variety of emotions for their team to guess the right clues.
Charades also boost cognitive abilities since quick thinking and problem-solving are crucial for successfully acting out clues as well as correctly guessing throughout the game.
Finally, it fosters social interaction, team building, and cooperation. This summer-themed charades game is an excellent way to combine fun and learning during the warm months when kids have more free time.
Hasbro Gaming Guesstures Game
BLANK SLATE™ – The Game Where Great Minds Think Alike | Fun Family Friendly Word Association Party Game, 3 to 8 players
Asmodee | Telestrations | Party Game | Ages 12+ | 4-8 Players | 30 Minute Playing Time
Hedbanz Picture Guessing Board Game New Edition, for Families and Kids Ages 8 and up
Exciting Summer Activities for Kids
Looking for additional ways to make this summer memorable for your kids? Whether you're creating summer camp at home or just want to keep them entertained and engaged, we've got you covered.
Check out these awesome ideas that will spark their curiosity and keep the summer boredom at bay!