Bust summer boredom with printable games for kids like this set of beach charades. It's so fun and easy whether you only have a few players or a group of people.
When it's hot outside, it seems like everyone has sandy beaches on the brain. That's why I put together some beach words for charades printable cards. That way even if we can't go on a trip, we can pretend we're digging our toes in the sand.
Make sure to grab your printable set at the bottom of this post!
Summer Printables for Kids
Here are a few more low prep printable activities to keep the kids busy throughout the summer. Always good to have a few quick and easy options for days when it is too hot or rainy to play in the backyard.
What is a Charades Game?
Charades is a fun game for kids and adults where one person acts something out and others try to guess.
Charades cards can have words or phrases on them. The prompts can be for objects, actions, people, places, books, movies, etc.
Benefits of Playing Charades For Kids
While it might seem like only a silly game, charades has several benefits for kids. For one, it encourages them to use their imagination.
Not only do they have to creatively figure out how to act out their prompt, but they have to imagine what the other players are acting out in order to guess correctly.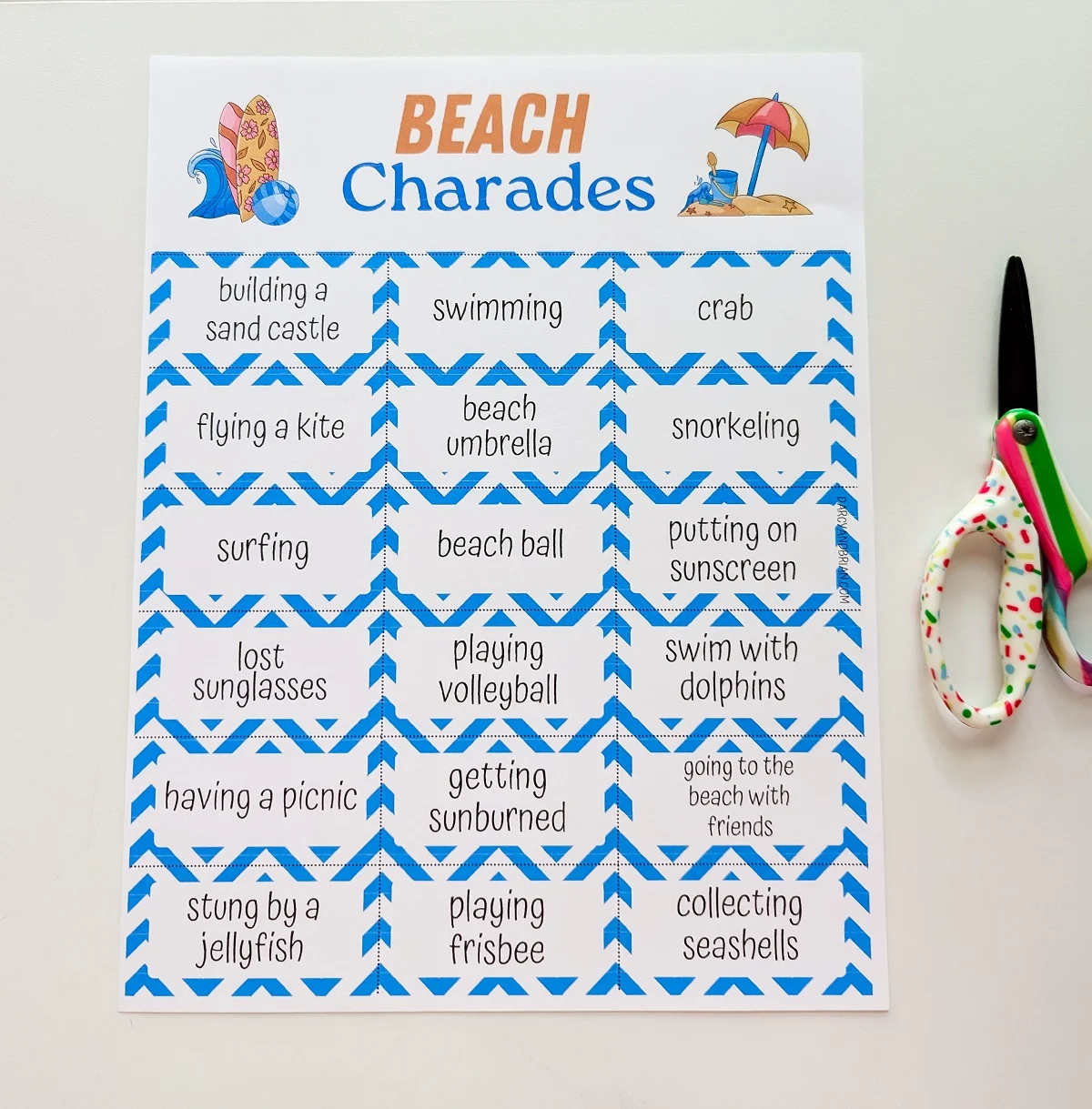 It also can help children work on using and understanding nonverbal cues as well as being a team player. Playing games together also provides social interaction and can reduce stress.
How to Play Beach Themed Charades
One of the best parts about this classic party game is that it requires very little preparation. All you need are people ready to play and a list of words or phrases. You can grab our printable list of beach themed words at the end of the post and start playing right away!
The rules are simple. One person draws a charade card and acts it out without talking. They can move around, use facial expressions, and make hand gestures, but they cannot speak. Everyone else tries to guess what the word or phrase is first. (The players guessing will vary depending if you are playing in teams or not.)
To make it easier for younger children to play, try letting them use props when acting out their word or phrase.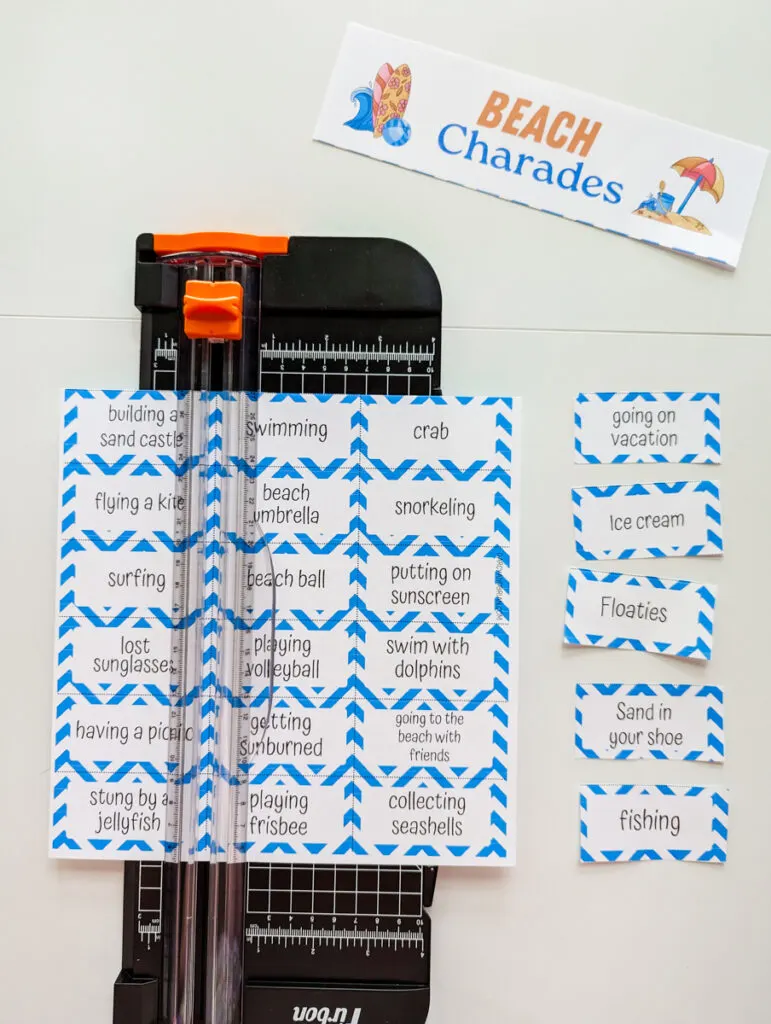 You can split up into teams, partners, or just take turns acting them out. To add a bit of competition, whoever guesses correctly earns a point.
A timer is often used, but this can be extended or removed altogether for kids.
Recommended Items For Playing Charades
These items are not required in order to play; however, we are including a few recommendations that you may find useful.
This post contains affiliate links. As an Amazon Associate and a participant in other affiliate programs, we earn a commission on qualifying purchases.
Self Laminating Sheets – Laminate the cards and reuse them again and again!
Paper Cutter – I love using my paper cutter to make straight long cuts. It's much faster and neater than using my scissors.
Timer – I like these sand timers, which can be used with other games too, but these digital timers for kids work too.
What is Included in This Printable
Our Beach Charades printable game is a two page PDF file that includes 36 beach charades words. Fill out the form at the bottom of this post to download it.
All of the words are related to the beach or associated with being near a beach. They include items, animals, activities, and actions people do. There is a mix of easy and medium difficulty cards.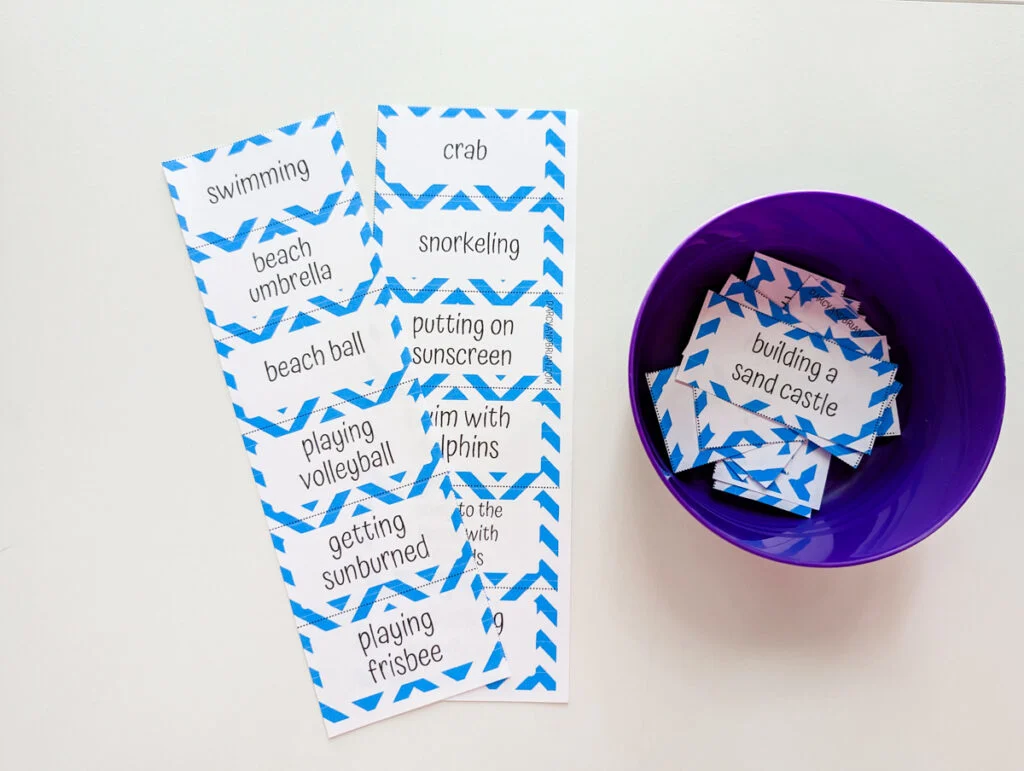 Here are a few examples:
Swim with dolphins
Snorkeling
Crab
Beach umbrella
Sunset
Fun Summer Activities for Kids
Keep kids actively learning and entertained throughout the summer by offering a variety of things to do, such as quick family board games, books, arts and crafts, and toys.
Whether you are headed to the pool or the beach, you can help your child gain more confidence with swimming by using these printable pool exercises. It's a great opportunity to discuss water safety as well as get their bodies moving.
Books About the Beach
If you are planning a beach trip with the kids, get the Little Kids First Nature Guide: Explore the Beach book from National Geographic Kids. It's full of photos and information about shells, animals, and plants they might see along the shoreline.
Do your kids love watching Bluey? Then they will delight in reading about her adventures in Bluey: The Beach.
Another good book option for emergent readers is Pete the Cat: Pete at the Beach. Read together about the grooviest cat around building sand castles, finding seashells, and whether or not he takes a swim in the ocean.
How to Catch a Mermaid by Adam Wallace is an entertaining summer read aloud. Imaginative, inventive kids set traps in an attempt to catch a mermaid. Can they do it?
Beach Toys
Ball Catch Set – Whether you are playing catch in your backyard or along the seashore, grab this set. The paddles make it easier for younger kids to "catch" the balls and toss them back.
Activ Flyer – These flying rings are aerodynamic and open in the middle, making them easier for kids to throw and catch.
Ice Cream Sand Toys – Perfect for the sandbox or beach, kids can play pretend with this set of ice cream and cupcake sand molds, scoops, and pail.
Mesh Beach Bags – You need a way to carry around all those sand toys and your kid's beach finds. These colorful mesh bags work well for toting around toys, snacks, and even shells.
Summer Crafts for Kids
Need a few calmer activities for them to do after playing all day? Crafting is not only relaxing, it will stimulate their creativity too. Here are a few summer themed craft project ideas they can make at home.