Need something fun and creative to play? Summer Pictionary is one of our printable games for kids that can be played with two or more people. It's easy to learn, doesn't require any special items, and provides plenty of entertainment for the whole family.
Plus, you don't have to worry about kids getting bored because it encourages imaginative thinking while adding some excitement to the mix.
To make your experience even better, we provide printable Summer Pictionary words so you won't have to spend time making your own! Just fill out the form at the end of this post to download the set.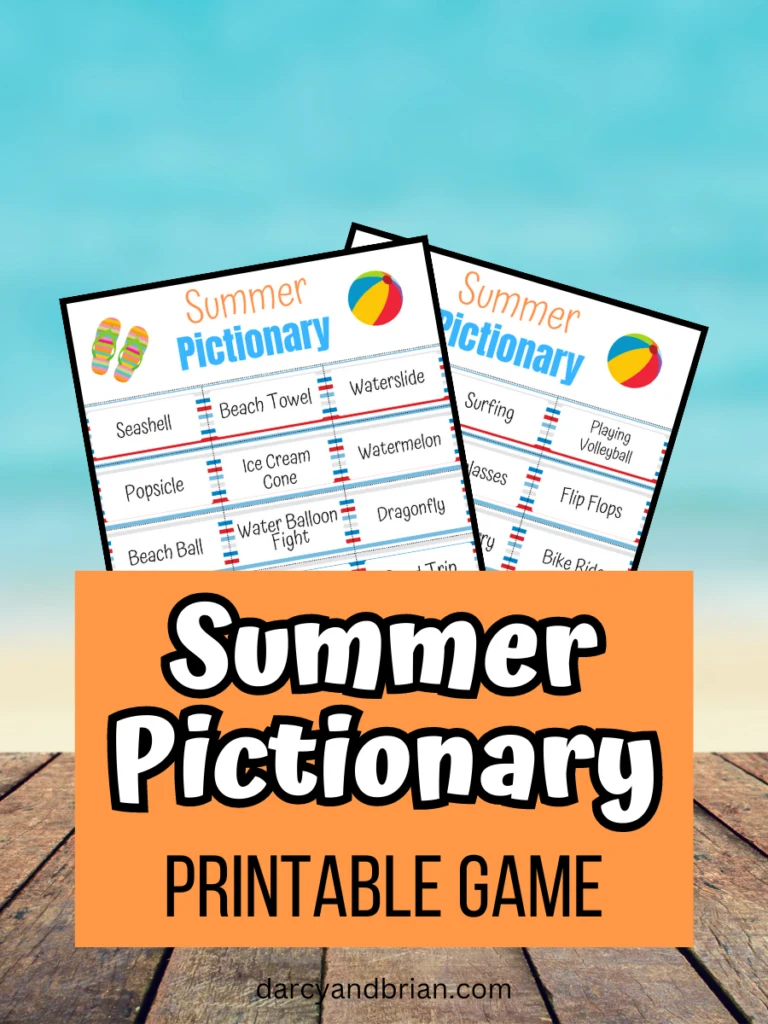 This Summer Themed Pictionary printable game for kids is a delightful and engaging activity that requires minimal preparation. It's perfect for keeping kids occupied and entertained during their summer break.
Drawing games, such as Pictionary, are timeless party favorites that can be enjoyed in various settings, whether at home, school, on vacation, during family gatherings, or even through a video call. It's a wonderful choice for memorable summertime family game nights.
One of the many reasons we adore games like this is their versatility. They can be easily adapted to suit different age groups and themes, making them enjoyable for everyone involved.
More Printable Pictionary Game Words
If you're having fun with our summer theme and crave more inspiration for your drawings, we've got you covered with additional themes like Disney and superheroes. Explore and combine the word cards to unlock endless creative possibilities.
What Is Pictionary?
Pictionary is a game where players draw clues on paper to help their teammates guess the answer. The team who guesses correctly first gets a point and the first team to reach a certain number of points wins!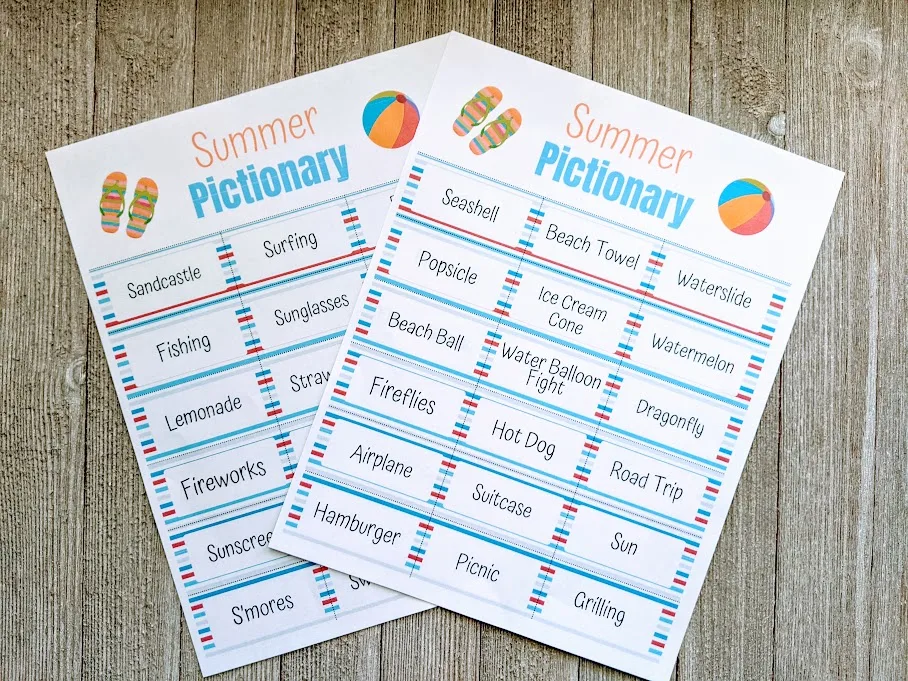 How to Play Summer Pictionary
Pictionary is an excellent option for family game night. It is easy to learn and begin playing without a lot of prep or setup.
Divide your group into teams of two or more and give each team a set of cards with the Summer Pictionary words.
The player who draws must pick one card from the pile, look at it without letting anyone else see, and then try to draw a picture that will help their teammate guess the word or phrase on the card.
The teammate will attempt to guess the word or phrase, and if they are correct their team earns a point.
Keep playing like this until each team has gone through all of their cards, then tally up the points to declare a winning team!
For an additional challenge, teams can time themselves to see who can get the most accurate guesses in the quickest time.
Another option is to play without teams or scores. Let each child take a turn drawing and have all the other children guess. This keeps it a fun activity regardless of the number of kids and removes the focus of team competition.
Benefits of Playing Summer Pictionary
Keep the kids learning and minimize summer slide by playing games and encouraging free play. Not only are games fun, but they provide lots of learning opportunities too!
Playing this exciting game encourages players to think differently about communication, practice reasoning skills, and develop nonverbal communication skills while they have fun!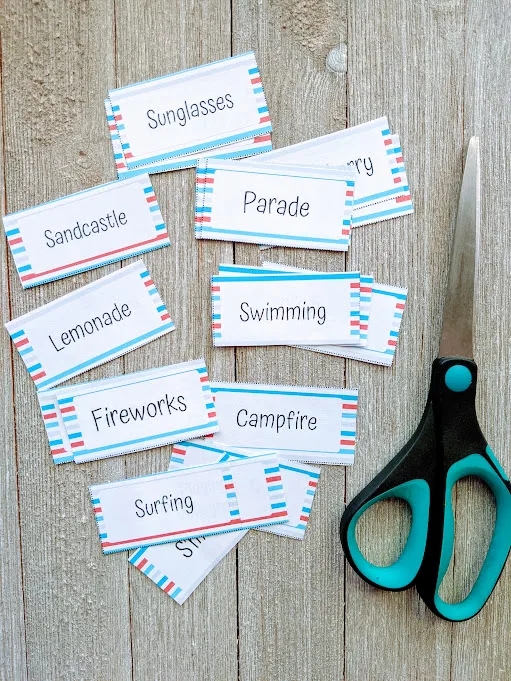 It also helps kids build their problem-solving skills and boosts creativity as they come up with creative ways to draw the words on their cards. Plus, it's a great way to keep kids engaged and entertained without relying on screens.
Can You Play Pictionary With 2 Players?
Yes! You can even play with just 2 players. To do so, simply draw two sets of cards and have each player draw from their own set. The first person to guess the word or phrase correctly will win the point for that round. Then switch up who plays first for each subsequent turn in order to keep it fair. This game is sure to be a hit with any group size!
What's Included in the Summer Pictionary Words Printable
My kids always look forward to summer, so they helped me create this list of pictionary drawing prompts about summer.
Our printable summer pictionary cards includes 45 fun summer-themed words that will get kids thinking about different activities and items related to summer. These range from swimming, s'mores, flip flops, and lemonade.
In addition, we provided 9 blank cards so you can write your own clues for even more fun!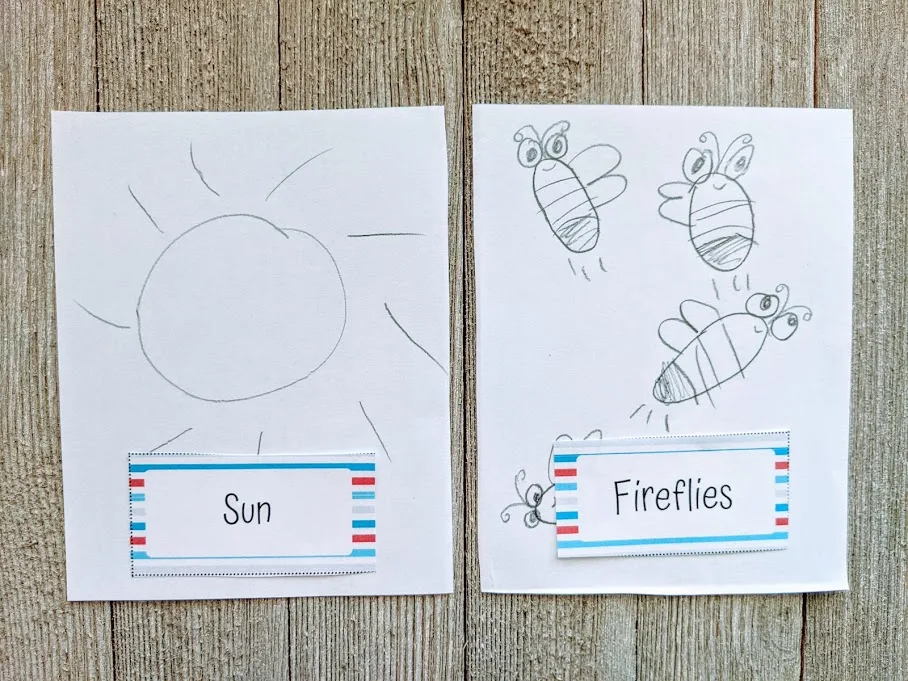 This post contains affiliate links. As an Amazon Associate and a participant in other affiliate programs, we earn a commission on qualifying purchases.
The clue cards can be printed out on regular printer paper. I recommend printing on white cardstock for better durability. You can also laminate them.
Helpful Items for Playing
You don't need a lot of items in order to play, but we find these things to be helpful!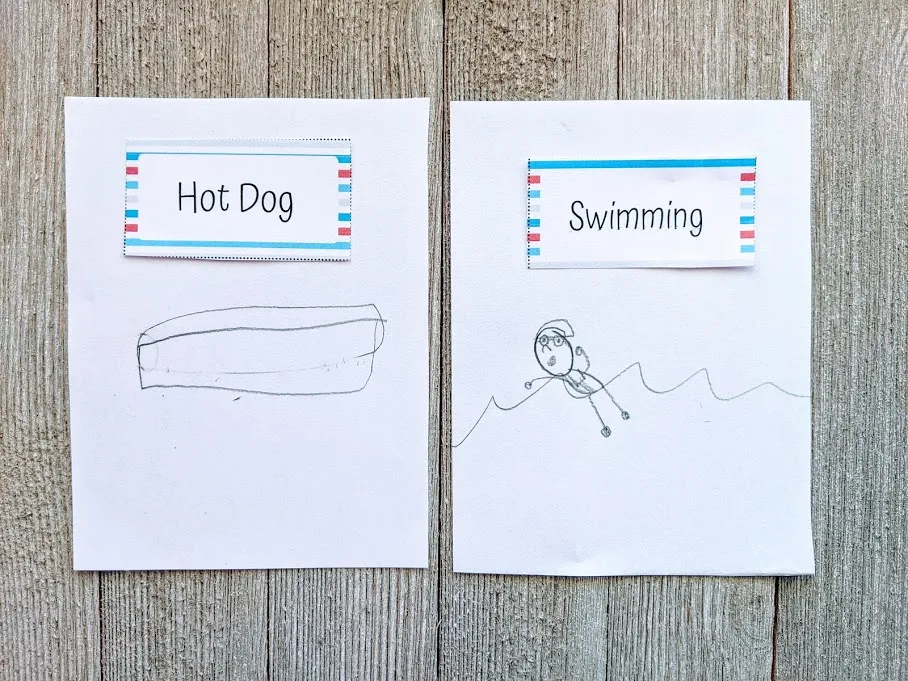 More Fun Games for Kids
Entertain your children with engaging activities that don't rely on screens. Discover a wide range of board games and printable games that will captivate them for hours on end. With options suitable for every age group, there's something here to delight and entertain everyone!
Summer Pictionary is an exciting, family-friendly game that encourages creativity and problem solving. It's a great way to keep kids learning throughout the summer months and provides hours of fun entertainment for your family or group.