Do you need help with how to plan summer camp at home? Or how to keep the kids busy with fun activities?
I get it. It can be a big transition going from the regular school year to summer break whether your children go to school or you homeschool.
You may be wondering how to keep the kids occupied while limiting screen time and without spending a fortune.
Although we homeschool year round, I alter our summer schedule compared to the rest of the year.
I am going to show you how to plan fun summer learning activities at home using my free printable planner.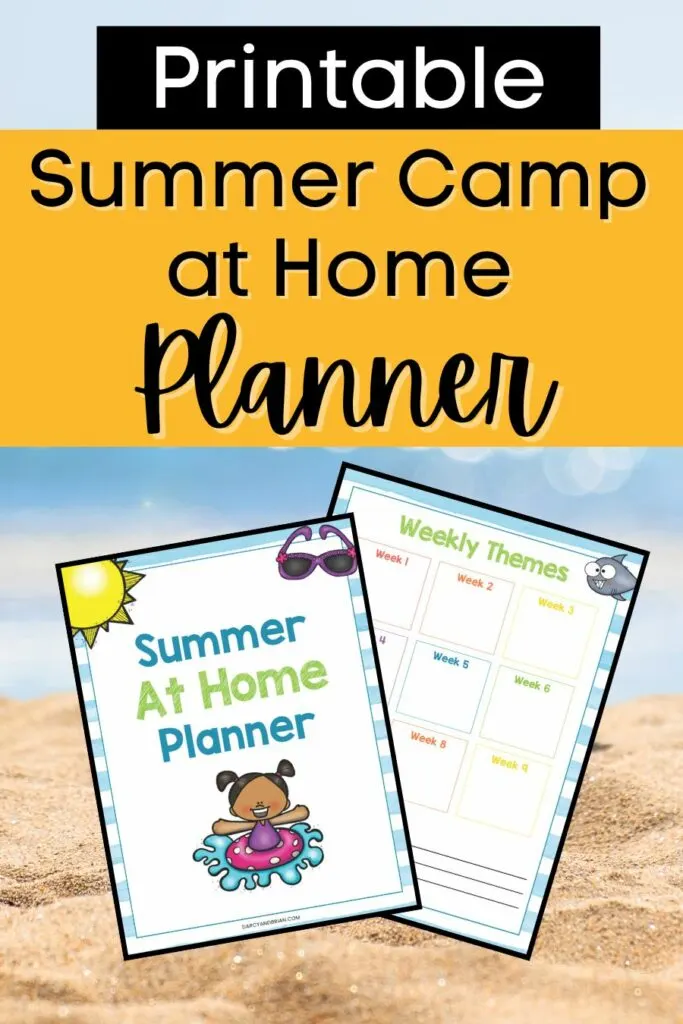 Benefits of Summer Camp at Home
Attending summer camp (day camp programs or sleep away camp) can be a great way for kids to meet new people, have fun, and learn new things.
However, summer camps can be expensive or you might have difficulty finding something that fits your child's interests or needs.
Even if you find a program that seems like a good fit for your child, figuring out transportation to and from is not always convenient. It may conflict with your schedule or it is just too much driving.
That's where summer camp at home comes in! You can create a fun and educational summer experience for your kids right at home.
Planning summer camp at home is an affordable way for your kids to engage in a variety of activities. And, yes, you can sneak in outdoor science lessons and math lessons outside too.
It is a lot more flexible since you set the schedule and activities to fit your family's interests and needs. It's also a fantastic way to spend quality time together!
How to Plan a Summer Camp at Home
The first step is to choose a theme or themes as this will help you narrow down which kids' crafts and activities you'd like to do.
I like to think of it as planning a series of mini unit studies. This essentially means choosing a variety of activities within the same theme and each activity provides different learning opportunities.
For example, selecting books, games, videos, science experiments, crafts, and printable worksheets with the same theme.
You will also need to determine your schedule:
Do you want to plan for multiple weeks throughout the summer?
A few days a week?
Will it be all day?
Only a few hours a day?
You have the freedom to design and plan your summer learning experience the way you want it to be.
Be sure to download my free printable planner to help you get started. The Summer At Home Printable Planner is available in our printable library. (It's file #162 – get the password for free access by filling out the form at the bottom of this post).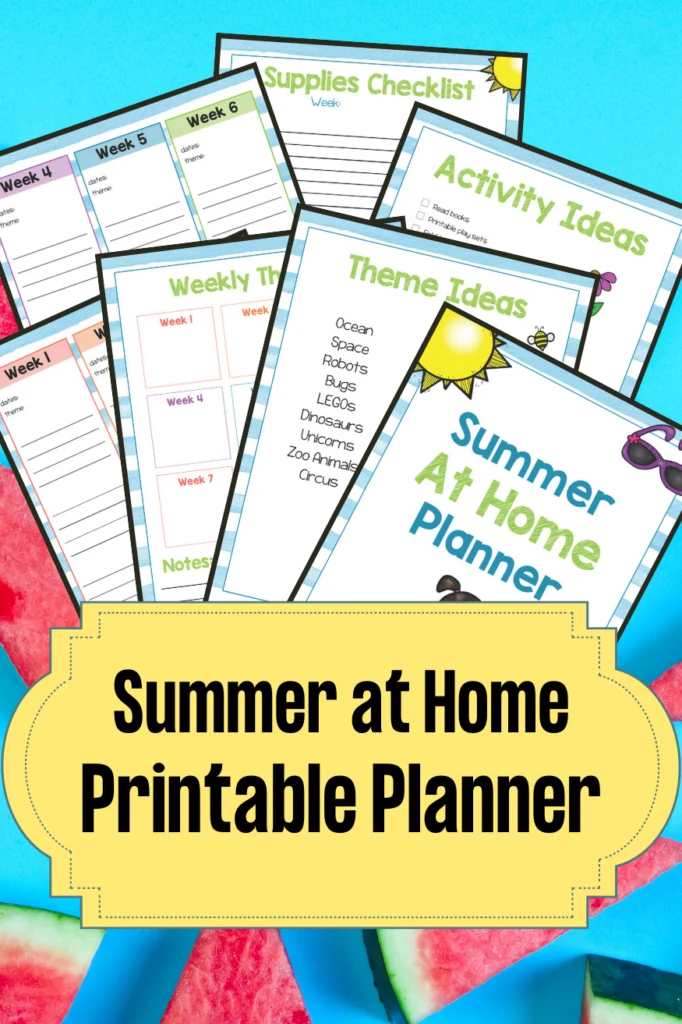 How Do I Choose a Theme for Summer Camp at Home?
Okay, so I said you need to start with choosing a theme or themes in order to start planning activities, but how exactly do you do that?
I highly recommend getting your kids involved in the planning process. Do this by:
asking your child what they'd like to learn about
offering them a few themes or activities to choose from
observing what they enjoy
By allowing them to take part in the planning, they will look forward to participating.
They don't need to help select everything, because that will get overwhelming for them real quick.
However, it will help them buy into the idea if they happen to be a little resistant.
I have one child that is eager to offer suggestions and one that seems disinterested (though they truly aren't) when I ask directly.
However, I am familiar with which types of activities they gravitate towards, which helps me with planning.
To help inspire you, there is a list of themes included in the printable planner, such as superheroes, ocean, space, Disney, dinosaurs, and more!
Summer Camp at Home Activity Ideas
Now that you've selected your theme(s), it is time to decide on which activities you'll do.
Our planner includes a list of general ideas, such as reading books, going on field trips, watching movies, baking something, playing board games, making crafts, etc.
This can help you get creative to find or make up activities that fit within the weekly theme.
For example, for superhero week, you can play superhero charades. During ocean week, you can make an ocean zone density jar or even a coffee filter mermaid tail.
I recommend planning a variety of indoor and outdoor activities. This way you'll be prepared with rainy day activities for kids if the weather keeps you inside.
On the other hand, if it's nice out, you won't feel cooped up inside. The most important thing is to get creative with your activity ideas and have fun.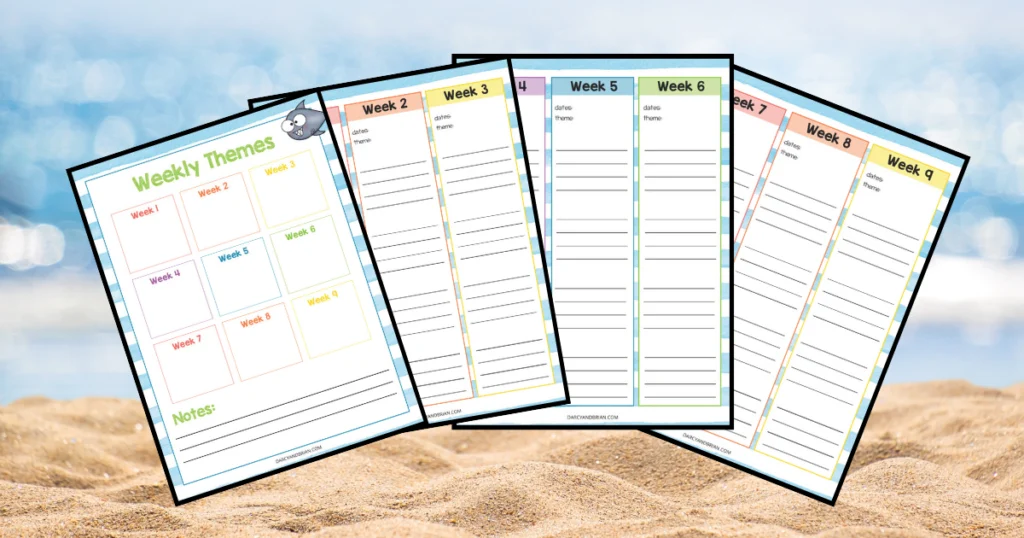 Create a Summer Activity Schedule
Decide how many hours a day and how many days a week you want to organize activities.
Then you will be able to plan out your time with your list of activities, using the summer at home planner as a guide.
A few tips for organizing the schedule:
Allow plenty of time for exploration and completion of each activity.
Plan some quiet time for reading or relaxation – both for you and the kids.
Don't stress about completing the entire list.
Be flexible and adjust as needed. We know things don't always go as planned.
Don't forget about snacks!
Gather Supplies for Your Summer Camp At Home
After you finish planning, it's time to get everything together! Use our planner to make checklists and keep track of what you have and what you need to get yet.
This post contains affiliate links. As an Amazon Associate and a participant in other affiliate programs, we earn a commission on qualifying purchases.
Then you can check out books from the library, purchase craft supplies, print out printable games for kids, purchase or borrow family board games, grocery shop for snacks, etc.
Using the Printable Summer At Home Planner
Whether you want to call it summer camp at home or summer learning or another name, our free summer at home printable planner will help you plan it out.
It will help you stay organized so you can focus more on engaging with the kids. The planner is easy to use, just print it out and fill in the information. You can print out as many pages as you need.
The summer planner includes theme ideas, activity ideas, a weekly schedule, a supply checklist, and a shopping list for snacks and other items.
It will help you plan activities, make a schedule, and track needed supplies.
GET THE SUMMER AT HOME PRINTABLE PLANNER
Fill out the form below for free instant access to our printable library if you do not currently have access to it. Summer At Home Planner is file #162.
I hope these tips and ideas help inspire you to have a fun summer at home. With a little planning, you can have fun, learn new things, and create a summer camp at home experience your children will love.
Just remember to have fun! Summer break is a time to let loose and have some fun. So make new memories and enjoy the time with your kids.