We were on to something when we planned the kids' pirate fairy birthday party. Except we didn't know about The Pirate Fairy movie at that time! It came out on Blu-ray yesterday and I need to go pick it up. Or maybe I'll order it from Amazon (affiliate link). Either way we'll be adding this one to our movie library. We're fans of pirates and fairies–how could we not?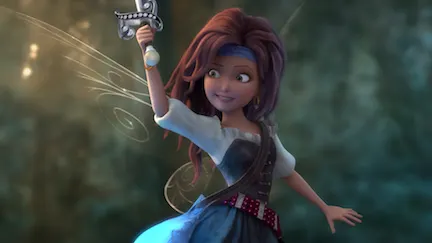 From the world of "Peter Pan" comes "The Pirate Fairy," a swashbuckling new adventure about Zarina (voice of Christina Hendricks), a smart and ambitious dust-keeper fairy who's captivated by Blue Pixie Dust and its endless possibilities. When Zarina's wild ideas get her into trouble, she flees Pixie Hollow and joins forces with the scheming pirates of Skull Rock, who make her captain of their ship. Tinker Bell (voice of Mae Whitman) and her friends must embark on an epic adventure to find Zarina, and together they go sword-to-sword with the band of pirates led by a cabin boy named James (voice of Tom Hiddleston), who'll soon be known as Captain Hook himself. With laughter, heart, magic and thrills, "The Pirate Fairy" sets sail April 1, 2014.
Also, Tom Hiddleston voices Hook and sings in it too! It's almost like they made this movie just for me.
Anyway, here are some fun activities for the kids you can download for free. Keep them busy while you replay Hiddleston singing. ;)
Craft your very own pirate get-up with a sword and pirate hat and create a magical pixie dust lamp!

Help the Fairies by matching them to their original talents, help Zarina find Skull Rock by guiding her through a maze and then add some color to the fairies' lives with character coloring sheets.