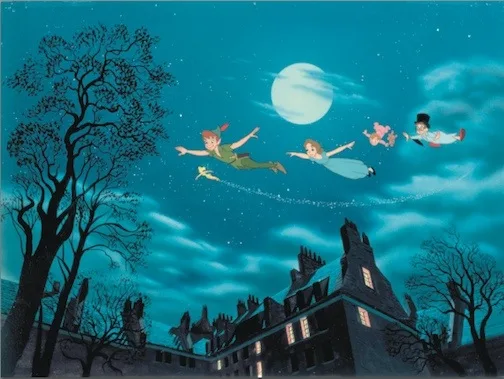 Peter Pan was re-released this week so to celebrate I rounded up a bunch of free printable activities. These are great for days when you're cooped up in the house and to spark their imaginations. You can join in on the fun too and stay a kid at heart!
Peter Pan Free Printable Activities Round Up
Just click on the ones you want to download.

Build a family fort hideout out of old wood and cardboard boxes! After your hard work, relax with Peter Pan Snacks. Sip Tinker Bell's Perfect Pixie Nectar while munching on Captain Hook's Honey Oat Plank Snacks.

Peter Pan says it's "past the second star to the right and straight onto morning," but is Never Land real?

Treat the Lost Boys and the rest of his carefree crew to a party, of course! Set sail for an afternoon of adventure with Pirate Ship Pizza, treat everyone to part of the loot with Peter Pan Grab Bags and keep the fun going with Character Coloring Pages!

Printable Pirate Puzzles, Connect the Dots Darling Star Gazer and Never Land Fun & Games complement Magical Bookmarks featuring your favorite characters!
Have a magical time! Peter Pan Diamond Edition is now available on Bluray/DVD….don't miss adding this to your collection!
______
Images and activities provided courtesy of Disney.