Is your child working on learning how to order numbers? These circus number ordering worksheets are a fun way to practice this math skill.
We'll talk about what number order is, why it's important, and how the set of circus theme printable worksheets available at the end of this post can help kids work on it.
Looking for more math printables? Check out our cloud roll and color dice game.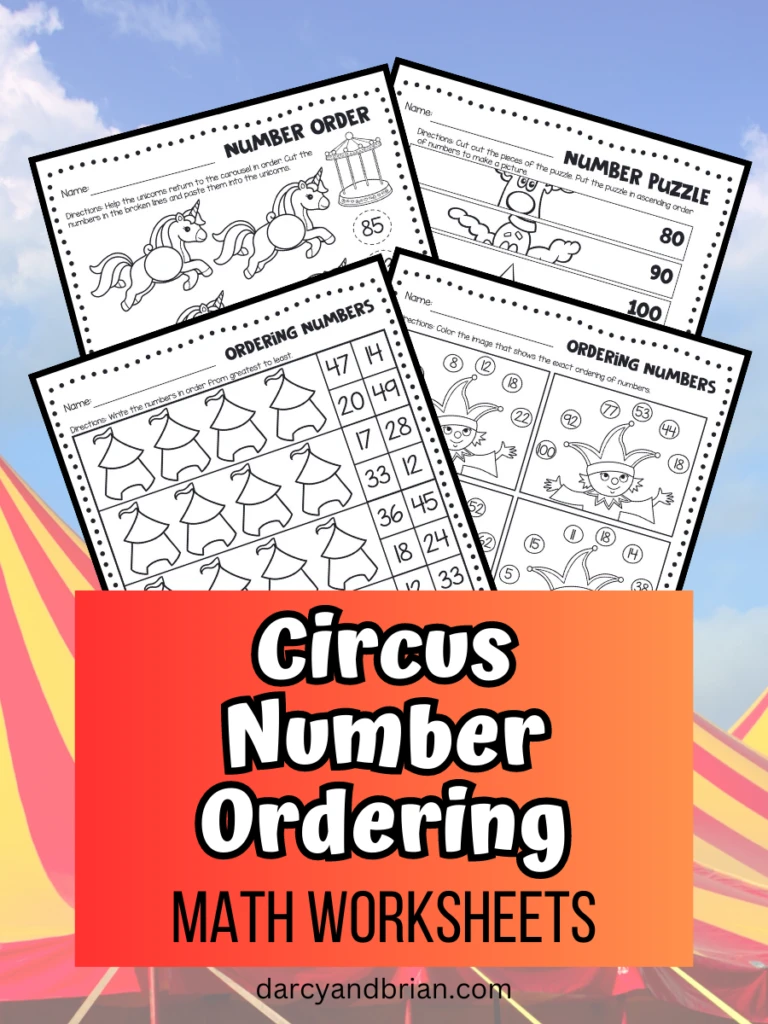 There are lots of ways to teach kids how to order numbers. Since many children enjoy the circus, using circus theme worksheets is just one way to make the material engaging.
What is Number Ordering?
Number order is a basic math skill that is important for children to learn. It's the ability to arrange numbers in sequence from greatest to least (largest to smallest) and least to greatest (smallest to largest). This is part of developing number sense.
Why is Ordering Numbers Important?
Being able to order numbers builds a strong math foundation. As kids develop their number sense, they have a better understanding of how numbers relate to each other and how to use numbers.
This is essential to learning more complex math concepts, such as addition, subtraction, multiplication, and division.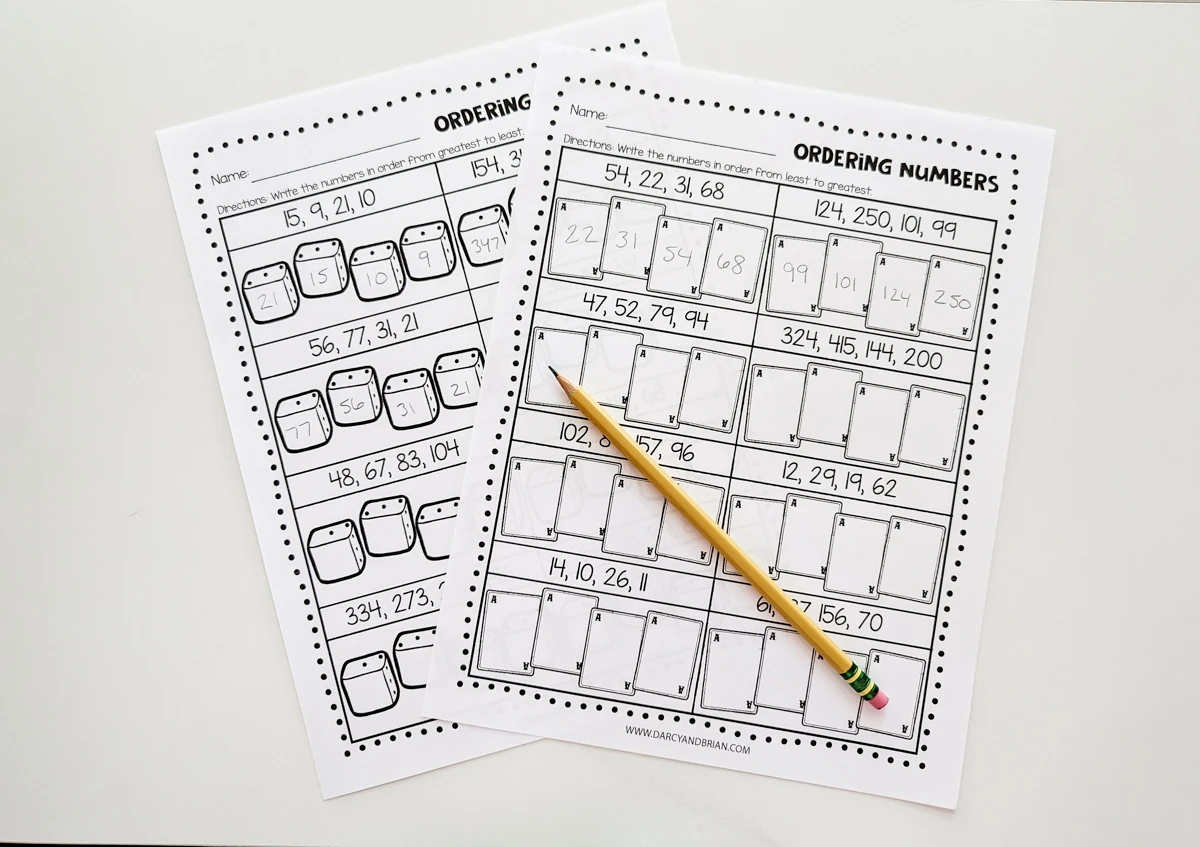 What Age is This For?
Kids start learning about number order when they begin counting. It's a skill they will continue to expand upon through kindergarten and early elementary school.
Many kindergartners are able to correctly sequence numbers up to 100. First and second graders should be able to arrange three digit numbers from biggest to smallest and vice versa.
Depending on your child's individual progress and skill in this area, these number ordering worksheets may be used for learning a new skill, practicing the concept, or as a review.
More Educational Printables
From preschool to early elementary school, there are a variety of educational printables to help you in your homeschool or classroom.
What's Included in This Printable Set
The Circus Number Ordering Worksheets are free printable pages available at the bottom of this post. It includes 8 pages total. One is a number puzzle, where young learners need to cut out the strips and arrange them in the correct number sequence to create a picture.
A couple other pages are cut and paste ordering activities. The rest of the sheets have children practice writing numbers from greatest to least or least to greatest. All of them include pictures of circus related items, which they can color in as well.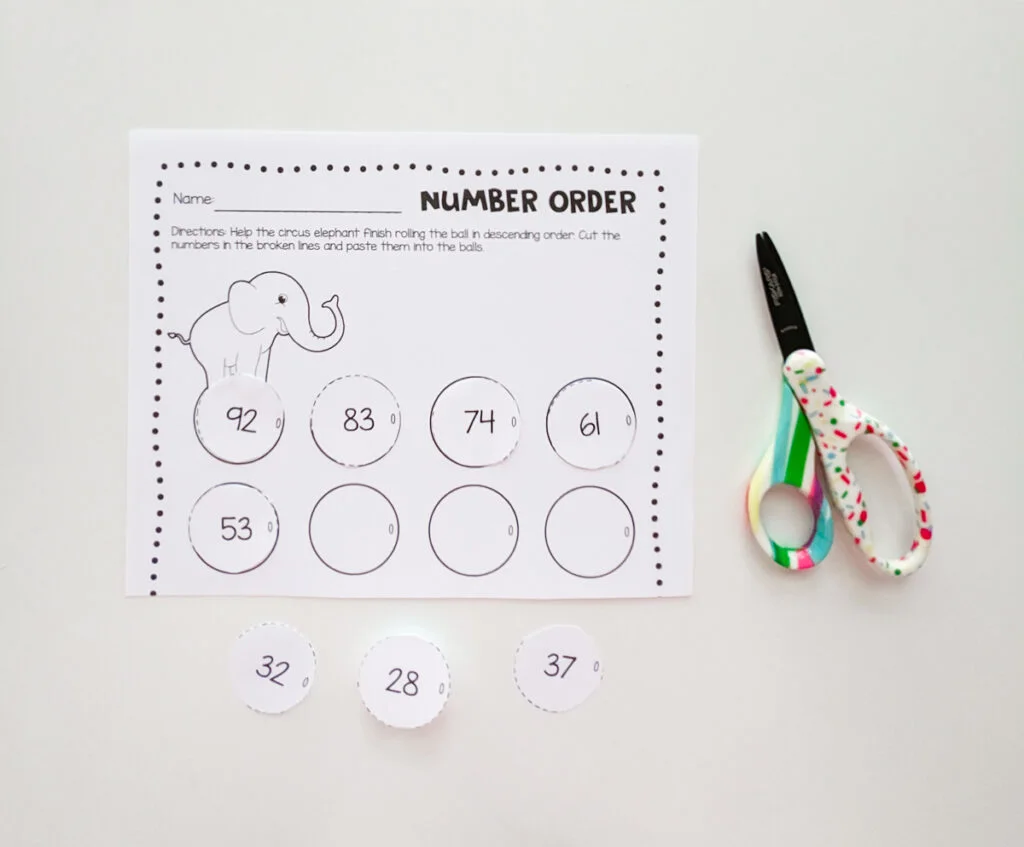 This post contains affiliate links. As an Amazon Associate and a participant in other affiliate programs, we earn a commission on qualifying purchases.
Kids can use pencils, colored pencils, crayons, or markers to write in the numbers. If you want to reuse the worksheets, grab some of these dry erase pockets (these are the ones I have) to put them in. Then you can wipe it off with a dry erase eraser and use it again.
Benefit of Using These Circus Math Printables
Using these worksheets assists children with developing math literacy, critical thinking, and problem solving skills. They are learning to read and write numbers when filling out the number order pages.
When figuring out how to order the numbers, kids need to think about the relationship between each number. This is an important part of their education because it will help them develop skills needed to solve other types of math problems.
More Math Activities for Kids
Keep math fun and engaging by offering a variety of math activities. You don't even have to say that you are working on math specifically.
There are lots of different ways to incorporate numbers into your day, you can even have outdoor math lessons throughout the summer. For example, you can create homemade number rocks with your child and use them in multiple ways.
If your children enjoy putting together puzzles, they can practice addition and subtraction with our Cowboy Math Picture Puzzle and Princess Math Picture Puzzle. To work on sequencing 1-20, try this sequencing puzzle set.
These domino math ideas from Homeschool Preschool are another way to teach kids number sense and other math concepts.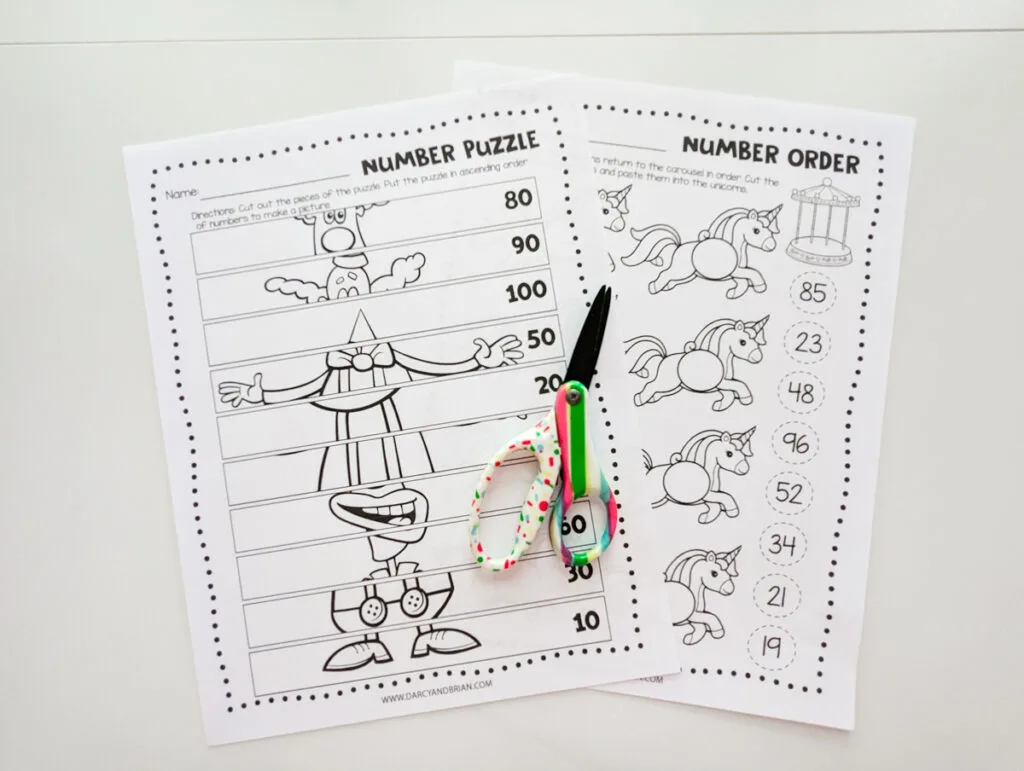 Math Books for Kids
Would your child prefer to draw than work on math? Combine the two and create cool projects with this book of Math Art and Drawing Games for Kids.
My kids enjoyed when I read the Sir Cumference books aloud to them. They are story math adventures packed with puns and mathematical wordplay references.
Another great option is the DK book, What's the Point of Math? For inquisitive children that love learning facts and information, this book provides answers to many of their questions. They may even be surprised by all the ways we use math everyday.
Math Games
Almost every board game incorporates math in some way, which is one reason why I love how family game night provides all sorts of sneaky learning opportunities. However, if you are working on a specific skill, some math games are going to be a better fit than others. Here are a few suggestions you might like to try.
For preschool and kindergarten, games like the classic Hi Ho! Cherry-O helps with counting and developing number sense.
Ocean Raiders by Logic Roots is an ocean themed math game that focuses on number sequence as well as single and double digit addition.
As young learners begin addition and subtraction, a fun way to practice is with the game Sum Swamp. They'll work on single digit adding and subtracting as well as identifying even and odd numbers.