Add a dash of fun to your classroom routine with our Would You Rather Questions for Students, one of our many printable games for kids. As we approach the back-to-school season, it's time to prepare activities that will help your students transition smoothly.
This easy, no-prep activity is not only a great icebreaker but also an enjoyable way to foster communication among students. As kids ask each other silly and intriguing what would you rather do questions, they get to know their peers better, and a lively classroom environment takes shape.
Whether you're a teacher, parent, or guardian looking for creative icebreakers to use in the classroom, or just wanting to have some fun with your children at home, our printable "Would You Rather?" game is perfect for sparking conversations and making memories.
More Back to School Crafts and Activities
As we get ready for another exciting academic year, it's time to make learning more interactive and entertaining. What can be a better way than starting off with some fun school-themed crafts and activities?
What Is The Game Would You Rather?
"Would You Rather?" is a simple question and answer game of choices that often leads to fun, intriguing, and sometimes challenging conversations. It's a fantastic way to get to know the preferences, thought processes, and personalities of those around you.
Free printable available at the end of this post.
The Fun and Importance of Would You Rather Questions for Kids
"Would You Rather?" questions offer a unique blend of fun and engagement for kids. Each question presents playful dilemmas that pique their curiosity and give them a platform to express their thoughts.
This game stimulates their imagination, prompts them to think critically, and encourages them to explain their choices and reasons behind them.
The answers can spark laughter, which promotes active participation, and fuels energetic discussions. This creates an enjoyable learning experience.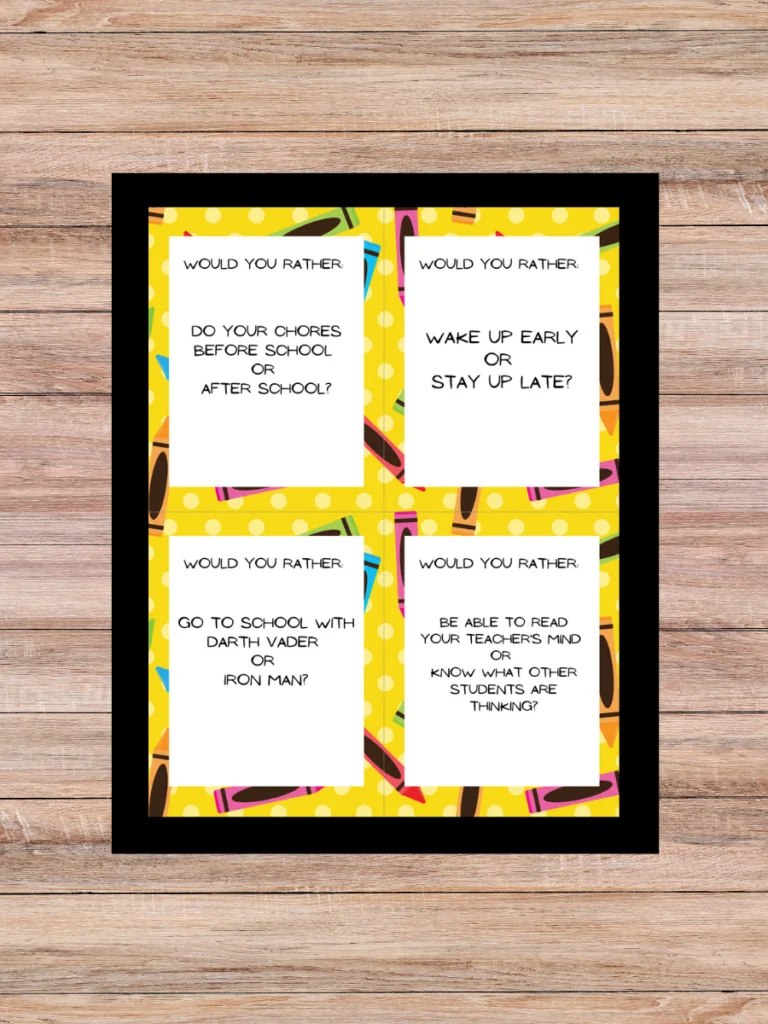 Our set of questions revolve around school-themed scenarios, making them relatable and relevant, thus further enhancing student engagement.
Recommended Board Games for Kids
If you're on the lookout for other engaging activities that can be just as fun and engaging as our "Would You Rather?" game, we've got you covered. Here are some similar games kids enjoy playing:
This post contains affiliate links. As an Amazon Associate and a participant in other affiliate programs, we earn a commission on qualifying purchases.
SUSSED The Wacky 'Would You Rather' Card Game – Cool Blue Deck: 200 Conversation Questions About Life – Travel Gift for Teens, Kids & Adults – All Ages 10 and Up
Do You Really Know Your Family? A Fun Family Game Filled with Conversation Starters and Challenges – Great for Kids, Teens and Adults
Pick Your Poison Card Game: The "What Would You Rather Do?" Game for All Ages – Family Edition
Skillmatics Card Game – Train of Thought, Family Connection & Conversation Starters, Gifts for Ages 6 and Up
SUSSED The Wacky 'Would You Rather' Card Game – Family Fun for 2+ Players – Gift for Kids & Adults – Travel Size – Yellow Deck, All Ages 6 and Up
200 Family Conversation Cards – Questions to Get Everyone Talking & Building Relationships – Fun Family Games for Kids and Adults – Get to Know Each Other Better for Family Game Night or Road Trip
What's Included in the Would You Rather Questions for Students Printable?
This printable set includes 20 different school related questions. I also included some blank cards for you. This way you can write your own questions to add to the game.
My hope is the pre-written questions will inspire you or your children to think of even more scenarios to ask about!
The printable game is designed for kids of all ages, making it a perfect no-prep activity or conversation starter for any classroom setting.
How to Use the Printable Would You Rather Question Cards
To play this game, fill out the form at the end of this post and the printable cards will be sent straight to your inbox. I recommend printing them out on white cardstock paper or laminating the cards if you use regular printer paper.
You can use a laminating machine or self-adhesive laminating sheets. When cutting the cards apart, I like using this paper cutter instead of scissors.
Another option is to look at the PDF file on your phone or tablet and read the questions aloud.
Then use the Would You Rather questions for students as a fun question and answer game! Not only is it a great way for kids to get to know each other better, but it's an entertaining way to get to know your kids better too.
Parents can use these conversation starters before or after school – these are way more interesting than asking what they did at school and may help them open up about their day.
Teachers can use these would you rather icebreaker questions for students during the beginning of the school year. It's a fun and easy way for kids to learn more about their new classmates and find common interests with new friends.
Now, it's time to have some fun! Download the printable today and get ready to kick off the new school year with lively conversations.
Examples of Our Would You Rather Questions for Students
There are plenty of questions young learners will enjoy pondering; however, some questions may be better suited for older elementary school students, such as those referencing homework.
Here is a sampling of the questions included:
Would you rather play tag or hopscotch?
Would you rather walk to school or ride the bus?
Would you rather do your chores before school or after school?
Would you rather wake up early or stay up late?
Would you rather have recess every day or be able to bring your pet to school?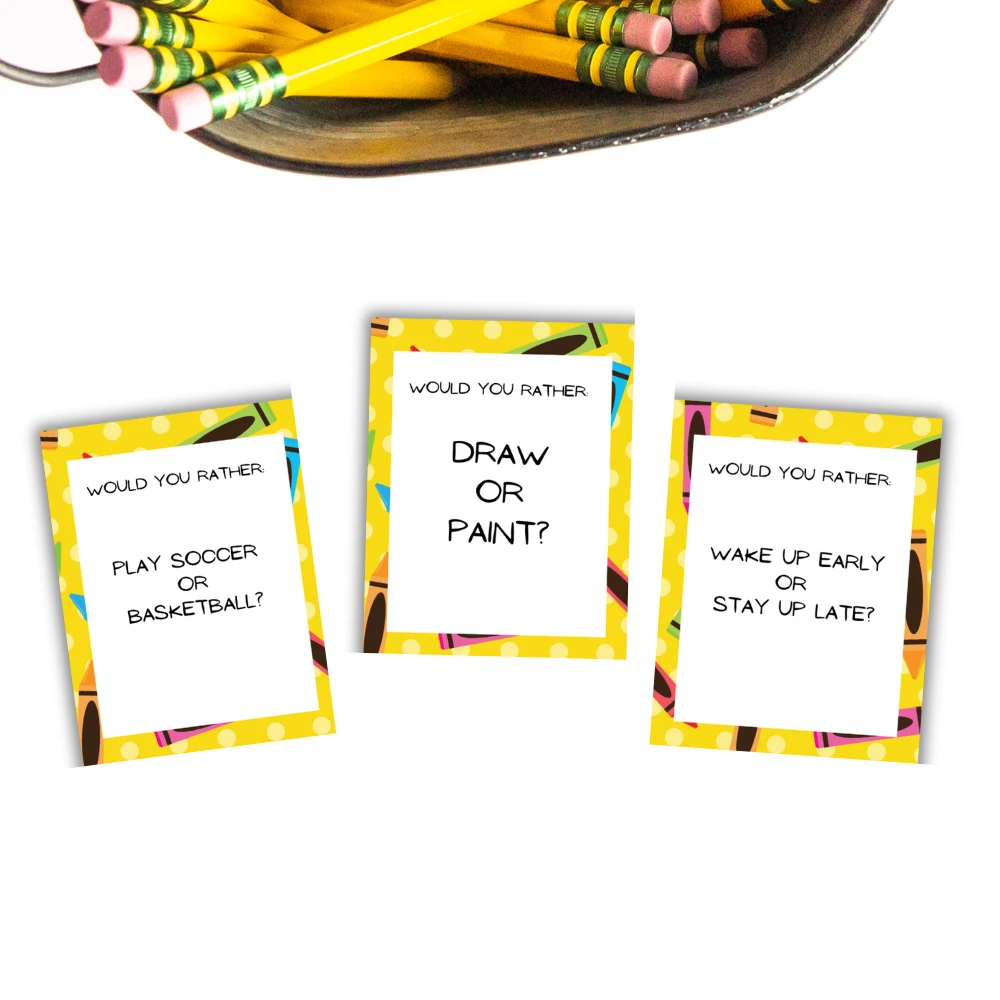 How to Play Would You Rather in the Classroom?
This fun game will be a hit with students on the first day of school and beyond. For students, especially at the beginning of a new school year, these questions can serve as a way of facilitating communication, promoting camaraderie, and creating a positive, engaging atmosphere in the classroom.
Here are some tips on how to play it in a classroom or group setting:
Have the class sit in a circle and give each child one of the question cards. Take turns reading the question aloud and sharing their answer and explain their reasoning.
Read each question to the entire group. Have everyone raise their hand for this or that answer. Tally how many classmates answered for each option. (You could even turn this into a mini graphing lesson!)
Divide the class into small groups and provide a set of question cards to each group. Have them take turns asking and answer among their group.
Give each child a different question card or a small set of cards. Have them seek out someone for each option or find another classmate that shares their answer.
There are several different options for how to utilize these would you rather questions for students. The main thing is to encourage discussion and promote creative thinking among them.
More Fun Games for Kids
Games provide abundant learning opportunities for children. We strive to promote a diverse range of games, whether they are aimed at reinforcing educational concepts or simply taking a break from schoolwork. Here are a few suggestions you might find enjoyable:
In conclusion, our Would You Rather Questions for students printable game is a fantastic tool to foster a lively and engaging atmosphere in your classroom. It's designed to not only break the ice but also spark creative and thought-provoking conversations among students.
It's a no prep activity, perfectly suited for kids of all ages and grade levels. So why wait? Fill out the form below, print out the question cards, and let the fun begin. Your classroom will be buzzing with exciting discussions in no time!