Is your child fascinated by sharks? Encourage them to learn all about them with these printable shark research worksheets. They'll discover cool and interesting facts while developing important academic skills at the same time.
I'll share tips and information on the benefits of using these worksheets with kids of all ages to learn about sharks as well as a few extension activity suggestions.
After you grab the free printable pages using the form at the end of this post, check out our 30 day science activity planner for kids for even more STEAM lessons.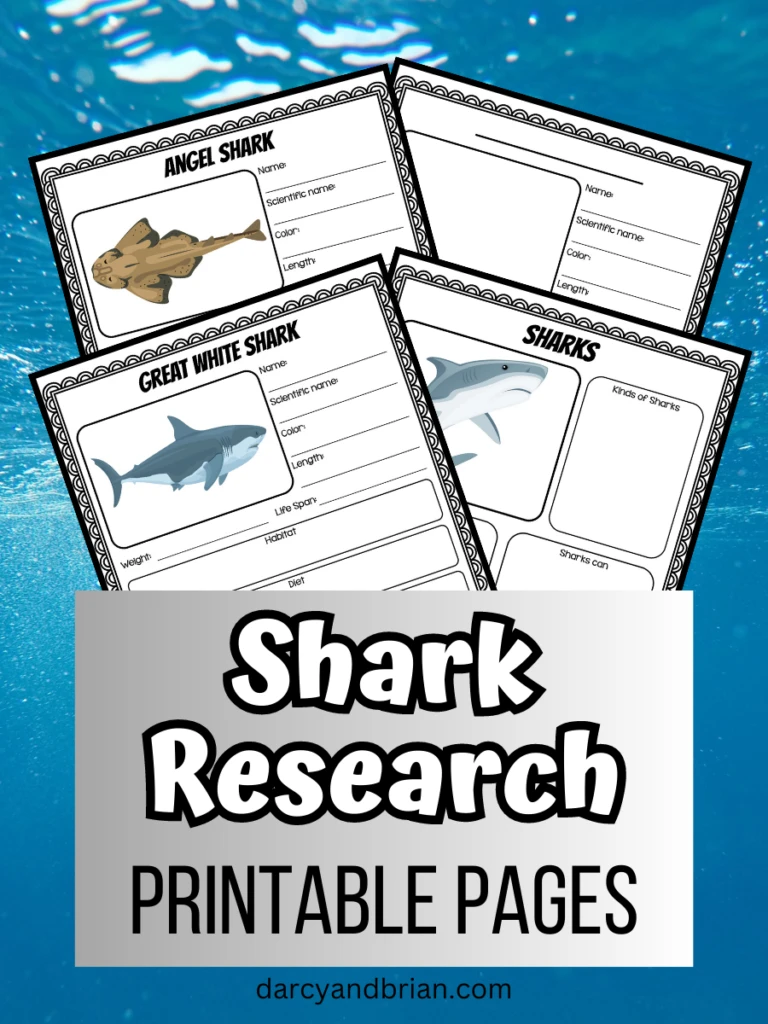 It's no wonder that many kids find sharks and other ocean creatures fascinating. They are unique, mysterious, and a tad scary.
When children are interested in a topic, they are eager to learn more. This makes it easier for us to teach them because they are already engaged in the material.
For example, while they are focused on sharks, you can also teach them about the layers of the ocean using our ocean zone density jar activity.
Benefits of Using Shark Research Worksheets
Utilizing these printable pages provide several benefits for kids researching sharks. They can be adapted for your learner's age (which is helpful when homeschooling multiple ages), used to encourage independent study, and help kids develop a love of learning.
When children can choose to research a topic they are interested in, it helps develop their interests further by leading to a deeper understanding of the topic. It may also lead to exploring related topics and concepts.
For example, their interest in sharks may lead them to discover a career in marine biology. Fostering a lifelong interest like this is an excellent way to get kids interested in science.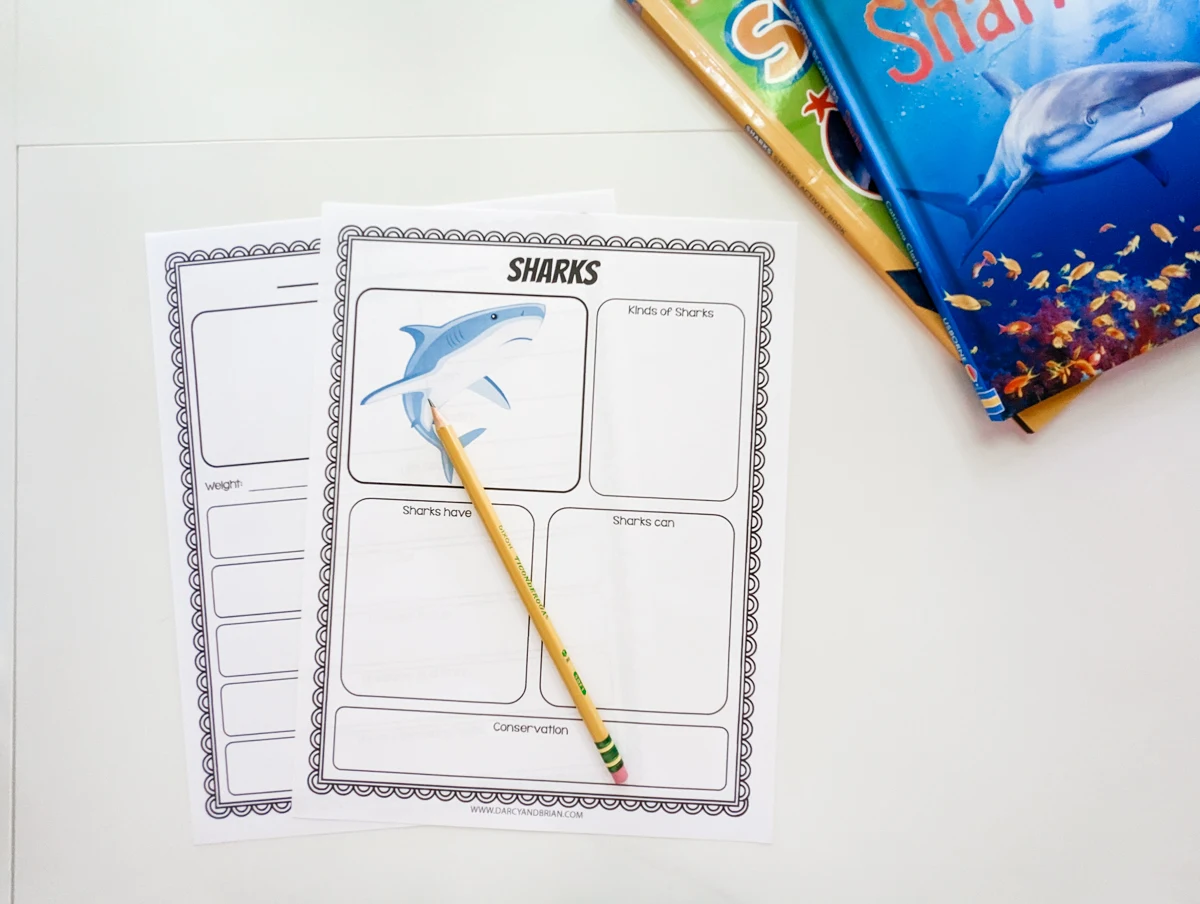 Another benefit of filling out these shark research worksheets is it teaches kids how to do research. Learning how to find information is an important skill.
"My son loved to do these. I even printed out extra sheets for him to write some facts on while watching shark week."

-Monique C.
Using these pages assists young learners by keeping their research focused and by organizing the information they find.
The sense of accomplishment they feel when completing this project on their own increases their confidence too. This in turn can lead to asking more questions and searching for answers on other topics.
More Educational Printables for Kids
From writing stories to learning about insects, here are some supplemental learning activities you can use in your homeschool or in the classroom.
What Age are These Printables For?
What I love about these types of research worksheets is that they can be adapted for different ages, which makes them ideal when planning a unit study with multiple children.
For younger children, you may only have them pick one or two shark species to work on now and revisit the others in the future. If your child struggles with writing but is excited to share shark facts with you, then you can help them record the information they learned.
Since these are not specific to one book, you can use a variety of resources, including video, to fill in the information. The kids love going to the library to pick out the books they need!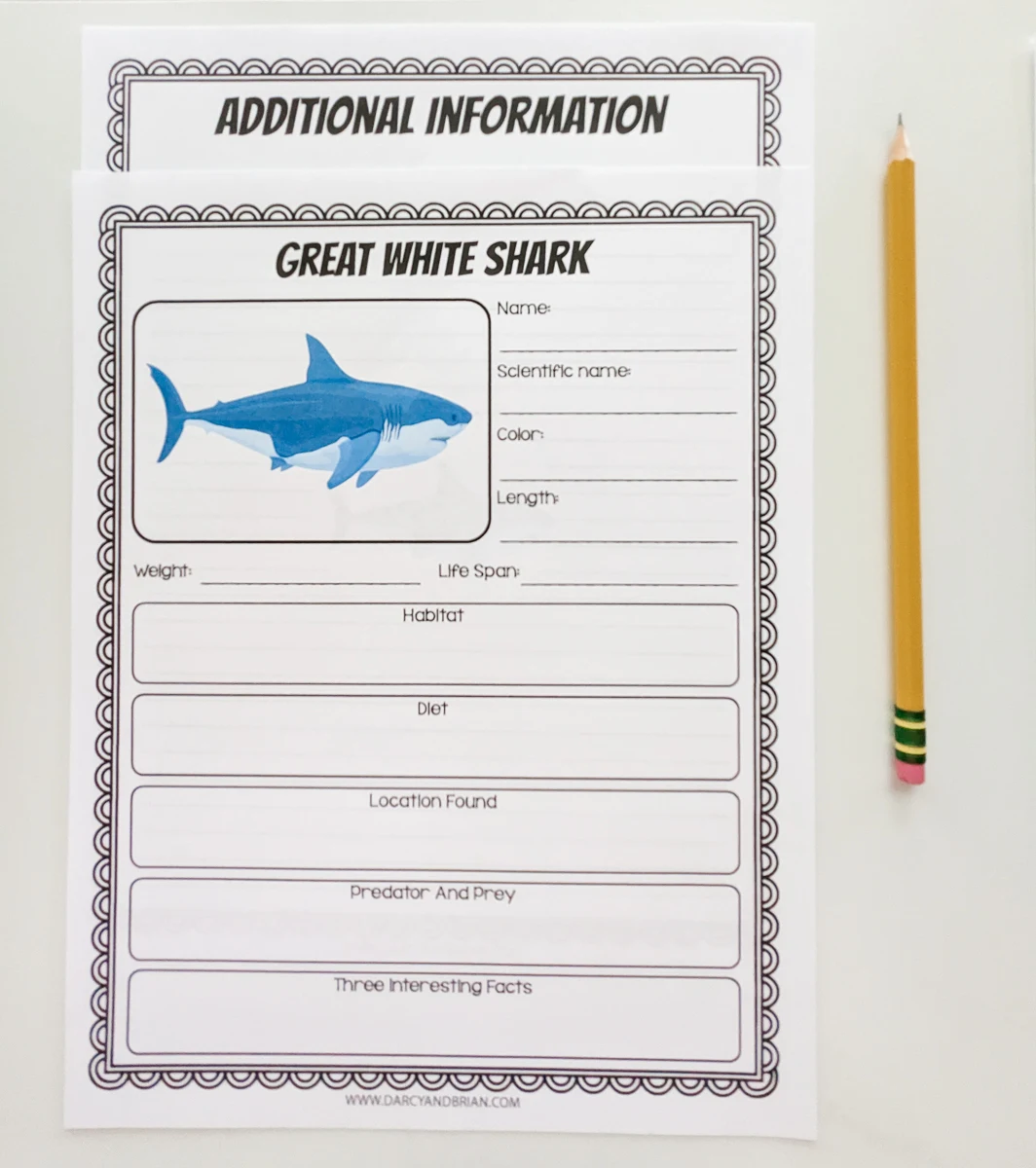 Older children can conduct more extensive research and write more detailed reports using the additional pages provided (or add in their own). You could also encourage them to use their research papers to put together a slideshow presentation.
What's Included in These Shark Worksheets?
This set of shark research printable worksheets has 26 total pages. It includes one page to fill in with general shark information as well as a blank page that can be used to record information about any species of shark (did you know there are over 500 species of shark?) your child chooses.
There are also two pages included for 12 sharks. One page asks them to fill in information such as size, lifespan, where they live, what they eat, and three interesting facts.
There are also additional lined pages that can be filled with whatever information you would like and has a picture of a shark on it.
Here are the types of sharks included:
Great White Shark
Bull Shark
Tiger Shark
Whale Shark
Hammerhead Shark
Zebra Shark
Lemon Shark
Angel Shark
Blacktip Shark
Blue Shark
Leopard Shark
Nurse Shark
There are many different shark species to explore and the blank research page allows them to select any one they want to learn more about. This research pack offers wonderful flexibility for independent study.
The free printable pack is available at the bottom of this post.
This post contains affiliate links. As an Amazon Associate and a participant in other affiliate programs, we earn a commission on qualifying purchases.
Epson EcoTank ET-3830 Wireless Color All-in-One Cartridge-Free Supertank Printer with Scan, Copy, Auto 2-Sided Printing and Ethernet – The Perfect Printer Productive Families
Amazon Basics 30% Recycled Multipurpose Copy Printer Paper, 8.5
Avery Economy Showcase View Binder with 1-Inch Round Ring, Black, One Binder (19600)
Ticonderoga Wood-Cased Pencils, Pre-Sharpened, 2 HB Soft, Yellow, 72 Count
Why is Independent Study Important?
Having kids take ownership of their learning through independent work is important. When they are interested in something, they are more likely to truly learn about it and retain that information beyond memorizing a couple facts.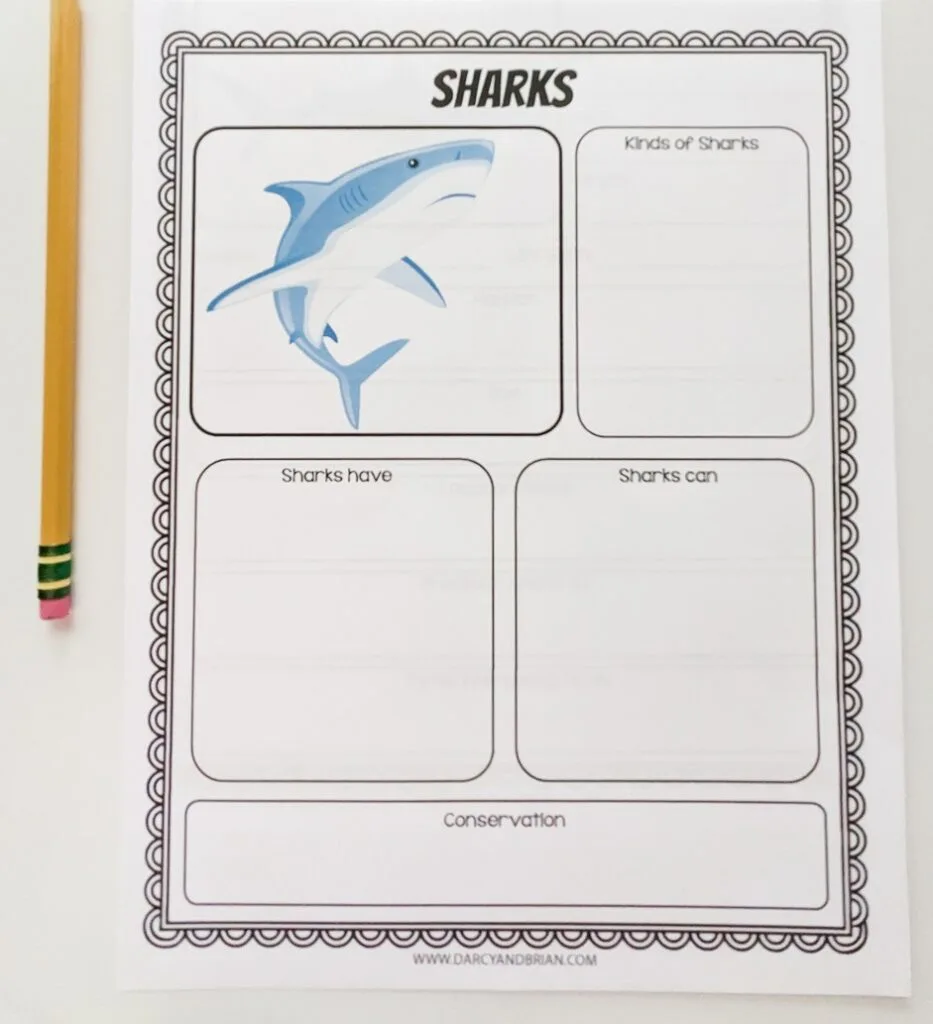 Independent study also helps them develop skills such as researching, note taking, and critical thinking. Knowing how to find information, evaluate it, organize it, and present it are all skills that need to be practiced.
Shark Books and Video Resources for Kids
Encourage your kids to check out books about sharks from the library in order to do their research. They can also utilize educational videos. Here are a few suggested resources to get them started:
More Shark Activities for Kids
Crafts, printables, and hands-on play are excellent learning opportunities for kids. Plan a fun Shark Week (which is usually in July) or add on these other activities to round out a shark unit study or a shark themed summer camp at home.