Looking for unique Christmas activities for kids? Then check out our curated list of Christmas playdough recipes that your little ones, especially preschoolers, will absolutely adore.
As the holidays approach, these playdough recipes can be used for fun and engaging sensory play, both at home and in the classroom.
Making batches of this festive playdough not only provides an opportunity for kids to exercise their creativity but also helps in developing their fine motor skills.
The joy of squishing, rolling, and molding Christmas-themed playdough is sure to keep them entertained throughout the season!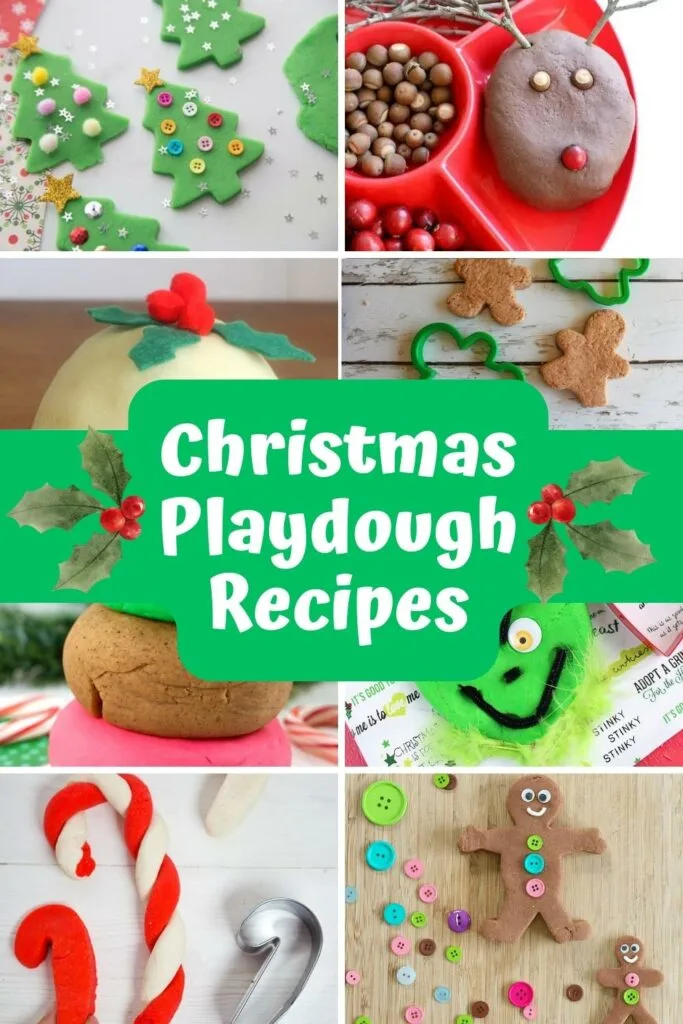 Getting your kids into the holiday spirit can be made even more exciting by introducing a variety of Christmas-themed learning activities.
Playdough play, in particular, can be a magical sensory experience when it smells like the holidays!
Imagine the fun children can have playing with playdough that emits the delicious scents of candy canes, gingerbread, Christmas cookies, and hot chocolate.
This multisensory approach provides not only a delightful playtime but also helps to instill seasonal joy, reinforce holiday themes and engage children's senses in a rich, hands-on way.
The exploration and creativity that comes with these scented playdough recipes will make their holiday learning experience even more memorable.
Benefits of Playing With Playdough
Playing with playdough offers a multitude of benefits for children. For starters, it's an excellent tool for promoting their fine motor development.
This type of play also enhances their creativity and imagination, as they are free to create anything they wish out of the dough.
Plus, it's a calming and therapeutic activity that can help in managing stress and promoting emotional well-being.
Lastly, introducing scents and textures into playdough play supports sensory learning, allowing children to explore and understand the world around them through their senses.
The combination of these benefits makes playdough an incredible learning and discovery tool for children.
This post contains affiliate links. As an Amazon Associate and a participant in other affiliate programs, we earn a commission on qualifying purchases.
Play-Doh Starter Set
Play-Doh Crazy Cuts Stylist Hair Salon Pretend Play Toy
Play-Doh Kitchen Creations Ice Cream Party Play Food Set
Play-Doh Kitchen Creations Noodle Party Playset
Play-Doh Mixing Studio DIY Kit for Kids
Play-Doh Ice Cream Truck Playset
Is Playdough a Good Fine Motor Activity?
Yes, playdough is a fantastic fine motor activity for children.
As they as they squish, squeeze, roll, and shape the dough, they're strengthening the muscles in their little hands. Manipulating different tools to mold and shape the dough is also helpful.
Developing fine motor skills are crucial for daily tasks such as writing, cutting with scissors, and buttoning clothes. Overall, playdough is a fun and effective way to help children develop these essential skills.
Christmas Playdough Ingredients
Variations abound when it comes to Christmas playdough recipes, with something to cater to every preference.
Some recipes are wonderfully simple, requiring no cook time and few ingredients, while others call for a bit of cooking.
Common ingredients typically include kitchen staples like flour and vegetable oil. You might come across recipes that call for cream of tartar, while others manage beautifully without it.
To imbue the playdough with the rich, festive aromas of Christmas, many recipes incorporate spices such as cinnamon, nutmeg, or pumpkin pie spice.
For a playful twist, others might suggest peppermint extract, capturing the quintessential scent of the holiday season.
Additionally, some recipes also include food coloring to add vibrant colors to the playdough.
Recommended Playdough Tools
While playdough is enjoyable on its own, pairing it with the right tools can elevate the sensory play experience.
Playdough scissors are excellent additions, enabling children to practice their cutting skills – a crucial aspect of fine motor development.
Stampers introduce an exciting element of design, allowing kids to imprint various patterns onto their playdough creations.
Rollers, both smooth and textured, provide a satisfying tactile experience and help in flattening and shaping the dough.
Lastly, Christmas-themed cookie cutters are a festive favorite. Kids can use them to craft delightful Santa, reindeer, or Christmas tree shapes, adding a sprinkle of holiday cheer to their playdough adventures.
Dough Play Tools for Kids- Dough Accessories Molds Stamps Cutter Scissor Rolling Pin and Storage Box , Party Favors Set for Age 2-8
READY 2 LEARN Dough Extruders – Set of 6 – Play Dough Tools – for Ages 2+ – Art Accessories for Pottery and Dough
Oun Nana Play Dough Tools Kit with Dough Extruders, Dough Scissors, Playdough Rollers and Cutters, 12 pcs Plastic Playdough Tools for Kids(Random Color)
Oun Nana Playdough Tools and Accessories for Kids, 22 PCS Macaron Color Plastic Playdough Toys with Animal Cutters, Play Dough Tools Set for Kids Ages 2-8, Random Color
READY 2 LEARN Paint and Clay Texture Rollers – Set of 4 – Textured Dough Rolling Pins for Kids – Open-Ended Patterns for Crafts and Decoration
READY 2 LEARN Paint and Dough Animal Rockers – Set of 4 – Ages 2+ – Easy to Grip Arts and Crafts Stampers for Kids – DIY Textures and Patterns
8 Pieces Triangle Grip Geometric Patterns Stampers Fun Paint and Dough Stampers DIY Textures Stampers for Kids Paint and Clay, Card Making, Educational, Learning, Decorating Supplies, 8 Patterns
Animal Footprint Stamps, Animal Tracks Playdough Stampers, 9pcs Wooden Animal Tracks-Forest Animals
How to Store Homemade Playdough
Homemade playdough typically lasts for a few weeks when stored correctly.
The best way to store it is in an airtight container or plastic bag, ensuring no air gets in and dries out the dough.
It is also recommended to keep the playdough in the refrigerator, as colder temperatures can help prolong its shelf life.
Free Printable Playdough Mats
Now that you're equipped with these fantastic Christmas playdough recipes, let's explore some engaging ways to play with them.
One wonderful method is using printable playdough mats – these offer fun and educational prompts for your child's creation sessions.
The mats can be themed around festive designs or centered on educational topics such as shapes, letters, and numbers. This offers an excellent opportunity to integrate learning with play.
Your child can roll, shape, and mold the playdough to match the shapes or letters on the mats, enhancing their fine motor skills while also bolstering their recognition and understanding of these fundamental educational concepts.
It's a colorful and tactile approach to learning that brings a whole new dimension to playtime!
More Christmas Activities for Kids
In addition to printable activities, consider our range of Christmas games and crafts. They not only entertain but also promote cognitive skills and creativity. Keep little hands busy and create charming keepsakes to treasure for years to come!
The Best Christmas Playdough Recipes
This curated list of the best Christmas playdough recipes is a fantastic resource to keep kids entertained and engaged during the holiday break.
In the classroom, these recipes can be used for sensory play and learning, providing an interactive and tactile experience that children adore. But the fun doesn't stop there!
Why not take the opportunity to make homemade Christmas playdough to give your child as a gift?
Packaged in festive wrapping, these playdough sets make for a delightful surprise when found in a Christmas stocking.
Remember, kids of all ages - especially younger ones - relish the chance to create, sculpt, and explore with playdough.
This Christmas, give them a gift that fosters their creativity and keeps them happily busy!
We hope you enjoy using these Christmas playdough recipes and activities to keep the little ones engaged and learning this festive season.
Whether you're gifting a homemade playdough set or setting up playdough mats for some educational fun, you're ensuring a creatively charged holiday time.
And remember, it's not just about the play; it's about the memories you're creating and the skills they're developing.