Add a bit of fun to your holiday party with this Disney Right Left Christmas Game Printable.
If you are looking for a new way to exchange and pass gifts with your family on Christmas, then you're in luck! Have you ever played a right-left-right game before? They are so much fun!
Need more family-friendly printable game ideas? Don't miss our printable Disney charades clues, Disney themed pictionary word list, and board game suggestions for family game night.
We also have a printable Gratitude Game and Christmas Scavenger Hunt that is perfect for the holiday season.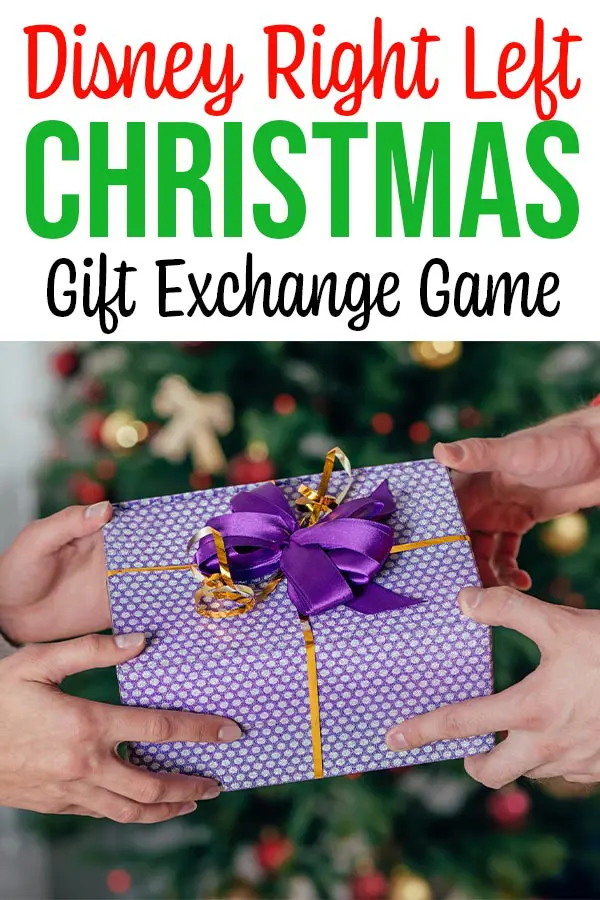 As our extended family has grown, we started participating in gift exchanges instead of buying presents for everyone. This way everyone brings one and leaves with one. It's still fun and definitely more budget-friendly.
I love how simple this Christmas game is and being Disney themed makes it perfect to play with the kids. You could even use it for a classroom holiday party.
What Is The Right Left Christmas Game?
It's a fun Christmas gift exchange game. Instead of everyone getting their gifts and ripping them open, this game makes it a little more interesting.
Also, who doesn't love Disney? This will keep everyone engaged, cause giggles as they try to pass in the wrong direction (you know it'll happen!) and have a little holiday fun.
Whether you're using it for your family's gift exchange or an office white elephant gift party, I think everyone is going to love participating.
Plus, you don't know which present you'll have at the end of the story.
And who knows? Maybe it'll become a new holiday tradition for your family!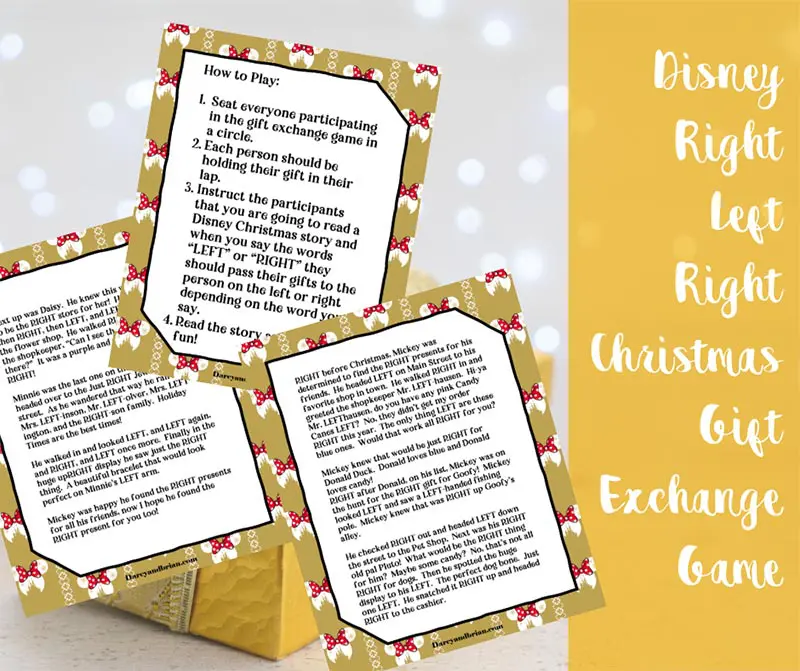 How to Play the Disney Themed Right Left Christmas Gift Game
This game works best with mystery gifts. They don't have to be anything extravagant either. You could try wrapping up gift cards or assorted candy bars.
To play, have everyone sit in a circle holding the present they brought.
Have one person read the story, which features Mickey holiday shopping for Donald, Daisy, Goofy, Pluto, and Minnie.
Whenever the story says RIGHT or LEFT, everyone must pass their present in that direction. Once the story ends, open up the one you are holding and see what you got!
DOWNLOAD THE PRINTABLE DISNEY RIGHT LEFT CHRISTMAS GAME
You can print it out or read it from your phone. Have a magical time!
More Christmas Printables:
Gift Ideas: