Are you looking for awesome gifts for Firefly fans? Then you have come to the right place, my friend.
We understand the brilliance of Joss Whedon's show Firefly and appreciate the tragic beauty of a series ending before its time.
Serenity and her crew will forever live in our hearts and in shiny fan memorabilia.
For more fandom gift ideas, check out our list of Doctor Who gifts and Harry Potter Gifts.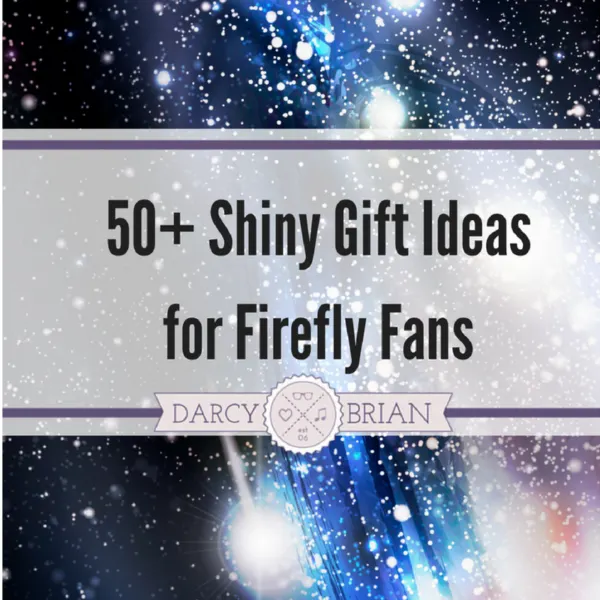 This post contains affiliate links. As an Amazon Associate and a participant in other affiliate programs, we earn a commission on qualifying purchases.
Firefly Fan Gift Guide
Firefly: The Complete Series is a must have for every fan of the show. It's still sad to see how short the complete series is and we'll always know it should never have been canceled. You'll watch it, love it, and mourn its end when you are inducted into the Firefly fandom.
Firefly Toys and Collectibles
Take them out of the box or not – it's your choice.
Firefly Apparel and Accessories
Wear your Firefly fandom with pride with shirts, jewelry, key chains, car decals, and more. It's fun to look for others with this items and to see who recognizes yours.
Seriously, it'll bring a smile to your face when someone stops you in Home Depot to comment on your shirt and share their undying love for the show.
Firefly Edition Games
How would you handle the crew? Make game night epic with one of these games.
Firefly Books, Movies & Music
Can't get enough of the Firefly universe? If you haven't watched Serenity the movie yet, that is a must. Next, it's time to dive into the books.
Become an expert on the show's language with the Gorramn Shiniest Language Guide or relax while listening to the show's soundtrack.
Whether you are Firefly gift ideas for a friend or for yourself, we hope our Firefly fan gift guide helped you find something to add to your collection!
More gift ideas: