Do your kids look forward to their Christmas stockings full of small gifts?
Sometimes I think my kids get more excited reaching in and pulling out the fun stocking stuffers we bought them than opening the presents under the tree.
Maybe it's because they are surprised how many toys fit inside, like it's a magical, bottomless sock full of gifts.
These also work as gifts from St. Nick too!
Add to the fun by wrapping these up and play the Disney Themed Right Left Christmas gift passing game or set up a fun Christmas scavenger hunt!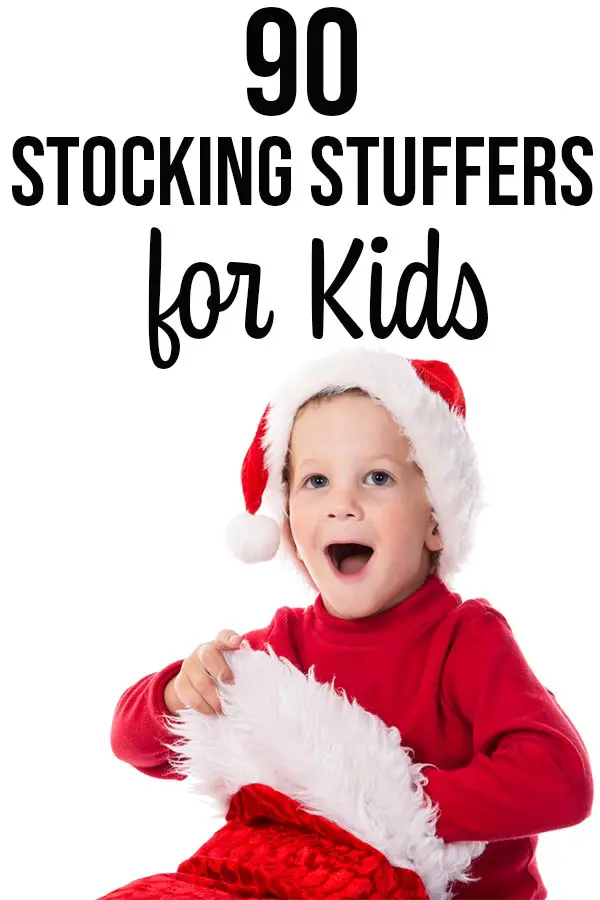 This post contains affiliate links. As an Amazon Associate and a participant in other affiliate programs, we earn a commission on qualifying purchases.
We received some of these items from brands in order to check them out and consider them as gift suggestions.
Stocking Stuffers for Kids
Dinosaur lovers will like receiving Jurassic World Bouncy Balls, Mini Dinosaur Figures, and a Dinosaur Fossil – Nature Sand Dino Dig.
Go on an adventure with the Backyard Safari 6 in 1 Field Tools and Backyard Safari Field Binoculars.
Playing dress up is lots of fun. Kids will love receiving a Frozen 2 tiara and hair accessories, a Frozen Charm Bracelet ( with 4 Charms), or Disney Frozen Temporary Tattoos. For your child's hair, don't forget Frozen Hair Clips!
Bath time is more fun with toys! Let the kids play while washing up. They can work on hand-eye coordination with the Nuby Splash 'n Catch Bath Time Fishing Set. Amaze them by changing the water color with Crayola Bath Dropz.
Let their artistic side out with Crayola Bathtub Crayons. They may even play you a song with ALEX Toys Rub a Dub Water Flutes.
Kids will have to learn patience waiting to find out what will hatch from their Christmas Ornament Grow Eggs. They grow several times their size before hatching one of three animals. We're giving them to the toddlers and preschoolers on our Christmas list.
Create roads to drive on virtually anywhere in the house with Classic Road Series 30'x2″ Black Road PlayTape (it's also great for traveling). Once the roads are set up, the kids can drive their new Pull Back Race Cars and Construction Vehicles on it.
Be silly and have fun making music with in rather unusual ways with the Nose Flute and The Famous Fart Whistle. Add to the band with a Pair of Maracas and a Clearly Colorful Translucent Harmonica.
Does your kid like magic? Start teaching them the art of illusion with easy magic tricks with Stop Light Cards and the Crazy Cube.
Disguise learning with fun with Think Fun Math Dice and Math War Addition and Subtraction Game Cards
Kids love to shoot balls and foam poppers are a wonderful alternative to toy guns. Our kids have a penguin, cow, and unicorn. The balls are small, so younger kids should be supervised while playing. Get Christmas themed ones with the Holiday Reindeer Popper and Holiday Elf Popper. Squeeze their bellies to pop the balls out of their nose or mouth!
Another option are these Foamstrike Pocketshots. My son can't wait to play with his! They are available on Amazon or use code MBS&LWDB to save 15% on orders over $30 on the Monkey Business Sports website.
Let kids explore and be fascinated with science with their own mini Sky Rockets or a Pet Tornado.
The Pull and Stretch Bounce Ball will make them wonder how it works. And these Mini Monsta Slam Balls are silly fun.
Dream of exploring space with the 4M Kidz Labs Moon Torch Kit and Glow-In-The-Dark Mini Stars or Planets.
This adorable silicone LED Puppy Night Light or a Disney Princess Sofia Plug In Night Light will help keep the monsters in the closet and under the bed.
Arts and crafts are always a big hit with my kids, especially my daughter. If you have a little crafter to shop for you'll want to get the Wikki Stix Doodler Toy Kit. The Melissa & Doug Rainbow Mini Scratch Art Notes are also fun and don't create a mess.
If your child likes to create with their hands, let them get messy with Tots Finger Paints. Or get creative with the Rainbow Modeling Clay Set. Don't miss our craft gifts for kids for even more ideas!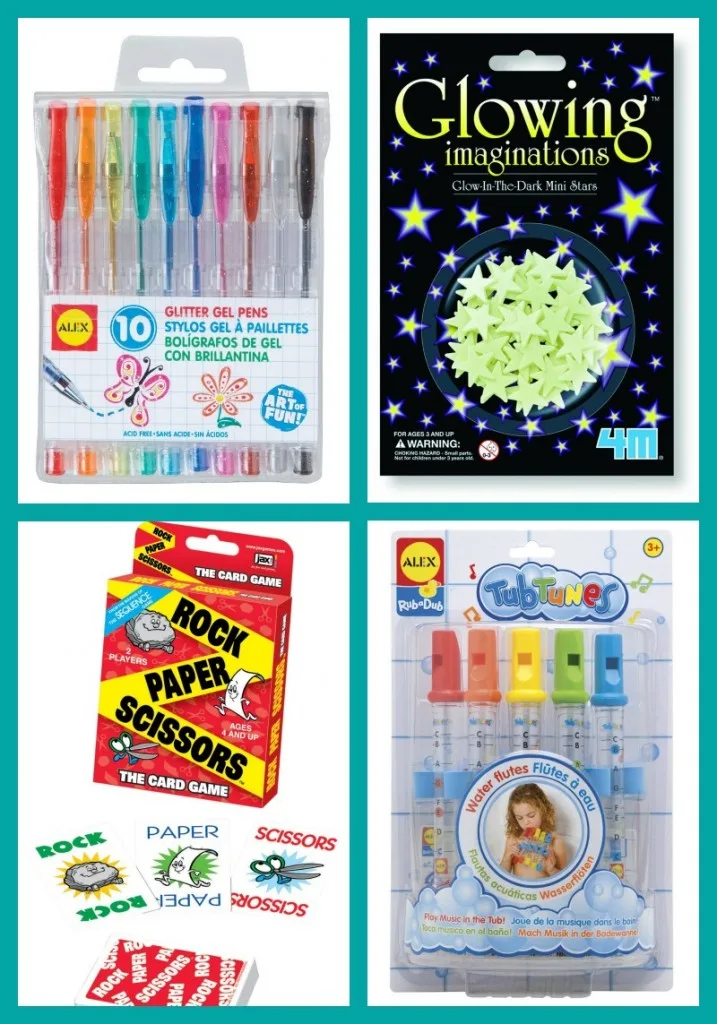 For drawing and writing, they'll need Glitter Gel Pens and Washable Scented Markers. Little kids also love stampers and they'll love receiving an assortment of Holiday Christmas Stampers.
Expand the family's game collection with Rock Paper Scissors Card Game, Spot It Junior Animals, Hisss Snake Making Card Game , Teenage Mutant Ninja Turtles Jumbo Playing Cards, Uno Card Game, Disney Princess Jumbo Playing Cards, and Scrabble Slam Cards.
For a non-card game, try Zoom Sliding Ball or the classic Barrel of Monkeys Game.
Little kids will also enjoy playing with Numbers 2-in-1 Match Up Memory Game & Floor Puzzle.
Get a ton of laughs with gifts like Knock-Knock Jokes for Kids, a Flingshot Flying Monkey, Laugh-Out-Loud Jokes for Kids, and 12 Fake Mustaches.
Introduce your children to nostalgic toys from your childhood with the Original Metal Slinky, Original Plastic Slinky Jr., Toysmith's Liquid Motion Bubbler, Original Silly Putty, Schylling Classic Tin Kaleidoscope, and the Light-Up Rail Twirler.
Or how about Smethport Wooly Willy Original Toy. Don't forget Triangles Water Game, the original handheld game, and this mini Simon (you remember that one?).
And everyone has fun doing old school arts and crafts with Shrinky Dinks Minis Mermaids.
Speaking of classic toys, there's a new Tamagotchi and the Pound Puppies are back!
Start a sticker collection with a cute Sticker Book and 400+ Lisa Frank Stickers Collectors Set. Also find colorful Alaskan animal stickers at Alaska Wild & Free.
Encourage imaginative play with Velvet Animal Finger Puppets, Plastic Cat Figures, pretend tools, and play food sets.
Small plush toys are always a hit too. Foodie Roos are cute stuffed animals that smell like snacks. Sweet Pups are pastries that transform into yummy smelling doggies.
My kids also love Squishmallows in all sizes.
Get outside and burn off energy with a Disney Princess Sofia the First Kids Jump Rope. You'll hear them coming down the street with the Spokester Bicycle Noise Maker.
These Strap On LED Fingers are interesting.
Keep your kids in the habit of talking and sharing stories with TableTopics family conversation starters. Or they can ask the Magic 8 Ball.
Have a makeover with Nylon Hair Pieces and Spa Hair Chalk Pens. Also have fun with cupcake shaped lip gloss, Superhero slap bracelets, and Mermaid flip sequin slap bracelets.
More ideas include toothbrushes, nail polish, silly socks, and flavored lip gloss.
Blind bags and surprise tins are also fun. Some examples of ones you can find at popular department stores and online include: LOL Surprise Scrunchies and tins, Baby Shark mini tins, Ryan's World pocket watch, and Pikmi Pops Surprise.
I go back and forth on whether or not I want to wrap stocking stuffers. Kids can't see what's in there, like giving them a gift bag, but it takes them longer to open everything if each present is individually wrapped.
Do you wrap stocking stuffer gifts for your children?
More Christmas gift ideas: