Does your child love princesses as much as mine do?
Want an easy way to share a message or joke with your kid when you pack their school lunch?
We have a festive printable that is perfect for writing lunch box notes or to use as holiday gift tags.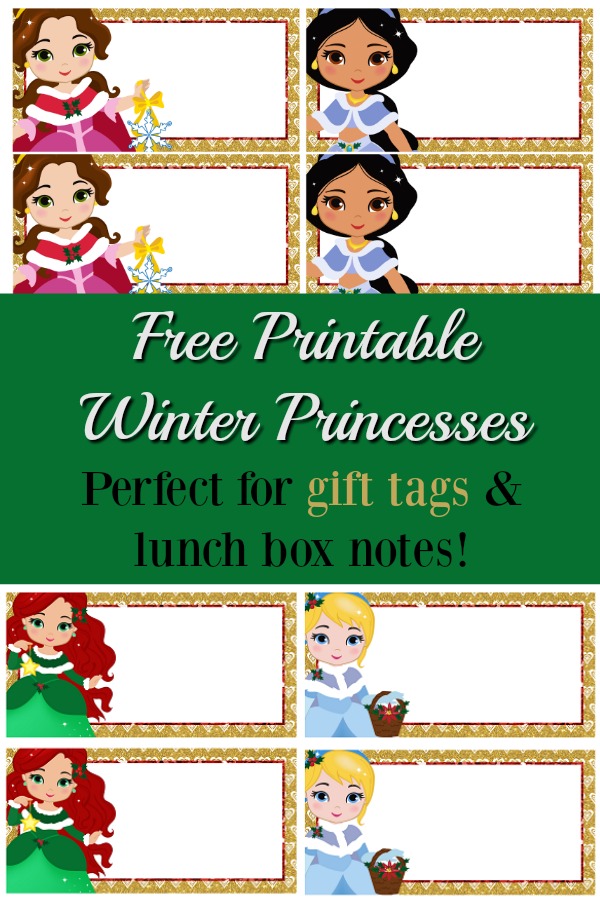 Free Printable Holiday Princess Lunch Box Notes
I originally planned for these to be blank lunch box notes that you could write on, but realized they work wonderfully as holiday gift tags too!
The princesses are dressed in warm winter dresses and have festive accessories that are perfect for wintertime.
This printable set contains three pages total. There are five tags (or lunch box notes) of each of the following princesses: Cinderella, Ariel, Belle, Jasmine, Aurora, and Snow White.
They print 10 tags to a page. I think they look best printed in color on card stock paper.
Winter Princess Tags
Subscribe to receive these printable tags plus our weekly newsletter with tips, resources, and access to new printables.
How to use as lunch box notes
Make sure you download and save the printable PDF file.
Print out however many sheets you need on either card stock paper or regular printer paper.
Cut the notes out individually and write a message on them.
Stick them into their lunchbox or backpack!
You could also use them to leave little notes to your child anywhere – on the bathroom mirror, on their bedroom door, the possibilities are endless!
How to use as holiday tags
Make sure you download and save the printable PDF file.
Print out however many sheets you need on card stock paper.
The the tags out individually and write who the gift is to and from.
Tape on the outside of the present or use a hole punch to tie it on with a ribbon. Using ribbon is a great choice for attaching these to gift bags.
These printables are for personal use and classroom use only. Share this post with someone who would like to sign up for access to their own set.
We hope you enjoy using these holiday princess printables for special lunch box notes and holiday gift tags. If you think of other fun and creative ways to use them, we'd love to know about it!
More holiday printables you may enjoy:
Princess Christmas Wish List Printable
Disney Inspired Holiday Princess Printable Gift Card Holders
Joy and Peace Free Printable Holiday Cards
Printable Christmas Games Coloring Workbook
Subscribe
Get weekly sanity saving parenting tips, recipes, and kids activities.