Make Christmas morning fun for the kids with this Christmas scavenger hunt! Grab the printable clues at the bottom of this post and get some ideas on how to use them.
What is your favorite family Christmas tradition?
Do you read through the Christmas storybooks, make a special pancake breakfast, or travel to Grandma's house to spend the day together?
Traditions are wonderful and can add excitement to the holidays when life can feel rather hectic. They can also help when we're grieving during the holidays.
This year, along with your family's usual Christmas morning traditions, consider using these Christmas scavenger hunt ideas! We also have a fun Disney themed Right Left gift exchange game.
Ideas for a Christmas Scavenger Hunt
In my house growing up, we really didn't have many traditions, but I clearly remember the ones we did year after year.
For example, we always opened one gift on Christmas Eve. It could be fun to use this scavenger hunt for Christmas Eve, turning the opening of one gift into a mini game.
One of the things I like about this activity, is it makes the time together feel longer and more engaging.
This is a fun way to lengthen exchanging gifts, especially if you don't have a lot of presents under the tree. We never liked to rush through opening gifts and this is a fun way to slow it down.
The older I get, the more I appreciate it.
Christmas traditions—whether simple and relaxed, big and extravagant, or something in between—the time you spend participating in activities together create valuable memories.
It's the thoughtful intention to gather and share in something special that counts.
This fun-filled and suspenseful game is sure to bring out the curious and adventurous side of kids and parents alike.
Print out these clues for a Christmas scavenger hunt to search for presents, stockings, or additional treats!
You could choose a theme around Christmas characters, nativity animals, Christmas gift items, or Christmas candy.
You can use the clues to lead to another clue then finally a gift or special surprise at the end.
Or, use each clue to lead to something. Then give the kids all of the clues at once and let them figure them out in any order.
Feel free to get creative on where to find the answers. For example, the riddle about "an elf chiming" could refer to jingle bell anywhere in your home or on the tree.
Another idea is to create your own riddles and clues to go along with the ones we provided. If one doesn't make sense for your family, you can skip using that one or modify it.
We hope you'll enjoy using our Christmas Morning Scavenger Hunt printable to create new memories!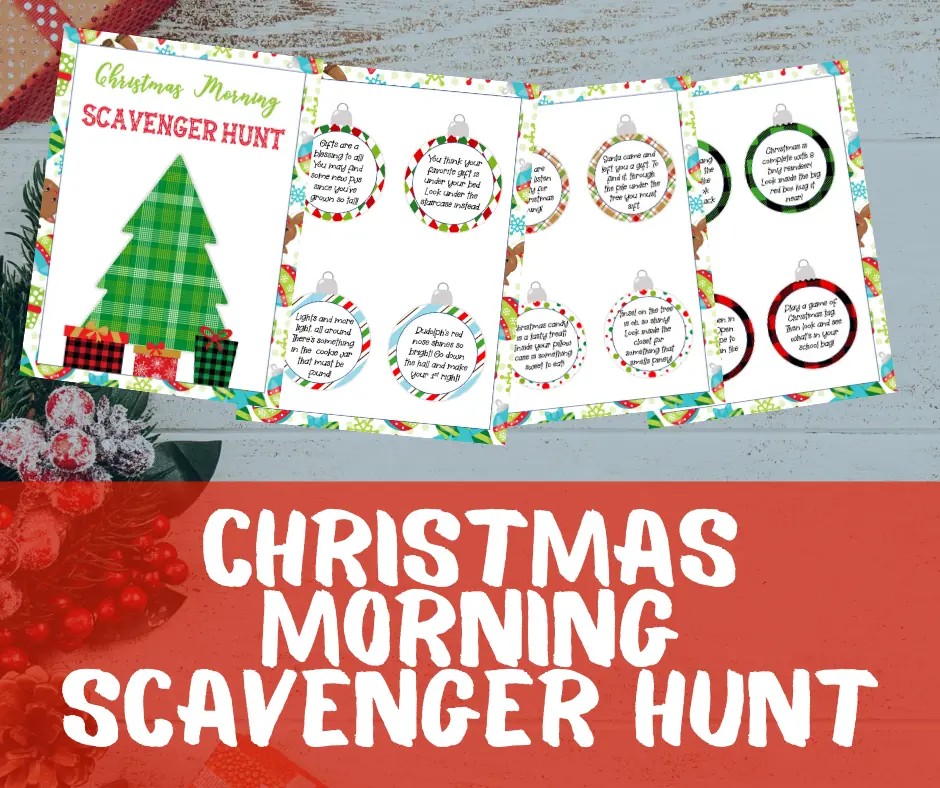 Printable Christmas Scavenger Hunt Clues
Download the Christmas Scavenger Hunt. (Click to save it)
Print and cut out the Christmas scavenger hunt riddles on card stock for better durability.
Set the items around the house for your children (and maybe their cousins too) to find.
Parents or kids can read the riddles aloud on the cards one at a time then take turns finding the items.
More Christmas Activities: