Are you looking for tween girl gift ideas? These tween girl gifts are perfect for Christmas, birthdays, and other special occasions.
Shopping for girls ages 8-12 can be tricky. They are starting to lose interest in receiving new toys, and are developing their own particular style.
When my daughter turned 9 years old, it struck me how much her Christmas wish list changed since she was a little girl.
So, I've pulled together some ideas to help you shop for the tween girls in your life while I'm also shopping for mine!
A big thank you to the companies that provided some of these items to us.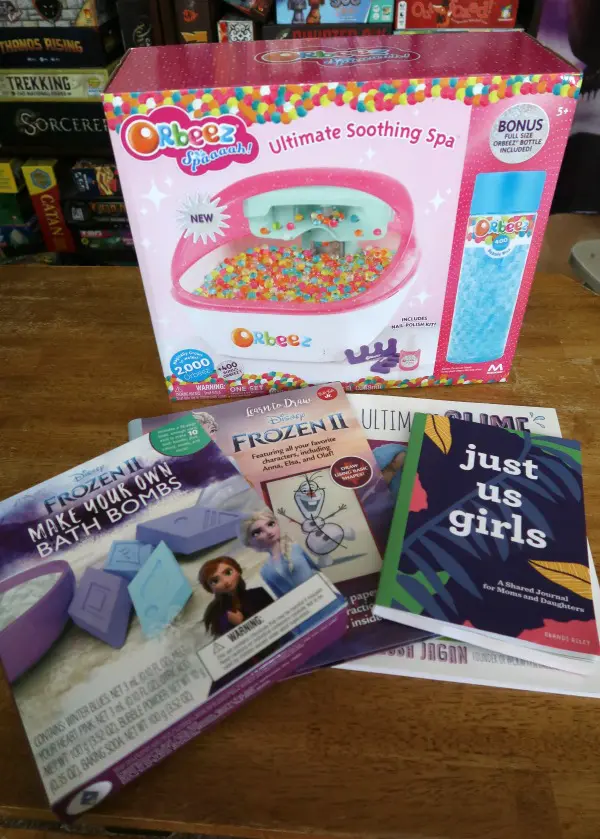 This post contains affiliate links. As an Amazon Associate and a participant in other affiliate programs, we earn a commission on qualifying purchases.
13 Gifts for Tween Girls
Just Us Girls Journal
Connecting with our girls is incredibly important, especially throughout the tween and teen years. Journaling is great anyway, but I love this Just Us Girls: A Shared Journal for Moms and Daughters.
It's filled with prompts to get you sharing and connecting and is a fantastic way to strengthen the mother-daughter bond.
Wrap the journal up with a new set of gel pens and a Peekaboo pencil pouch.
Laser Cut Personalized Name Wall Art Kit
These custom name wall art kits by Pew Pew Lasercraft are a great way to show off your tween's personality.
Choose a font to have their name laser cut and one of the decoration themes, such as VSCO girl, rainbows, sports, etc. They will enjoy painting and assembling it for display on their bedroom wall.
Get free shipping with my code LWDBSHIP when you order.
Headphones
A good pair of headphones or earbuds are a must. They are great for travelling as well as at home while playing video games or watching videos on their tablet.
These headphones fold up for easy storage and look cute with cat ears on top.
Nintendo Switch
Does the tween girl you're shopping for like playing video games? My daughter loves using our Nintendo Switch. It's so easy to connect it to the TV or take it on the go (including to her room or while lounging on the couch).
A lot of games can be purchased digitally so you don't even have to worry about keeping track of the cartridges. If you need a few video game ideas, my daughter enjoys Minecraft, Just Dance, and Stardew Valley. Not sure what game to get? You can also give a Nintendo eShop Gift Card.
Goldie Blox STEM Kits
Encouraging a girl's interest in science is incredibly important and the Goldie Blox kits are perfect. The projects are interesting and let tweens explore tech, engineering, and art. Here are a few of the kits we're interested in trying:
Ultimate Slime: Extreme Edition Book
Ultimate Slime: Extreme Edition is the perfect book for tween girls who love to make slime. This book has over 100 Borax-free slime recipes from basic slime to more advanced recipes such as color changing slime.
Orbeez Foot Spa
Give her the gift of a spa day at home with the Orbeez Foot Spa. It's a fun and relaxing way to spend the afternoon. The Orbeez beads cascade over the feet like a soothing waterfall.
Bailee's Nail Box
Bailee's Nail Box was created by a tween girl for girls who love doing their nails. Each box includes fun nail designs, nail polish, and cute accessories. You can gift a single box or a 3 month subscription.
Frozen 2 Bath Bomb Kit
This Frozen 2 Bath Bomb Kit comes with ingredients, plastic molds, and step-by-step instructions to guide junior scientists in creating bath bombs inspired by their favorite Frozen 2 characters, such as Anna, Elsa, Olaf, and Kristoff.
Once they master the traditional bath bomb recipe, they can move on to more advanced experiments, such as Anna's Candy Bath Bombs and Kristoff's Crystal Ice Bath Bomb.
Learn to Draw Disney FROZEN 2
If your teen loves the movie Frozen and likes to draw, then Learn to Draw Disney Frozen 2 is the perfect gift for them! This book features step-by-step drawing exercises and teaches three different methods on how to draw your favorite Frozen 2 characters.
And if they prefer to color, grab these printable Frozen 2 coloring pages.
Alex Hair Color Gel
Does she like experimenting with her hair color and style? This hair color gel is a fun way to put some temporary color in her hair.
Stuffed Animal Bean Bag Chair
Does she have a large collection of stuffed animals? They are hard to part with, but can take up a lot of space. Now she can put her beloved plushies inside one of these stuffed animal toy storage bean bag chairs and use it as a place to relax.
They have cute ones that look like unicorns, dogs, and pandas as well as solid color options.
Cross Stitch Kit
Let her explore a knew crafty hobby with a cross stitch kit.
The Feminist Stitches Cross Stitch Kit includes twelve fun and original patterns featuring various designs and quotes that have been popularized by the feminist movement, plus the supplies needed to make two finished projects. The book offers step-by-step instructions with full-color photographs of the finished projects.
There are also plenty of other beginner cross stitch kits with other themes to choose from!
Bonus Gift Idea: Cash and Gift Cards
Honestly, you can't go wrong with giving a tween girl cash or gift cards that they can use towards books, movies, games, clothes, or something else they may be saving towards.
Unless you know which stores they prefer, Amazon and Visa gift cards are perfect. If you want to make gifting cash a little more fun, you could give it to them in a money puzzle.
For gift cards or money, you could also attach it to a large chocolate bar or a bag of their favorite candy.
More Gift Ideas: