Are you searching for toys that aren't just fun, but educational too? If so, these STEM gifts for kids could be the toys you need.
Since 2013, STEM toys have risen in popularity. They help engage children in science and build a foundation for learning more complex concepts in the future.
What does STEM stand for? It's short for Science, Technology, Engineering and Math. You may also hear the term STEAM which also includes Art.
STEM activities and toys are designed to give kids the skills they need in these core subjects. You may also like these hands on science activities.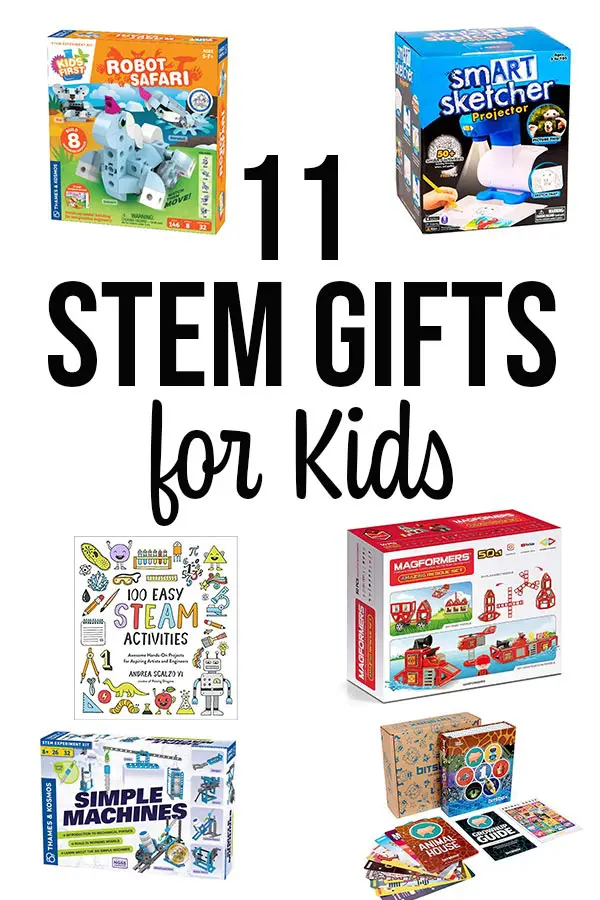 What are the benefits of STEM toys for kids?
While there are a lot of educational toys out there, not all of them are designed to boost STEM skills. So, what males STEM toys different?
There are a lot of benefits of giving your children STEM gifts for Christmas and their birthday. They can teach your child a lot of traits and skills they won't necessarily get from other toys, such as:
Problem solving
Patience
Cooperation
Cognitive development
Overcoming challenges
STEM based toys will also help your child to learn begin learning about specific core subjects through play. So, by the time they start learning these subjects in school, they'll already have a good foundation for understanding the concepts
For example, coding is a language and learning a new language is easier to do as a child..
There are a lot of STEM toys available on the market and not all of them offer the same educational and fun element as others.
11 Top STEM Gifts Children Will Love and Learn From
Here are some of our suggestions of STEM and STEAM based gifts. We're thankful for receiving some of these toy gifts from brands so we can share them with you.
This post contains affiliate links. As an Amazon Associate and a participant in other affiliate programs, we earn a commission on qualifying purchases.
Whether you're hoping to teach them coding, or you're looking for a model building set that will aid in their core development skills, there is something on the list below to suit you.
BitsBox
My son requested Bitsbox for his birthday this year, so I bought a 3 month subscription as a gift. The first box just arrived recently and he is so excited!
Bitsbox is a subscription box that teaches kids ages 6-12 years old how to code apps. It's great for boys and girls and they don't need any previous coding experience. It comes with several app projects each month, plus a guide for an adult helper.
The first box includes a binder to store all the project cards and each month introduces a new computer science concept. I love that the kids learn by copying the provided app commands and also how to modify it to make it their own.
100 Easy STEaM Activities Book
Have a curious little learner that's eager for hands-on activities? They will love the 100 Easy STEAM Activities Book because it is chock full of fun learning projects.
Kids will have a blast learning early ideas in chemistry, physics, computing, color-mixing and so much more with projects that use common household items and require little adult supervision.
Ooze Labs: Colorful Crystal Lab
Explore different crystals and how they are made with this Colorful Crystal Lab set! My kids loved watching the progress of our crystals forming. Since we started homeschooling this year, we incorporated this set into our science activities.
The lab station comes complete with beakers, test tubes, centrifuge, display dome, and safe, non-toxic crystal salts to conduct more than ten experiments in crystal formation. You can even make red, pink, blue, purple, and clear crystals using the spinning centrifuge!
One thing we noticed is our crystals took much longer to form than indicated in the instructions, so if you don't see anything for a couple days – just wait!
Magformers Amazing Rescue Set
My kids absolutely love playing with the original Magformers, which are magnetic shapes you can build with. Now you can expand upon creative play by clicking and creating your own adventure with the Magformers AMAZING Rescue 50-Piece Set!
Build a fire station and fire truck, add wheels and fire accessories. This 50 piece set comes with 24 magnetic pieces, 2 characters and emergency vehicle accessories and much more to keep the city safe. It's great for children 3 years and older.
This set is STEM accredited by STEM.Org. It's perfect for brain development, critical thinking and education. Kids are free to construct with the Magformers as they wish, but the set also includes a step-by-step educational idea booklet with follow along ideas and instructions.
The Amazing Rescue Set is also a 2020 Toy of the Year Award Finalist!
Simple Machines
This Simple Machines set is great for kids 8 years and older. They will learn mechanical physics and all about how simple machines are used to make complex tasks easier to do.
Through building and experimenting, kids will discover how physics is all around us. The seesaw at the playground, the wheelbarrow in your backyard, the flagpole in front of your school — all of these are examples of simple machines in the real world!
Through 26 model-building exercises, children will investigate all six classic simple machines — wheels and axles, levers, pulleys, inclined planes, screws, and wedges — as well as gears.
They will start off with simple models to gain a firm understanding of the basic principles at play, and then move onto larger, more complex models to push the machines harder and see how they can work together.
This kit also includes a specially designed spring scale so that you can measure how the machines change the direction and magnitude of forces, making work easier to do.
Robot Safari
Build a series of adorable, motorized robotic animals with Robot Safari, an introductory mechanical engineering kit for kids ages 5 to 7. It comes with a beautifully illustrated 32-page storybook that centers around the adventures of the Omegas, a family of makers and engineers.
Remus, the family's robotic teddy bear, gets separated from the rest of his family and embarks on a fun-filled safari adventure.
Along the way, Remus encounters eight different robotic animals from all over the globe: a polar bear, cat, narwhal, crab, fox, baby llama, unicorn, and sea otter.
As they follow the story, kids can build models of these animal robots and experiment with them to see how each one uses the battery powered motor and mechanical parts to move in a different way.
SMART Sketcher Projector
The smART sketcher™ Projector empowers kids to turn photos from their smart devices into pictures they can draw! By using the free smART sketcher™ app, pictures are filtered and transferred via Bluetooth to the projector. It then projects the image onto paper where they can trace and color it like a pro.
Kids can also choose to draw from a pre-loaded SD card that is filled with a variety of images and activities including step-by-step drawings, learn-to-write letters and numbers, early spelling skills, and more.
I love how it combines creativity and learning for a variety of uses!
You can also get extension packs with themed pictures, as well as letters, numbers, spelling activities, and even cursive writing based on all national curriculum standards.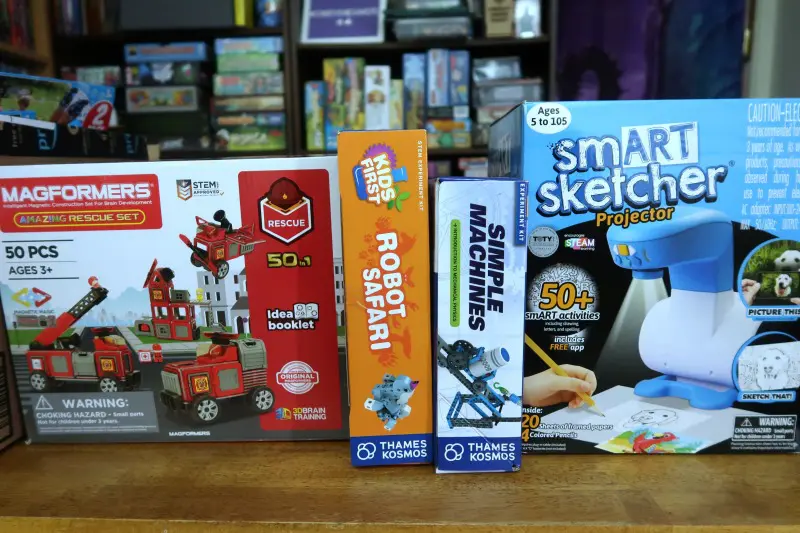 Scientific Explorer My First Mind Blowing Science Kit
The My First Mind Blowing Science Kit is aimed at children ages 6+ with adult supervision. This awesome science kit teaches the basics of science in a fun, hands-on way. Featuring 11 unique activities, your kids will have hours of fun carrying out mind-blowing experiments.
Help your kids create an explosive color-changing volcano, a stunning test tube sunset and watch in amazement as they change the color of grapes! All of the experiments can be carried out at home using the items provided plus a few simple household items.
National Geographic Break Open Geodes
Do you have a budding geologist on your list? Teach your kids all about geodes, how they are formed and the different varieties that can be found in nature, with this exclusive geode kit from National Geographic.
It comes with 10 high-quality geodes, a learning guide, and a couple display stands. The whole family can enjoy cracking them open to reveal the hidden crystals inside.
The geodes range from the size of a tennis ball to the size of a ping pong ball, and all have been mined from numerous sources. Every geode is different too, so you'll never know whether you're about to crack open a calcite, amethyst, quartz or fluorite.
K'Nex 100 Model Building Set
This Amazon exclusive K'Nex 100 model building set comes with a staggering 863 pieces. The K'Nex connectors and rods can be put together in a variety of ways, enabling kids to create a huge range of shapes, structures and figures.
What sets this kit apart, is the fact it comes with numerous moving pieces allowing kids to create structures that actually move. An instructional booklet is also provided, showing you how to create 100 different models.
What better way to work on fine motor skills, hand-eye coordination and spatial awareness?
Botley the Coding Robot Activity Set
Botley the Coding Robot is an incredibly cute robot by Learning Resources. It is designed to teach kids as young as 5 years old early STEM skills in a fun, interactive way.
Botley grows with your child and can be used for many years to come. They will learn screen-free coding in a matter of minutes, using an easy remote programmer.
Included with Botley, is a 77-piece activity kit including coding cards, a remote programmer, 27 obstacle building pieces and detachable robot arms. There's also a great starter guide and numerous coding challenges included.
Beginner Microscope Kit for Kids
While this microscope for kids is not technically a toy, it is a great gift idea. This 52 piece microscope kit is designed for kids to use.
It comes with a carrying case, slides, petri dish, etc. It even includes Brine Shrimp Eggs allowing children to observe their life cycle!
STEM toys are fast gaining in popularity and it isn't hard to see why. Helping to teach your child the modern skills of today, these toys may set them up for a potential future science based career.
So, which STEM toy will your child love and learn from? Whichever one you invest in from this list, I'm sure your child will love it.
More Learning Activities for Kids:
More Gift Ideas for Kids: