We love engaging in fun and educational projects that entertain as well as educate kids. One such project is the Balloon Air Pressure Experiment.
This experiment is specifically designed to ignite the curiosity of young minds. While this experiment does require your guidance and supervision, rest assured that it will be an enjoyable experience for both you and the children.
You can find even more fun, easy science experiments to do at home in our free 30 Day Science Activity Planner for Kids.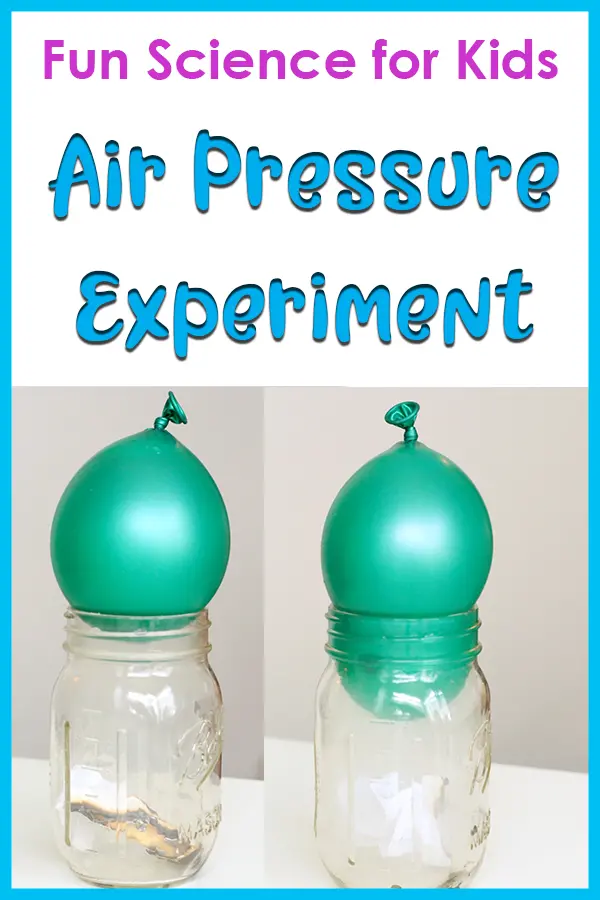 What can you do with a balloon, a match, a piece of paper, and a jar?
Learn about air pressure, of course!
This fun science experiment shows kids how air pressure works, and what happens when the air pressure inside a jar is changed. Kids will be fascinated with how the balloon is sucked right into the jar.
The Balloon Air Pressure Experiment has proven to be a fantastic choice for science fair projects, especially those focusing on air pressure.
By delving into the intricacies of this experiment, the kids will gain a deeper appreciation for the wonders of science and its practical applications.
Fun Science Activities for Kids
Beyond the Balloon Air Pressure Experiment, there are many other exciting science activities for budding young scientists.
These ideas not only spark curiosity but also get kids interested in science by encouraging them to explore, learn, and have fun with science.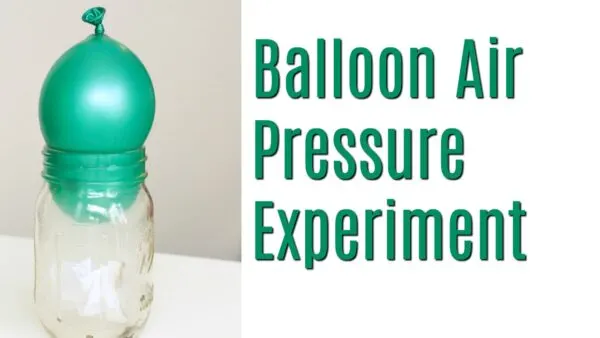 Why is Science Important for Kids?
Science plays an essential role in children's education, paving the way for them to understand the world around them. It cultivates curiosity, fuels their inquisitive nature, and encourages analytical thinking.
Science aids in developing skills like problem-solving, logical reasoning, and decision-making, which are not only beneficial in academics but also critical for life outside the classroom.
For example, if the kids are working on a Straw Rocket STEM Challenge, they might test out different rocket designs and compare their results.
Moreover, through science, children learn that failure is a part of the discovery process and it can lead to more significant breakthroughs, teaching them resilience and perseverance.
By fostering a strong foundation in science early on, we lay the groundwork for future innovators, thinkers, and problem-solvers. Which is important because we need more kids to pursue science careers.
Recommended Science Books
Discover the world of science through the myriad of books specially curated for young minds. Here's a list of recommended science books that will fuel curiosity and deepen your child's understanding of the world around them.
This post contains affiliate links. As an Amazon Associate and a participant in other affiliate programs, we earn a commission on qualifying purchases.
My First 100 Science Words: The New Early Learning Series from the #1 Science Author for Kids (Padded Board Books, Gifts for Toddlers, Science Board Books for Babies) (My First STEAM Words)
The Everything Kids' Science Experiments Book: Boil Ice, Float Water, Measure Gravity-Challenge the World Around You!
Awesome Engineering Activities for Kids: 50+ Exciting STEAM Projects to Design and Build (Awesome STEAM Activities for Kids)
Science Book, The: Everything You Need to Know About the World and How It Works
Balloon Air Pressure Experiment Supplies
Before diving into the exciting world of the Balloon Air Pressure Experiment, it's important to remember that safety comes first.
This particular experiment involves elements like fire from matches, which can be dangerous if not handled properly.
Therefore, it's strongly recommended that children only observe this experiment, and an adult should conduct the demonstration.
Ready for the demonstration? Here's what you'll need:
With these supplies at hand, you're all set to explore the fascinating concepts of air pressure in a visual, engaging, and memorable way.
Remember, the goal is to learn and have fun, but always within safe boundaries.
How to Conduct a Balloon Air Pressure Experiment
Fill the balloon with water until it becomes too large to fit inside the jar and rests on top.
Demonstrate to the children how the balloon cannot pass through the opening. Then ask the kids the following question: Do you think it's possible for the balloon to enter the jar?
Using the matches (or a lighter), ignite a piece of paper and drop it into the jar. Then place the balloon on top.
The balloon will start to tremble slightly and then be pulled into the jar. It may not be fully sucked in, but should go about halfway.
Once the fire extinguishes and the jar cools down, challenge the children to remove the balloon. It will require some effort to free it!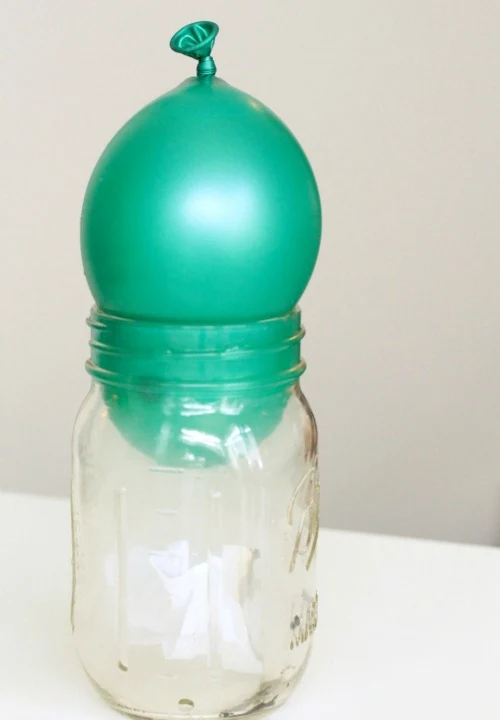 If you want to make this experience even more enjoyable for your children, allow them to draw on the balloons before filling them with water.
Assign each child their own balloon and repeat the experiment multiple times. This will give you an opportunity to observe which balloon worked best or was the most challenging to remove.
Although all balloons should function similarly, there may be slight variations, and children will delight in the competitive spirit.
What is Air Pressure in Science?
Air pressure in science refers to the force exerted by the weight of air onto a surface. This is also known as atmospheric pressure.
It is an essential concept in the study of weather, as changes in air pressure can lead to changes in weather patterns.
At sea level, the average air pressure is about 14.7 pounds per square inch, but it can vary depending on altitude and weather conditions.
In our experiment, the heat from the burning paper caused the air inside the jar to expand, reducing its pressure.
The higher pressure outside the jar then pushed the balloon into the jar, demonstrating how air pressure can move objects.
How to Use an Air Pressure Experiment to Teach Kids
The balloon is drawn into the jar due to air pressure. When the piece of paper is heated, it generates hot air that escapes around the balloon. This escaping hot air causes the balloon to initially shake.
However, because the balloon is made of latex it creates a seal and no fresh air enters the jar, creating a low-pressure system inside. Consequently, the balloon is pulled into the jar.
Incorporating air pressure experiments into homeschool lessons is an excellent way to educate children about this phenomenon. It seamlessly complements weather studies for learners of all ages.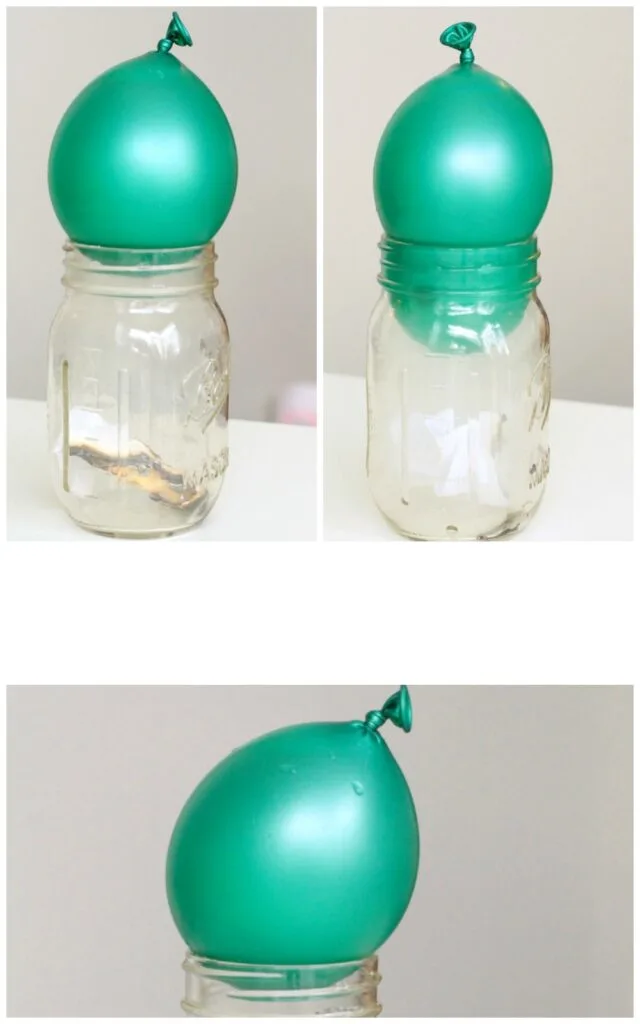 Weather Systems: Extend the experiment to demonstrate how low- and high-pressure systems affect weather. Explain that when air heats up, it expands and creates a low-pressure area, similar to the jar.
This is often associated with warmer weather and possibly rain. Conversely, cooled air contracts, creating high-pressure areas often associated with colder and clearer weather. Show that the balloon being sucked into the jar is similar to air being drawn into low-pressure areas, causing wind.
Mountain Climbing: Use the experiment to discuss why it's harder to breathe at higher altitudes. Explain that as you ascend a mountain, air pressure decreases, making the air thinner and harder to breathe.
Communicating Weather Forecasts: Use the experiment to help children understand why and how weather forecasts are made. They can also use a printable weather wheel to help compare and discuss forecasts and the current weather conditions.
Then discuss how meteorologists use barometers to measure air pressure and predict weather changes.
Draw parallels between the jar experiment and the pressure readings on a barometer: higher pressure (balloon out of the jar) usually means good weather, while lower pressure (balloon in the jar) could mean a storm is coming.
Fun Science Kits for Kids
Check out these fun and educational science kits available on Amazon. They offer a hands-on approach to learning and make scientific concepts tangible for children.
NATIONAL GEOGRAPHIC Break Open 10 Premium Geodes
NATIONAL GEOGRAPHIC Magic Chemistry Set
Big Bag of Backyard Science
Einstein Box Science Experiment Kit For Kids
More Easy Science Activities to Do at Home
Ready for more explorations in science right at your doorstep? Let's look into an exciting range of simple, yet intriguing science activities that you can effortlessly set up at home to further ignite your child's curiosity.
Exploring science with hands-on activities like the balloon and jar air pressure experiment brings the subject alive for kids.
These activities not only nurture their curiosity but also provide them with a solid understanding of scientific concepts.
Whether it's delving into meteorology or understanding the nuances of mountain climbing, home-based science experiments make learning an engaging and enjoyable process.
So, why wait? Turn your home into a mini science laboratory and let your child's scientific journey begin!
Balloon Air Pressure Science Experiment
Estimated Cost:
$10 or less
Have kids observe and learn about air pressure with this science experiment using a balloon and a glass jar.
Materials
Balloon
Water
Glass Mason Jar
Paper
Matches
Instructions
Fill the balloon with water so that it is just too large to fit down inside the jar and rests on top.
Show the kids how the balloon won't fit through the opening. Ask the kids if they think it is possible for the balloon to enter the jar.
Light a piece of paper on fire and drop it into the jar. Place the balloon on top.

The balloon will start to shake a bit, then be sucked into the jar. It probably won't be sucked in all the way, but about halfway into the jar.

Once the fire dies and the jar cools, have the kids see if they can pull the balloon out. It will take a bit of work to get it loose!
Notes
This science activity requires adult supervision.