Balloon Air Pressure Experiments for Kids
We love doing fun projects that also teach the kids. These Balloon Air Pressure Experiments for Kids are ideal for keeping kids happy with a project while teaching them basic science!
While this is an experiment you'll need to help with and supervise, it is going to be one you will enjoy as much as the children.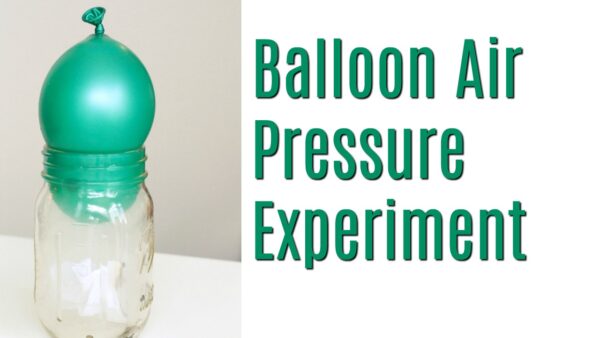 This post contains affiliate links. We may earn a commission if you make a purchase at no extra cost to you.
Balloon Air Pressure Experiments for Kids
What can you do with a balloon, a match, a piece of paper, and a jar?
Learn about air pressure, of course!
This fun science experiment shows kids how air pressure works, and what happens when the air pressure inside a jar is changed. 
This science activity is perfect for preschool and kindergarten children. Even with supervision required, they will love learning with this cool experiment!
Safety Note: Because this activity uses fire, children should only observe this experiment, not do it on their own.
Kids will be fascinated with how the balloon is sucked right into the jar.
Supplies for Air Pressure Experiments:
Paper
Matches
Steps of Air Pressure Experiments:
Fill the balloon with water so that it is just too large to fit down inside the jar and rests on top.
Show the kids how the balloon won't fit through the opening. Ask the kids if they think it is possible for the balloon to enter the jar.
Light a piece of paper on fire and drop it into the jar. Place the balloon on top.


The balloon will start to shake a bit, then be sucked into the jar. It probably won't be sucked in all the way, but about halfway into the jar.


Once the fire dies and the jar cools, have the kids see if they can pull the balloon out. It will take a bit of work to get it loose!
If you want to make this even more fun for your children, let them try to draw on the balloons prior to filling with water.
You can assign each child their own balloon and do the experiment over and over.
This gives you a chance to see which balloon worked best or was most difficult to remove.
While they should all work the same, there may be slight differences, and kids will love the competitive spirit.
How to use Air Pressure Experiments to teach children:
The reason the balloon is sucked into the jar is due to air pressure.
When the piece of paper is heated, it creates hot air, which escapes around the balloon.
The hot air escaping is what makes the balloon shake at first.
But because the balloon is made of latex, no new air enters the jar, creating a low-pressure system inside the jar, which sucks the balloon inside.
Teaching your children about this phenomenon with air pressure experiments is ideal for fitting into various homeschool lessons, as well as simple play time.
It goes hand in hand with weather studies for all ages!
Even if you just do this as a fun playtime idea with your kids after school or on the weekends, it is a wonderful education element.
I love teaching with playtime, and this is definitely a great idea everyone will love.
More Science Experiments for Kids:
Melting Rainbow Preschool Science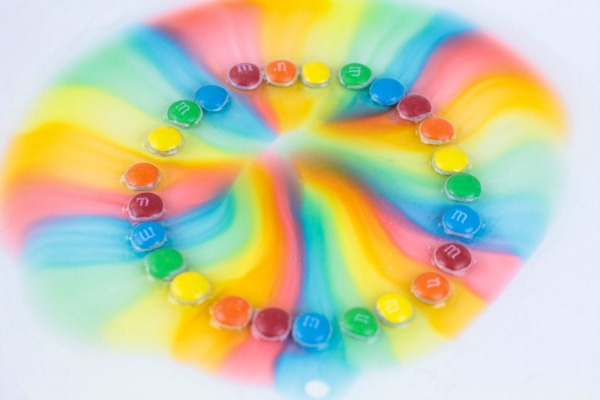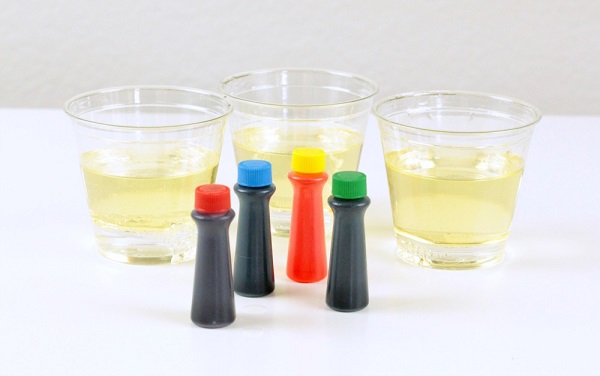 Oil and Water Color Mixing Lab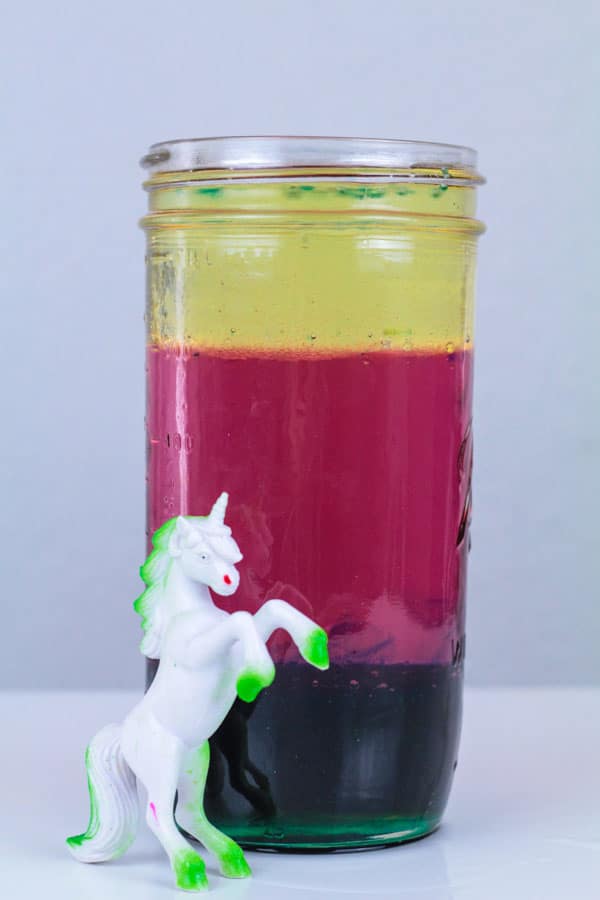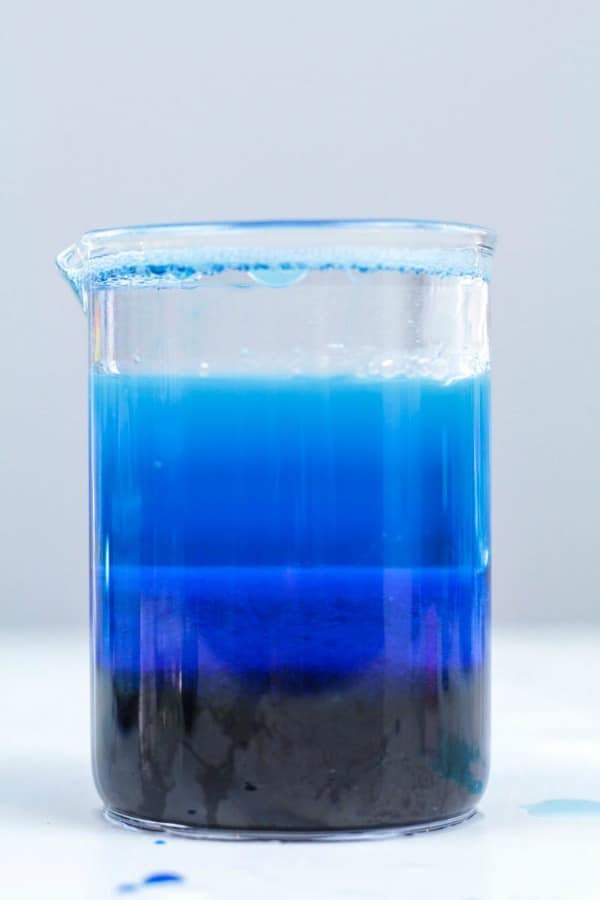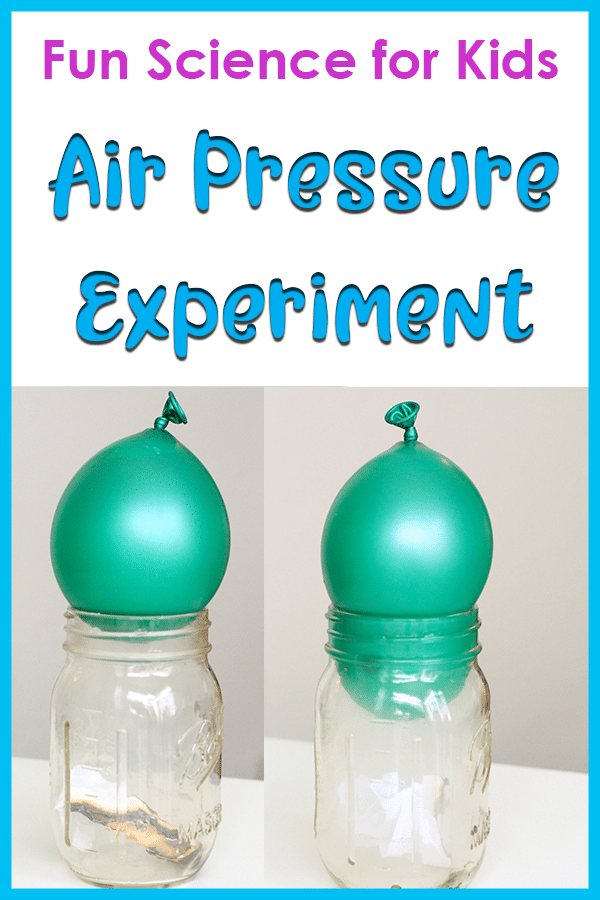 Subscribe
Get weekly sanity saving parenting tips, recipes, and kids activities.