Women's History Month is a time to reflect on the women before us who have contributed to society, culture, science, and the world.
Here is your chance to introduce your child to important women in STEM who have made significant contributions to society, culture, science, and ultimately the world.
These 29 Women in STEM printables depict coloring pages of women from a variety of time periods along with handwriting practice and a short blurb about their STEM contributions.
Use these free printables during Women's History Month or any time throughout the year to reinforce the notion that women have been making history for ages despite not always receiving credit for their work.
Looking for more activities like this? You may also want to check out our Black History Inventors printable pages, perfect for a Black History morning basket.
This post contains affiliate links. As an Amazon Associate and a participant in other affiliate programs, we earn a commission on qualifying purchases.
What is STEM?
The fields of science, technology, engineering, and mathematics (STEM) have come into the limelight in recent years as educators and parents have begun to recognize that girls from a young age must continue to be encouraged to enter typically male-dominated fields.
Shannon Palus, senior editor at Slate Magazine sums it up, "Young girls know that stars, dinosaurs, bugs, and volcanoes are magic. The problem is that day-to-day life in a patriarchal culture makes it hard for women to study them."
One of the best ways to encourage girls in science is to see themselves represented in different STEM careers.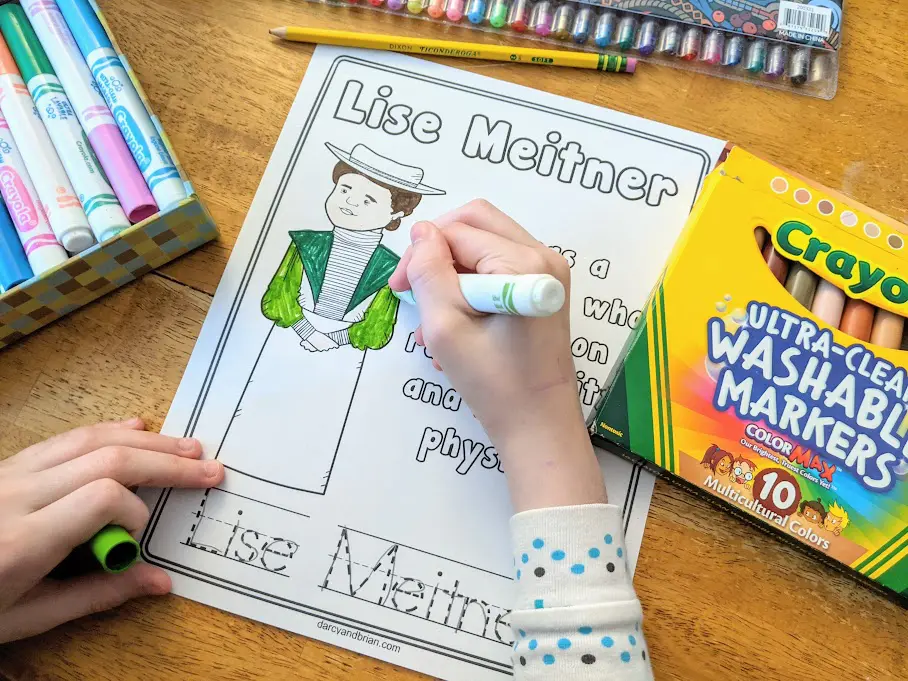 29 Women in STEM Your Child Should Know
If you'd like to introduce your child to women in STEM, these printables are the perfect tool.
Covering courageous women from the time of pharaohs in Ancient Egypt, Qing Dynasty in 1644 through the advent of satellite radio in 2008, these notable women in history printable coloring pages offer a great jumping-off point for following historical rabbit holes with your kids.
This set of women in STEM printable pages is file 130 in our resource library. (Fill out the form at the bottom of this post to receive the password for free access.)
Women in Computer Programming Throughout History
If your child is interested in learning computer programming, couple the coloring pages for computer programmers like Betty Holberton, Ada Lovelace, Evelyn Boyd Granville, and Grace Hopper with activities from the Hour of Code or Scratch websites.
If you have a child who wants to be famous and get into acting or dancing, consider introducing them to Hedy Lamarr, the glamorous actress who not only starred in countless films but was also a successful inventor who brought us wireless technology.
Pair the Hedy Lamarr printable with picture books to learn more. Hedy and Her Amazing Invention by Jan Wahl or Hedy Lamarr's Double Life by Laurie Wallmark are great options.
NASA, Astronomy and Space Exploration
Use the Women in STEM printables to create a Space Exploration Unit Study. You and your children will be able to explore NASA, SpaceX and the stars and planets with the printables highlighting several out of this world, women in history.
Introduce The Race to The Moon with this article from National Geographic Kids while learning about Margaret Hamilton who was part of the NASA Apollo Team.
While the 50th anniversary of the moon landing has passed, these projects from NASA Jet Propulsion Laboratory make great supplemental activities.
Mars Perseverance Rover recently launched so that may be at the forefront of many kids' minds, but now is a great time to also celebrate Diana Trujillo, the Mars Curiosity Rover Mission Lead.
Trujillo is also a familiar face your children may remember during the Perseverance Rover landing coverage. Check out the NASA Mars for Kids page to learn more.
Pair printable coloring pages of the notable women at NASA with activities from the Kennedy Space Center Educator Resources.
This printable set include the likes of Mae Jemison, Sally Ride, Katherine Johnson, and rocket scientist Annie Easley.
Finally, round out your orbit through space by learning about astronomers, Vera Robin and Hypatia. Download the Skymap app and head out to explore the stars from the comfort of your own backyard.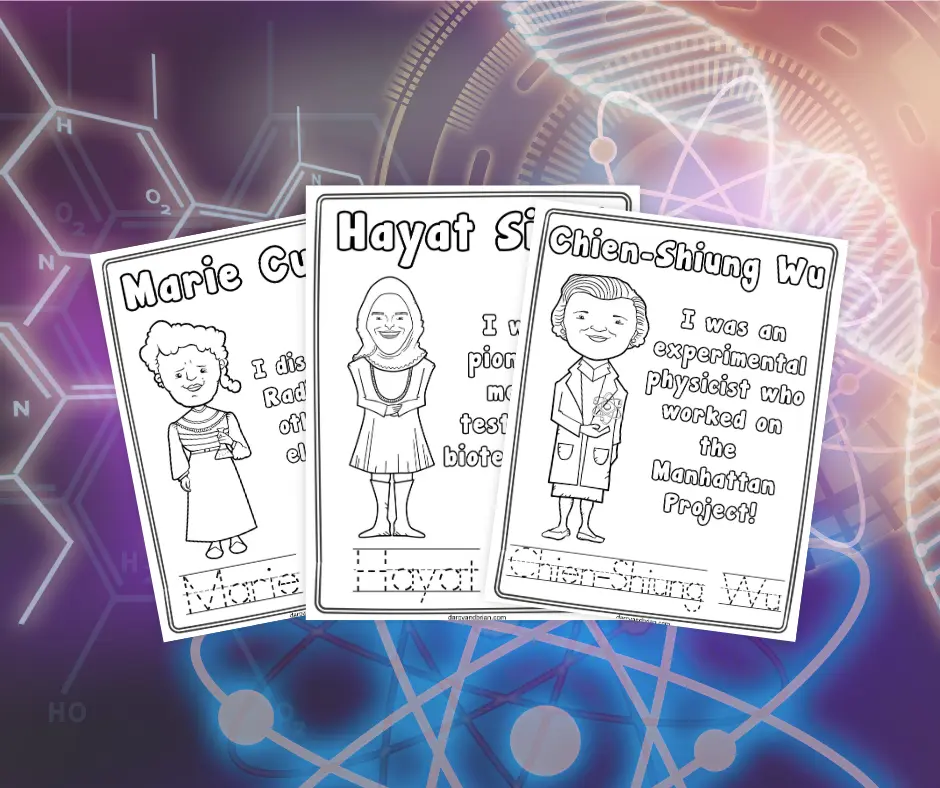 Notable Women in Chemistry and Physics
Be sure to grab your Periodic Table of Elements Lift the Flap Book from Usborne. It's a great supplement as you learn about notable women in chemistry and physics.
Such as Alice Ball, Rosalind Franklin, Marie Curie, and Chien-Siung Wu, the experimental physicist on the Manhattan Project.
You may wish to explore The Manhattan Project if your children are older and have an interest. Khan Academy offers a thorough explanation in easy-to-understand terminology. The Manhattan Project and the Atomic Bomb lesson is part of a larger series entitled, Rise to World Power, WWII.
Other Notable Women in STEM Across Multiple Disciplines
There is a huge overlap in Science, Technology, Engineering, and Mathematics. Beyond chemistry, physics, space exploration, and computer science, there are countless other fields where women have contributed in extraordinary ways.
The remainder of the Women in STEM printables set includes notable women like Julia Bowman Robinson, the first female president of the American Mathematical Society, and Maggie Gee, the first Chinese-American Woman in the Air Force during WWII.
Additional Women's History Learning Resources:
Use these printables to introduce remarkable women and their noteworthy contributions during Women's History Month. You may also wish to incorporate them throughout the year.
Sharing these women's stories and experiences will inspire and motivate your children.
It may also teach them to be curious and look beyond what is in their textbooks to find the women and minorities working behind the scenes and help bring their stories to light.
Get the Free Women In STEM Printable Pack
More Science Activities for Kids: