Looking for fun Christmas activities for kids in preschool or kindergarten? This adorable Christmas tree sorting activity is an easy hands-on printable learning activity for young children.
Engaging kids in play helps them develop a variety of skills, which is one reason why we love to create activities like this Christmas tree size sorting game. It makes a great no prep holiday math center activity for kindergarten students.
Find out the benefits of sorting activities and the types of skills it helps kids work on then grab the printable at the bottom of this post.
Benefits of This Christmas Tree Sorting Activity
This Christmas Tree Sorting Activity not only adds a festive touch to learning but is also a fantastic way for young learners to enhance their understanding of different sizes.
As preschoolers sort the adorable Christmas trees into categories of big, medium, and small, they're strengthening their cognitive skills, particularly in the areas of logic, reasoning, and spatial awareness.
Moreover, the game encourages recognition of sizes in a fun and engaging manner, which also aids in developing their fine motor skills as they handle the printable Christmas trees.
Is Sorting a Math Skill?
Sorting may seem like a simple activity, but it is an important early math skill for preschool and kindergarten children to work on.
Hands on sorting activities allow them to learn how to recognize similar objects and practice grouping them together.
This provides a foundation for building on math skills, such as grouping number sets, when they are older.
Developing a child's sorting skill will help them recognize patterns and easily make matches. This becomes important for solving more complex math equations later.
For this activity, they need to look at the different tree tokens, compare them, and categorize them as large, medium, or small.
This post contains affiliate links. As an Amazon Associate and a participant in other affiliate programs, we earn a commission on qualifying purchases.
ABCaptain Counting Animal Matching Game with Sorting Cups
Ocean Adventure Memory Games for Kids
SPARK INNOVATIONS Animal Matching Cards
Disney Classic Characters Matching Game by Wonder Forge
Hasbro Gaming Trucks Matching Game
Chuckle & Roar – Matching Game Alphabet – Board Game for Kids
More Preschool Math Activities
Are you searching for a wide range of enjoyable and engaging preschool math activities? It's crucial to provide young learners with a variety of stimulating experiences to foster their mathematical development.
By offering a diverse collection of printable games for kids, we can create an exciting learning environment that promotes their mathematical skills while keeping them entertained.
Check out these ideas to discover more simple math activities for preschool and kindergarten students that will spark their curiosity and love for numbers!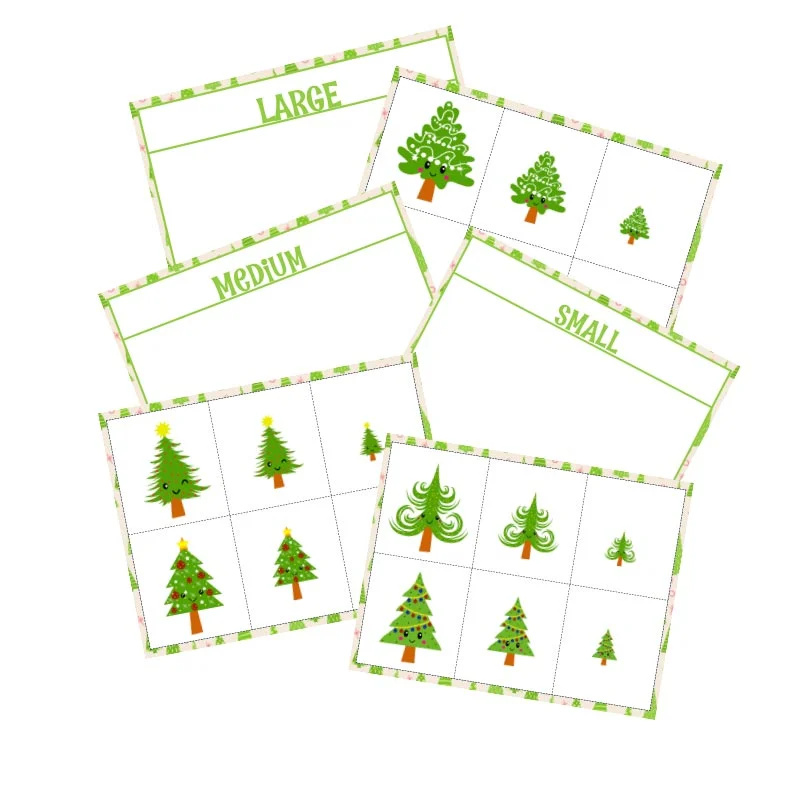 What's Included In the Christmas Tree Sorting Activity Printables
This printable activity includes three mats and each one is labeled with a size: Large, Medium, Small.
There are also six sets of cute Christmas Trees with faces. Each set includes a big, medium, and small tree token. Cut these out ahead of time for a very low prep activity.
How to Play the Christmas Tree Size Sorting Game
Our printable Christmas tree sorting game perfect for incorporating the holidays into big and small sorting activities.
If using this in a classroom setting, I recommend using a laminator machine and laminating the mats and tokens before cutting them out.
Mix up the Christmas tree tokens and ask your child to sort them by size onto the correct mat.
You can easily adjust the difficulty of this activity for toddlers and younger kids as needed. For example, you can lay out just the Large and Small mats and tokens to start with and then later add in Medium too.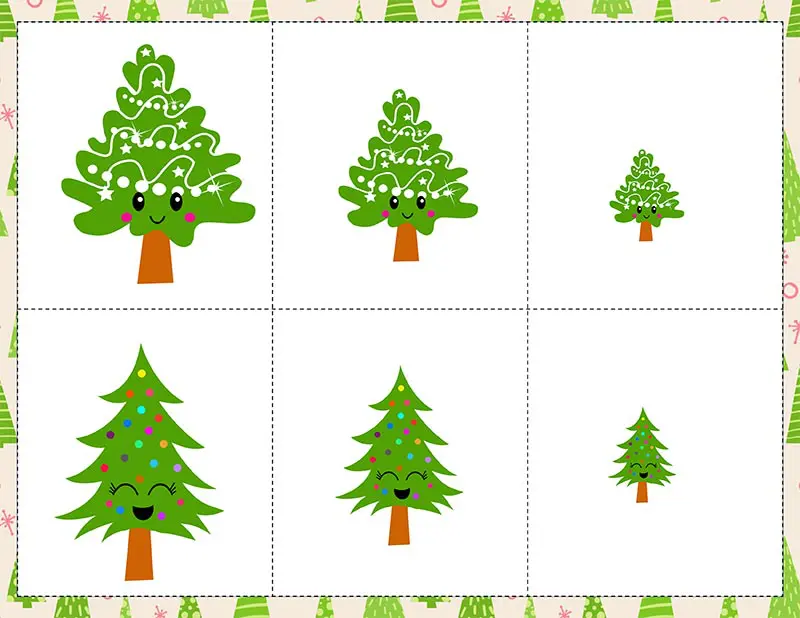 Melon Rind Jump 1 Game – Adding and Subtracting by 1, Math Game for Kids (Ages 5 and up)
Gamewright Qwixx – A Fast Family Dice Game Multi-colored, 5
Sleeping Queens Card Game, 79 Cards
Adsumudi Math Game – The Monstrously Fun, Smart Game for Kids to Practice Multiplication, Division, Addition and Subtraction – Great for Kids Ages 8-12
Proof! Math Game – The Fast Paced Game of Mental Math Magic – Teachers' Choice Award Winning Educational Game, Ages 9+
Math for Love Prime Climb
OTHER SORTING GAMES YOU MAY LIKE:
These learning games help kids work on a variety of skills such as colors, grouping and classifying, fine motor, and sorting.
More Christmas Learning Activities for Kids
Need more delightful, Christmas-themed learning activities that are perfect for both at-home and in-classroom fun?
These are incredibly easy to use as morning work or in Christmas themed centers! One of our top picks is the Christmas Tree Roll and Cover Dice Game. This game challenges kids to roll a dice and cover the corresponding number on the Christmas tree, boosting their number recognition and counting abilities in an exciting way.
Another engaging game is our Christmas Roll and Color Dice Game – a perfect blend of number learning and entertainment, where children roll dice and color the Christmas-themed image with the matching number.
Don't forget about our sensory play activities too – our Christmas Playdough Recipes are a big hit among kids! These recipes allow you to create a variety of playdough that smells like different Christmas scents, providing a sensory-rich and fun experience that also boosts fine motor skills.
So, get ready to make learning fun, festive, and engaging with our free printable Christmas Tree Size Sorting Activity! It's not only a charming holiday pastime, but it's an excellent way for your little ones to grasp the concept of sizes and enhance their sorting skills.
With a touch of Christmas magic, these cute, friendly-faced trees will bring endless enjoyment and valuable learning experiences. Don't miss out on this opportunity to make arithmetic truly exciting for your kids this holiday season!