Did you know that women fill about 47% of all US jobs, but women only fill about 24% of STEM based jobs?
Statistics clearly show there is a gender gap in math and science based careers, which makes it extremely important to encourage girls to be interested in science.
According to a U.S. Department of Commerce report, women with STEM degrees are more likely to work in education or healthcare than a STEM occupation.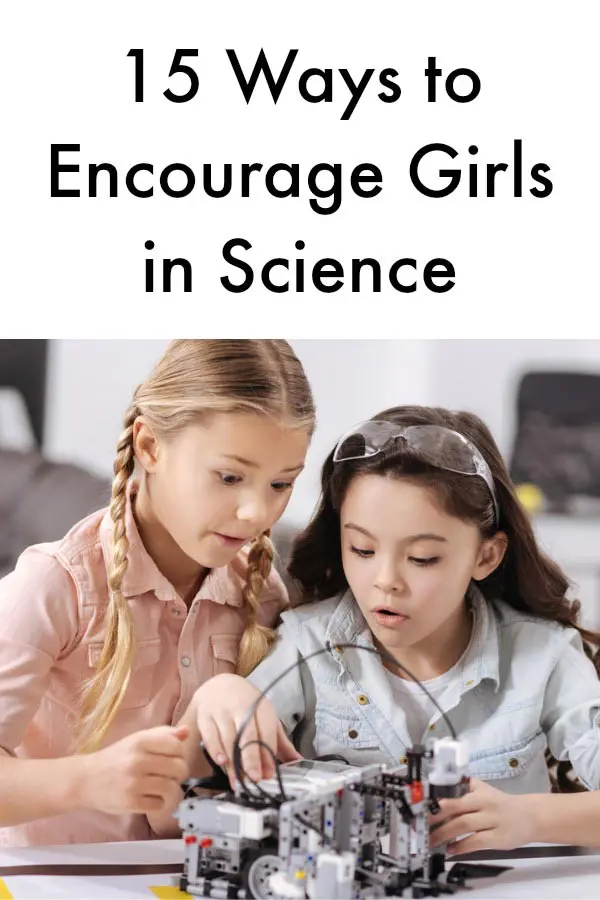 15 Ways to Encourage Girls in Science
This post contains affiliate links. As an Amazon Associate and a participant in other affiliate programs, we earn a commission on qualifying purchases.
I love to provide my kids with a variety of learning opportunities and I know it's important to combat gender stereotypes about careers and activities.
When I was researching ways to keep my daughter excited about STEM, I came across this new study in the journal Psychological Science. It found girls were more engaged when asked to take action and "do science" instead of thinking about their identity as "being a scientist."
I thought it was really interesting how a slight modification on how we present these opportunities can make such a difference.
Below are several ways to help encourage girls in science, technology, engineering, and mathematics. Several of them are action based too.
Take her to science museums
Museums with hands-on learning are engaging and you can see which exhibits she is drawn to the most.
We love taking our kids to Discovery World in Milwaukee, Wisconsin. There are so many different things to interact with such as learning about sound, gears and pulleys, and more. One of our favorite stations is making paper cones fly.
A couple other fantastic places in the Midwest include the Science Museum of Minnesota (perfect to visit while staying in Roseville) and the Museum of Science and Industry in Chicago.
Read books featuring women in science careers
It's important to look for books that feature both real women leaders in science as well as fictional characters in STEM roles.
Here are a few book suggestions: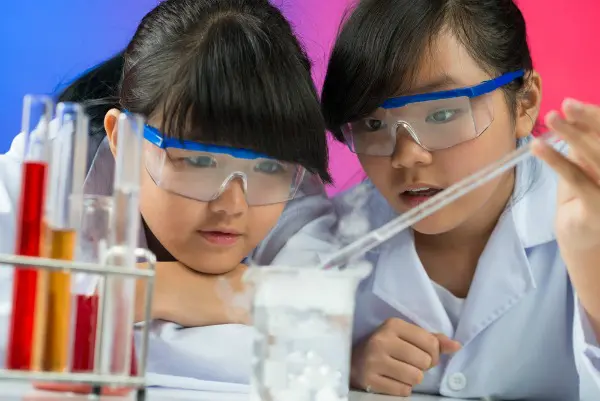 Show other media examples of women in STEM
Show her pictures articles, and videos of women scientists, engineers, and other STEM-based careers.
The more she sees female leaders in STEM jobs, the more she can see herself there as well.
Look for posters of women in science, they are perfect to hang up in girls' rooms and in classrooms too.
When the first pictures were taken of a black hole? I made sure to let my daughter know that a female scientist played a crucial role in that.
We love watching SciShow Kids on YouTube. They make engaging videos for kids featuring a woman named Jessi.
Another channel to check out is Physics Girl with Dianna Cowern, which covers physics, astronomy, and other science topics.
Play video games and board games
Playing games can help pique curiosity about how they are made plus there are games that cover a variety of educational skills and themes.
Minecraft is a great way to get girls thinking about engineering as they build in a virtual world.
In fact, playing video games is how my daughter became more interested in computer science. She enjoys participating in Hour of Code and playing other coding games.
I always recommend playing board games because there are so many educational benefits including improving math skills and problem solving. As her skills increase, she feels more confident.
There are also a variety of board games that include science and engineering.
For example, you may not think of Pandemic the board game as being capable of teaching girls about science.
However, it's a opportunity to discuss the science behind how diseases spread and the teamwork that goes into researching and treating them.
Plus, the game art features both women and men in prominent scientific roles.
Provide STEM toys
The more opportunities girls have to explore and participate in STEM learning, the better. There are lots of STEM toys and science kits for kids.
Any building blocks or LEGO bricks are great to offer, but isn't this women in NASA LEGO set awesome?
Enroll in STEM activities
Check your local library for STEM activities such as a LEGO Club.
Also look for community activities and summer camps with a science focus.
Our city's rec department offers a few different STEM programs during the summer.
Don't forget to sign up for your school science fair too!
Work on science projects tailored to her interests
My daughter loves unicorns, so what do we do?
We find a way to incorporate them like in this unicorn density tower experiment and this unicorn sensory bin with oobleck.
Another fun activity is making and testing these Fizzy Valentine Bath Bombs.
I've also seen Harry Potter-themed chemistry classes offered on Outschool.
By finding a way to combine your daughter's interests with science-based activities she will be more engaged and excited.
Do STEM activities at home
Make it a family activity! There are so many ways to do STEM experiments and activities at home.
Remember what I said earlier about girls responding better to action and actually doing science?
She'll have fun observing the butterfly life cycle and doing balloon air pressure experiments with you.
There are many ways to get girls involved in science using things from around the house, such as this oil and water color changing lab.
Positive attitudes towards smart girls
It's common for people to label smart girls as "geeks," and therefore different from other girls, even less desirable.
While some of us have learned to embrace such labels, we know how difficult it can be for teens who want to be accepted by their peers.
Schools and society as a whole need to applaud and reward academic ability and not just try to churn out girls who are "nice" and people-pleasers.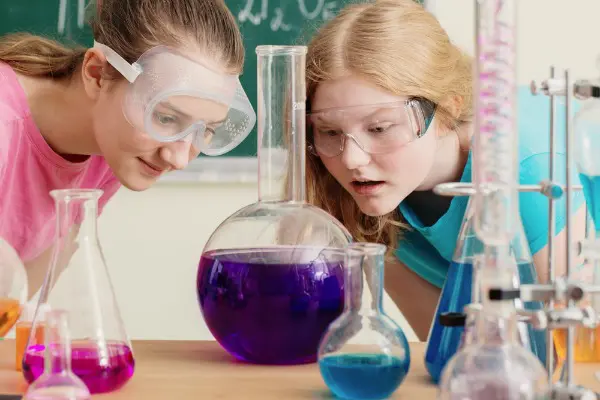 Positive attitudes towards girls in science and math electives
As students transition from elementary school to middle and high school, they have a number of class choices they can take.
Girls tend to be pushed into arts subjects and don't always get a chance to do chemistry or physics.
If there is an accelerated program for math and science, they often get passed over, even when their grades are as good if not better than the boys.
Allow girls to learn from their mistakes
Even when girls are allowed to enroll in math and science subjects, at the first hint of a problem, they are often encouraged to drop the course and take something easier.
Some students take longer than others to grasp concepts. It is also the teacher's job to support every student in their class who is struggling and encourage them to reach out for assistance.
Encourage girls to be more career orientated
We need more kids interested in pursuing science jobs, but they need to know what those careers are and what the academic path looks like.
A lot of boys know what they want to be when they grow up, either through their own choice, or that of conversations with their parents and teachers.
If girls are interested in those careers, especially engineering, they may not feel comfortable sharing that with their peers. They may be discouraged from pursuing a science career (purposely or inadvertently) by others.
Girls in high school and college should focus on taking classes that will help them achieve their goals and cut out the fluff.
Encourage enrollment in AP classes
An Advanced Placement course in high school in physics or calculus will be difficult, true, but it can also earn college credits.
I took AP classes in calculus and American government along with a few honors classes. I'm glad my teachers encouraged me to register for them.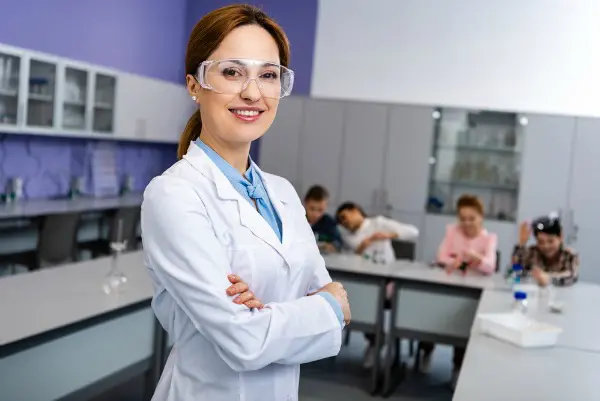 Expose them to female role models
Schools can invite alumni, female leaders in STEM, or local professional women to come and talk about how they reached their goals in life and attained their careers.
The more models for success girls have, the more they will be encouraged that they can be successful in science, math and technology too.
Offer additional help and support
Whether your daughter is excelling in her classes or needs a little extra help, additional support is beneficial.
Parents can pay for additional tutoring, or perhaps an online course.
Teachers can give lunchtime and after-school support, where girls can ask questions informally.
A science club is always a fun way to engage students and can foster a real love of science.
These ideas can make a real difference to girls' attitudes to science, as well as to society's attitude to girls studying science.
You May Also Like These Science Activities for Kids: