Every year I look forward to planning spooky Halloween party food ideas because plain ol' appetizers won't do.
All year round I collect ideas for Halloween themed food and Halloween decorations. It's our favorite holiday! Don't miss our DIY Monster Eyeball Light Craft – it'll add a bit of creepiness to your party table.
Some of these ghoulishly good treats would be perfect to serve during a family Halloween movie night too!
I had a blast throwing my daughter's first Halloween birthday party. For the last few years she picked her own birthday party themes, but I always try to incorporate a little bit of Halloween fun into them.
I mean, she loves to wear her costumes at her parties and her theme usually revolves around her Halloween costumes.
25+ Halloween Party Food Ideas
Let's start with the different Halloween treats you are going to make.
A lot of treats involve caramel, chocolate, peanut butter, and all sorts of other ingredients that taste delicious but don't make for the healthiest snacks.
It is possible to incorporate some of these yummy elements and keep the treats healthy. I like to offer a balance of indulgent and healthy party foods.
5 Healthy Halloween Treats
To do this, I start by making fruit or vegetables as one of your main components.
Look at all the different ways you can make delicious Halloween finger foods by using fruits and vegetables (which make these great options for Halloween school snacks):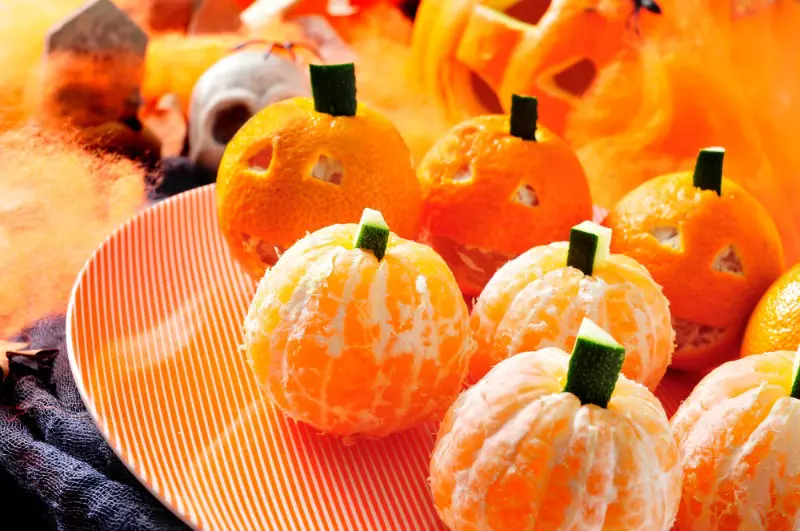 Tangerine pumpkins
The first option is to make some tangerine pumpkins. These actually use only fruit and a little bit of celery.
You are going to take tangerines and remove the skin entirely, but keep the tangerine itself intact.
Once the skin is removed, simply cut a small piece of celery to put in the top of the tangerine, and you have yourself a little fruit pumpkin.
White chocolate ghosts
These ghosts can be made in two different ways; with strawberries or with bananas.
For the bananas, they work best when you purchase small bananas and cut them in half.
The end of each banana piece becomes the 'head' of the ghost. Make sure you remove the banana peel of course.
With strawberries, rinse them and remove the stem.
Take your fruit piece and dip it into the melted white chocolate until it is completely covered.
Set it on a piece of parchment paper and use any type of candy decoration for the ghost's eyes.
Wait for the chocolate to harden or put the tray into the fridge to speed up the process.
Pretzel and cheese witch broomsticks
This is a really fun snack to serve at a Halloween party.
They are healthy, easy to make, and kid-approved.
All you need are long pretzel sticks and Mozzarella string cheese.
Cut the string cheese into about 4-5 pieces, then cut into each one so you can flare them out to make the end of the brooms.
Press the pretzel stick into the cheese as the broom handle, and you have yourself witch broomsticks.
Mozzarella fingers
Another snack you can make with mozzarella cheese is a mozzarella finger.
Just take a cheese stick and cut it in 2 or 3 pieces, depending on how long you want the fingers to be. Cut a rounded tip as a finger, then cut some shallow lines for the knuckles.
Cut any fruit you like into fingernails (or slice almonds), then press them into the top of the cheese.
Honey or peanut butter works well at making it stick (though beware of using peanut butter if sending these to school).
Candy corn fruit cups
This is one of the healthiest Halloween treats on the list. All you need are small clear cups, orange fruit, yellow fruit, and reduced fat whipped topping.
Put the orange fruit on the bottom, followed by the yellow fruit, followed by the whipped topping.
The layers make the cup look like candy corn.
Ghoulishly Good Halloween Desserts Ideas
A Halloween party isn't complete without spiders and bats! And don't forget vampires either with our cute vampire cupcakes.
The kids will love these Spiderweb Halloween Donuts from Little House Big Alaska, Spooky Halloween Spider Donuts from Frugal Mom Eh, and Chocolate Oreo Spider Pies from Life Love Liz.
These Mini Chocolate Bat Bites from Chelsea's Messy Apron and Chocolate Bat Biscuits from Simply Stacie are great choices too.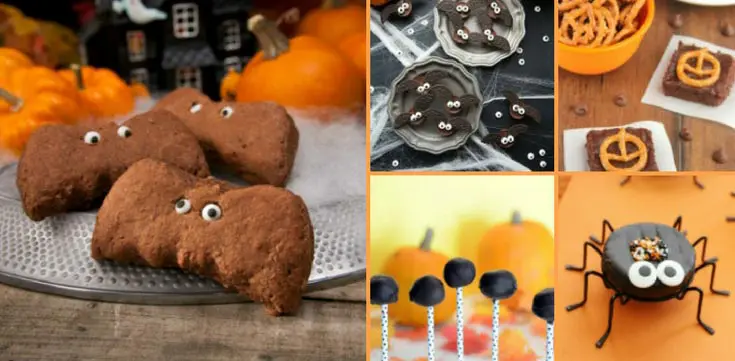 I love how quick and easy it is to make these Halloween Cupcakes from Homeketeers and these Easy Halloween Sandwich Cookies from Around My Family Table.
If you like candy corn, then you'll want to try our Candy Corn Puppy Chow or this Vanilla Cake with Pumpkin Buttercream and Candy Corn from A Mother Thing.
Homemade Spooktacular Mickey Mouse Halloween Cookies from Six Time Mommy are perfect for little kids and aren't scary at all. Halloween Pinwheel Cookies from The Simple Parent are also a delightful option.
Spooky Marshmallow Witches from Teaspoon Of Goodness are incredibly cute and clever.
They aren't just for Easter anymore, make Marshmallow PEEPS Cookie Sandwiches from Sally's Baking Addiction.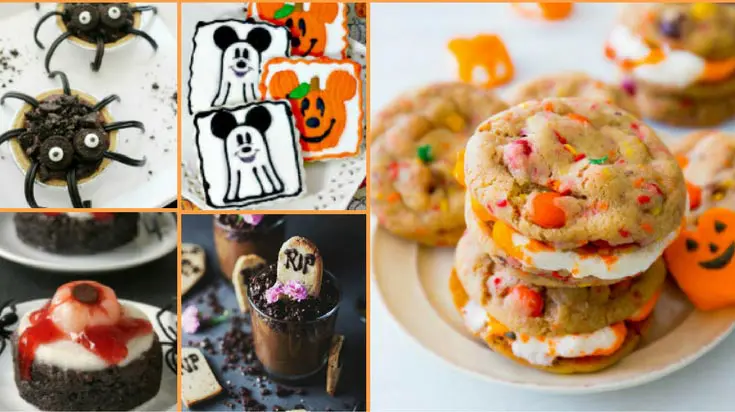 Prefer vegan Halloween recipes? Try Vegan Candy Corn from Chocolate Covered Katie, Vegan Pumpkin Chocolate Chip Cookies from Vegan Richa, and Nakd Graveyard Mousse Pots from Wallflower Kitchen.
Don't forget classic fall favorites such as Caramel Apples from Serena Bakes Simply From Scratch. Make Homemade Mini Caramel Apple Suckers from Ginger Casa to give out as party favors.
For you pumpkin lovers, try Paleo Pumpkin Cake Pops from Elana's Pantry, Pumpkin Pretzel Halloween Brownies from Amy's Healthy Baking, or our easy Pumpkin Fudge recipe.
Spooky Halloween Food Ideas
If you want creepy Halloween food ideas, then serving a variety of eyeballs and other questionable fare is super entertaining.
These Bloody Eyeball Brownies (paleo, gluten-free) from Texanerin Baking and Body Parts Pudding from Whiskey + Sunshine should do the trick!
I don't like party food that's overly scary, but I like to make it fun for kids and adults alike.
A budget friendly and easy way to serve spooky food and drinks at your Halloween party is to dress up how they are served.
For example, at my daughter's first Halloween birthday party we served Sloppy Joe's Brains, Mummy Dogs, and Cemetery Swamp Cake (a twist on classic dirt cake).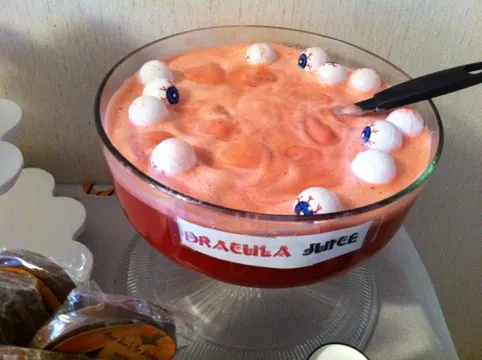 The punch had floating plastic eyeballs in it, which we called Dracula Juice. Using creepy decorations and giving things Halloween themed names helped set the mood.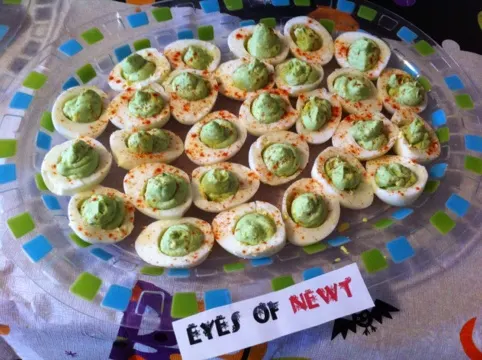 Eyes of Newt – I was particularly proud of my Eyes of Newt appetizers. They are deviled eggs with green food coloring, sprinkled with paprika. Turn them into Witch's Eyes by adding a slice of black olive in the center.
Our Halloween spaghetti also makes for a fun pasta dinner or sensory play for kids.
We hope these Halloween party food ideas helped you plan a frightfully fun party and got you thinking outside the box on how to serve spooky treats.
The healthy Halloween treats are perfect for school parties too.
More Halloween Posts You May Like:
Don't forget to save this list of Halloween desserts and food ideas on Pinterest!
Maleficent Party!
Download our Maleficent printables party pack and receive our weekly newsletter with tips, resources, and access to new printables.