25 Creative Fall Pumpkin Decorations You Want to Have
Pumpkin decorations are the perfect fall decor because they work well for Halloween and Thanksgiving. Think outside the traditional Jack-O-Lantern with these fun and creative pumpkin crafts!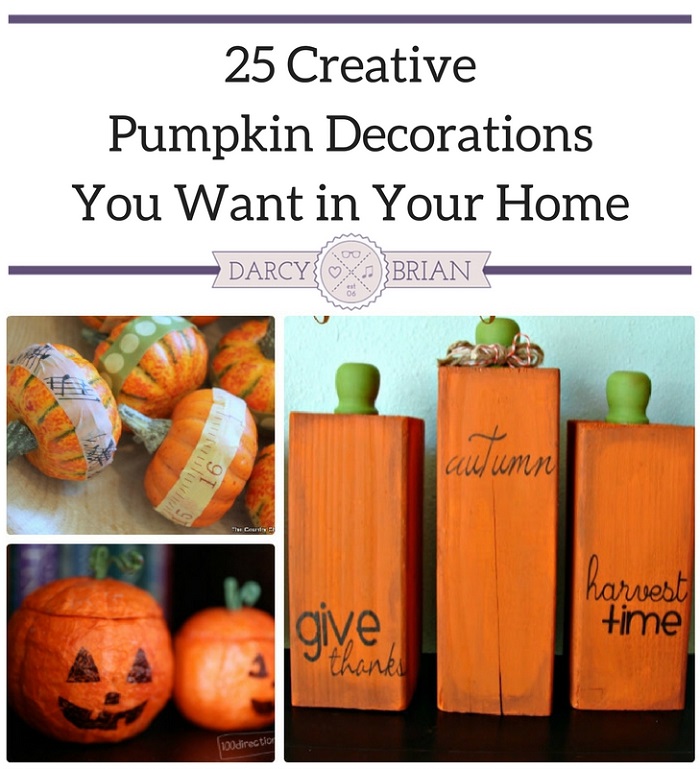 This post may contain affiliate links.
Every year, we go to the pumpkin patch with the kids. Sometimes we carve them. Last year, I had the bright idea to paint our pumpkins. The kids enjoyed this project, but it didn't go as smooth as planned. Due to the frosty weather, the paint started peeling off the next day. Next time, I'll get fancy with craft pumpkins, not the real thing! Then I can put it out every year with the rest of our Halloween decorations.
25 Creative Fall Pumpkin Decorations
We hope you are inspired by these cool pumpkin decorations to create your own amazing fall decor. Pick one of these projects and make it a family activity! The kids will love it.


Save on Pinterest
You may also enjoy:
Subscribe
Get weekly sanity saving parenting tips, recipes, and kids activities.
Written by
darcy
Darcy lives outside of Milwaukee, Wisconsin with her husband, their 8 year old daughter, 6 year old son, two cats, and a rescue dog. She loves to share kids crafts, simple recipes, and parenting tips to help other moms. She's passionate about education (which is why she is a PTO board member and Box Tops Coordinator) and all things babies. Darcy loves purple, geek culture, and making an ordinary life feel extraordinary. She and her family enjoy exploring Wisconsin and planning local adventures. Author of Breastfeeding 101: Beauty in Breastfeeding, available on Amazon. Her writing has also been featured on Babble, CafeMom, and Mom.me.
View all posts by: Darcy Zalewski