Are you looking for easy allergy-friendly snack ideas to take to school or have at a birthday party? As one of the unfortunate members of the kids-with-allergies club, we understand how important it is to keep other kids safe while attending play dates or school. When my older daughter started preschool, it wasn't just her allergies I had to be on the lookout for anymore, but also her classmate with nut allergies. That severely limited our already limited options of prepackaged snacks to send in for the class.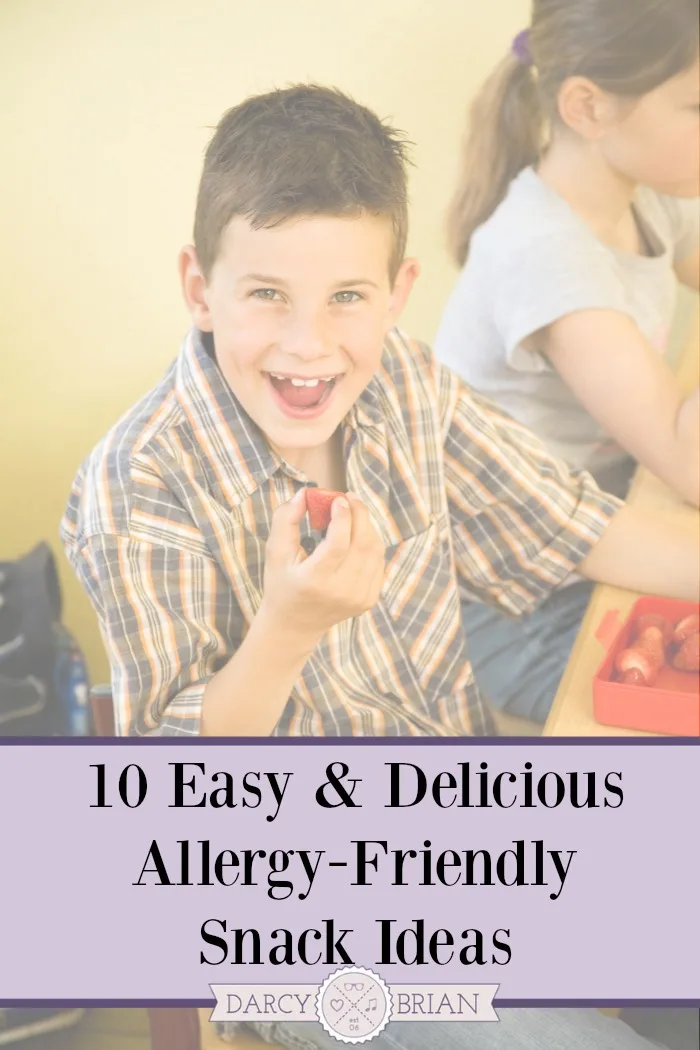 So, to save others the trouble and stress of figuring out what the heck is safe, I have compiled a list of some of our favorite snack ideas that are soy, dairy, gluten, fish/shellfish, peanut/nut and egg free. If you want a worry-free snack that everyone can enjoy, here are some fun and delicious ideas that kids will love to eat!
10 Easy Allergy-Friendly Snack Ideas
This post contains affiliate links.
1. Veggie Straws. These straw-shaped chips in the original flavor are perfect for inexpensive snacking! Note: Different flavors and may contain milk or other allergens.
2. SunButter Cups & Apple Slices. An on-the-go nut-free alternative to peanut butter!
3. Enjoy Life Decadent Bars. These are so delicious you'd have no idea everything by this brand is free of all the top eight allergens!
4. Boom Chicka Pop Kettle Corn. Simple ingredients and a tasty treat!
5. GoGo SqueeZ Applesauce Pouches. Kids love these squeezable pouches!
6. Clif Kid Fruit Rope. A fruit leather in a fun rope shape!
7. Enjoy life Plentils & Wholly Guacamole Cups. A safe and healthier version of chips & dip!
8. Hannah Hommus Cups & Veggies. I find these hummus cups at Costco and they are so good with carrots, cucumbers and sweet bell peppers!
9. Dried Fruit. I buy big boxes of dried fruit pouches at Costco and my kids gobble them up like candy!
10. Yummy Earth Fruit Snacks, Lollipops & Gummibears. Perfect for the occasional treat!
Important note: I know some kids are severely allergic or anaphylactic so be sure to check with the parents or teacher if the food needs to be, not only free of the allergen, but also made in a dedicated manufacturing facility. It should say on the bottom of the ingredient list!
Do you have any allergy-friendly snack ideas to add?
Don't miss these allergy-friendly recipes:
Chocolate Chip Peanut Butter Quinoa Cookies
Baked Cinnamon Apple Pork Chops