What treats can trick or treaters expect at your house on Halloween? I remember thinking about all the candy I'd get. While my kids also get excited about candy, I noticed how much they enjoy receiving non-food treats. They have a blast getting dressed up in their Halloween costumes and visiting our neighbors, regardless of what goes into their treat bags.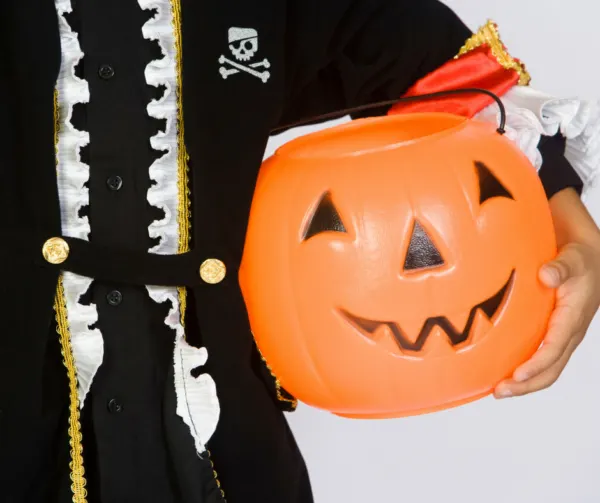 Our closest friends have food allergies, so we've become more aware of how activities like trick-or-treating must be approached with care. We examine ingredients closer and do our best to offer safe treats for everyone so no one feels left out.
It might feel like a balancing act between being the house with amazing goodies and offering fun non-food treats. (I remember being less than thrilled with receiving pennies and raisins as a kid – though my daughter loves those little boxes of raisins!) It's fun to discover what each house is giving out and referring to them as prizes make them more enticing too!
10 Ideas for Allergy-Friendly Halloween Treats
This post contains affiliate links to help make your shopping easier.
We plan to hand out a mix of non-food treats and candy that is free of the top eight allergens. Our favorite allergy-friendly candy and sweets are YumEarth suckers, gummy bears, fruit snacks, and gummy worms. (Check out the selection of YumEarth Halloween candy on Amazon.) Every Halloween I order a huge bag of their lollipops!
And remember, if you have items to hand out that are safe for kids with food allergies, put out your teal pumpkin. If you don't have a teal pumpkin, you can print out signs from the Teal Pumpkin Project letting families know there are safe options to choose from.
We included a couple safer food treat ideas, but we highly recommend offering non-food treats. If you hand out traditional candy, please keep it separated from the allergy-friendly and non-food treats. I know we think kids get excited about loading up on tons of candy, but you might be surprised how many children prefer fun non-food treats options. Get ready to have fun and ask trick or treaters if they want to pick candy or a prize!
You may also like these allergy-friendly recipes:
✕
Spooky Fun Packet
Subscribe to receive your printable pack
.
.